Whether you're living alone or living with a partner, renting a studio can be a cost-effective way to live in an expensive city like Los Angeles. Typically speaking, studios are more affordable than one bedroom apartments, while still offering ample space to unwind and relax after a long day.
Studio apartments can also be a lot easier and cheaper to furnish ( if the unit happens to be unfurnished), because you need fewer pieces to fill up the space. To make it easy for you to find an excellent place to live, we've put together this comprehensive list of brand new studio apartments for rent in Los Angeles.
The Harper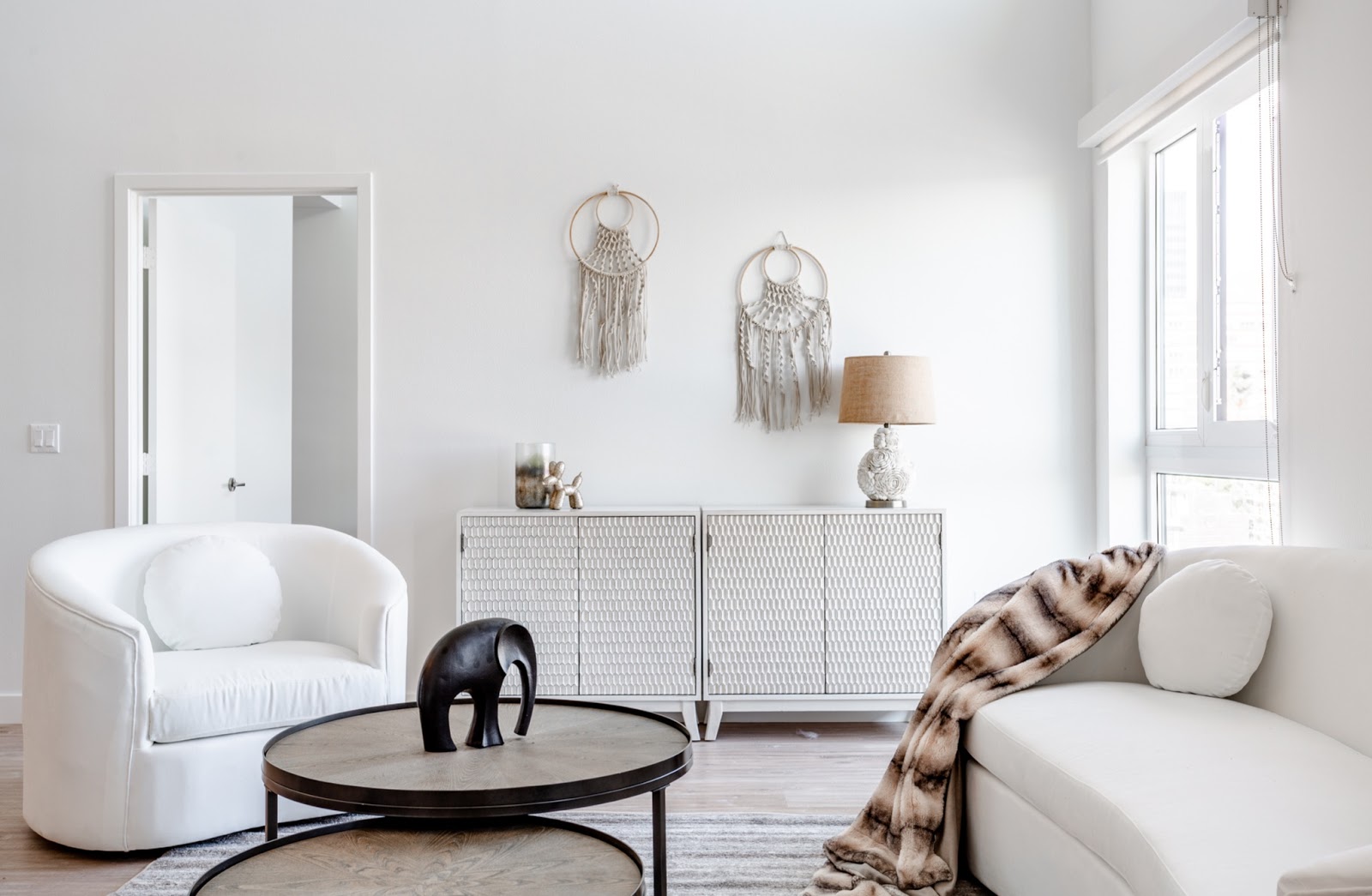 The Harper is a brand new, luxury apartment building located in the heart of Koreatown. The interior of the building features beautifully curved motifs and stunning natural light, designed to feel like your own little slice of paradise. The Harper's modern finishes will ensure that you're living in comfort and style with fully updated kitchens and a washer and dryer in every unit.
In addition, every studio apartment has central air conditioning to make sure you're staying cool during those hot California summers. The Harper also has plenty of incredible amenities, including a fully equipped gym, a rooftop barbecue area, and a sparkling swimming pool.
It's also a pet-friendly apartment building with a brand new dog park for your furry friends to stretch their legs. The apartment is in an excellent central location, with plenty of restaurants and markets nearby so you'll be able to spend your days exploring everything that Koreatown's renowned foodie scene has to offer!
This is a great option for USC students as well, located just 10 minutes from campus. To learn more about The Harper, click here.
The Kenmore
Another brand new option in Koreatown is The Kenmore, conveniently located just a few minutes from downtown Los Angeles. The Kenmore has a number of spacious and updated layouts to choose from, each with luxurious wood floors, central air conditioning, french windows, and in-unit washer and dryer. The fully updated kitchens come equipped with stainless steel appliances, and in select units, a french door refrigerator.
Residents also have access to covered parking options and garages, and the gated community is monitored 24/7 by a state-of-the-art security system. Other amenities include controlled access to the building, a large conference room, and a top-of-the-line fitness center. To learn more about The Kenmore, click here.
The Archer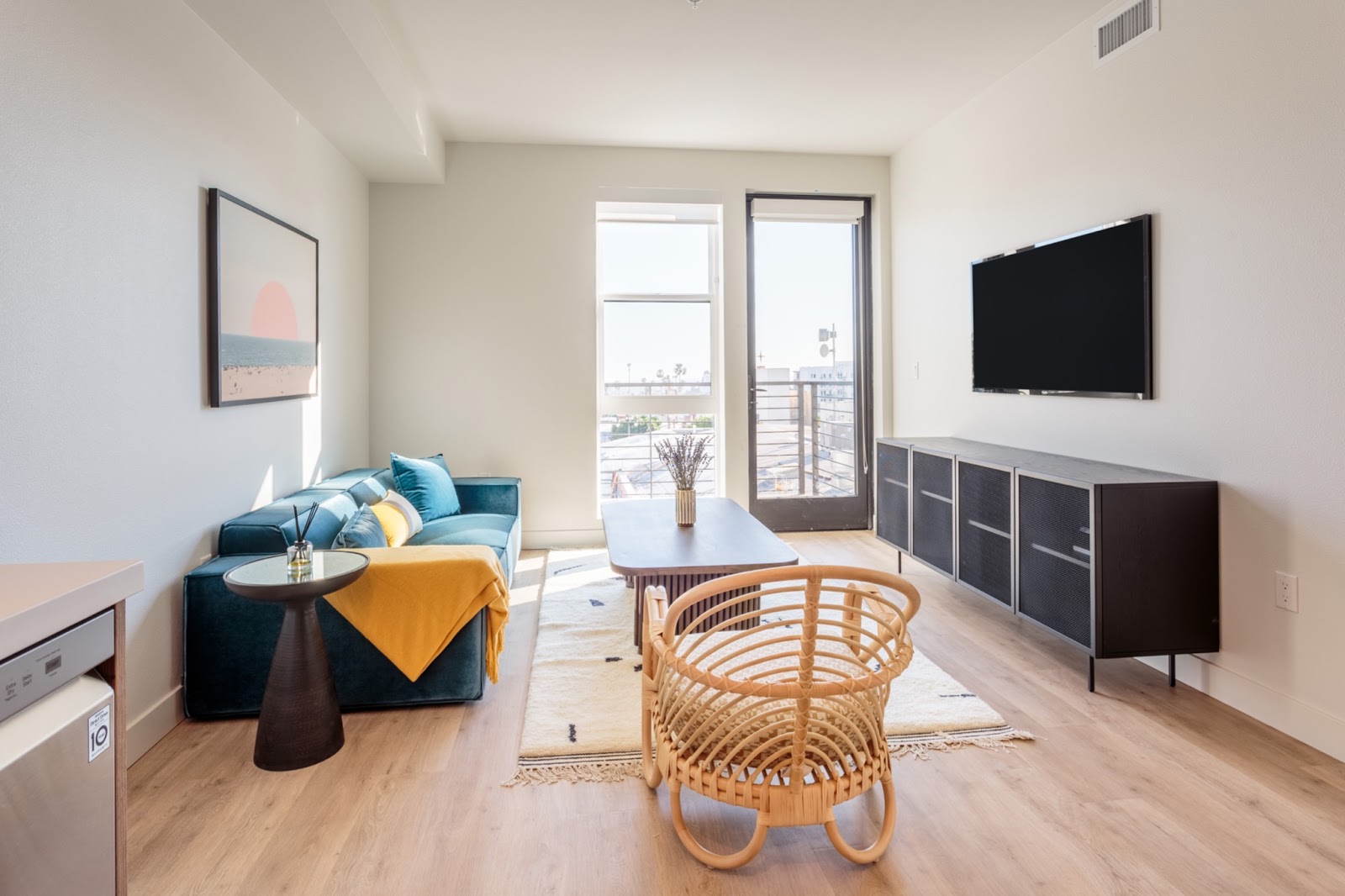 The Archer is a spacious, modern, and luxurious apartment building in Hollywood, one of the best neighborhoods in LA. A thoughtful collection of modern amenities complements the vibrant Hollywood location, including two rooftop decks with a barbecue, fire pits, lounge areas and a stunning view of the Hollywood Hills. The community clubhouse also features a dedicated on-site coworking space – complete with a conference room – for all of your work from home needs.
When you're not hard at work, you can get a workout in at the impressive two story fitness center, relax in a cabana on the pool deck, or host a viewing party in the private screening room (and did we mention there's a karaoke machine?). And if you're not sold on the amenities alone, The Archer's brand new studio apartments are outfitted with wood-style flooring, seven-foot-high windows, walk-in closets, and an in-unit stackable LG washer and dryer.
In the kitchen, you'll find custom cabinetry, quartz countertop and full kitchen backsplash, as well as LG stainless steel appliances and a french door refrigerator. The apartments also feature the latest smart living technology, including keyless entry front door locks and Nest thermostats. To learn more about The Archer, click here.
The Hana
Hana Apartments is a community of newly built apartments tucked behind the busy streets of Koreatown. The Hana's units feature large, open-concept floor plans with designer finishes, including sleek custom cabinetry, tile bathroom floors, floor-to-ceiling windows and modern plumbing finishes. Most units also include private balconies with swing doors – a must-have to soak in that beautiful year-round California sun.
Select units also offer en-suite bathrooms, walk-in closets and kitchen bar counters, as well as views of the iconic Hollywood skyline. All of their studio apartments are furnished with LG stainless steel appliances, keyless entry front door locks and Nest thermostats. Centrally located in Koreatown, Hana Apartments balances the accessibility and culture of one of the most exciting neighborhoods in America with the security and tranquility of a private residence. To learn more about Hana Apartments check out property page.
The Audrey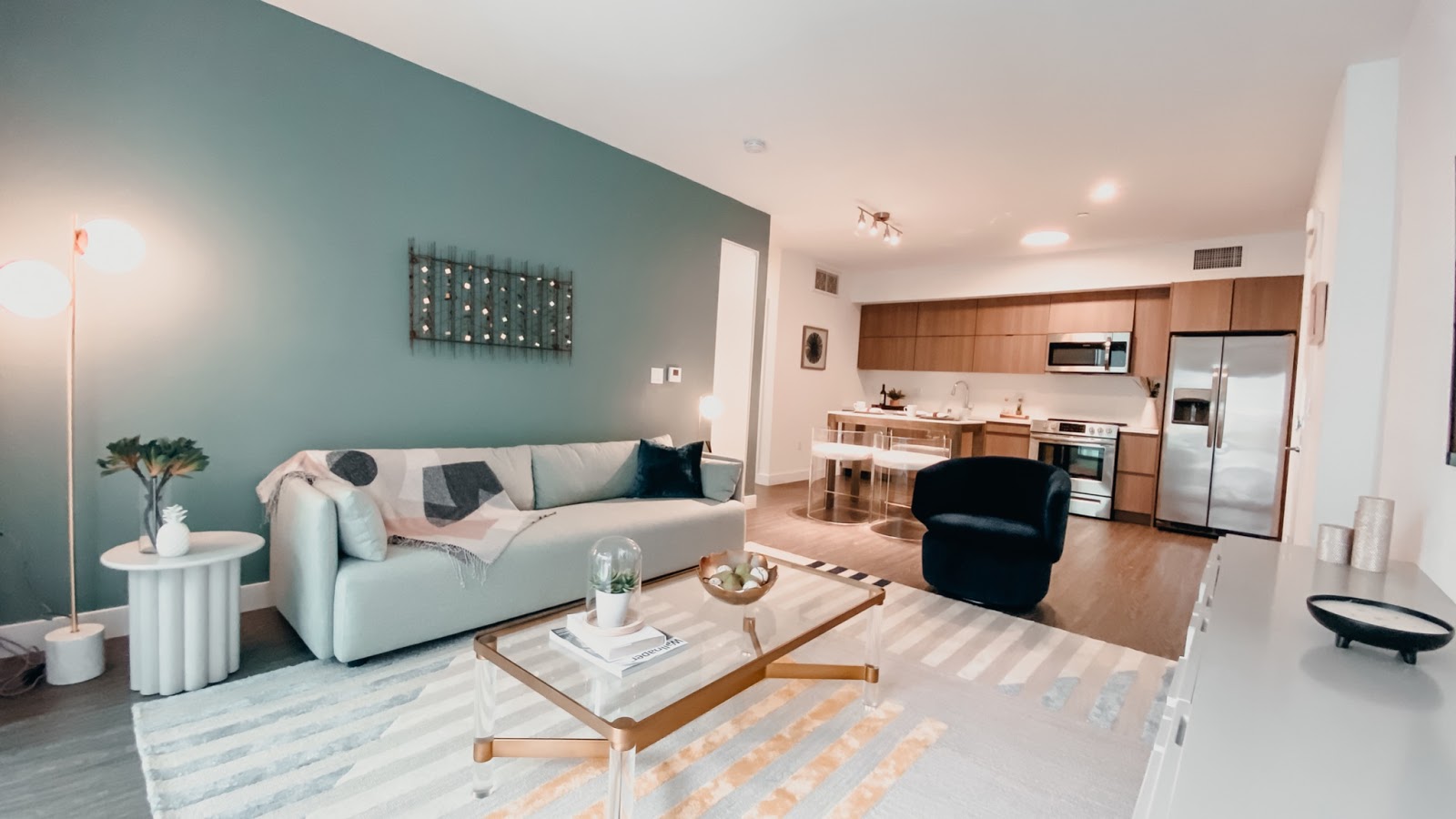 Beautiful inside and out, The Audrey apartments in Koreatown Plaza exude casual refinement with stylish spaces and places to relax, gather and enjoy. From the striking lobby lounge to the sun-drenched pool deck to an expansive landscaped rooftop terrace, contemporary and comfortable living awaits. The Audrey's studio apartments showcase bright and spacious interiors adorned in natural light with floor-to-ceiling windows and luxurious finishes, as well as decadent motifs that emulate the 1920's.
Designed for the quintessential Southern California lifestyle, residents can take in views from the Hollywood Hills to the downtown skyline from an expansive rooftop deck. The building also features a convenient co-working space with an in-building conference room, as well as a luxurious pool deck and an expansive fitness center that puts leisure and wellness within easy reach. To learn more about The Audrey, click here.
Benefits of living in a studio apartment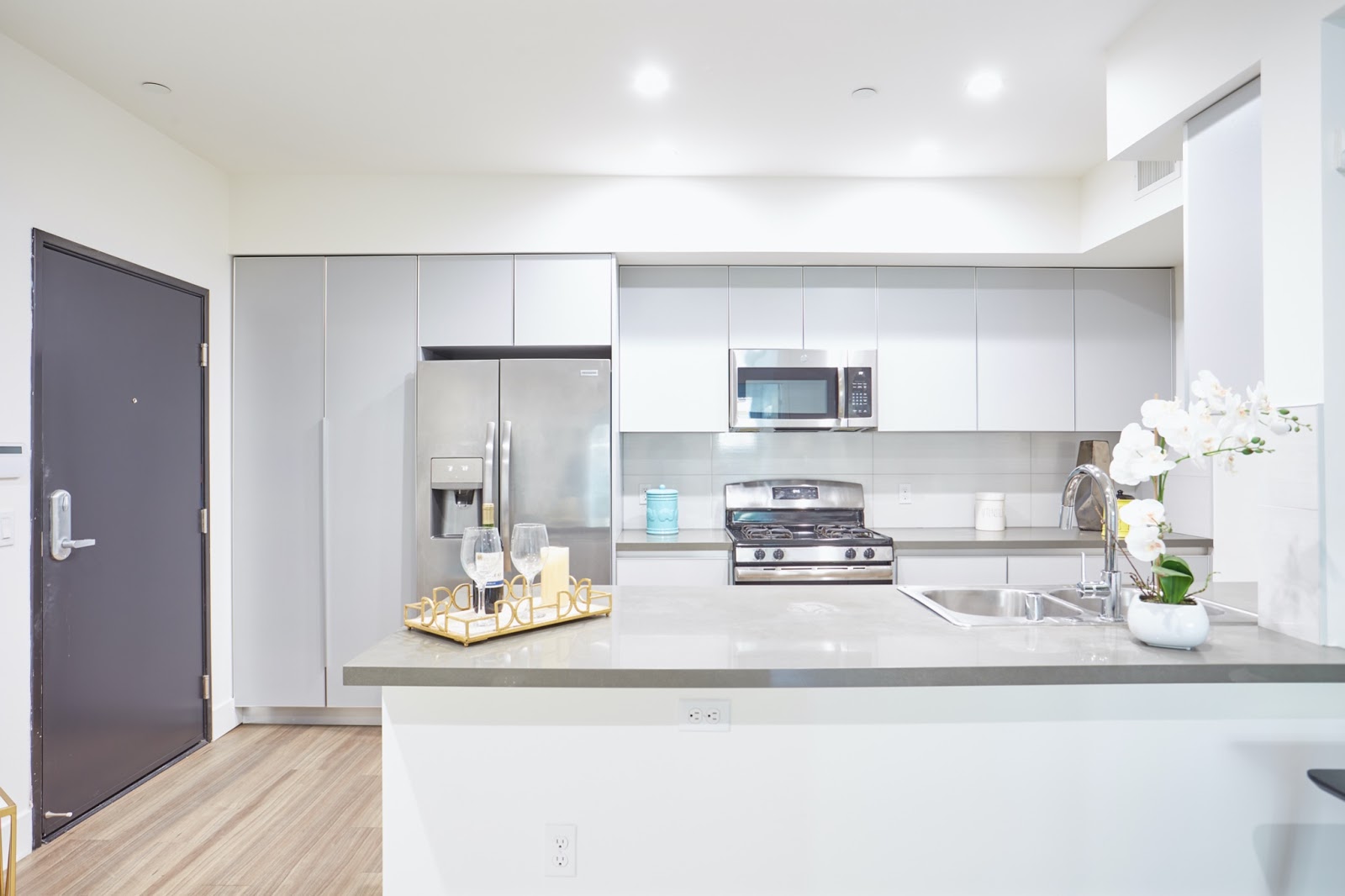 If you're a college student or a young professional, any of the properties on this list would be a great fit for you! These brand new studio apartments in Los Angeles will ensure that you're living in comfort and style with modern finishes and top-of-the-line amenities, while studio living makes living in a big city a little more budget friendly. Plus, all of the properties mentioned above are managed by Tripalink, which means that the utilities and WiFi are included in the price of rent.
On top of that, Tripalink provides residents with top quality service and around the clock maintenance, and their team members are dedicated to keeping tenants happy throughout their entire lease term and beyond. To learn more about Tripalink and view all of their available properties, click here.