As the saying goes, it's the most wonderful time of the year, and after a long day at work or Christmas festivities, there is nothing better than coming home to a fully decorated apartment. Unfortunately, many people avoid decorating due to misconceptions such as the belief that Christmas decorations are expensive or it's too difficult to find easy and cost-effective ways to decorate.
Luckily, these thoughts couldn't be further from the truth! Whether you're looking to follow a traditional Christmas theme or mix things up with new modern items, keep reading on to find the most affordable and apartment-friendly Christmas decorations for everyone.
Traditionally, Christmas decorations include trees, santas, nutcrackers, wreaths, garland, and tinsel, and while they may look timeless and classic, these items are often quite pricey. However, the best trick to finding affordable Christmas decorations is to shop bargains.
For instance, stores such as Target, Home Goods, TJ Maxx, Hobby Lobby, and Walmart offer decorations on sale. In fact, discounts often begin the very first day of December. Even better, as the Christmas season progresses, the discounts continue to increase.
So be sure to keep your eyes peeled and don't be discouraged if an item or two isn't on sale right away. Chances are, it will be eventually!
If you're living in an apartment with limited space, you can hang string lights around the commons areas and the balcony to add a small touch of Christmas flavor. Then if you're looking to get more ambitious, you can buy a little tree. It all depends on what your budget and goals are. Small decorations are better than big, bulky ones when it comes to decorating an apartment.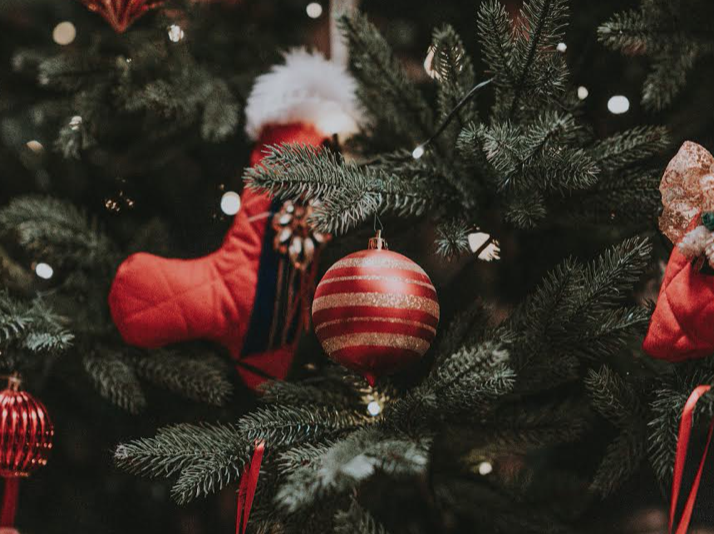 If you're looking to do a super vintage Christmas theme, don't be afraid to ask friends and family if they have any decorations they no longer want.
Alternatively, you can often find great deals on decor at local garage sales and thrift shops this time of year. After all, most people change their decorating style over time, and many are more than happy to get rid of old, unwanted decorations. This means that you may be able to take them off another's hands for free or purchase the decorations at a very low cost. There is nothing like finding a good item at a thrift store!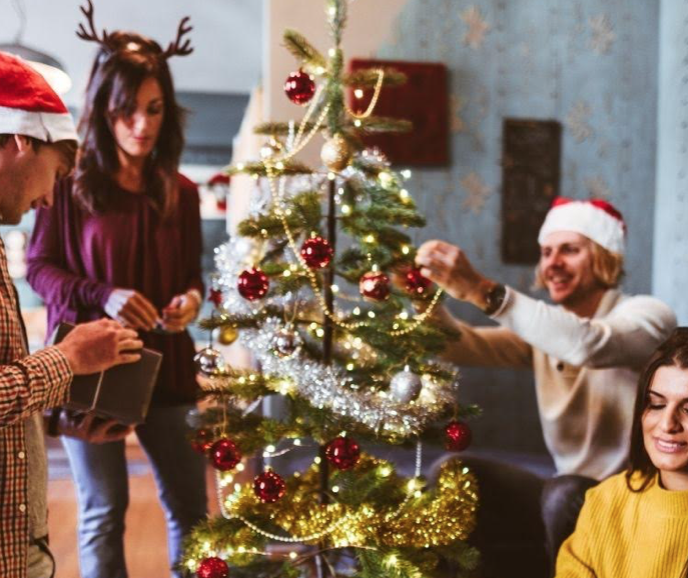 Additionally, if you're more of a modern Christmas person, websites such as Amazon, Wayfair, and Etsy have amazing Christmas deals on decorations. Otherwise, local craft stores can be a great place to pick up DIY decorations.
Find beautiful glass mason jars to fill with festive Christmas candles and beads, buy custom doormats, or find Christmas wreaths to give your apartment a sleek holiday touch without breaking the bank. Personally, I love doing an all white Christmas look. It's so classic and timeless. When people walk into your apartment, they will feel like they're walking into a white winter wonderland!
No matter what theme you choose to go with, decorating for Christmas is an amazing way to continue holiday traditions, create new memories, bond with your family or roommates, and get in the holiday spirit. This is especially true when it comes to decorating your own apartment.
Once you get started, you won't believe how easy it can be to transform your living space into a festive getaway. Start small and branch out as time and money allows. Also side note, be sure to hit up the after Christmas sales as decorations often become discounted as much as 75 to 80%!
While shopping for and arranging Christmas decorations is fun, it is even better when done with roommates. If you're in need of a new apartment, co-living with Tripalink is a great option for those looking to celebrate the holidays safely and comfortably. It allows you to easily find available roommates so that you can move in and get decorating in plenty of time for the holidays!
Even better, the bedrooms and living areas offer large spaces and plenty of wall space so you can decorate to your heart's content. Here are some articles for after Christmas time if you're looking for tips on how to decorate your bedroom and renter friendly decor.
Plus with their cost-effective living spaces, choosing Tripalink allows for a larger decoration budget so that you and your new roommates can spread even more holiday cheer. Tripalink is your perfect home for college students and young professionals where you'll find secure living spaces, a like-minded community to partake in holiday activities, newly renovated amenities, and so much more. Merry Christmas!