Hosting Thanksgiving dinner for the first time? Or in need of Friendsgiving dinner ideas? We know cooking can be stressful and hectic, especially when it comes to Thanksgiving dinner, so we gathered a few recipes to take some stress off this holiday season.
These Thanksgiving and Friendsgiving dinner recipes are all very hearty and delicious. Try them out to step up your Thanksgiving dinner!
Traditional Turkey Stuffing
By The Good Housekeeping Test Kitchen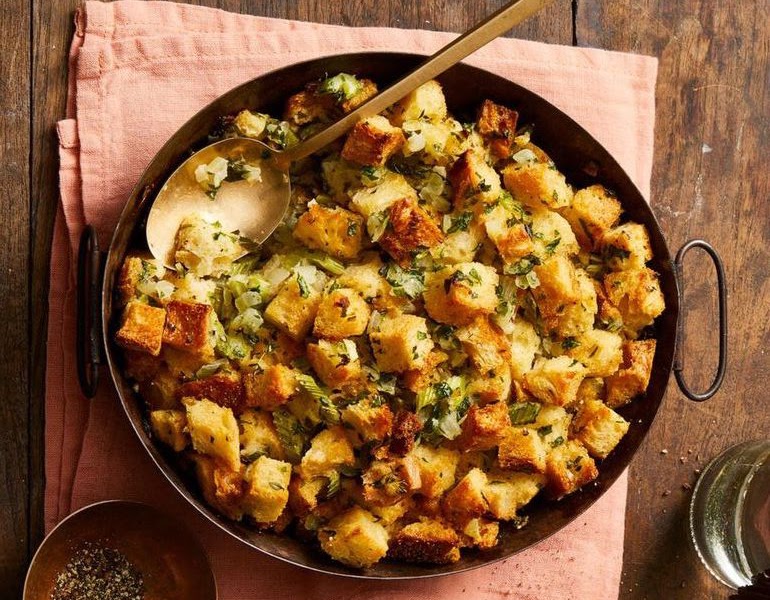 Yields: 1-10 servings
Prep Time: 20 minutes
Total Time: 1 hour
Ingredients:
1 small loaf (about 1 lb.) country-style bread (about 1 lb.), cut into 1⁄2-inch pieces (about 10 cups)

3 tbsp. unsalted butter

2 medium onion, chopped

2 stalks celery, chopped

3 c. low sodium chicken broth

1/4 c. sage leaves, chopped

1 c. flat-leaf parsley, chopped

2 large eggs, beaten

3/4 tsp. kosher salt

1/2 tsp. pepper
Directions:
Step 1: Heat oven to 375°F. Grease 3-quart casserole dish. Place bread on a rimmed baking sheet and toast until golden brown, 15 to 20 minutes; transfer to a large bowl.
Step 2: Meanwhile, heat butter in a 12-inch skillet on medium. Add onions, 1 teaspoon salt, and 1⁄2 teaspoon pepper and cook, covered, stirring occasionally, until very tender and beginning to turn golden, 6 to 8 minutes.
Step 3: Add celery and cook, stirring occasionally, until tender, 6 to 7 minutes. Add broth and bring to a boil. Stir in sage and cook for 1 minute. Remove from heat and stir in parsley.
Step 4: Transfer vegetable mixture to bowl with bread; toss to combine. Fold in beaten eggs. Transfer to a prepared baking dish, cover with foil and bake 10 minutes. Remove foil and bake until golden brown, 15 to 20 minutes.
Slow Cooker Mac-and-Cheese
By Delish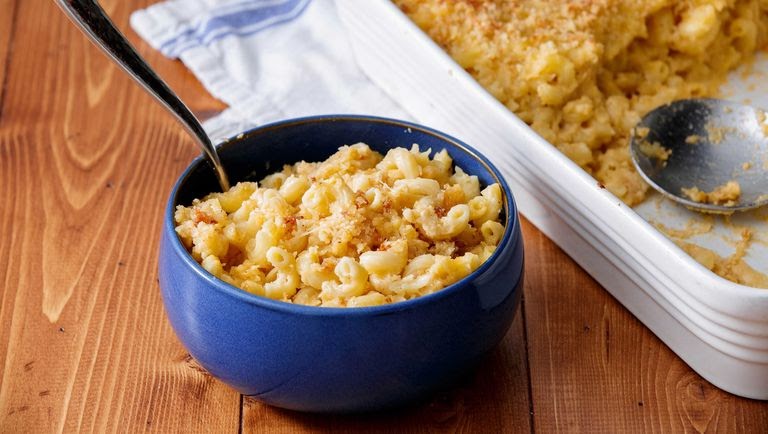 Yields: 8-10 servings
Prep Time: 10 minutes
Total Time: 3 hours
Ingredients:
1 lb. elbow macaroni

1/2 c. (1 stick) melted butter

4 c. shredded cheddar cheese

4 oz. cream cheese, cut into cubes

1/2 c. freshly grated Parmesan

2 (12-oz.) cans evaporated milk

2 c. whole milk

1/2 tsp. garlic powder

1/8 tsp. paprika

Kosher salt

Freshly ground black pepper

Finely chopped chives, for garnish (optional)
Directions:
Step 1: Combine macaroni, butter, cheddar cheese, cream cheese, Parmesan, evaporated milk, whole milk, garlic powder, and paprika in a slow cooker. Season with salt and pepper.
Step 2: Cook on high until the pasta is cooked through and the sauce has thickened, 2 to 3 hours, checking after 2 hours, then every 20 minutes after.
Step 3: Garnish with chives before serving, if using.
Vegan Pumpkin Pie
By Delish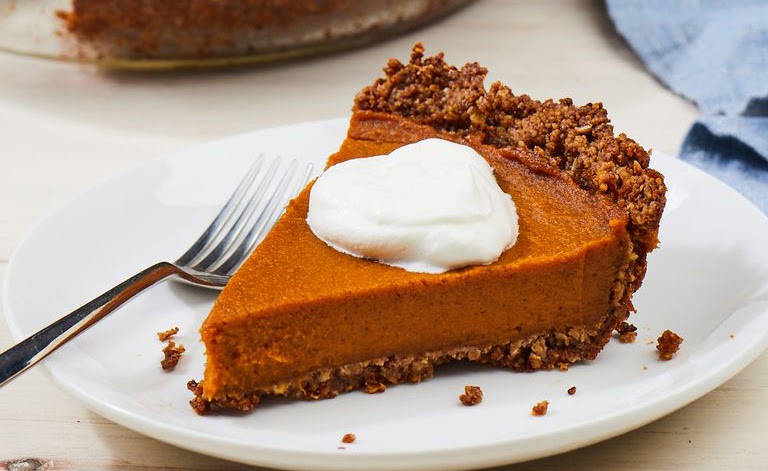 Yields: 8 servings
Prep Time: 15 minutes
Total Time: 3 hours 45 minutes
Ingredients:
For the crust:
Cooking spray

1 1/2 c. pecans

2/3 c. old fashioned oats

3 tbsp. packed brown sugar

1/4 tsp. kosher salt

3 tbsp. coconut oil, melted and cooled
For the filling:
1 (15-oz.) can pumpkin puree

1 c. coconut milk

3/4 c. packed brown sugar

2 tbsp. cornstarch

1 tsp. pure vanilla extract

1 tsp. ground cinnamon

1/2 tsp. kosher salt

1/2 tsp. ground ginger

1/4 tsp. ground nutmeg
For the topping:
Directions:
Step 1: Preheat the oven to 375°. Grease a 9" pie plate with cooking spray.
Step 2: In a food processor, add pecans, oats, sugar, and salt and pulse until coarsely chopped. Add coconut oil and pulse until well combined and a dough forms.
Step 3: Press the mixture into the prepared dish in an even layer. Line crust with parchment paper and fill with dried beans or pie weights. Blind bake 15 minutes, then remove parchment and weights and bake 15 minutes more.
Step 4: Make the filling: In a large bowl, whisk together filling ingredients and pour over crust. Bake until only slightly jiggly in the center, 50 to 55 minutes, covering the crust with foil if it starts to get too dark. Let cool completely.
Step 5: Make the topping: Open can of coconut cream and scoop out hardened cream on top. In a large bowl, using a hand mixer, beat coconut cream, powdered sugar, and salt together until stiff peaks form.
Step 6: Serve pie with whipped coconut cream.
Conclusion
We hope these recipes help make Thanksgiving dinner planning a little easier! If you're looking for a new apartment to whip up your favorite recipes, check out Tripalink properties - every apartment has a modern kitchen with up-to-date appliances for your cooking needs!
With many holidays right around the corner, it's important to find a living space that suits your needs and makes you feel at home; Tripalink does just that. All their rentals are cozy, modern, and welcoming. Perfect for hosting all your holiday celebrations to come!
With many people unable to travel home for Thanksgiving, throwing a Friendsgiving with roommates using these recipes would be a really good alternative. Although this holiday season looks different from years past, you can still make it really fun. If you'd like to enter Tripalink's Friendsgiving contest for a chance to win a giftcard to Postmates, you can read more about it here.