Christmas day might just be the most magical day of the year, and it most definitely deserves a beautiful breakfast spread.
Waking up to the smell of hot chocolate and the perfect Christmas day breakfast is the best (and only!) way to start such a special day. After all, nothing quite brings the family together like a delicious spread of our favorite breakfast treats.
From Christmas day breakfast biscuits to gingerbread-style pancakes, here are 5 Christmas day breakfast ideas to make your morning extra special.
Christmas Day Breakfast Ideas: Berry French Toast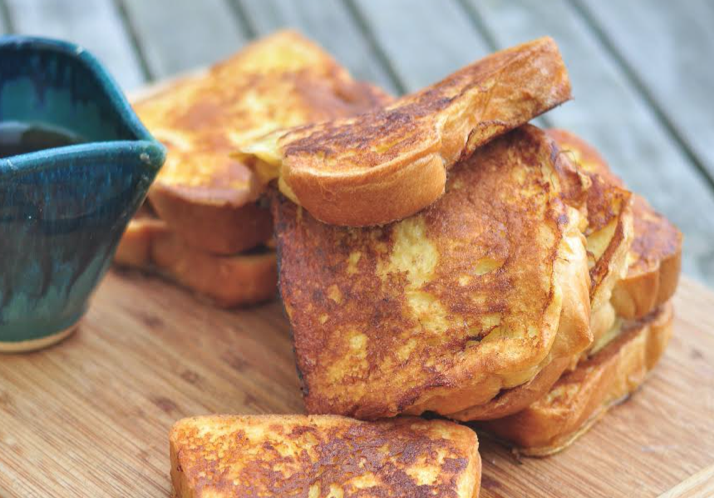 Want to make your Christmas morning even sweeter? Make this fluffy french toast doused in velvety maple syrup! It's the perfect breakfast for a special day like Christmas.
Yields: 4 servings
Prep Time: 5 minutes
Total Time: 25 minutes
Source: Good Housekeeping
Ingredients:
6 large eggs
1 1/2 c. whole milk
1 1/2 tsp. ground cinnamon
1 1/2 tsp. pure vanilla extract
8 1-inch-thick slices of challah bread
4 tbsp. unsalted butter
Yogurt, berries and maple syrup for serving
Directions:
Step 1: In a large, shallow bowl, whisk together eggs, milk, cinnamon and vanilla.
Step 2: Working in batches, place two bread slices in the egg mixture and let soak for two minutes. Flip and soak one more minute until both sides of the bread are completely coated in the mixture.
Step 3: Meanwhile, heat 1 tbsp. of butter in a large nonstick skillet on medium-low heat. Once melted, add soaked bread and cook until golden brown, 1 to 3 minutes per side. While toast is cooking, soak the next batch of challah slices.
Step 4: Repeat with remaining butter and bread. Serve topped with yogurt, berries, and syrup.
Gingerbread Pancakes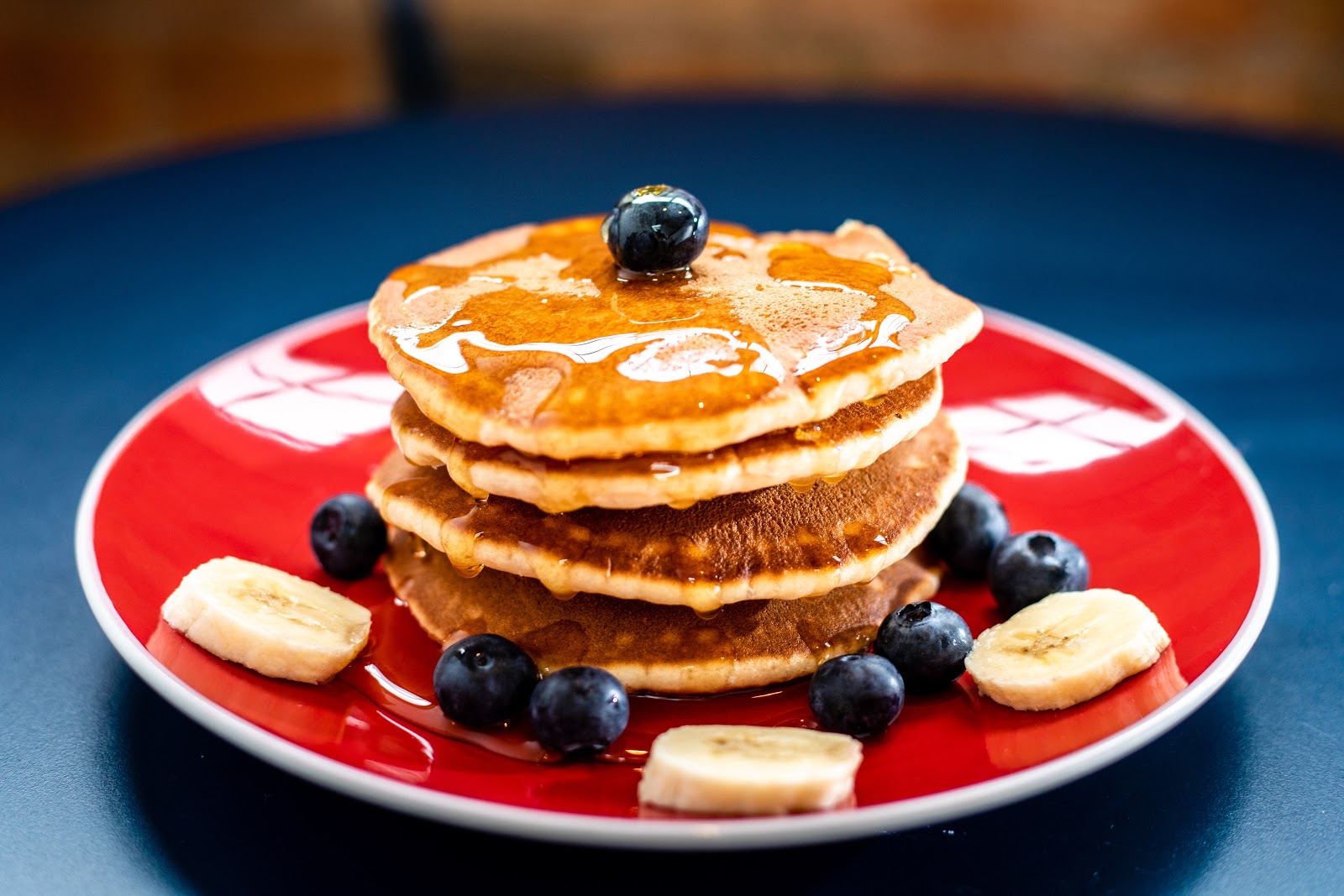 There's a reason why pancakes are the quintessential American breakfast staple: They're simply delicious! Let your Christmas day breakfast shine with these gingerbread-style pancakes, lightly spiced with ginger and cinnamon and topped with lots of maple syrup and dates.
Yields: 10
Prep Time: 10 minutes
Total Time: 30 minutes
Source: BBC Good Food
Ingredients:
150g self-raising flour
½ tsp baking powder
1 tsp ground ginger
1 tsp cinnamon
2 tsp golden caster sugar
1 egg, beaten
½ tbsp maple syrup, plus extra to serve
200ml full-fat milk or semi-skimmed milk
vegetable oil, for frying
100g pitted dates, chopped, to serve
100ml crème fraîche, to serve
Directions:
Step 1: Add the flour, baking powder, ginger, cinnamon and sugar to a large bowl with a pinch of salt. Combine the egg, maple syrup and milk in a jug. Gradually add to the dry ingredients, whisking until a smooth, silky batter forms.
Step 2: Heat a drizzle of oil in a large, non-stick pan over medium heat and ladle two to three small rounds into the pan. Cook for 1-2 mins until bubbles start to appear on the surface. Then flip over and cook for a further 1 minute until fluffy. Repeat until the batter's gone.
Step 3: Serve in a stack, with extra maple syrup, a blob of crème fraîche and dates scattered over.
Maple-Glazed Breakfast Sausage
Everyone loves a sticky maple-glazed breakfast sausage. Cook up a batch of these salty-and-sweet pork sausages as a side to your pancakes and French toast for a full-on Christmas day brunch!
Yields: 16
Prep Time: 10 minutes
Total Time: 25 minutes
Source: CountryLiving
Ingredients:
1 lb. ground pork
1/4 c. fresh flat-leaf parsley, chopped
4 fresh sage leaves, chopped
1 small clove garlic, pressed
1/2 tsp. fennel seeds, crushed
2 tsp. plus 1 tablespoon pure maple syrup, divided
Kosher salt and freshly ground black pepper
Directions:
1. Combine parsley, sage, garlic, fennel, 2 tsp. maple syrup, 1 tsp. salt, and 1/2 tsp. pepper in a bowl. Add pork and mix until well combined.
2. Shape pork mixture into 16 1/4-inch-thick patties. Cook in a nonstick skillet over medium heat, turning once, until golden brown and cooked through, 4 to 6 minutes. Transfer to a platter and brush with remaining tablespoon maple syrup.
Christmas Day Breakfast Biscuits
Warm buttery biscuits are the ideal pairing for a morning full of gift opening. Serve these Christmas day breakfast biscuits with marshmallow topped hot chocolate for a cozy morning at home.
Yields: 15
Prep Time: 30 minutes
Total Time: 50 minutes
Source: CountryLiving
Ingredients:
4 c. all-purpose flour, spooned and leveled, plus more for working
4 tsp. baking powder
1 1/2 tsp. kosher salt
1 tsp. baking soda
3/4 c. cold unsalted butter, cut up
1 1/2 c. buttermilk
Directions:
Step 1: Preheat oven to 450°F.
Step 2: Whisk together flour, baking powder, salt and baking soda in a bowl. Cut butter into flour with a pastry blender or two forks until mixture resembles small peas. Stir in buttermilk with a fork until dough begins to form a ball.
Step 3: Turn dough out onto a lightly floured work surface. Knead 2 or 3 times, gradually adding additional flour as needed to prevent sticking.
Step 4: With floured hands, pat dough into a 1-inch-thick circle. Cut dough into fourths and stack one on top of another. Roll stacked dough into a 1-inch-thick circle. Repeat procedure 3 more times.
Step 5: Use a 2 1/2-inch round cutter to cut biscuits, pressing scraps together once. Place biscuits, slightly touching, on a baking sheet. Chill 15 minutes.
Step 6: Bake until golden brown, 18 to 20 minutes.
Fluffy Egg Breakfast Sandwich
Behold, the fluffiest egg sandwich you've ever made! Here's a fun recipe to make with your family, as each person can customize their own. Follow the egg instructions closely for the fluffiest scramble yet. It's an easy grab-and-go Christmas day breakfast, perfect for enjoying under the tree while opening presents.
Yields: 1
Prep Time: 10 minutes
Total Time: 20 minutes
Source: Bon Appétit
Ingredients:
Unsalted butter
1 English muffin, split
1 Sausage patty
2 slices American cheese
2 large eggs, beaten to blend
Kosher salt and freshly ground black pepper
Handful of chopped fresh chives
Hot sauce and honey, for serving
Directions:
Step 1: Butter each half of English muffin on both sides. Heat a large griddle or cast-iron skillet over medium heat.
Step 2: Toast muffin on griddle, cut side down, pressing slightly until golden brown, about 3 minutes. Flip and toast on the other side, pressing slightly until golden brown, about 3 minutes.
Step 3: Meanwhile, cook sausage patty on griddle until browned on one side, about 2 minutes.
Step 4: Flip and top with American cheese. Cook until sausage is cooked through and cheese starts to melt, about 2 minutes. Turn off heat. Keep muffin and sausage on the warm griddle while you make the eggs.
Step 5: Heat a knob of butter in a small nonstick skillet. Add eggs and season with salt and pepper.
Step 6: Using a heatproof rubber spatula, cook, lifting edges and tilting skillet to let uncooked egg run underneath, until mostly set but still slightly runny on top, about 2 minutes.
Step 7: Top with chives and fold eggs over to make a half moon; fold in half again.
Step 8: To serve, top bottom half of English muffin with egg, then sausage. Drizzle with hot sauce and honey, if desired. Close the sandwich and enjoy!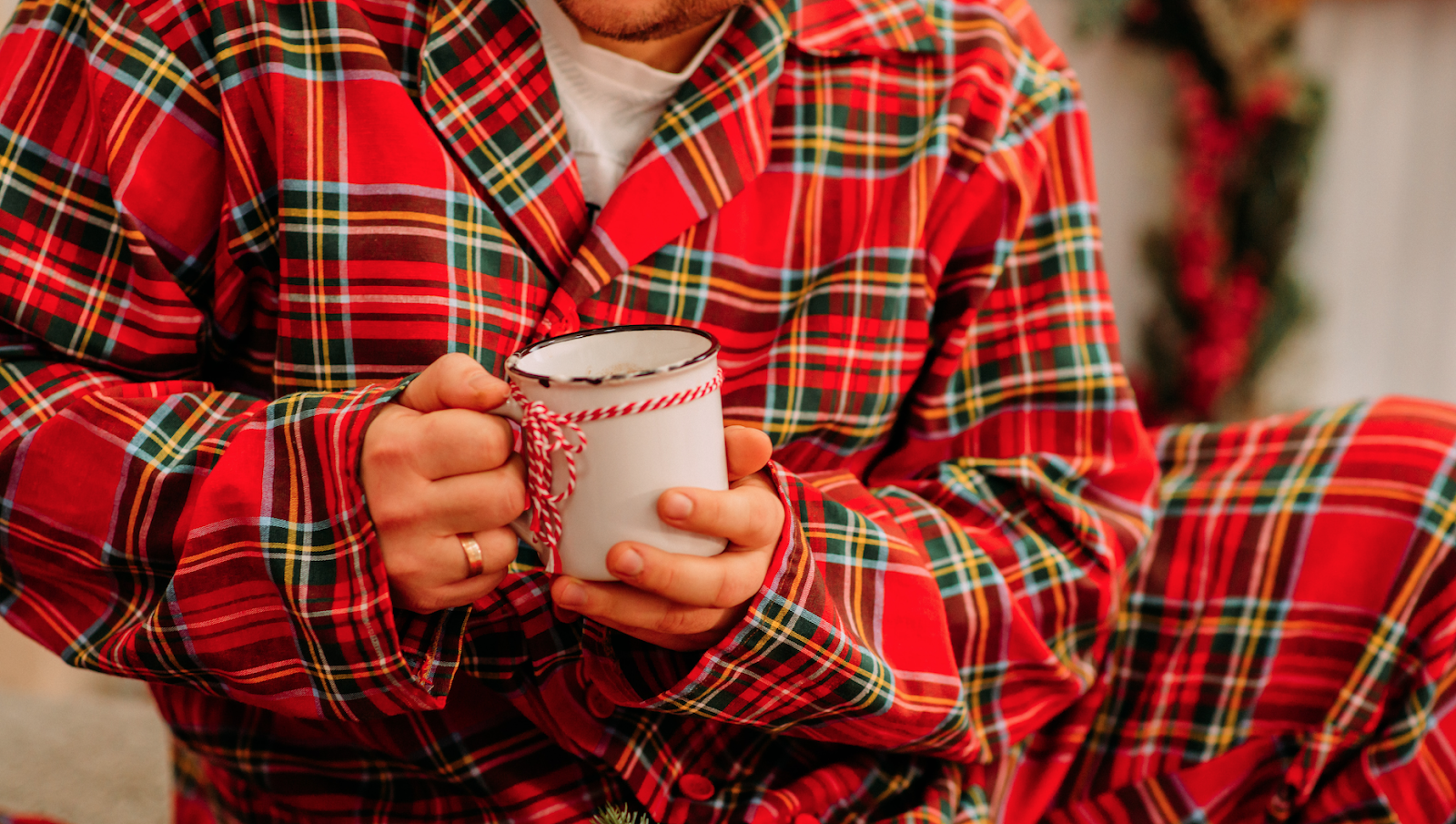 If you're someone who loves cooking at home then you'll love what Tripalink has to offer. All of Tripalink's properties come with top of the line kitchens, fully equipped for your recipe creations.
With such a nice kitchen, it's easy to bond with your roommates over delicious breakfast recipes like French toast and biscuits. Even if you're spending the winter months at home, Tripalink's cozy apartments are perfect to host festivities with your friends and roommates.
The best part about it all? Co-living can be a lot more affordable than a traditional dorm or pricey, unfurnished apartments. Check out Tripalink's available apartments today.