While we all know that Temple University is a great place to learn and earn your degree, it is important to find out what you can do for fun around campus as well. The Philadelphia area is full of exciting things to do that fit any student price point.
Whether you want to grab a bite to eat with a few fellow temple students, hang out with a new love, or just kick back and relax after finals, there is something for everyone to do. Check out these fun places near Temple University this week!
Hang Out at Beury Beach
Temple University Campus
Okay, while this isn't your typical beach with waves and sand, Beury Beach is the quad on campus where you can still hang out and relax. Any student on campus probably knows where Beury Beach is located, in between the Bell Tower and Beury Hall. Plenty of fellow Owls can be spotted here, whether they are meeting up with friends, throwing a frisbee, or just studying and soaking up some Vitamin D.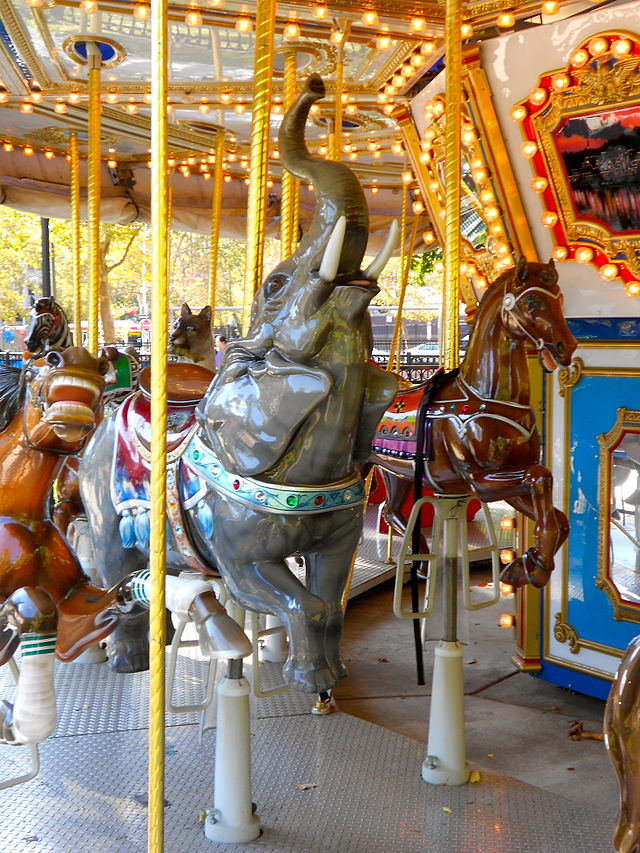 Ride the Carousel at Franklin Square
200 N. 6th Street
Philadelphia, PA 19106
As one of the city's first original squares, Franklin Square is one that offers nostalgic and good old-fashioned fun. You can take into your inner child and ride the beautiful carousel that is especially magical at night. There is also a mini golf course where you can play against another Temple student or take in the beauty of the fountains located within the square as well.
Get Rowing Along Boathouse Row
1 Boathouse Row
Philadelphia, PA 19130
Try your hand out at rowing in the Schuylkill River by joining an amateur rowing club! Boathouse Row is home to multiple rowing clubs that offer easy access to the river. You can learn to row through the club's youth and adult programs or just come to see and watch the other rowers glide through the water.
Check Out a Show at the Liacouras Center
1776 North Broad Street
Philadelphia, PA 19121
Located on the Temple University campus, the Liacouras Center is a large multi-purpose venue that always has an event or shows happening. This 10,000-seat space hosts live music events, productions, sporting games, and more. Temple students are always in on the action that happens right in the middle of campus.
Try Axe Throwing at Bury the Hatchet
1719 Washington Avenue
Philadelphia, PA 19146
Take out all of your frustrations from midterms and finals at Bury the Hatchet in Philadelphia. This indoor axe-throwing range features multiple lanes and plenty of liquid courage to hit the target. It's great to do with friends, or even try bringing a courageous date to see if they can swing it. Bury the Hatchet even has axe-throwing leagues for those who really get into it and want to compete against other axe-wielding foes.
Experience History at the Elfreth's Alley Museum
126 Elfreth's Alley
Philadelphia, PA 19106
Learn all about the three centuries of history at the Elfreth's Alley Museum, located just a few minutes from campus. This iconic alley is a National Historic Landmark located in the Old City neighborhood. You'll get to tour house #126 on the Alley and learn all about the people that built the city of brotherly love, from artisans to laborers and professionals. The alley itself doubles as the perfect Instagram backdrop as well.
Try to Escape the Room Philadelphia
1528 Walnut Street
Philadelphia, PA 19102
Are you good at solving puzzles and sleuthing your way through a problem? Grab a group of friends and work together at Escape the Room Philadelphia to solve the mystery. You have just one hour to try to find your way out of a locked room, and winners get ultimate bragging rights. Multiple rooms are available in a range of difficulty, so choose wisely!
Play in the Sky at Cira Green
129 S. 30th Street
Philadelphia, PA 19104
Need a break from campus to get away from it all? Head to Cira Green, an elevated park located 12 stories up on the roof of the Cira Centre South building in University City. This unique green space offers panoramic views of Philadelphia while providing wind-blown hair looks thanks to the breeze. Events are held here throughout the year, and it is a quiet and somewhat secretive spot in the middle of all of the hustle and bustle of the city.
Hike Through Fairmount Park
1 Boathouse Row
Philadelphia, PA 19130
Walk and hike the gentle trails at Fairmount Park, which is just a short drive from campus. You'll find beautiful views along the Schuylkill River and harder hiking trails that are accessible through the park. If you have a fishing pole, try throwing a line in from the pier or pack a lunch to enjoy with friends.
Grab a Slice at Blaze Pizza
1100 W Montgomery Avenue
Philadelphia, PA 19122
Feast on some of the best pizza in town along with fellow Temple University students at Blaze Pizza. This pizza chain is known for its high-quality ingredients and super hot ovens that cook your pizza pie in 3 minutes flat. You'll find a variety of topping and crust options that keep everyone's belly happy. Gluten-free, keto and vegan options are available, as well as all of the other pizza toppings that you know and love.
Take in the Art at Philadelphia's Magic Gardens
1020 S Street
Philadelphia, PA 19147
Immerse yourself in the beauty that is mixed media art at Philadelphia Magic Gardens (PMG). This unique spot was created by Isaiah Zagar, as well as other artisans, and has become quite the unique Philadelphia feature. The museum features two indoor galleries as well as a unique outdoor sculpture garden that uses everything from broken glass to bicycle wheels to create art. Every inch of space is fascinating and entirely unique. A small entry fee is required, and tickets must be booked in advance.
Join the Club at Hop Sing Laundromat
1029 Race Street
Philadelphia, PA 19107
Once you go, you know. Hop Sing Laundromat is a speakeasy that takes itself very seriously. There are rules to abide by, including no pictures or phone calls while in the bar, or else you are banned from coming back. You'll find a nickel-topped bar as well as excellent drinks along with a mysterious vibe that is unique to this establishment. Just make sure to follow the rules, and you'll have a great time at this super secretive speakeasy near Temple.
While any college campus will have weekend parties, Temple University is unique in that it sits in the beautiful city of Brotherly Love. The campus is just a short rideshare drive to any of these exciting places to visit.
You can join fellow students in stretching your legs and getting some fresh air in the city's many green spaces or try your hand at rowing on a new crew team. Afterward, grab a bite at the fastest pizza in town or head out for drinks with a fellow student or two.
Older Owls can grab a drink at a local watering hole or enter the mysterious world of speakeasies in Philly. Check out the local art scene or learn about the rich history of Philadelphia at one of the many museums in town as well.
No matter what you choose to do for fun, there are plenty of new experiences to have near your Temple University off-campus housing. You are never far from a good time after you've worked so hard in the classroom at Temple, and the city features great transportation options to get you to and from the fun in no time.
Where will you go to have a good time this weekend near Temple University?