Enjoying Life Around University of Washington
Enjoying Life Around University of Washington
University of Washington, often referred to as UW by Huskies and locals, is located in the heart of Downtown Seattle. Thanks to its central location and the nearby University Village, UW students are able to enjoy a vibrant social scene complete with beautiful parks and sightseeing opportunities, delicious food around every corner, and many interesting social and cultural centers.
There are many places to explore and fun things to do near University of Washington. This makes living at or near UW a fine option for any future Huskies out there. Keep reading to discover why the UW campus is considered a true gem of the "Emerald City." Read carefully, as we've included several suggestions that only a local would consider sharing.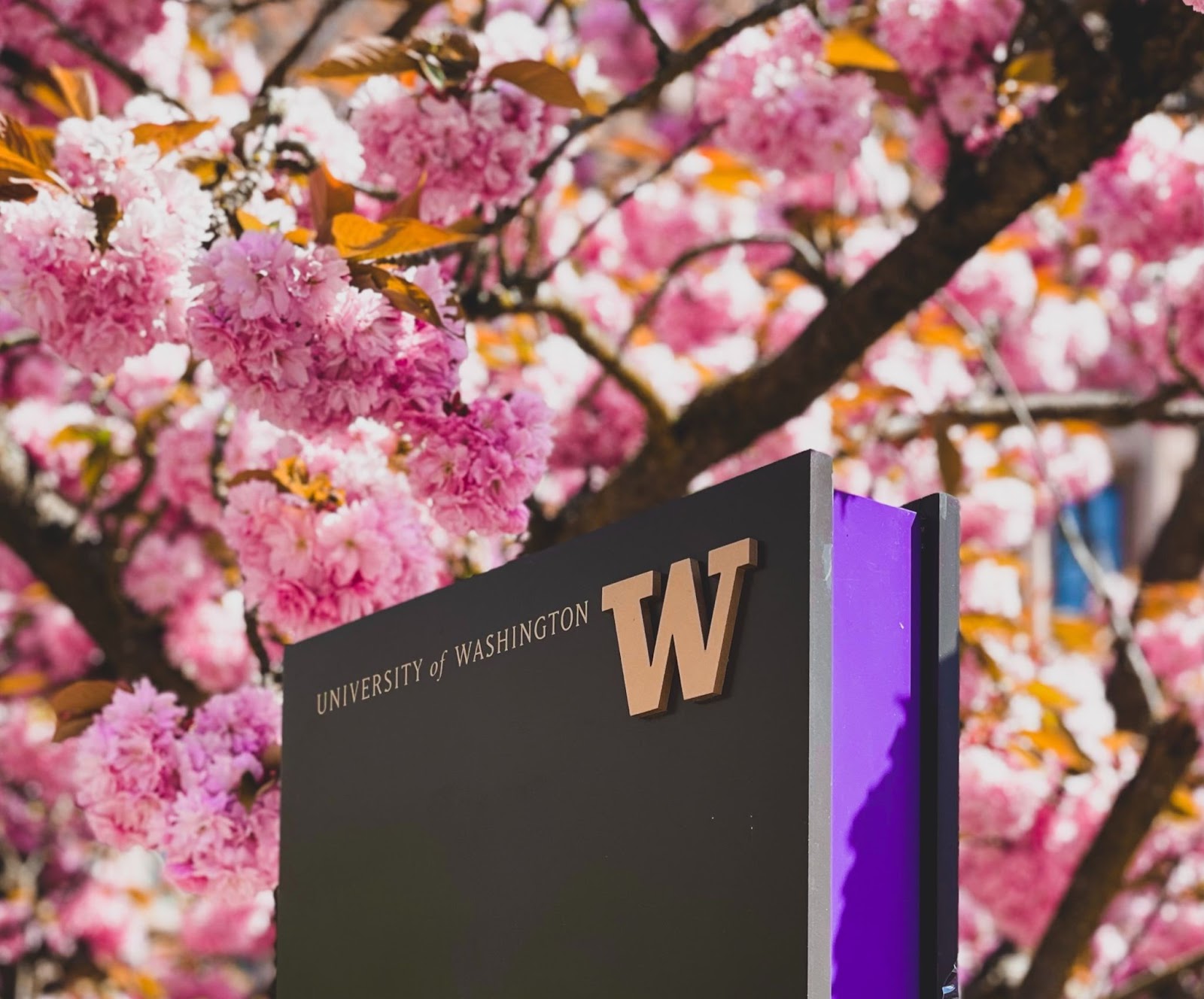 University of Washington, by Celine Lityo
Local's note: Unlike Californians, who like to place "The" in front of their freeways, locals generally do not put that article in front of places and things and University of Washington is no exception.
Take in the Views
Living near UW's campus is a fine way to be close to dozens of beautiful spots. From any of these spots, you can enjoy different vistas and perspective's of America's fastest growing city. While some spots are well-known and on many tourist's bucket lists, we'll also include some locations that only a true native would know about (just keep them on the DL).
From a view of the Cascades to the Seattle WA skyline, ALL of these spots are worth checking out:
Space Needle and Seattle Center
You can't be new to Seattle, without visiting the Space Needle. Built for the 1962 World's Fair, this historic landmark is a 605-foot spire with a rotating restaurant and observatory on top. The Willy Wonka-like elevators along the sole support column whisk you upwards in less than 45 seconds. Although the Needle is dwarfed by larger buildings, the windows on the elevators face outwards so you can take in a uniquely precarious view of the Seattle skyline.
The area around the Needle is home to Seattle Center, which includes a large public park, massive water fountain that people can splash in, a food court, Pacific Science Center, and EMP. EMP, also known as the MoPOP, is a music-focused museum designed by architect Frank Gehry.
The imaginative building looks like colorful film rolls splayed across the park grounds and is home to one of the Seattle Monorail's only stops. We also recommend checking out Pacific Science Center's show in their laser dome, which is one of the largest in the world.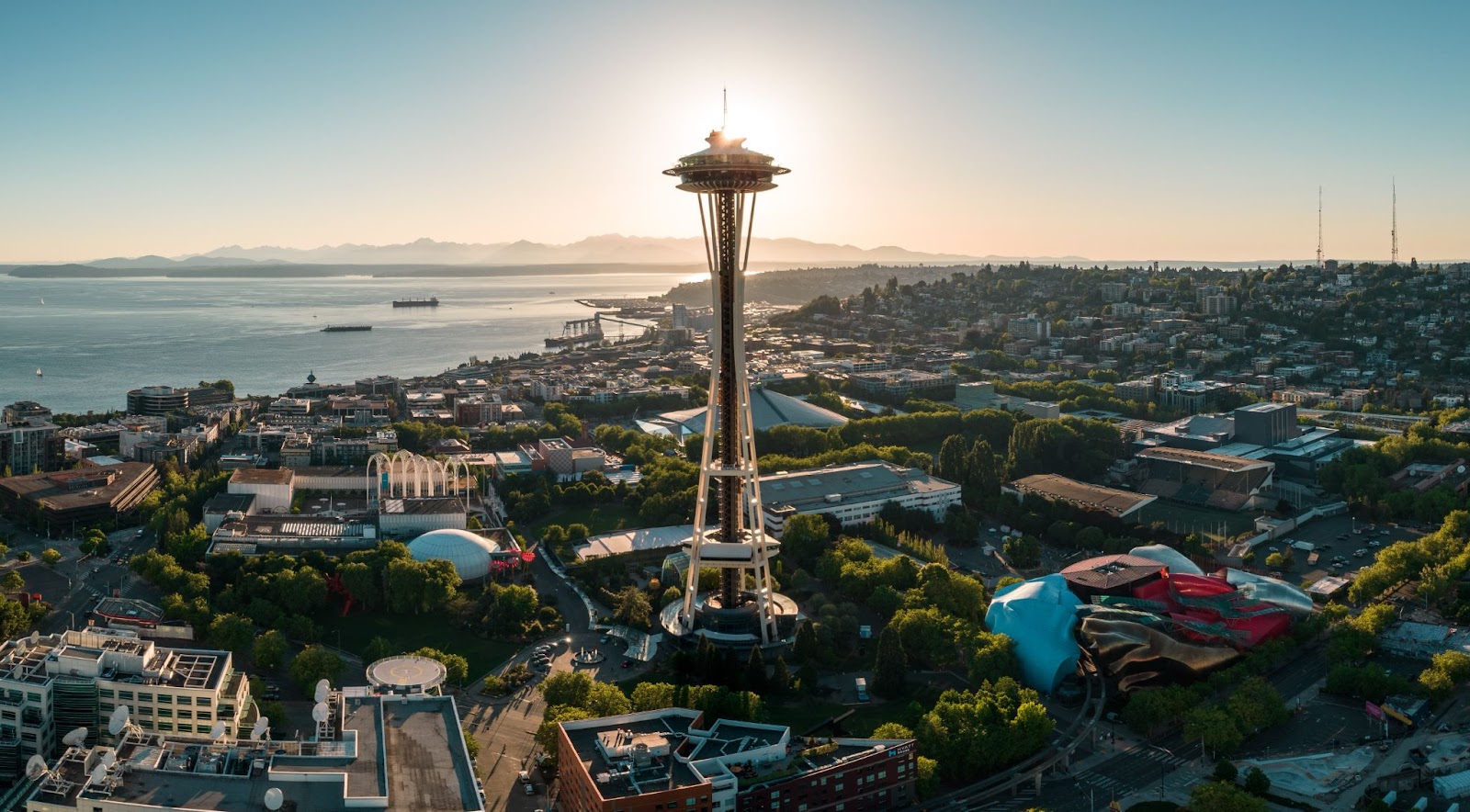 The Needle, EMP, and Olympic Range, by Robert Ritchie
Local's note: For some reason, it's socially acceptable to refer to this building as "The Space Needle." This may be due to its popularity as a tourist attraction. Don't worry, it's still a great place to check out if you're a first-time visitor or new to the area!
Gas Works Park
Gas Works Park is a 19.1-acre public park located on the north side of Lake Union, in the Wallingford neighborhood. Gas Works is the closest large park to the UW campus and is a short 10-15 minute jog away. A vestige of bygone times, the park sits on the site of the former Seattle Gas Light Company's gas plant.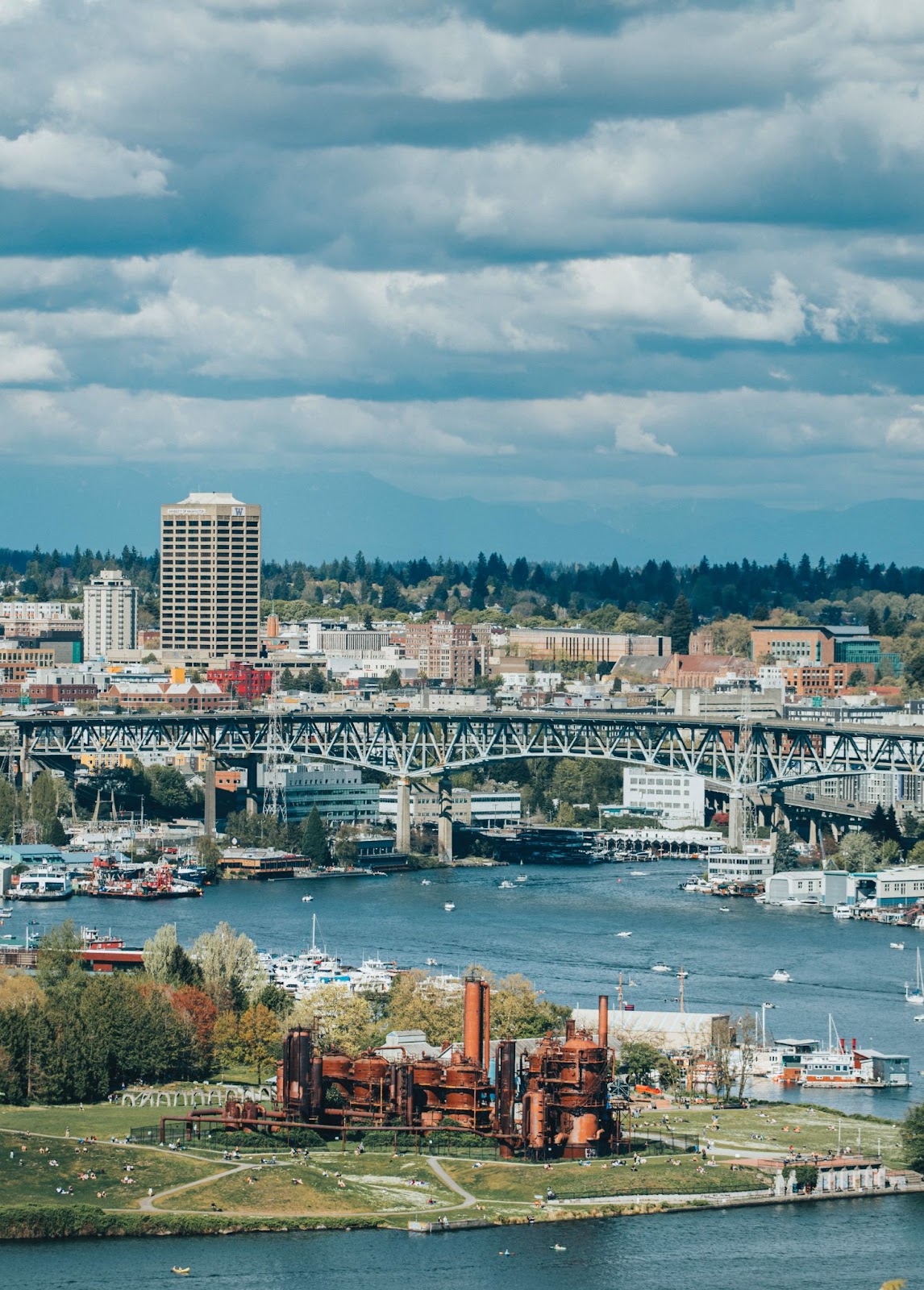 Gas Works Park with University District in background, by Cody Fitzgerald
A large hill in the center of the park, with a compass installation on top, is accessible via a winding path. While tempting to use this spot for exercise, the park is usually pretty crowded especially during summer. It's best to arrive at Gas Works in the dusk to avoid the crowd, enjoy a beautiful sunrise, and have space to jog around!
At Gas Works, you can enjoy kite-flying, views of Downtown with Lake Union in the foreground, watch landing seaplanes (Kenmore Air, which uses de Havilland Beavers and Otters on sightseeing flights), and enjoy the occasional sail boat regatta. The Duck Dive, which occurs every Tuesday during the summer, is an unexplainable and chaotic sailboat race, usually with sailboats of varying sizes, shapes, and colors zig-zagging all over the place.
Goldens Gardens Park
Officially considered Seattle's only beach, Golden Gardens Park is another treat that Seattleites enjoy. The jagged tops of the expansive Olympic range of mountains can be enjoyed to the west of this half-mile long beachfront. For people seeking an active lifestyle, the off-leash area (which has its own parking lot) consists of winding trails that have a minor elevation gain.
Although the beach at Golden Gardens has more rocks than sand, it is popular year-round thanks to ample grilling spots, a large and rentable community center, and accessible Wetlands to the Northern end. On summer nights, local musicians, including Raz Simone, Sam Lachow, and Gabby, are known to hold impromptu public performances here.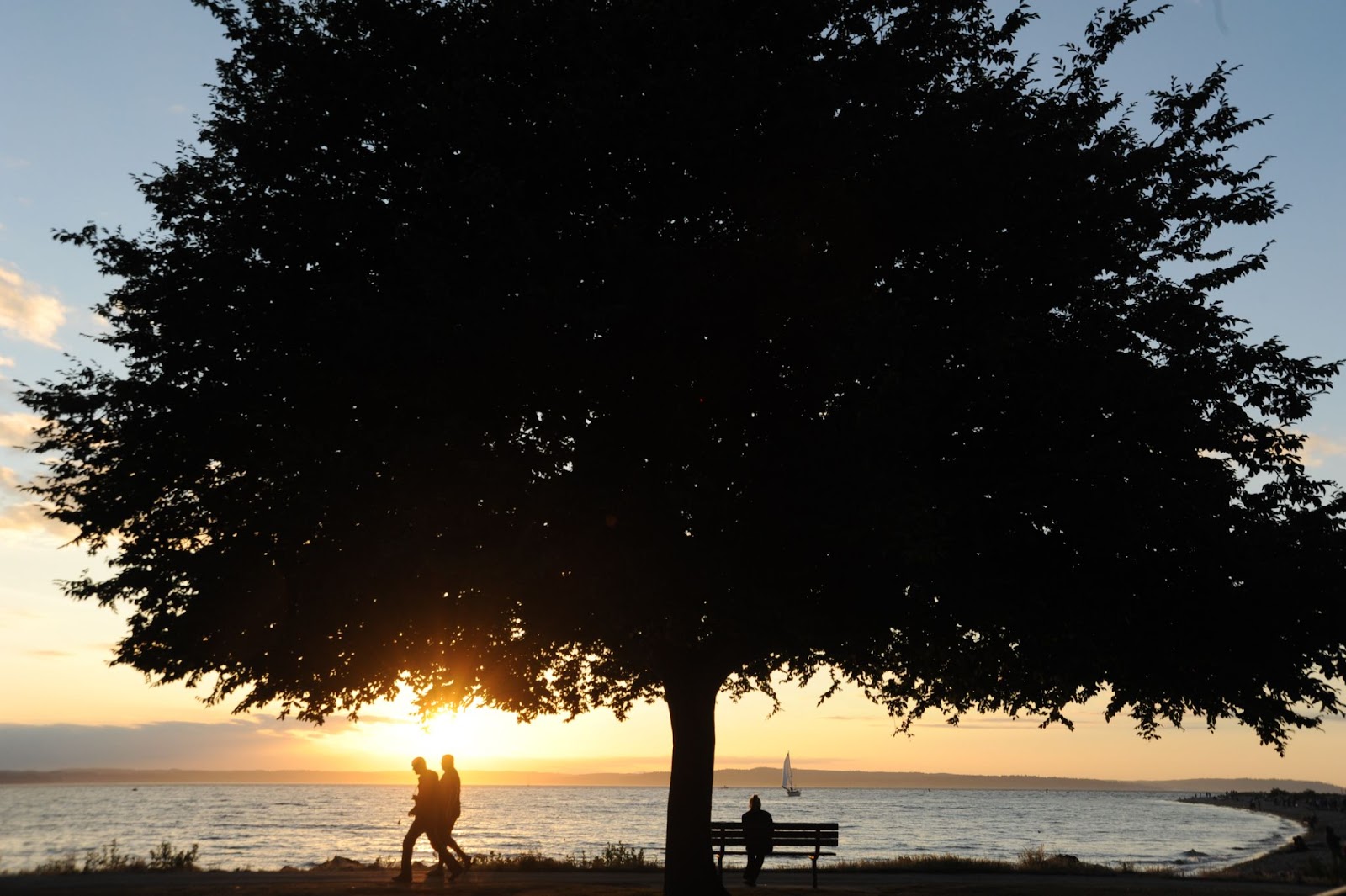 Sunset at Golden Gardens, by Wonderlane
Golden Gardens is on the west side of Seattle, so it's not really walking distance from UW. Nearest transit stations are around a quarter-mile away, so it's recommended that you ride over with some friends if you want to enjoy this spot.
Columbia Center – Seattle's Tallest Building
Less touristy than going to the Space Needle, visitors of the Columbia Tower Observation Deck enjoy a panoramic 360-degree view of Downtown Seattle, the Cascade and Olympic mountain ranges, and Seattle WA's sister domes (Lumen Field and T-Mobile Park). While taking in the sights, you can sip on beer and wine at the same time.
Once the West Coast's tallest building at 950', Columbia Center is still home to the tallest public observation deck on this side of the Rockies. Thanks to the full-fledged wine and beer bar, it's also the tallest place you can imbibe without being in an airplane.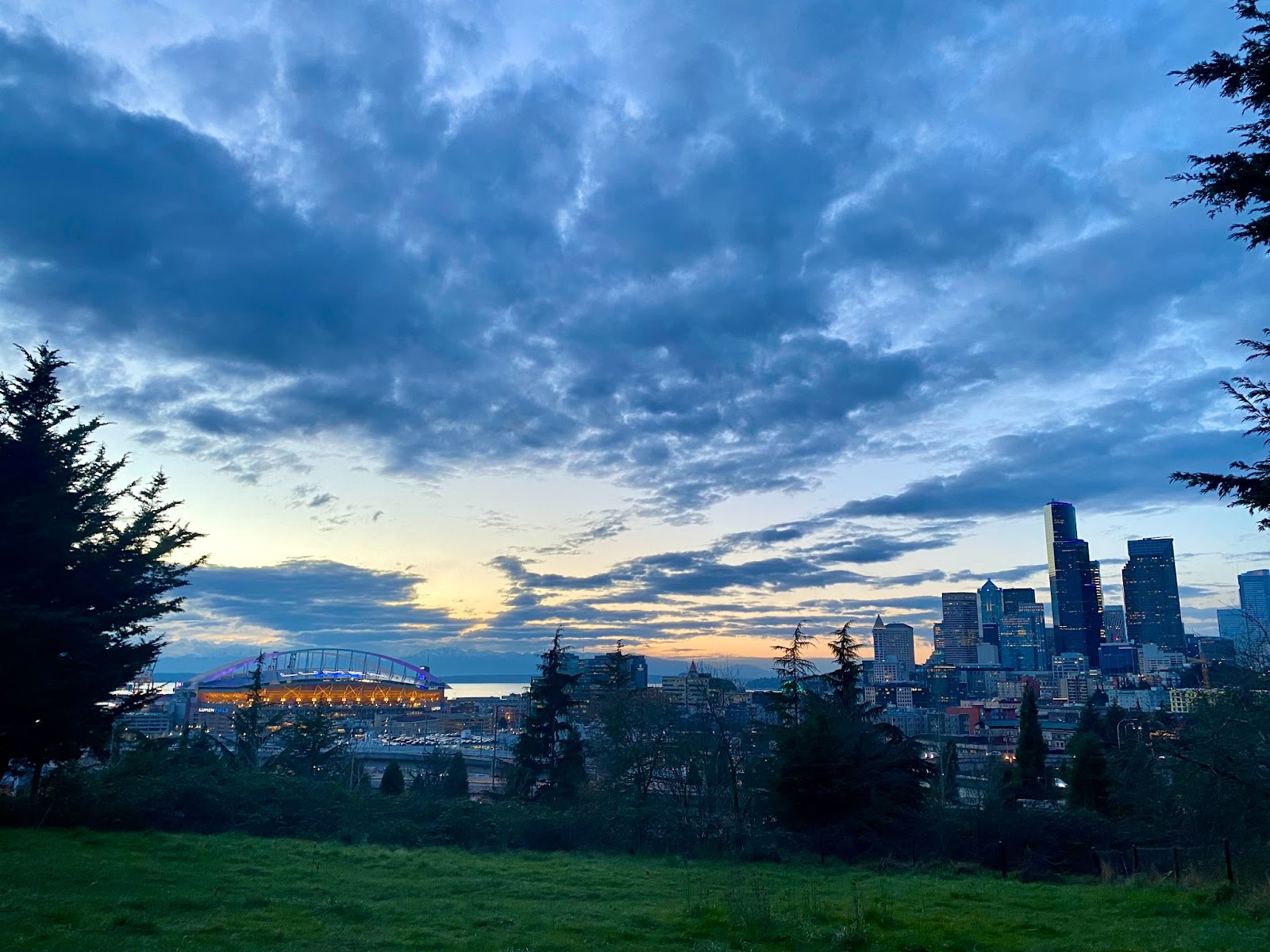 Columbia Center and Lumen Field, by Halomon
If you need caffeine: Columbia Tower has a Starbucks Coffee on its 40th floor (up higher than the Space Needle). This Starbucks is a cooler spot to visit than the "first Starbucks Coffee'' in Pike's Place, which is actually the second. The real first one may have burned down,
The elevator has an interactive show which tells you all about the prehistory and history of the region. Mt. Rainier is used as a reference point against the Columbia Tower's monumental height. On cloudy days (which is often in Seattle WA), you are at eye-level with aircraft landing at Seattle-Tacoma International Airport.
Bhye Kracke Park – Locals Only Park
You may be tempted to call this "Bike Rack" park, but it is not pronounced that way. At Bhye Kracke, you can enjoy a peaceful and serene view of the Seattle skyline framed by evergreens. A small trail nestled in the trees takes you down to a large greenspace. The Space Needle, on less cloudy days, can be seen peeking over the treeline.
DO NOT park directly at Bhye Kracke or you will upset local residents and get towed. Park in the nearby neighborhood of Queen Anne where there is ample street parking amongst the immaculate Craftsman neighborhood.
Ella Bailey Park – Locals Only Park
Located in the wealthy neighborhood of Magnolia, Seattle WA, Ella Bailey Park offers its visitors a large greenspace with a children's playground and an absolutely stunning view of Queen Anne Hill, with views of the Western half of Downtown Seattle. You won't see the Space Needle from this vista, but you will be able to watch inbound cruise ships and the Seattle Wheel from Ella Bailey's long eastern berm.
Similar to Bhye Kracke Park, it is best to visit this park in a respectful manner (don't park in the roundabout). It's a hidden gem of Seattle, best to remember this before snapping away.
East Portal Viewpoint – Locals Only Park
Another park that only locals are aware of is East Portal Viewpoint. This park is located directly above the former largest floating bridge in the world, which is I-90's Seattle-Mercer Island connector. At East Portal Viewpoint, you will enjoy an east-facing view of Downtown Bellevue and Mt. Rainier. W Bellevue's bold orange penthouses invite you to leave the Emerald City behind.
Nearby BluWater Bistro, located directly on Lake Washington, has an outdoor patio that offers a beautiful lake-framed view of Downtown Bellevue and the floating bridge. You can also see the largest floating bridge (I-520) to the North!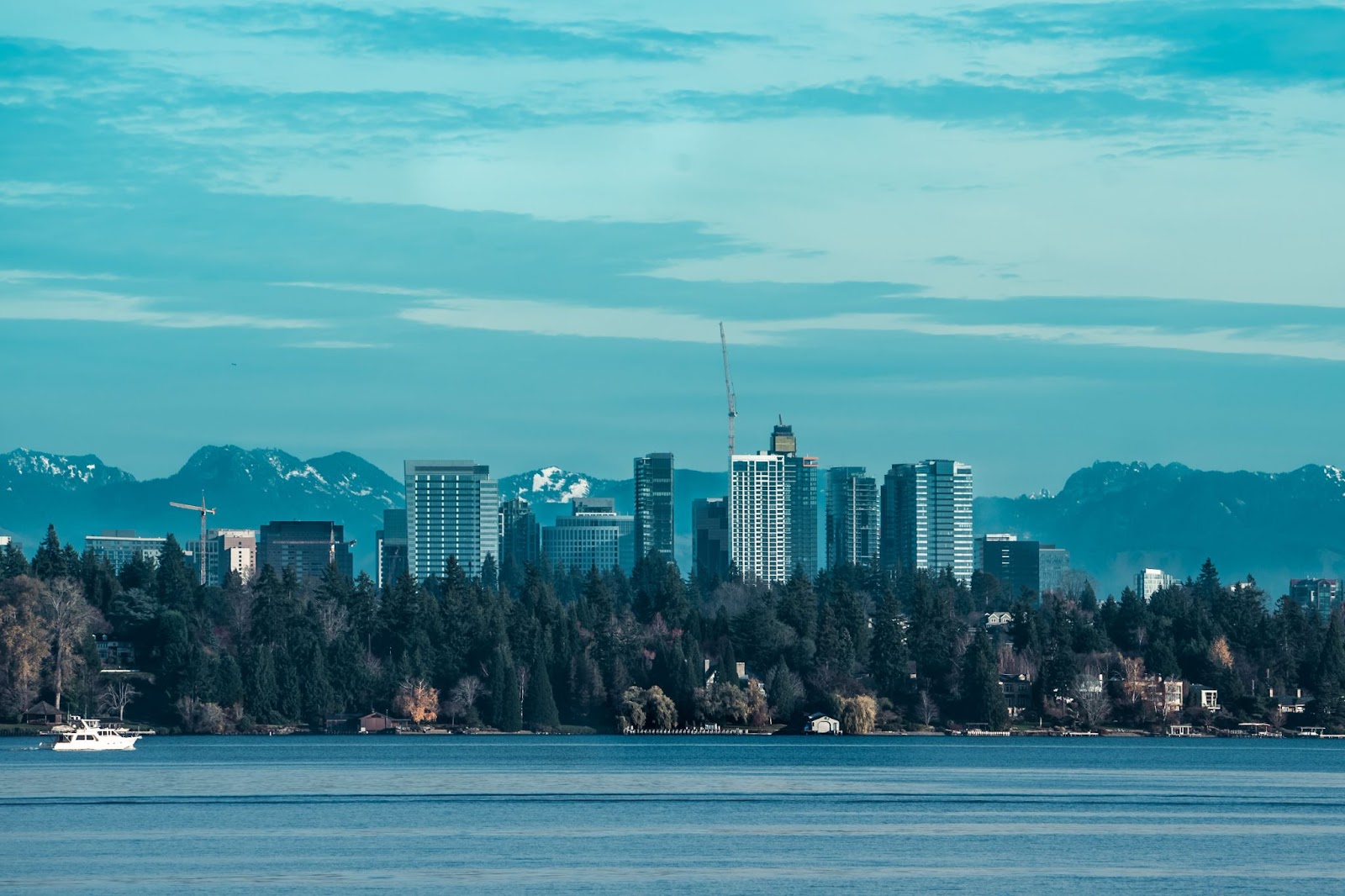 W Bellevue and the Cascades, by Jack Prommel
The view is so tantalizing and welcoming that you may, in fact, be tempted to cross the lake. If you choose to leave the Emerald City behind, consider Ascend Prime Steak & Sushi, which is located on the 31st floor of a Downtown Bellevue high-rise condominium. The two-story restaurant features an imaginative and splendid menu with wood-fired fare served underneath a series of levitating tree roots. Without any doubt, Ascend is the finest and highest place to amaze a date or enjoy a wonderful view of Seattle WA that will "wow" you to bits.
Bellevue has its name for an obvious reason… you'd be mistaken to not discover the reason.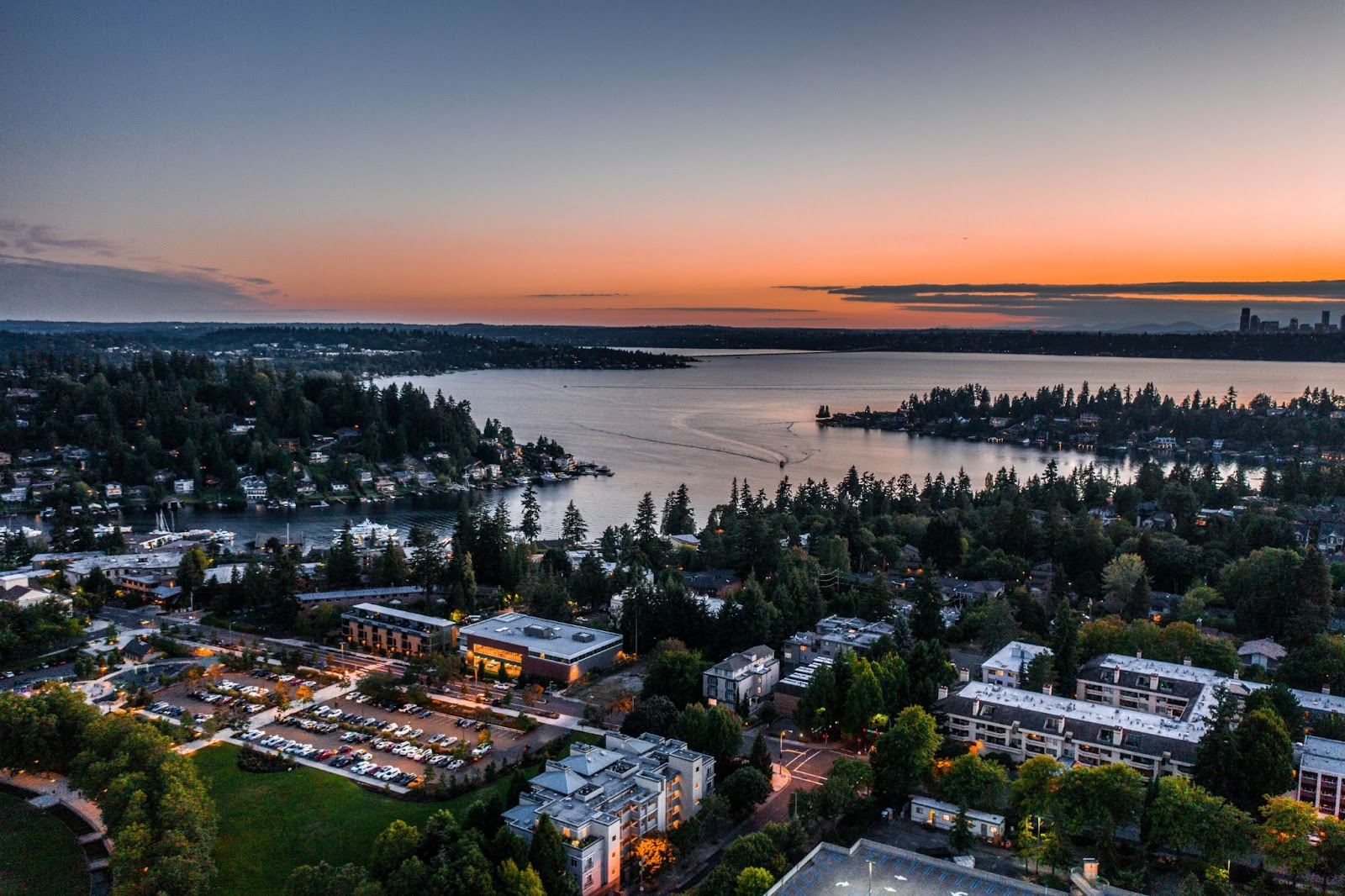 View of the Emerald City from Bellevue, by Zac Gudakov
University District is Home to Everything
University District, directly to the west of UW's campus, is typically referred to as U District. Whatever you choose to call it, just know that this bustling neighborhood is home to a large variety of restaurants, bars (including hookah bars), local art shops, and fun boutique stores. The range of experiences available in University Village are reflective of Seattle's own diverse and mixed culture.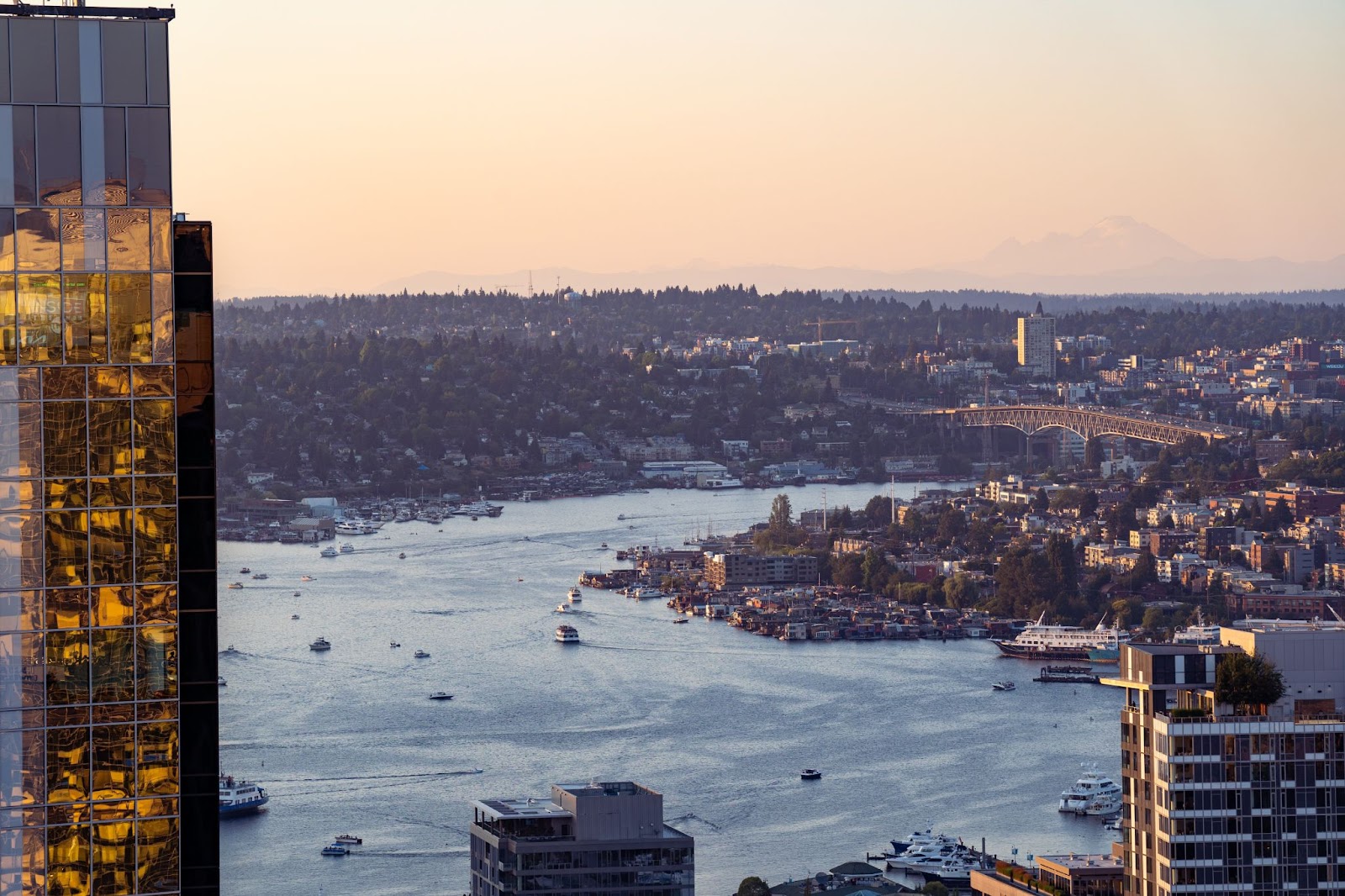 View of University District behind Lake Union, by Lei Jiang
From tattoo parlors to contemporary art galleries and street shawarma to hidden Thai restaurants and Japanese-style burgers, University District has something for everyone to enjoy. Once you're done experiencing University District, nearby parks and public spaces can give you a place to take a break from your studies while reconnecting with nature.
Make no mistake, choosing to live in off campus housing in University District is a great way to have everything right at your doorstep. A large amount of student-friendly housing is available in the area, including co-living shared homes, budget-friendly apartments, and high-end apartments with maid service and other luxury amenities.
Top Spots to Dine and Hang in U District:
Thai Tom
An extremely cozy and popular Thai restaurant, popular with UW students. While the tables are tiny and the wait can be long, the wok-cooked dishes are all packed with flavor. This is a great spot to enjoy delicious Thai food in a fun and authentic atmosphere.
Bok Bok Fried Chicken & Biscuits
Bok Bok is popular for their Korean fried chicken, which can be enjoyed with tasty and filling sides such as kimchi mac 'n cheese or dirty tots (tots served with cheese sauce, ranch, fried shallots & garlic, green onions, and a spicy mix). Their wings are also popular, which can come with a variety of seasonings that include coconut butter (dry rub), four alarm served with milk (dry rub, with Carolina reaper chile powder that has a 2.2 million scoville rating), chinese honey mustard (wet rub), and spiced honey & garlic (wet rub).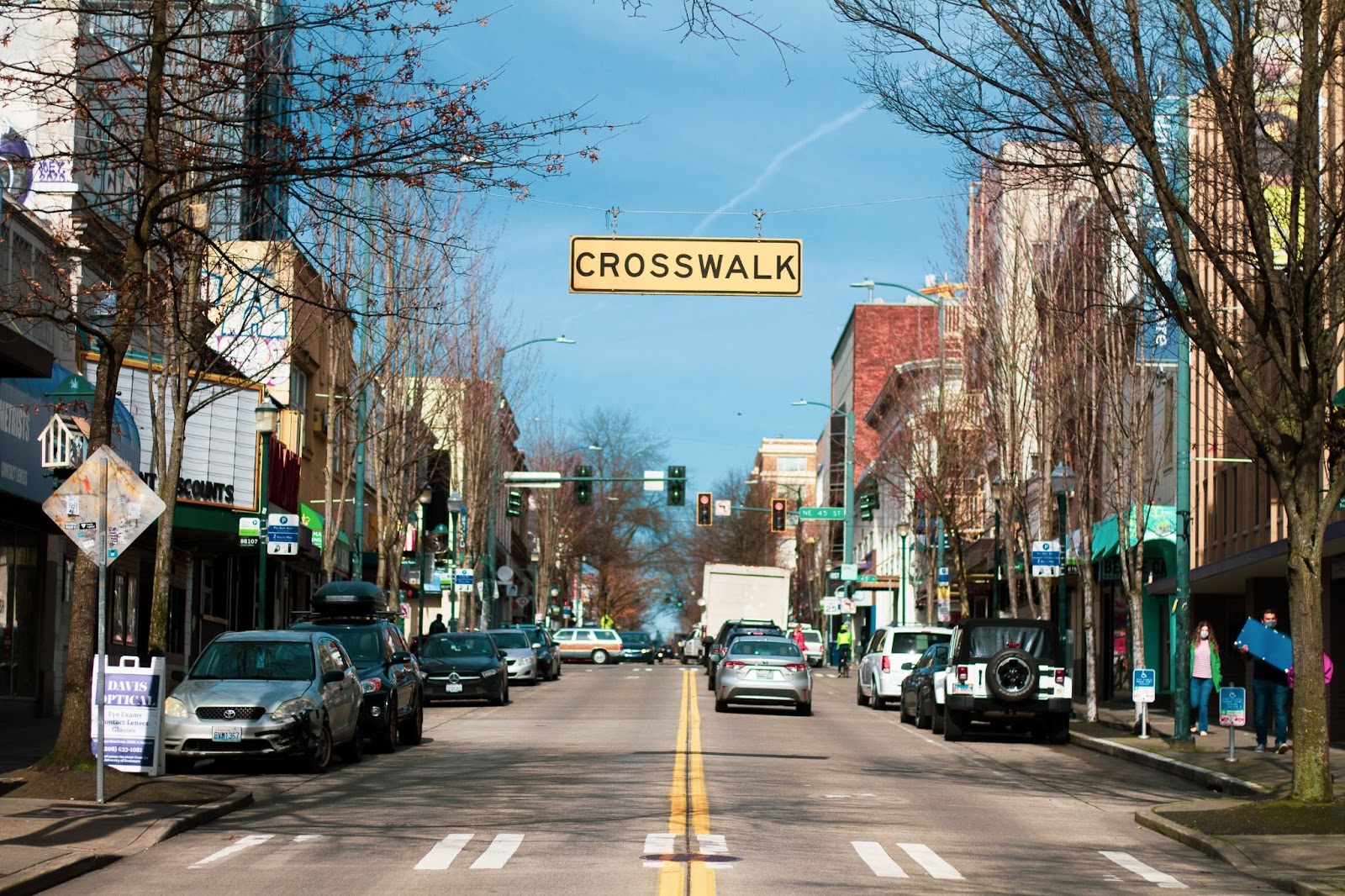 University District, by Sam Battaglieri
Bubble Tea
There are over 20 bubble tea shops in University District. We think it's best if you figure out which you like most.
Oasis has board games and an extensive menu that includes Taiwanese-style small bites.

Sharetea UW has a simple and modern interior and serves milk tea, fruit tea, fresh milk drinks, ice blended teas, tea mojitos, creams, and brewed teas.

If you'd like to enjoy cakes and other baked goods with your bubble tea, Timeless Tea is a great place to check out.
Seattle Hookah Lounge
This hookah lounge is packed with comfortable leather chairs arranged in a manner perfect for hanging with fellow Huskies. The hookah menu is large and only includes high-quality choices. During the daytime, ample sunlight makes for a coffee bar-like atmosphere. Nighttime offers a relaxed, mellow atmosphere with chill music. The lounge also has a selection of board games and cards.
Portage Bay Cafe
The first thing you must know about Portage Bay is that they're always busy and have limited business hours (8am-1pm). This bustling and bright cafe has a seasonal breakfast, brunch, and early lunch menu made with local and organic ingredients. The food at Portage Bay tastes as good as it looks (and it all looks beautiful!).
Agua Verde Cafe
Agua Verde is a waterfront cafe specialized in classical Mexican cuisine and cocktails. Colorful and vibrant colors match the vibe of this restaurant, which serves mouth wateringly flavorful and fun dishes. Views of Portage Bay help moderate the exciting tone of this restaurant.
Best Places to Enjoy Nature near U District:
UW/Washington Park Arboretum
The Washington Park (or UW) Arboretum is a 230-acre preserve with a massive and tranquil Japanese garden. Temples, Japanese maples, and various ponds filled with koi can be enjoyed as you stroll along the multitude of paths. The Arboretum Waterfront Trail connects Marsh Island to Foster Island and swoops down within inches of the water.
If you're seeking something more active, consider renting a canoe! You can row amongst lily pads while weaving around the I-520 floating bridge. Most seafarers stick to Union Bay but Lake Washington is also fun to explore.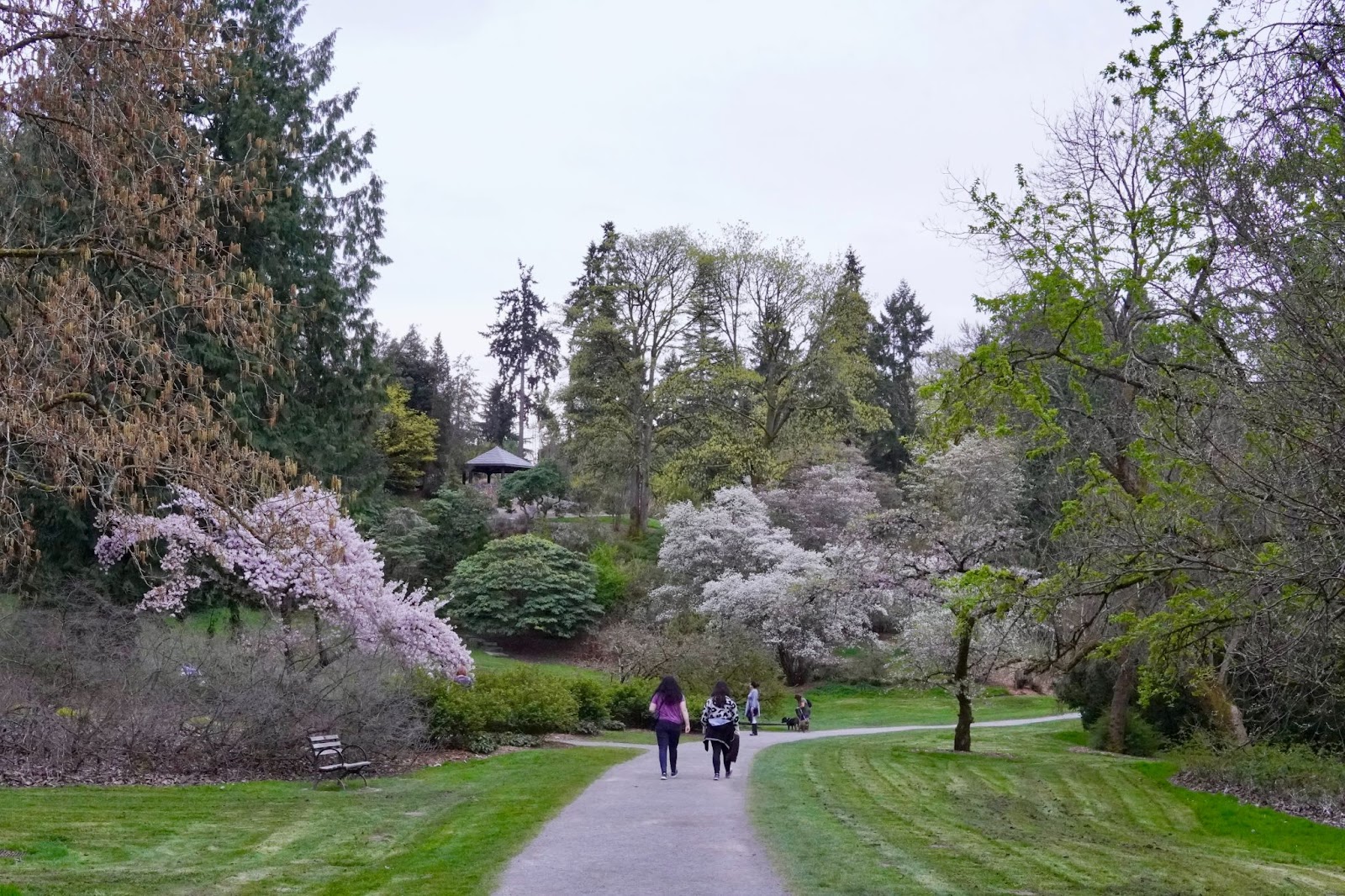 Washington Park Arboretum, by Brett Wharton
Ravenna Park
Located mere minutes away from UW campus, U Village, and University District, Ravenna Park offers a complete escape from the bustles of school and city life. One of the Emerald City's numerous greenbelts, Ravenna Park offers fun paths for running, jogging or walking. The paths swoop around the thickly forested park. While at this park you can easily forget that 750,000 people live around you.
Cowen Park is at the Western end of the Ravenna ravine, right at the tip of University District. Cowen is a grassy open-area with playgrounds and BBQ pits.
University Village Offers a Premium Experience
University Village is commonly referred to as U Village and is not the same place as University District. It is located downhill and to the west of UW's campus. It's within walking distance of campus. U Village is home to all the high-end and typical stores you'd want to visit and a top reason why Young professionals rave about the area.
U Village has 71 stores, with five anchor tenants, including Apple, Sephora, J Crew, The North Face, Banana Republic, Tommy Bahama, and Victoria's Secret. The entirety of U Village is immaculately landscaped, making strolls a leisurely experience.
J.Crew is a popular American clothing brand with a store located in the University Village shopping center in Seattle. The store offers a wide range of clothing and accessories for men, women, and children, including casual wear, workwear, and formal attire.
J.Crew is known for its classic and timeless styles, with a focus on high-quality materials and attention to detail. The U Village store embodies this aesthetic with its clean and minimalist design, providing a sophisticated and relaxed shopping experience.
The store also offers a personalized styling service, where customers can work with a stylist to find the perfect outfit for any occasion. With its wide selection of clothing and accessories, J.Crew in U Village is a great destination for anyone looking to update their wardrobe with timeless, stylish pieces.
Victoria's Secret is a popular lingerie and beauty brand with a store located in the University Village shopping center in Seattle. The store offers a wide range of intimate apparel, including bras, panties, lingerie, sleepwear, and loungewear, as well as fragrances, lotions, and other beauty products.
The Victoria's Secret brand is known for its glamorous and sexy image, and the store in U Village embodies this with its sleek and modern design. The store also provides a comfortable and personalized shopping experience, with knowledgeable sales associates available to assist customers with sizing and style recommendations.
Overall, the Victoria's Secret store in U Village is a must-visit for anyone looking for high-quality lingerie and beauty products in the Seattle area.
Banana Republic is a well-known clothing and accessories brand with a store located in the University Village shopping center in Seattle. The store offers a wide selection of high-quality clothing and accessories for men and women, including casual wear, workwear, and formal attire.
Banana Republic is known for its sophisticated and modern style, with a focus on classic designs and attention to detail. The U Village store embodies this aesthetic with its elegant and modern design, creating a welcoming and relaxed shopping experience.
In addition to its clothing and accessories, Banana Republic also offers a range of lifestyle products, including home decor, fragrances, and jewelry. With its wide selection of quality products and commitment to excellent customer service, the Banana Republic store in U Village is a must-visit for anyone looking for stylish and sophisticated clothing and accessories.
Sharetea is a popular Taiwanese bubble tea chain with a location in the University Village shopping center in Seattle. The chain is known for its wide variety of tea flavors and customizable options, including milk teas, fruit teas, and specialty drinks like matcha lattes and slushies.
The U Village location offers a cozy and modern atmosphere for customers to enjoy their drinks, with ample seating and free Wi-Fi. In addition to their signature bubble teas, Sharetea also offers a range of snacks and desserts, including crispy chicken bites, fried calamari, and shaved ice.
Sharetea's commitment to using high-quality ingredients and providing excellent customer service has made it a go-to spot for bubble tea enthusiasts in Seattle. With its convenient location in U Village, customers can easily grab a refreshing drink or snack while shopping or hanging out with friends.
The North Face is a popular outdoor apparel and equipment brand with a location in the U Village shopping center in Seattle. The store offers a wide variety of high-quality products for outdoor enthusiasts, including clothing, footwear, backpacks, tents, sleeping bags, and other accessories.
The North Face is known for its commitment to using sustainable materials and practices in their products, and they offer many environmentally friendly options. The U Village location has a knowledgeable and friendly staff who are passionate about outdoor activities and can provide expert advice and recommendations.
Whether you're an experienced hiker or just starting to explore the great outdoors, The North Face in U Village is a great place to find everything you need for your next adventure.
If you want to live in U Village, there are student-friendly off campus apartments available.
Here are some reasons to visit University Village, outside of shopping:
Safeway and QFC are located here, right next to each other. Perhaps it's a little weird to have two full-sized grocery stores in the same area… but really, it's just another convenience Huskies or anybody living in nearby off campus housing can enjoy!

Molly Moon's Homemade Ice Cream – A well-loved local chain that sources 90% of their ingredients from the Pacific Northwest and donates 10% of all profits to food banks, equity, and women empowerment initiatives. You would not experience Seattle without stopping by. The menu can be intimidating, so we recommend the classic Salted Caramel served with a waffle cone.

Ba Bar Restaurant – Ba Bar has several locations throughout the city that serves high-quality Vietnamese cuisine alongside a fine selection of expertly-crafted cocktails. The U Village location has cheerful colors and bamboo-wicker chairs in a garage-style interior that is spacious and airy.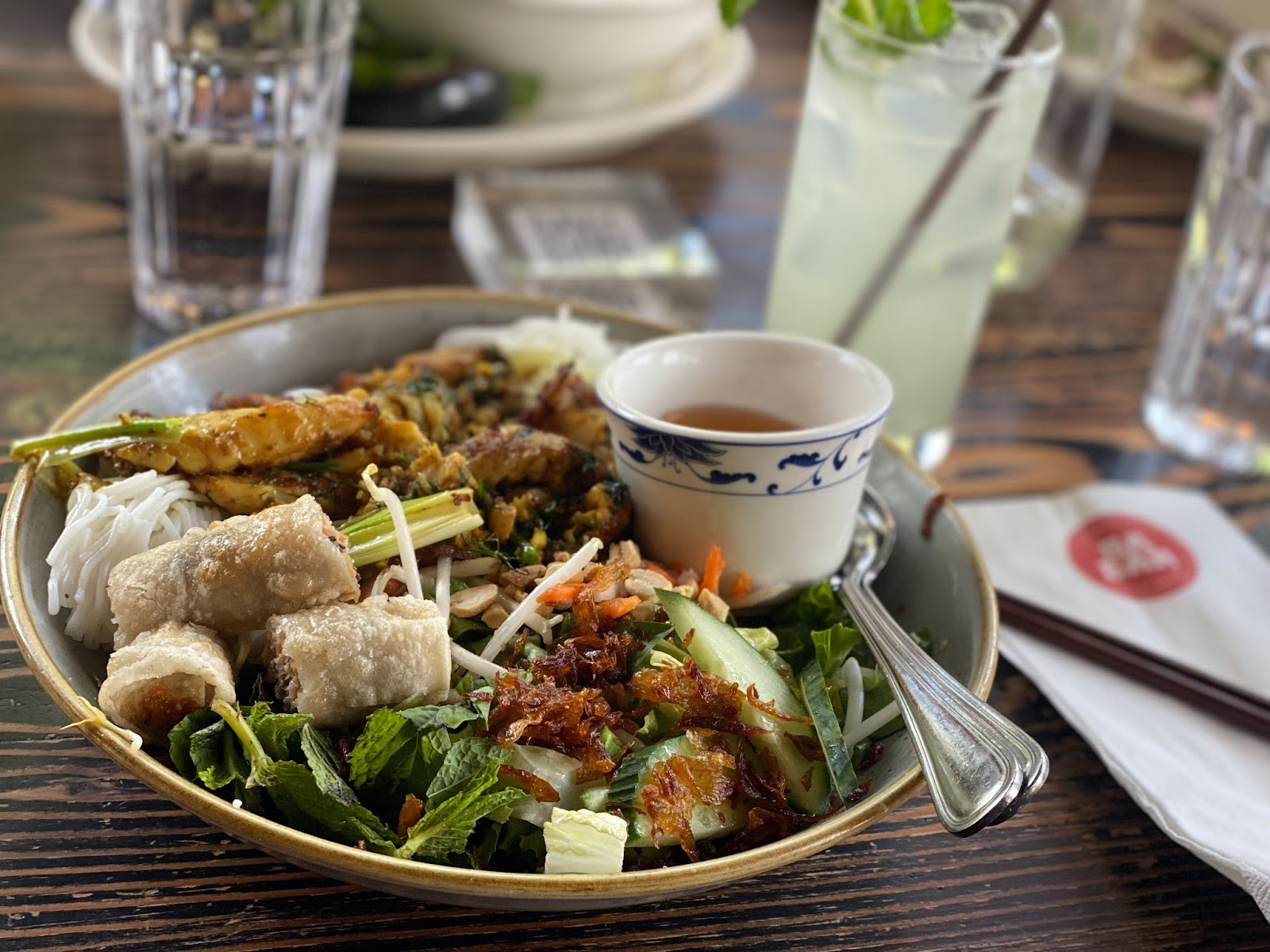 Vermicelli Bowl at Ba Bar (Capitol Hill), by Halomon
Din Tai Fung – Din Tai Fung is a world-famous Taiwanese restaurant, acclaimed for its Shanghai-style dumplings and noodles. While waiting in the long line, you can enjoy a view of the cooks preparing fresh dumplings (all food is made on-site, from scratch).

JOEY University Village – JOEY is the spot to enjoy a calm and dimly lit classic American vibe. The broad menu features a wide range of international and local dishes. Food here is tasty and portioned generously
Explore Seattle's Vibrant Cultural and Social Scene
Future Huskies living in on or off campus housing in the area enjoy direct access to Downtown Seattle's vibrant cultural and social scene. Many of these places are within walking distance from UW.
The furthest places are easily accessible, thanks to Downtown Seattle's robust and convenient public transportation system. No matter how far you have to go, light rail and bus connections can get you where you want to be quickly and conveniently.
Neptune Theatre
Located in the heart of University District, the Neptune is a 1920s cinema that was converted into a live performance venue. Designated a city landmark, this venue is a must-see thanks to its stained glass windows and always-interesting lineup of events.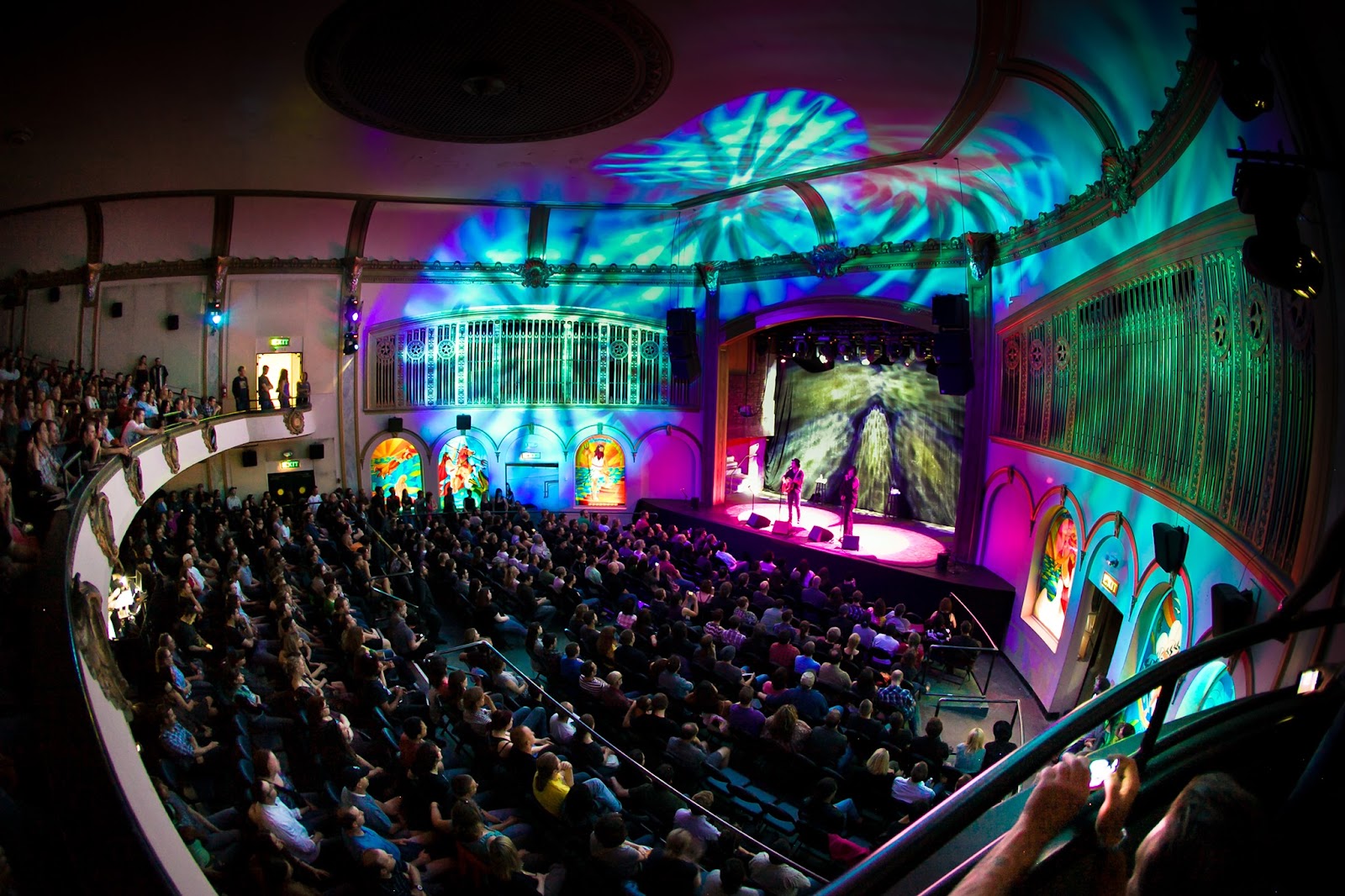 Show at The Neptune, by Neptune Theatre
Seattle Art Museum
Seattle's principal art museum is typically referred to as SAM. You can enjoy SAM's expansive permanent and rotating exhibits for free every first Thursday of the month. SAM is hard to miss, thanks to the massive 48-foot tall Hammering Man kinetic statue, which silently and steadily hammers four times per minute, 20 hours a day.
The Seattle Asian Art Museum (or SAAM) is the sister museum of SAM. SAAM features various artworks and sculptures from China, Korea, Japan, India, the Himalayas, and other Southeast Asian countries. Located at Volunteer Park, SAAM is a great museum to visit if you also want to experience the outdoors. SAAM, situated in Capitol Hill, is closer to UW's campus and is a short-walk to the beautiful Volunteer Park Conservatory, which is a historic Victorian-era greenhouse filled to the brim with exotic plants, ferns, and trees.
Olympic Sculpture Park
A 9-acre outdoor park on Elliott Bay, the Olympic Sculpture Park is the third venue of SAM. The OSP features 20 imaginative and larger-than life sculptures, including Eagle by Alexander Calder, Echo by Jaume Plesna (a mind-bending and massive 40' Grecian head bust), brilliantly-green Neukom Vivarium (this is the Emerald City, after all!), and the frustratingly-literal Seattle Cloud Cover.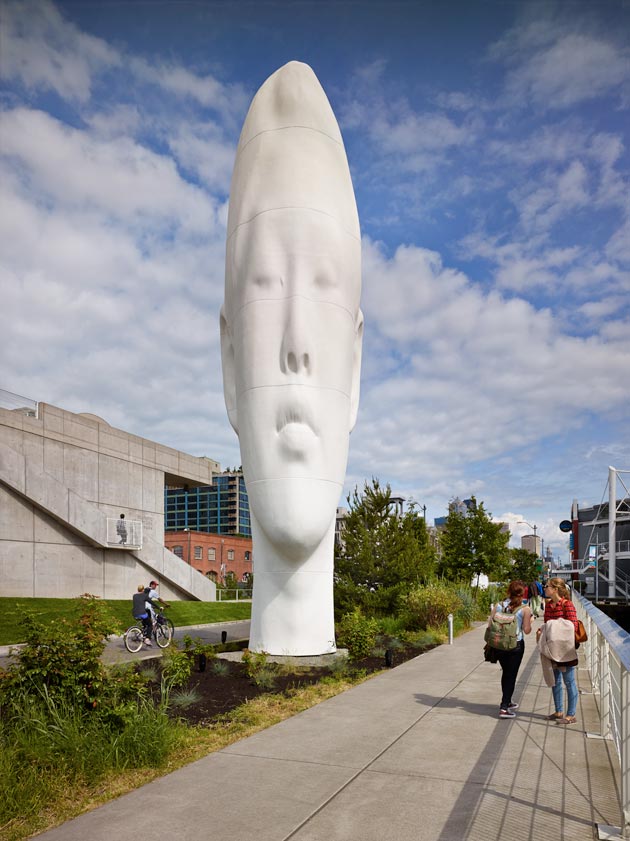 Echo by Jaume Plensa, from SAM
Even on a cloudy day, these sculptures will inspire you… with the exception of Seattle Cloud Cover, which just might make you want to run through the park and jump into the Father and Son water fountain.
Henry Art Gallery
Henry Art Gallery is located directly at the UW Campus, near Red Square. The Henry features a contemporary art collection and is the State of Washington's first public art museum. The rooftop entrance features miniature Louvre-reminiscent pyramidions. A diverse rotating collection in lieu of the permanent Light Reign installation by James Turrel encourages repeat visits to The Henry.
From the outside, Light Reign looks like a massive lampshade. From the inside, visitors can enjoy and contemplate seasonal changes in the sky. Light Reign has hosted meditation sessions and performance art pieces.
Seattle Aquarium
Located directly on Elliott Bay, close to the Olympic Sculpture Park and a 2-minute walk away from the Seattle Wheel, this aquarium gives you an appreciation for and connection to Seattle WA's proud maritime history. The aquarium's animal collection is housed within six awe-inspiring exhibits.
Underwater Dome – An undersea dome that gives guests a 360-degree view into a natural 400,000-gallon habitat complete with a live, seasonal kelp forest.. You can see schools of salmon, sharks swimming amongst reefs, and deep-water rockfish.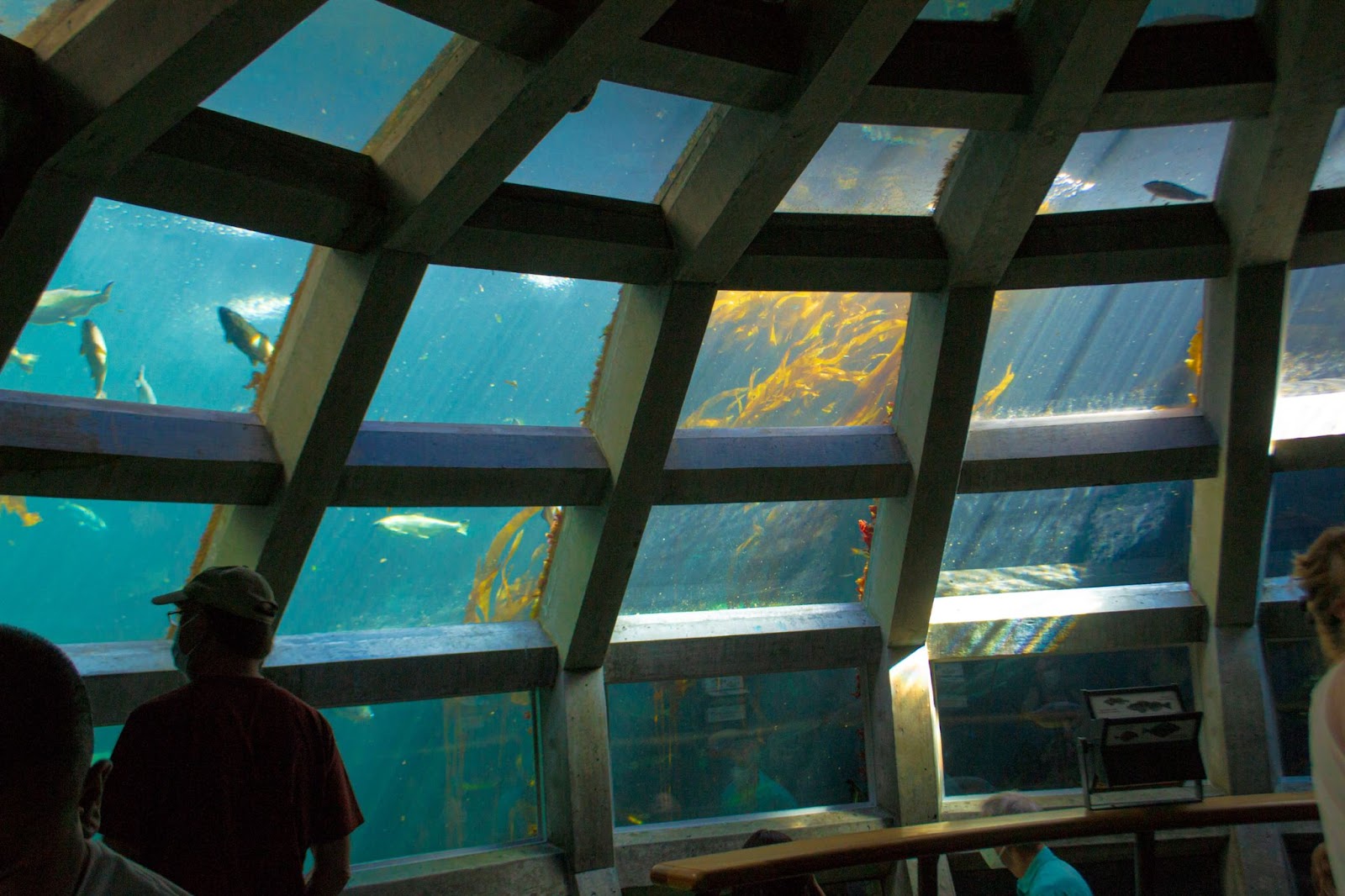 Underwater Dome at SEA Aquarium, by Jerrick Castillo
Window on Washington Waters – The first sight you see at the aquarium is a 120,000 gallon exhibit featuring hundreds of fish and invertebrates native to the Pacific Northwest. From a massive 20x40 foot window, you can enjoy an accurate recreation of Neah Bay, a marine environment at the Northwestern corner of Washington State.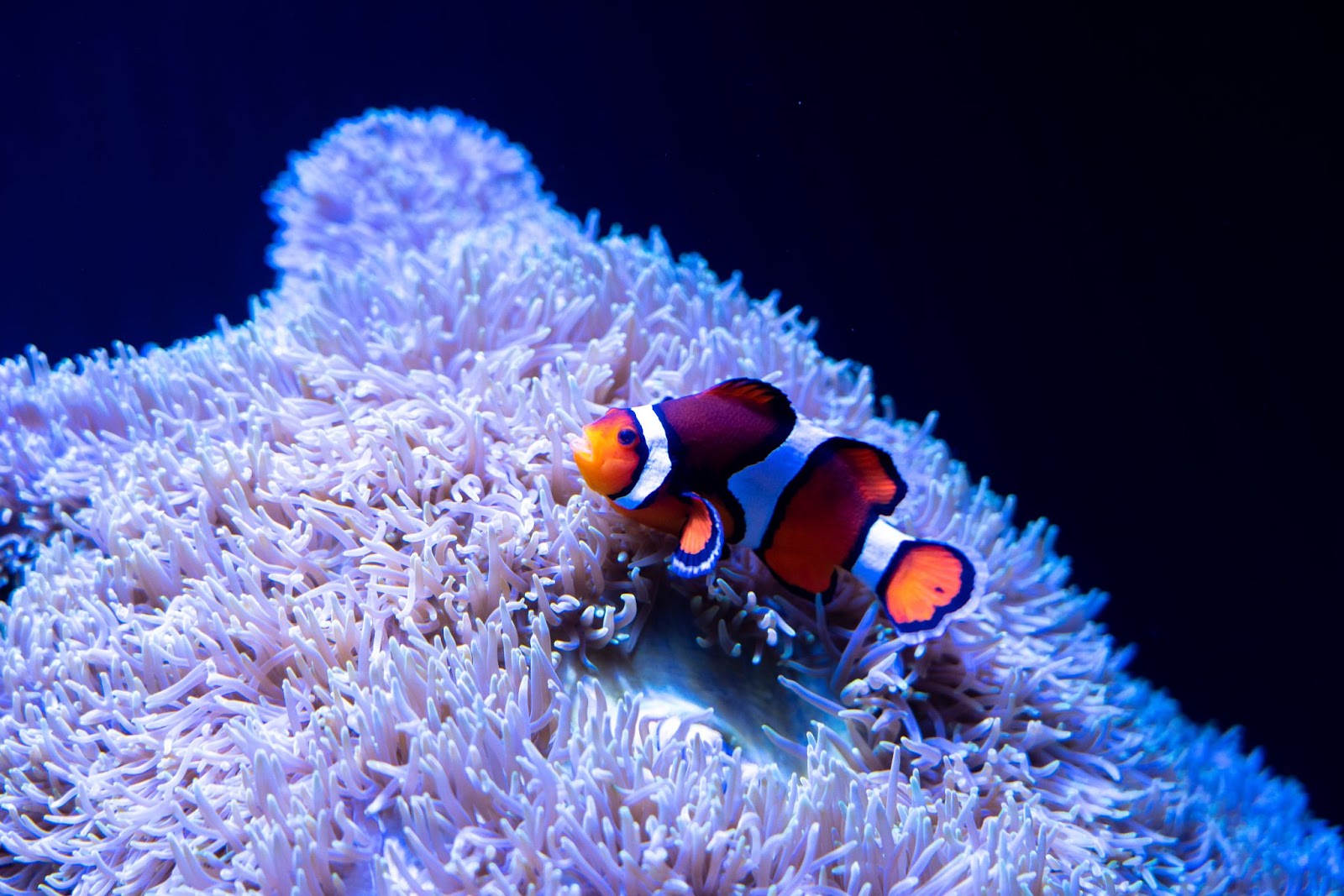 Clownfish and coral at SEA Aquarium, by Yiyang
Tropical Pacific – A fine place to immerse yourself in warmer climate vibes during the long winter. Tropical Pacific is home to a wide-range of vibrant and colorful fish, including puffers, triggerfish, and clownfish. You'll also spot giant clams amongst the human-made coral reef.
Capitol Hill is UW's Closest Neighborhood
We gave a small mention to Capitol Hill when talking about SAAM. Capitol Hill, the Emerald City''s original gayborhood, is directly to the south of UW campus. There's a lot to do in diverse Capitol Hill, thanks to a large amount of hip bars, eateries, gay clubs, coffee shops, and stores.
Volunteer Park and Cal Anderson Park both offer beautiful views and ample space for enjoying a bustling social scene.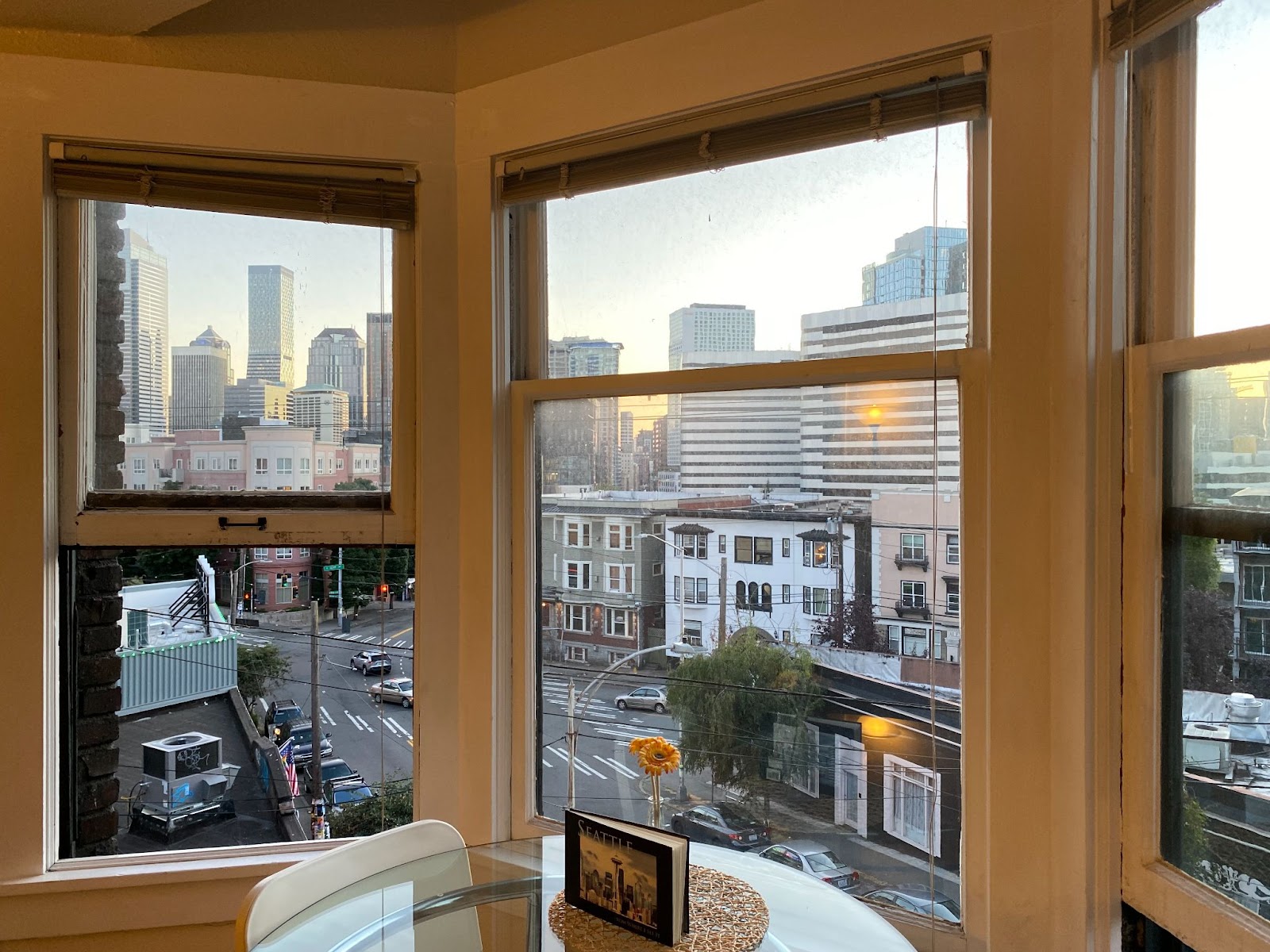 Morning in Capitol Hill, by Halomon
Top spots in Capitol Hill include:
canon – Stylized "canon," this is a snug and high-class bar specializing in whiskey cocktails. This is a fine spot to enjoy bites in a retro and bottle-adorned space. Many returning patrons consider this a "Whiskey library" of sorts.

The Doctor's Office – Come here to enjoy a true speak-easy vibe. Thanks to the tiny space of this bar, you are up-close-and-personal with your bartender as you enjoy fine cocktails in a quiet and relaxed atmosphere.

Meet Korean BBQ – This KBBQ joint is solidly on the higher end of dining, Meet invites you in with a stunning "hello gorgeous" neon sign. The contemporary and handsome space is a fine place to enjoy Korean side dishes and wagyu steak cooked directly at your table by a friendly, but professional, team of chefs.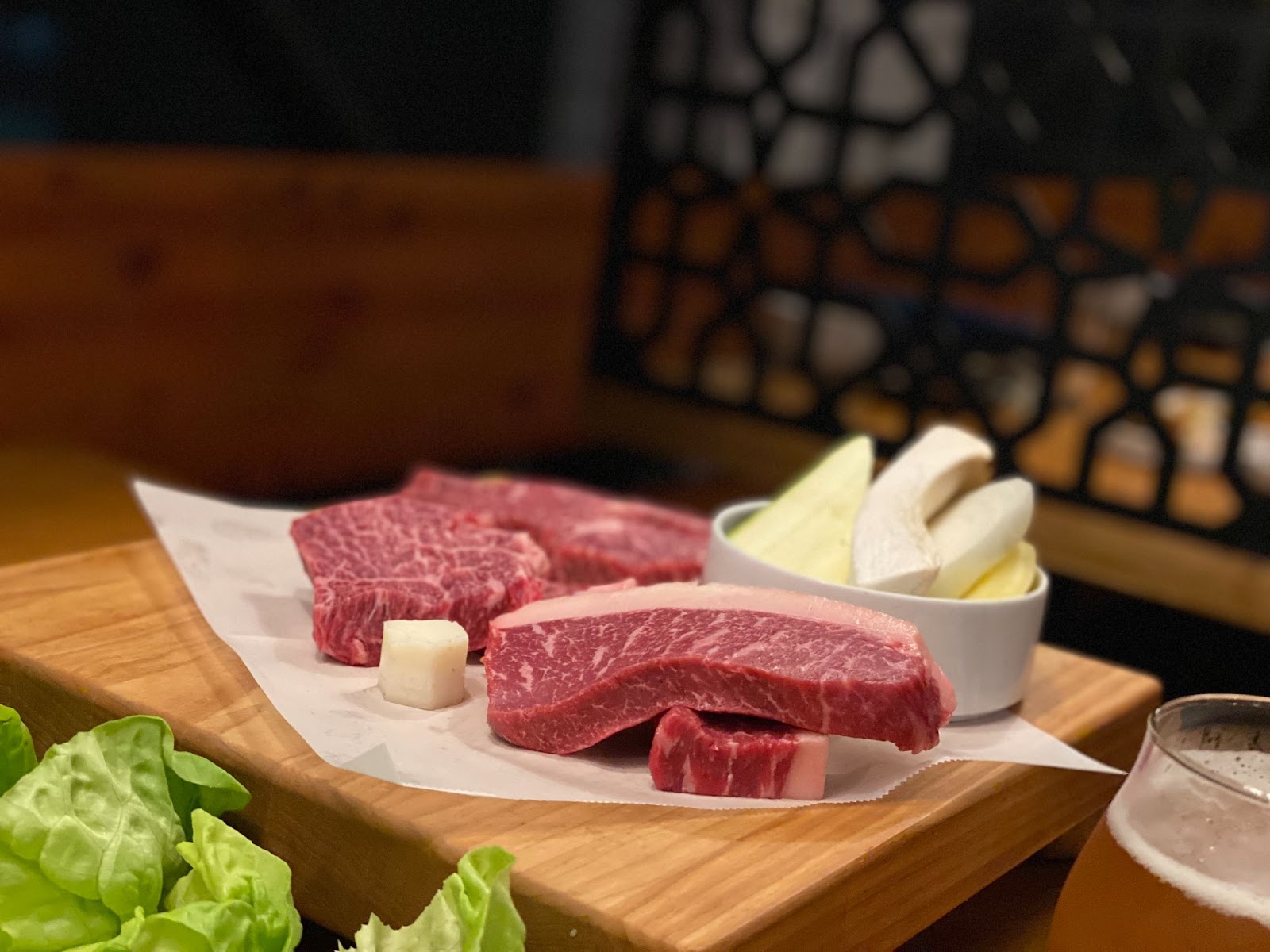 Wagyu, cuts, and vegetables at Meet, by Halomon
Rhein Haus – Rhein Haus is a small chain (only 3 locations) of highly-authentic German-style biergartens. At every Rhein Haus you can enjoy bratwurst, pretzels, schnitzels, and a massive selection of imported German beers or schnapps.
Fireplaces and bocce balls in a German barn-style setting make a fun experience you can only enjoy in Seattle, Leavenworth (Washigont's little German town in the mountains), or Denver. Seriously, check this place out.
Choosing to live in a U Village or University District apartment complex or shared housing means you can get the best of both worlds. Live in a vibrant and diverse community minutes from campus and have access to the even-grander neighborhood of Capitol Hill.
UW Off Campus Housing
If you're a future Huskie excited by the prospect of living in this beautiful city, but concerned about finding the right place to live… stop worrying because there are many top options for UW off campus housing all over the Emerald City!! Thanks to companies like Tripalink, it's easy to find your new home in Downtown Seattle, Capitol Hill, U Village, or University District.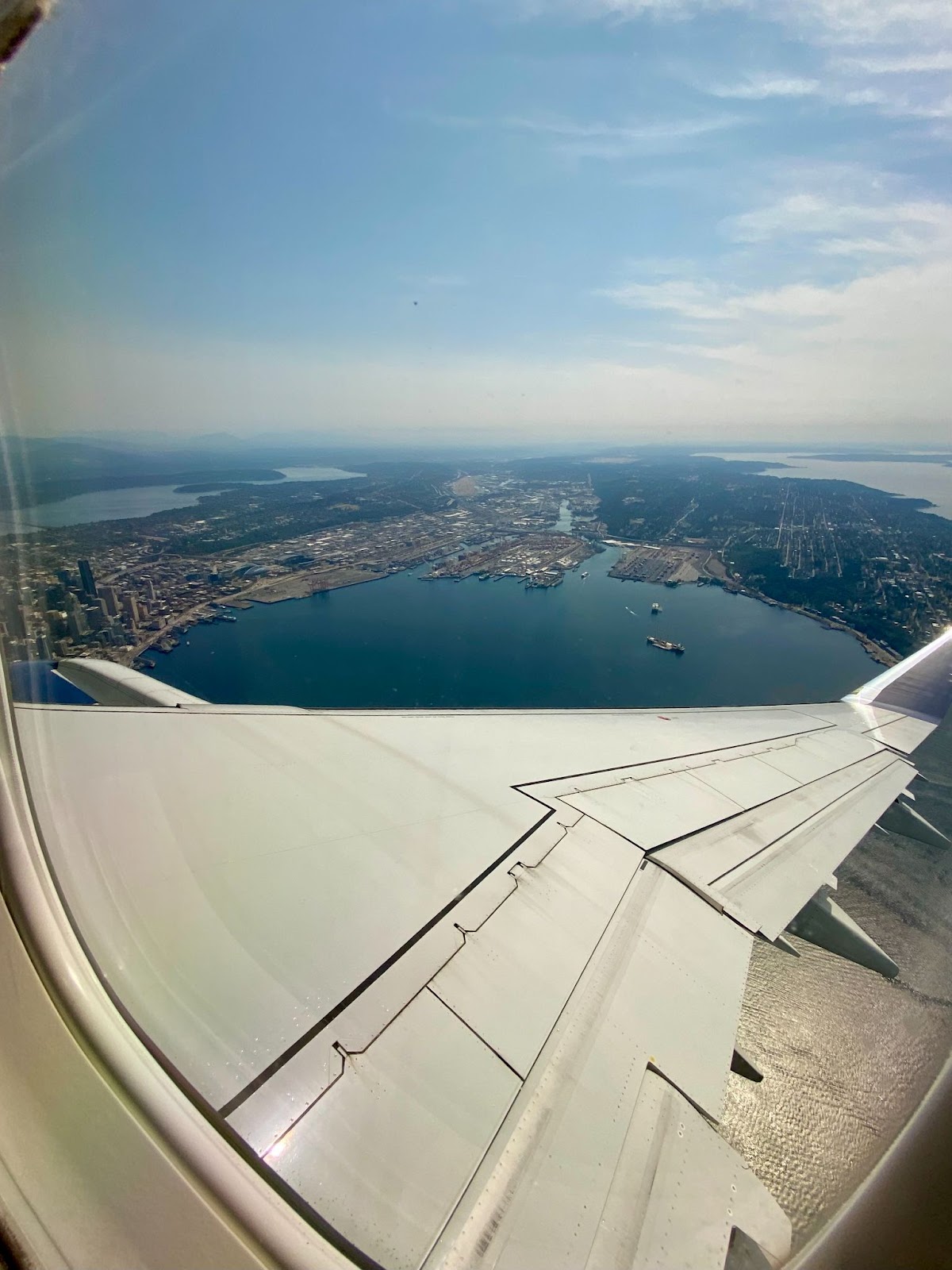 Flying over Elliott Bay, by Halomon
Shared homes in the area include large common areas and come fully-furnished with a twin size bed, set of study tables & chair, nightstand, and TV. Some higher end shared homes have high-end quartz countertops and wood flooring.
Your own private apartment will cost you between $1,100 to $1,700 a month. For this price you can expect a new contemporary apartment with private balconies, high-quality interiors with fully-equipped kitchens, package lockers, community lounges, in-building or in-unit laundry, and secure entry systems. Some apartments come fully-furnished, so you can move-in and immediately focus on getting to know Seattle.
As a reminder, if you're an incoming freshman Husky you don't need to live on campus. This means that UW off campus housing is a great choice for any student of UW, incoming or established. You'll love living in the Emerald City.