Fremont is one of Seattle WA's best neighborhoods. This is best captured by the neighborhood's unofficial motto as "The Center of the Universe," which appears on a "Welcome" sign that also warns visitors to turn their watch ahead five minutes!
Fremont Seattle is one of the Emerald City's quirkiest neighborhoods; not many places are home to a troll, dinosaurs functional drawbridge, rocket, sculptures you can dress up, and a statue of Lenin! In addition to unique landmarks, Fremont Seattle is also home to countless places to live, work, dine, drink, shop, and stay & play at! As well, Fremont is centrally located and is just a few minutes from the Downtown area, which makes it an excellent starting point to your time in Seattle WA.
Fremont is home to a variety of exciting activities and attractions. Whether you're a local or a tourist, there's always something fun to do in Fremont. In this blog post, we'll explore some of the best things to do in Fremont Seattle.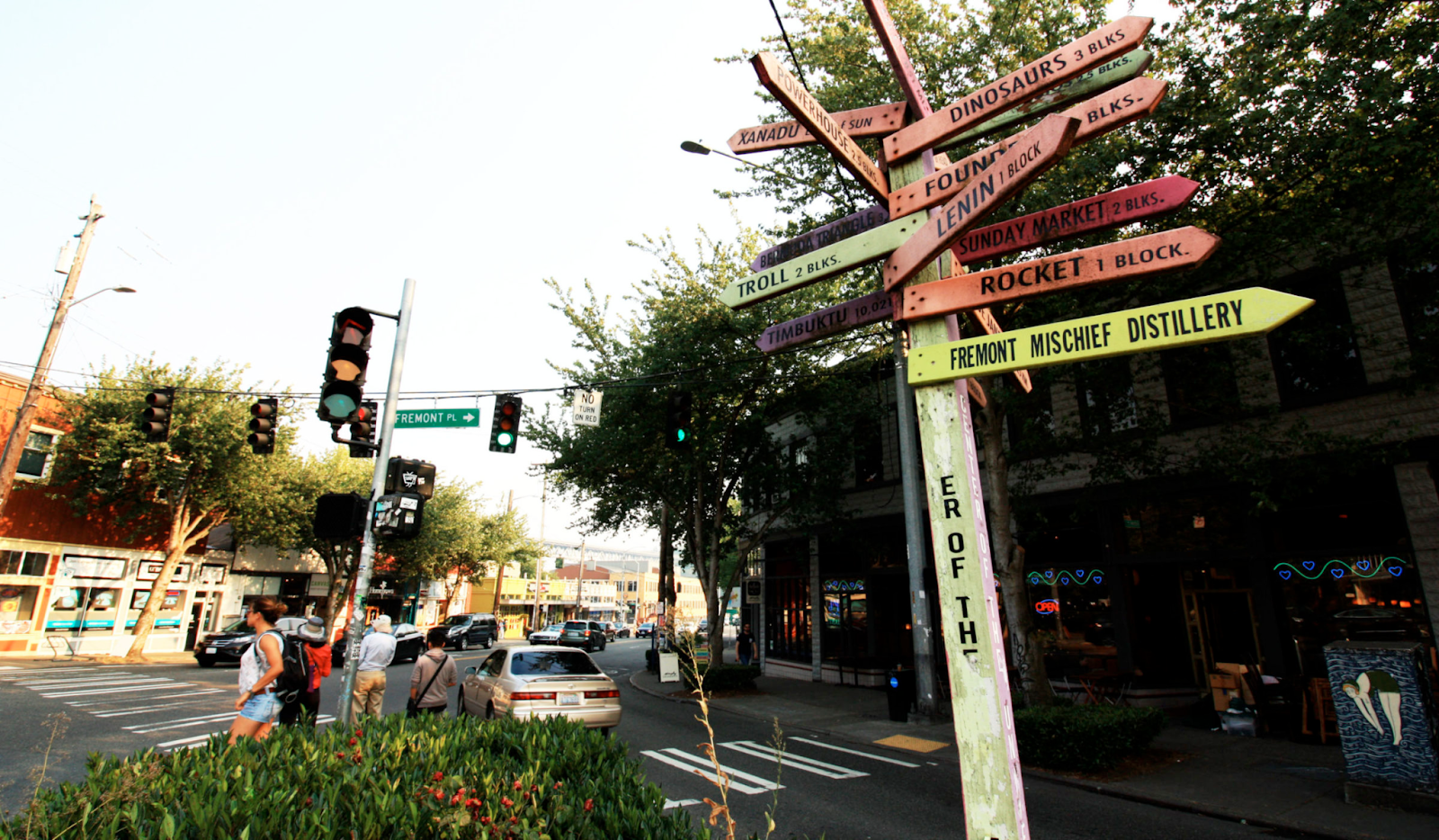 Center of the Universe Guidepost, Photo: Chamber of Commerce
Fremont Seattle's History

Fremont Seattle was originally its own city and was annexed to Seattle WA in 1891. It was named after Fremont, Nebraska by its two founders. The neighborhood is home to a population of around 11,000 Seattleites and comprises an area just under one-square mile; due to its high density, there has been a large uptick in the construction of new residential apartment complexes.
Using the Space Needle as a reference point, Fremont is 3 miles away from Downtown Seattle WA. Fremont Seattle is located alongside the Washington Ship Canal and is bordered by Ballard to the West, Queen Anne to the South, and Woodland Park to the North. Most of Seattle's neighborhoods are easily accessible from Fremont thanks to ample public transit options, pedestrian-friendly sidewalks, and plenty of main thoroughfares and side road connections.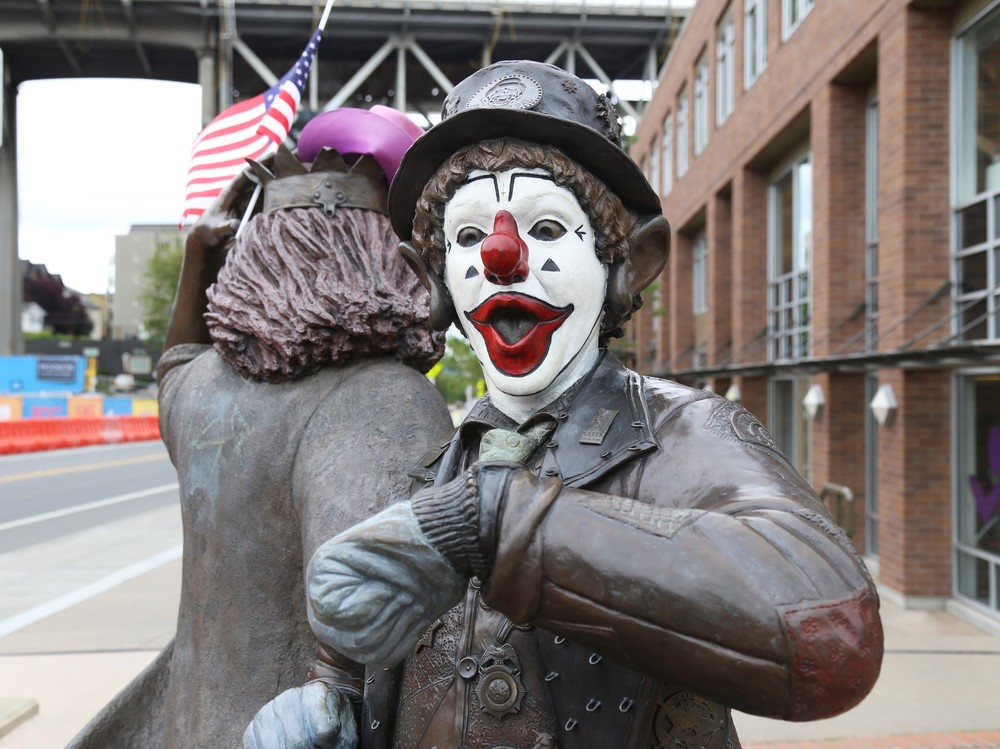 Late for the Interurban (sculpture), Photo: Rain or Shine Guides
Fremont Seattle is a city within a city; in fact, the only thing the neighborhood lacks is a hospital (don't worry too much as there are hospitals in nearby Ballard!). Residents and visitors enjoy a unique and extremely quirky urban culture that contributes to and helps define the greater Seattle area.
While many parts of the Emerald City have grown up in the last decade, this neighborhood has managed to maintain much of its charm–various art installations and sculptures like Richard Byer's "Waiting for the Interurban," which gets dressed up by locals, and others we'll let you know about play a key role in keeping the spirit alive!
Waiting for the Interurban (sculpture), Photo: Richard Byer Sculpture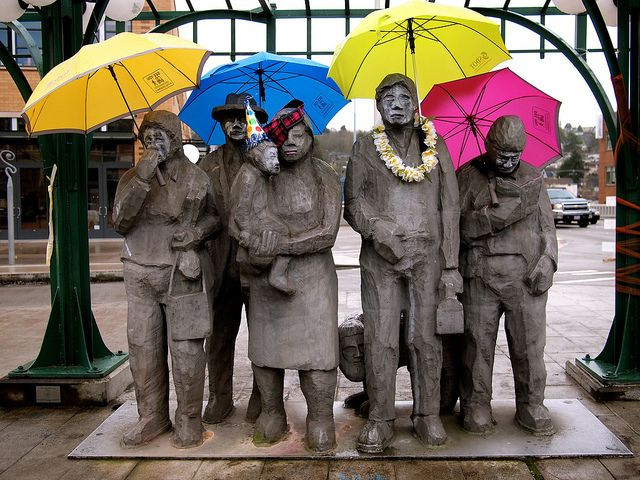 Waiting for the Interurban (sculpture), Photo: Xurxo Martínez
The Drawbridge and "Gridlock"
The neighborhood is most commonly accessed by the 502-foot long Fremont Bridge, which is a classic Seattle WA landmark. The bridge is one of four operational drawbridges in Seattle WA and was added to the National Register of Historic Places in 1982. The drawbridge opens an average of 35 times a day, which makes it the most frequently opened drawbridge in the United States.
The drawbridge was recently repainted into its original blue and orange colors as part of a $42 million restoration. No, the bridge is not celebrating Russel Wilson's new team, the Denver Broncos. Rather, in typical Seattle fashion, the reason is rooted in compromised backpedaling. The full story is that "Canal Blue," won by a landslide and received 1,153 votes. Orange was omitted from the ballot. However, "Fremont Orange" received 253 write-in votes, giving it significantly more local support than "Sky Grey" (124 votes) and all the other options.
The city's Engineering Department omitted orange because it was "chemically unsuitable" to withstand expected wear and tear. Fremont's then-honorary mayor, Armen Stepanian, suggested that the "real" reason for the omission was… that local business owners felt orange was synonymous with the neighborhood's image as a "haven for hippies." Local residents showed overwhelming support for an orange hue through various petitions, polls, meetings, and letter campaigns.
Terry Denton, then-president of the Neighborhood Council stated, "This is not a fight over what color is going to be painted. It is a symbolic battle over what people think the history and future [...] is. The bridge ought to be orange, not because it is the prettiest color, but because the orange bridge is a symbol of [the neighborhoods] continuing renewal and development." Seeing vitriolic support, the city government capitulated and chose to paint the bridge mostly blue and slightly orange.
Jim Daly, the then-president of the neighborhood's Chamber of Commerce, referred to the two-tone color scheme as "the paint of compromise." So, no, this neighborhood is not a Pacific Northwestern holdout for fans of the Broncos… it is just home to passionate residents who love the area they live in, the history that led to its creation, and gridlock of the political and physical type.
(You're not a true "new resident" until you call into work to tell your boss you're running late "because the bridge is stuck up")
Drawbridge in Action, Photo: Kjell Redal, The Seattle Times
Fun Things To Do in Fremont Seattle
Fremont Seattle offers countless opportunities for having fun, meeting new people, and enjoying Seattle. This neighborhood hosts year-round community events that draw in large crowds of locals and visitors! When there isn't an event to attend, rest assured there will still be plenty to see, taste, or visit.
Here's a rundown on some attractions, sightseeing, and fun things to do in Fremont Seattle.
Fremont Sunday Market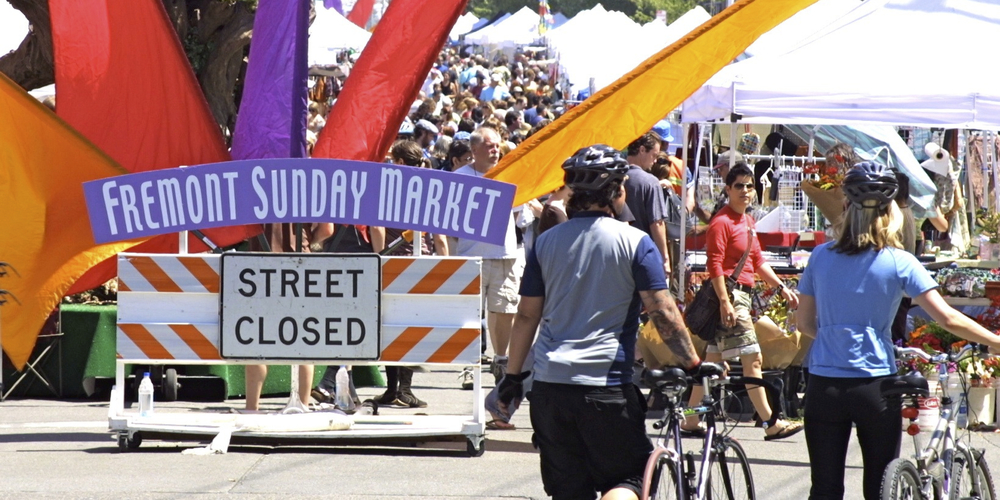 Sunday Market, Photo: Seattle's Child
The Fremont Sunday Market is a year-round European-style street market. This sunday market has been running for over thirty-two years and is one of Seattle WA's longest-running events. Rain or shine, on every Sunday (from 10am to 4pm), 150 vendors show up and allow you to browse through a diverse assortment of organic produce, street food, antiques, arts & crafts, furniture, and clothes!
The Fremont Sunday Market takes over parts of N 34th St and roughly ends where the Fremont Dinosaurs are found. Once you've found your haul, it's easy to take ten and watch boats on the canal from Canal Park or Evanston Plaza.
Fremont Troll
The Fremont Troll is one of Fremont Seattle's most famous celebrities and has appeared in several films, such as The Twilight Saga, Sleepless in Seattle, and 10 Things I Hate About You. The troll is an 18-foot tall public sculpture nestled under the Aurora Bridge and is located on N 36th Ave and Troll Ave N. The troll is an iconic part of Seattle WA's culture and in 2022, the Seattle Kraken introduced Buoy as their new mascot. Buoy is said to be the Fremont Troll's nephew.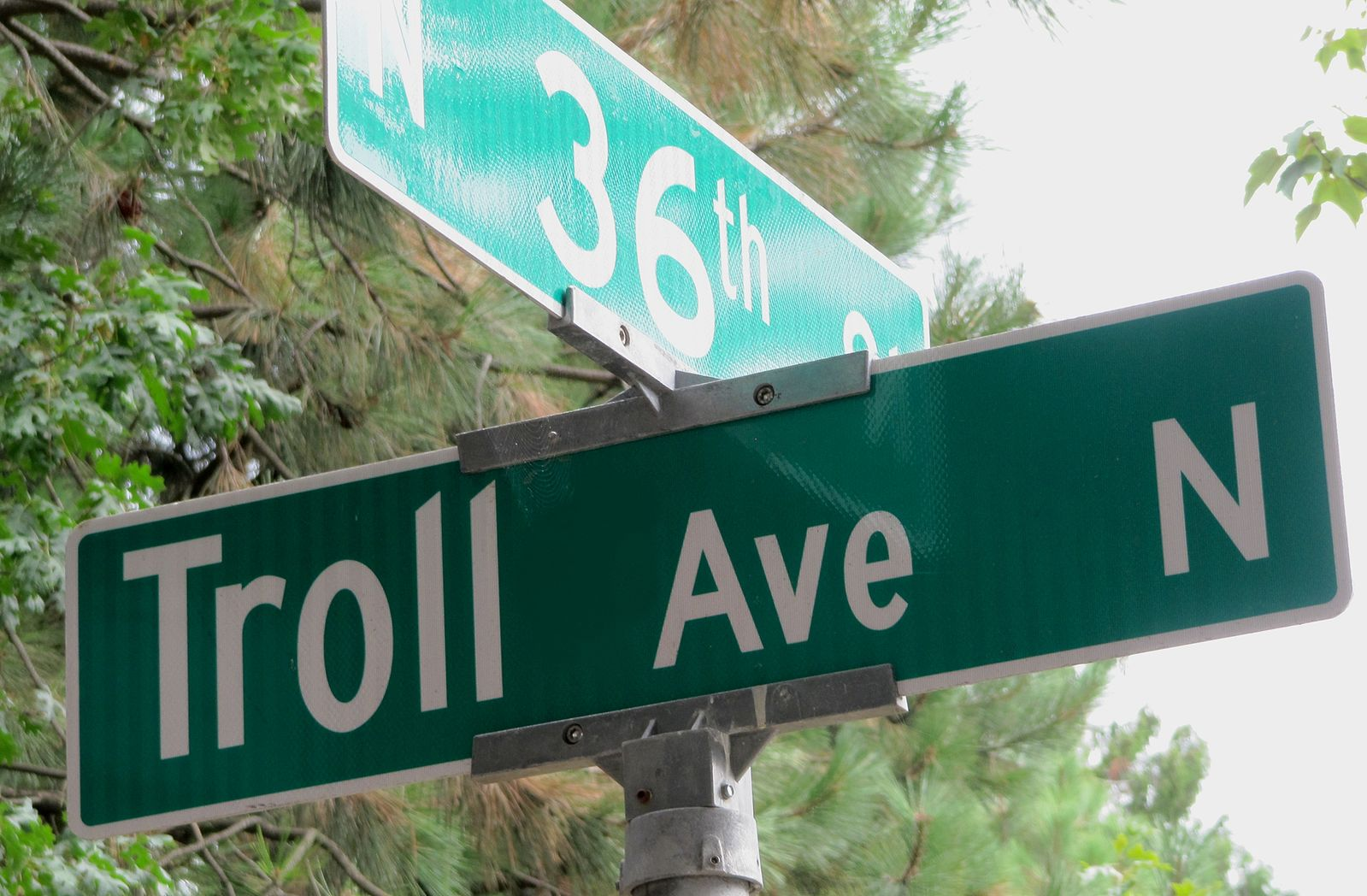 Troll Ave N and N 36th Ave, Photo: GeoTrinity
The Fremont Troll serves as a "gentle" example of hostile architecture; it was created by the Fremont Arts Council to deter the presence of "rodents, mattresses, beer cans [and] guys sleeping there." Since its 1990 debut, the troll has successfully turned the area underneath the Aurora Bridge into a bustling spot that is popular with tourists and locals alike.
Best of all, this "under the bridge" troll has already claimed its toll–a real-life Volkswagen Beetle (with California plates)–so you can visit, and climb, the sculpture free of charge.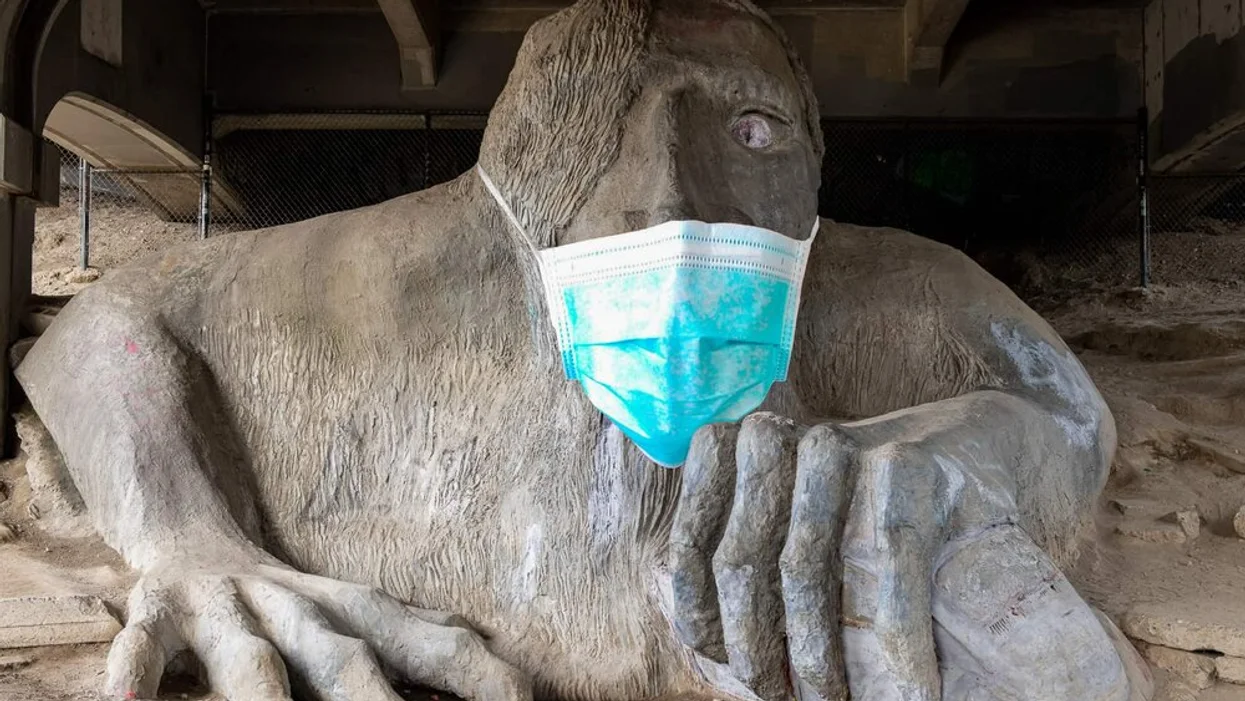 Masked Troll, Photo: Brian David Casey
Fremont Dinosaurs
The Fremont Dinosaurs mark the end of the Burke-Gilman Trail and beginning of Canal Park. They are two large topiaries of a baby and mama Apatosaurus (the answer varies amongst Seattleites) that were created by the Pacific Science Center in Downtown Seattle.
Apparently, the Pacific Science Center "abandoned" the two dinosaurs, due to high maintenance. Nobody wanted the pair until Joon Hegeman and a group of local residents negotiated the price to $1.
The dinosaurs weigh around 5 tons, are around 66-feet long, and require 7,000 ivy plants. Getting the dinosaurs into their present (and full) form involved many local residents of Fremont Seattle.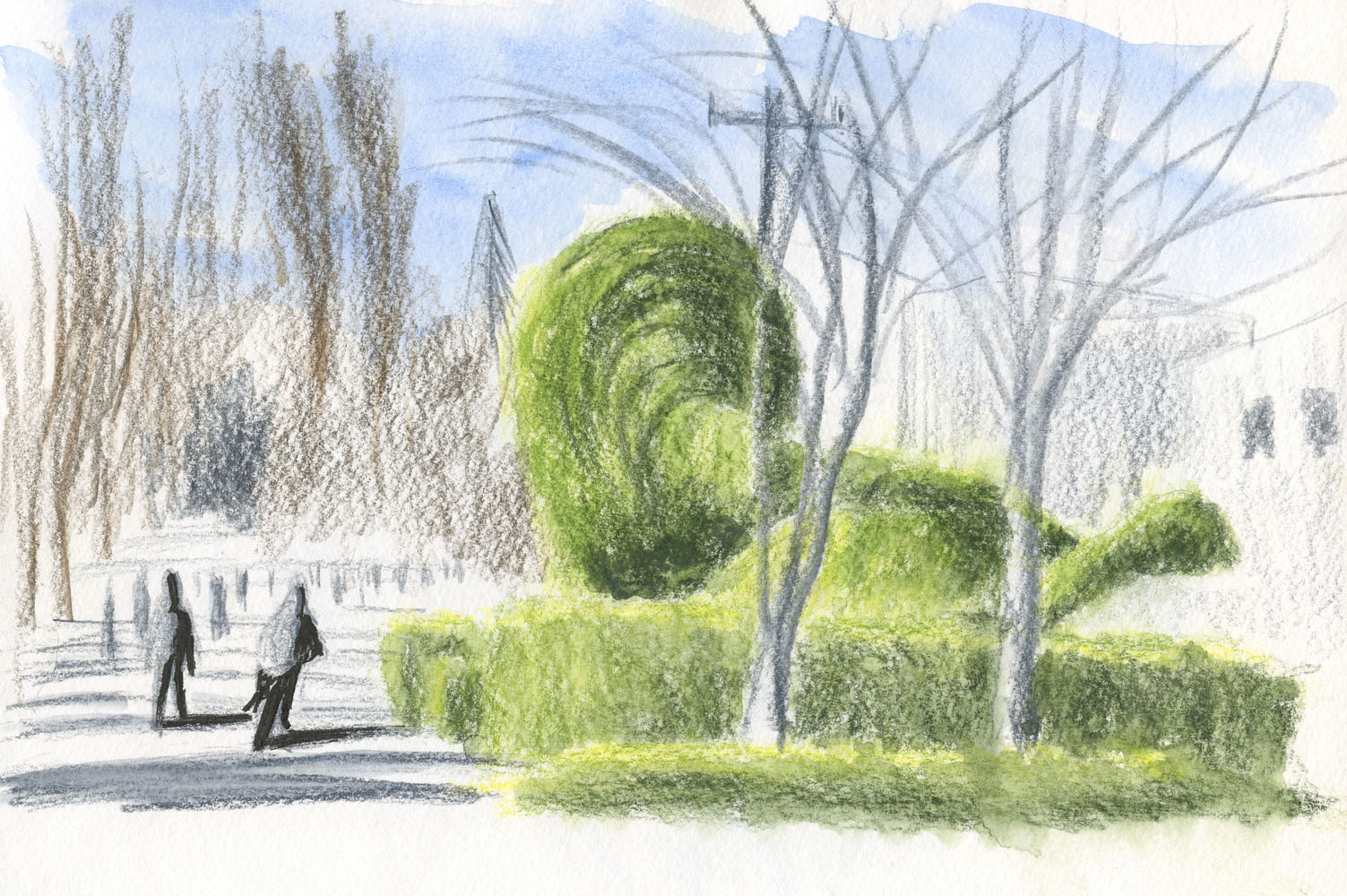 Dinosaur Topiaries at the Center of the Universe, Illustration: Urban Sketchers (SEA)
The dinosaurs are located at the end of Phinney Ave N, making them a short Southward walk (towards the canal) from some of Fremont Seattle's newest eco-friendly and high-tech apartment complexes. Tenants at The Nook, and other new apartments in Fremont Seattle, can enjoy "off the grid" living–thanks to solar panels that are allocated to every unit–while living in the middle of it all!
Fremont Rocket
The Rocket, Photo: Chamber of Commerce
The Fremont Rocket is another historic and well-loved feature of this quirky neighborhood; it floats above North 36th Street and Evanston Ave North. The rocket bears the neighborhood's crest and other unofficial motto, "De Libertas Quirkas," which means "Freedom to be Peculiar."
The rocket was purchased by the Fremont Business Association in 1991. Before becoming part of the neighborhood's mythology, the rocket was on display at an Army Surplus in Belltown. The 53-foot tall rocket was constructed using military surplus, which included the tail boom of a Fairchild C-119 "Flying Boxcar" cargo aircraft.
Upon purchase, the rocket required significant re-engineering as its new owners were "unable to get it up." Today, the rocket is "up" with neon lights; it also has a working launch mode that simulates an actual rocket launch with steam. The rocket is erected across from The Barrel Thief, a cozy spot that is popular for whiskey, wine, cocktails, and gourmet bites.
Visit Fremont Troll
One of the most iconic landmarks in Fremont is the Fremont Troll. This large sculpture of a troll is located under the Aurora Bridge and is a popular spot for tourists and locals alike. The troll is depicted holding a real Volkswagen Beetle, and visitors can climb on the sculpture and take photos.
Check Out The Fremont Sunday Market
The Fremont Sunday Market is a weekly outdoor market that features local vendors selling a variety of goods, including handmade crafts, antiques, vintage clothing, and fresh produce. Visitors can also find food trucks and live music performances. The market is open every Sunday from 10 am to 4 pm and is a great place to find unique souvenirs and gifts.
Visit the Theo Chocolate Factory
The Theo Chocolate Factory is a must-visit spot for chocolate lovers. This Seattle-based chocolate company offers tours of their factory in Fremont, where visitors can learn about the chocolate-making process and sample some of their delicious creations. The tours are available daily, and reservations are recommended.
Statue of Lenin
Like the story of the USSR, the Emerald City and the neighborhood of Fremont itself… The story of the Statue of Lenin and why it's in this neighborhood, in a word… complicated. Officially, the 16-foot tall bronze statue of Vladimir Lenin was sculpted by Bulgarian-born Slovak sculptor Emil Venkov in 1988. It was on display for just one year in the Czechoslovak Socialist Republic before the USSR dissolved.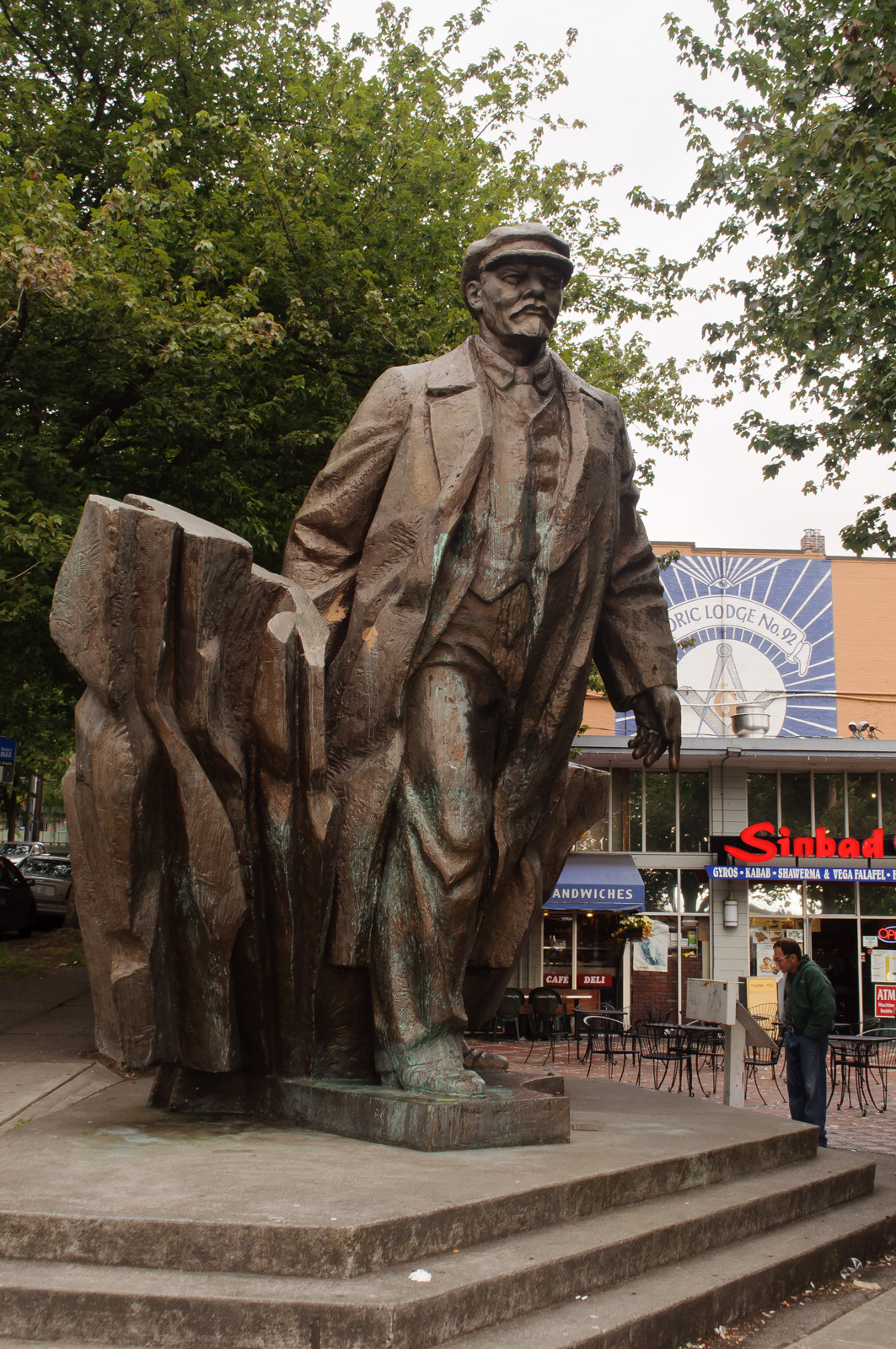 Lenin Statue, Photo: Scarlet Sappho
Due to the natural wave of de-Leninization, many Soviet monuments were destroyed or put into storage. In 1993, Lewis Carpenter (an American from Issaquah, Washington) found the hollow statue lying in a scrapyard, with a homeless man living inside of it. He purchased the statue for $20,000 (in 2021 dollars) with the intention of attracting customers to an ethnic Slovak restaurant.
Carpenter died before he could realize his dreams… but not before residents of Issaquah rejected his ideas. This resulted in the Statue of Lenin being relocated to its current locale. The Statue of Lenin has moved several times in Fremont Seattle, and currently rests three blocks west of the troll and north of the rocket.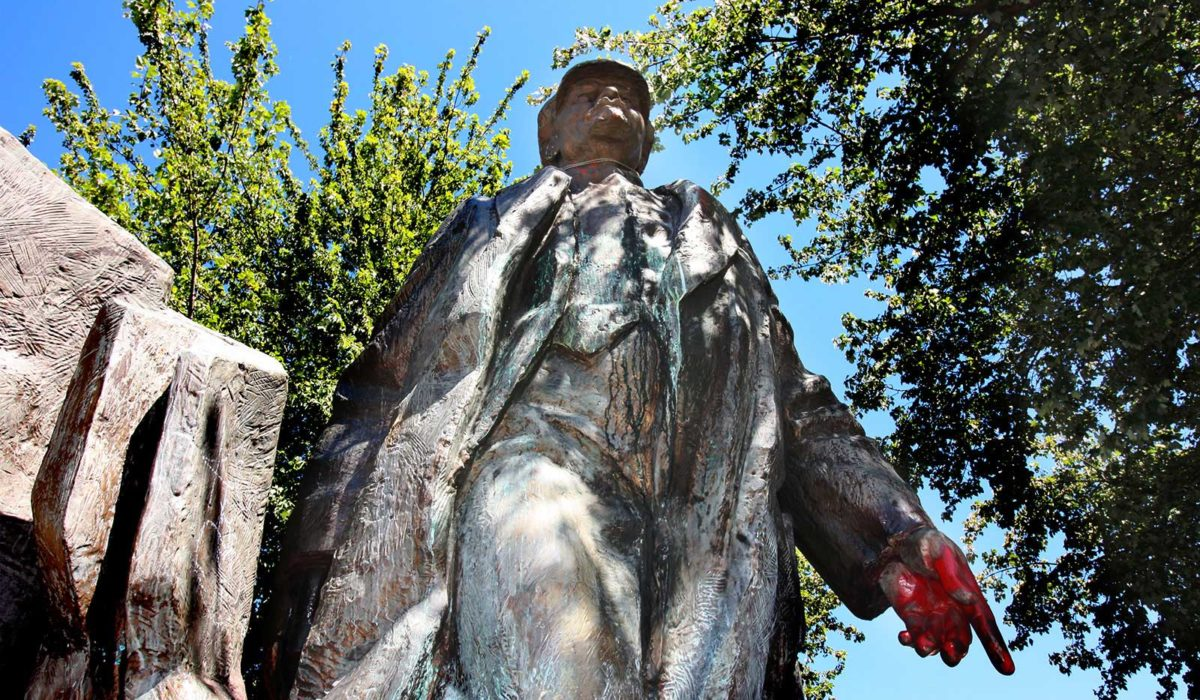 Lenin Statue, Photo: Chamber of Commerce
For those who may be alarmed that a Statue of Lenin has found a permanent home in the City of Seattle–don't worry. From the beginning of its time in Washington, the Statue of Lenin has been on sale (for a price of $260,000, in 2021) by the Carpenter family. This means that the Statue of Lenin is, by most definitions, undesired and somewhat homeless–even if it has become a landmark of Fremont.
Visit the Center of the Universe Sign
The Center of the Universe Sign is a popular photo spot in Fremont. The sign marks the intersection of N 35th Street and Fremont Avenue N and claims that Fremont is the "Center of the Universe." Visitors can snap a photo with the sign and explore the quirky shops and restaurants in the area.
Enjoy a drink at a local brewery
Fremont is home to several local breweries, including Fremont Brewing Company and Outlander Brewery and Pub. Visitors can enjoy a cold beer and take in the vibrant atmosphere of these popular spots.
Another huge benefit is aside from the breweries, Fremont has some of the best coffee shops.
Visit the Fremont Arts Council
The Fremont Arts Council is a non-profit organization that promotes community involvement in the arts. The council organizes several events throughout the year, including the Fremont Solstice Parade, which features elaborate floats and colorful costumes. Visitors can learn about the council's mission and check out some of their artwork on display.
Fremont is Centrally Located in Seattle WA
Whether you intend to stay in one of Fremont Seattle's hotels or move into one of the neighborhood's new eco-friendly and high-tech apartment complexes, you will enjoy close proximity to many of Seattle WA's top attractions! This is a great place to stay or live, if you want to experience the culture of Seattle without being downtown.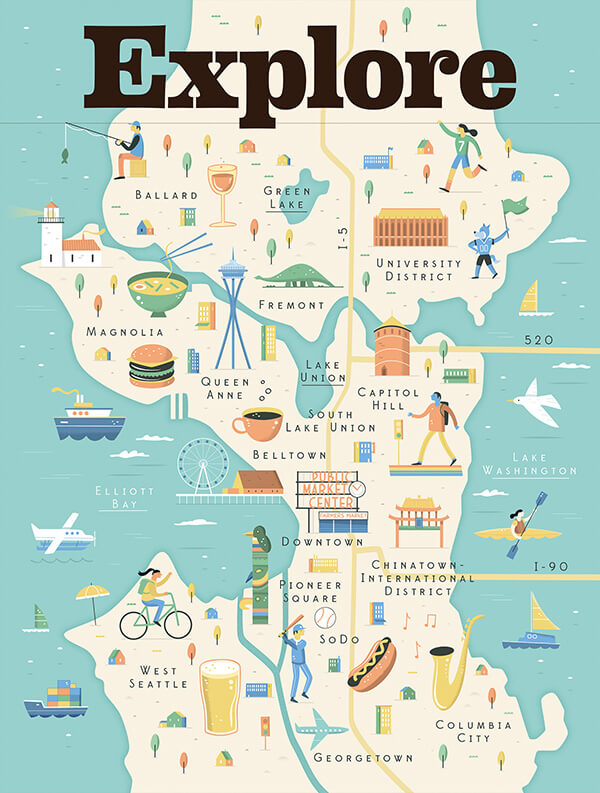 Explore the Emerald City, Illustration: Tom Wooley
Here are some key places and attractions that are nearby.
Visit the Seattle Pinball Museum
The Seattle Pinball Museum is a fun and unique museum located in Fremont. The museum features over 50 vintage pinball machines, and visitors can play as many games as they want with the admission fee. The museum also has a selection of classic arcade games, including Pac-Man and Donkey Kong.
Woodland Park (and Zoo, too!)
As mentioned above, Fremont Seattle is directly underneath Woodland Park, a 91-acre public park that wraps around Green Lake. Thanks to this close proximity, residents and visitors of Fremont are able to enjoy ample nature, wildlife, and lakefront dining.
Woodland Park features the Green Lake Aqua Theater, Lawn Bowling Club, several picnic shelters, a skate park, soccer fields, tennis courts, and a baseball field. In terms of attractions, there are the Zoo and Woodland Park Rose Garden.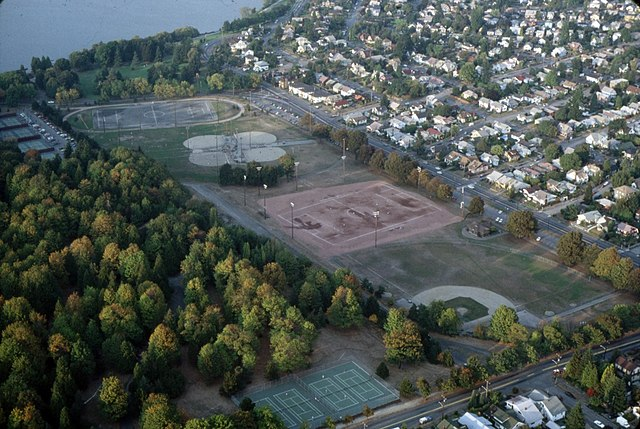 SE Corner of Woodland Park c. 1987, Photo: Municipal Archives
Green Lake
Green Lake is loved by locals for providing a calm reprise from the surrounding dense urban area. Many of Seattle's top restaurants are located to the Northeast of Green Lake, including Greenlake Grill, Eight Row, and Shelter Lounge.
Green Lake itself is a freshwater lake with running and biking trails that wrap around the entirety of its 2.8 mi shore length. The Green lake Small Craft Center is the training ground for Green Lake Crew, a rowing team that has seen national succes, and Seattle Canoe and Kayak Club.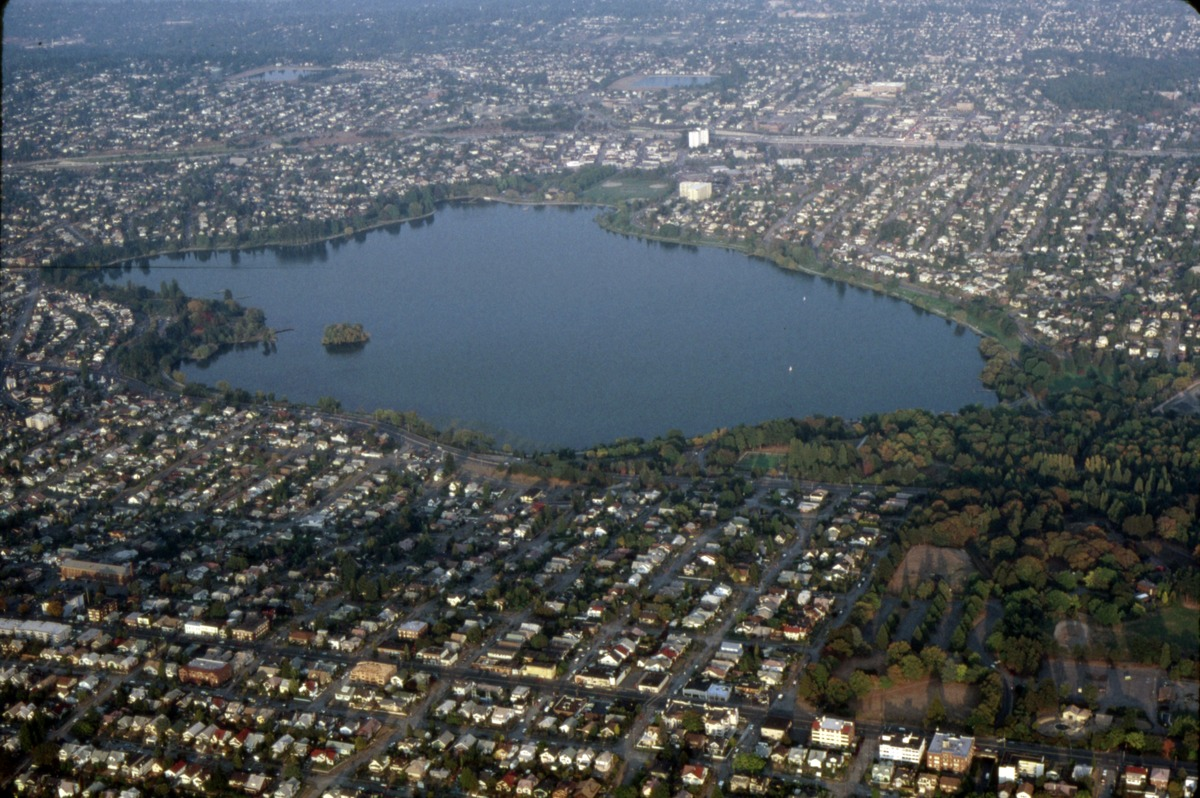 Aerial of Green Lake c. 1987, Photo: Municipal Archives
Green Lake attracts many different types of wildlife year-round, including toads, ducks, cormorants, herons, geese, turtles, squirrels, hawks, eagles, and osprey. A wide variety of fish can also be found including rainbow tour, yellow perch, bluegill, and channel catfish.
The Green Lake Aqua Theater is located on the Southern end of Green Lake, where most of the recreational fields and buildings are located. The Aqua Theater once hosted the Aquia Follies, which had "swimusical" performances–a combination of aqua ballet, stage dancing, and comedy. The stage has since been dismantled, but the viewing area still remains a popular spot to visit and relax at.
Take a walk along the Burke-Gilman Trail
The Burke-Gilman Trail is a popular multi-use trail that runs through Fremont and extends all the way to Bothell, a city located about 20 miles northeast of Seattle. The trail is 27 miles long and offers beautiful views of Lake Washington and the surrounding areas. Visitors can walk, bike, or rollerblade along the trail and take in the scenery.
Visit the Fremont Abbey Arts Center
The Fremont Abbey Arts Center is a historic building that has been converted into an arts center. The center hosts a variety of events, including concerts, poetry readings, and art exhibits. Visitors can attend a performance or explore the center's beautiful architecture.


Woodland Park Zoo
Woodland Park Zoo is a 92-acre zoo that is home to nearly 300 different species, a vintage carousel, and concerts. The zoo's 11 exhibits are divided into bioclimatic zones that include tropical and temperate rainforests, subtropical deserts, and African savannas.
The zoo is home to many popular annual events, including Brew at the Zoo, which typically sells out every year–proceeds from the event support local and global conservation projects. Ticket holders enjoy beer and cider tasting, animal experiences, and access to exhibits.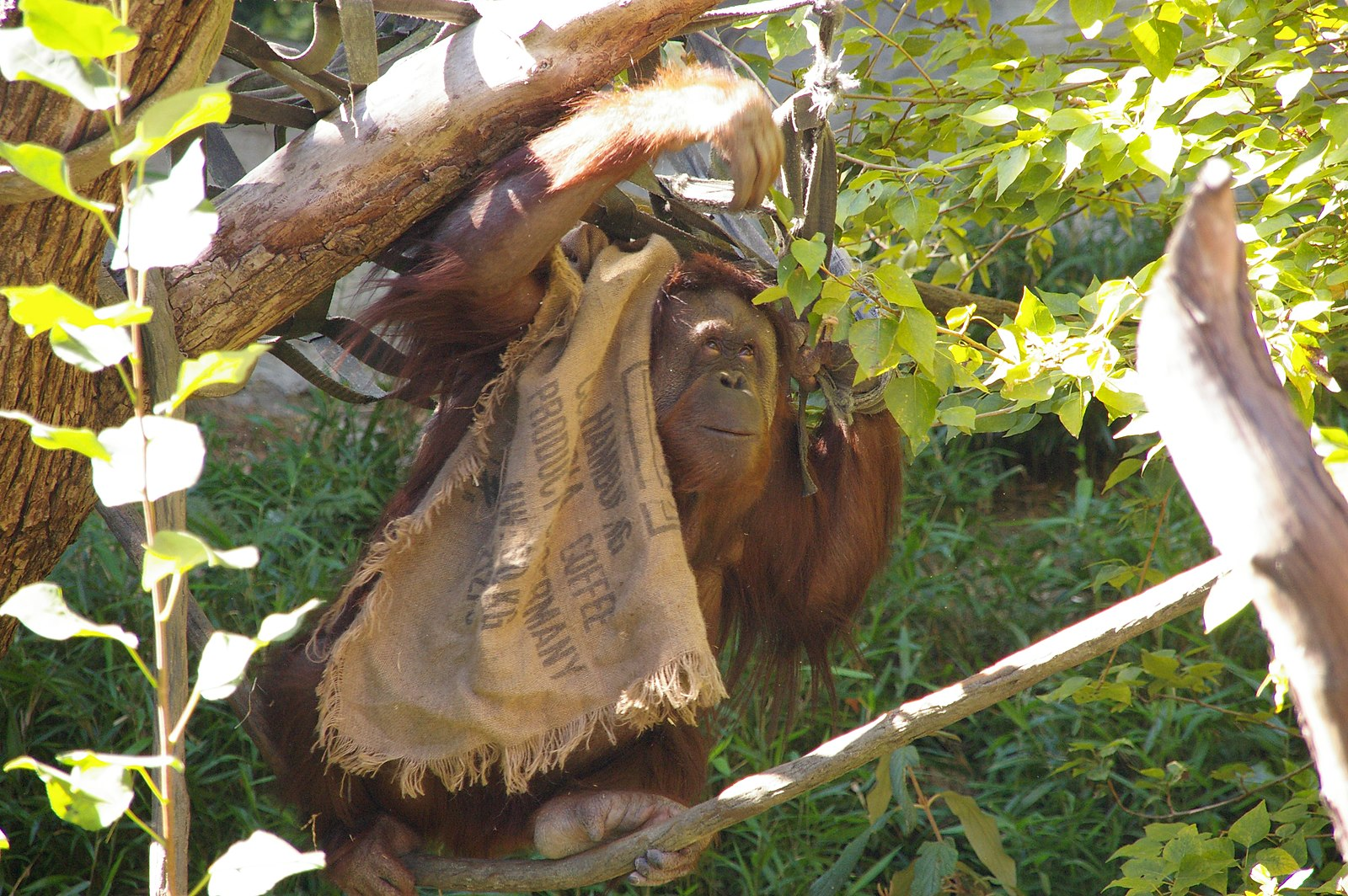 Orangutan at Woodland Park, Photo: Pelican
Woodland Park Rose Garden
Located at the Northern end of Fremont Ave N, the neighborhood's main thoroughfare, the Woodland Park Rose Garden is a popular and tranquil landscaped park that features over 200 varieties of roses, a gazebo, and water features.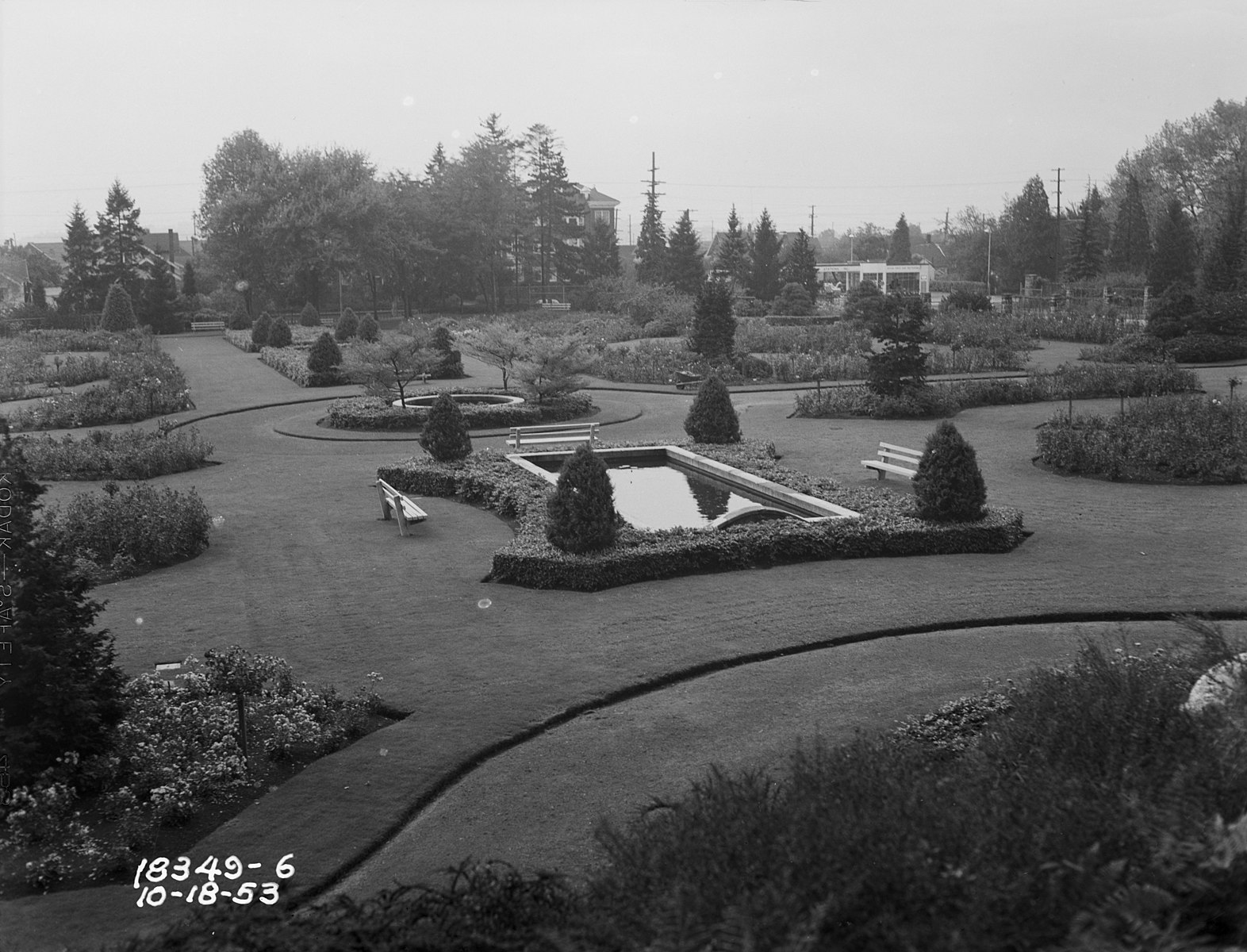 Woodland Park Rose Garden c. 1953, Photo: Municipal Archives
Ballard is to the West
Directly to the West of Fremont, via Leary Ave NW, is Ballard, where Seattle's nordic roots have sprouted into hip hangouts and some of the finest eateries in town. Ballard is home to the National Nordic Museum, Hiram M. Chittenden Locks (where you can shipwatch or watch salmon climb up the fish ladder), and Ballard Avenue.
Ballard Avenue is often remarked to look like a street in Britain and is home to boutiques, art studios, and galleries. It is also home to top bars, restaurants, and gastropubs like King's Hardware, Tractor Tavern, Macleod's Scottish Pub, The Walrus and the Carpenter, and Ocho.
Corner of Ballard Ave NW and 20th Ave NW, Photo: Planet of Hotels
Downtown Seattle is Very Close
Seattle WA's urban core is less than three miles away from Fremont. This means that the Space Needle, Pike Place Market, Olympic Sculpture Park, and all of Downtown Seattle are minutes away by bike, car, or public transportation. Queen Anne, known for its hills, rests between Fremont and the Emerald City's urban core… so if you intend to walk, be prepared to work up a healthy sweat!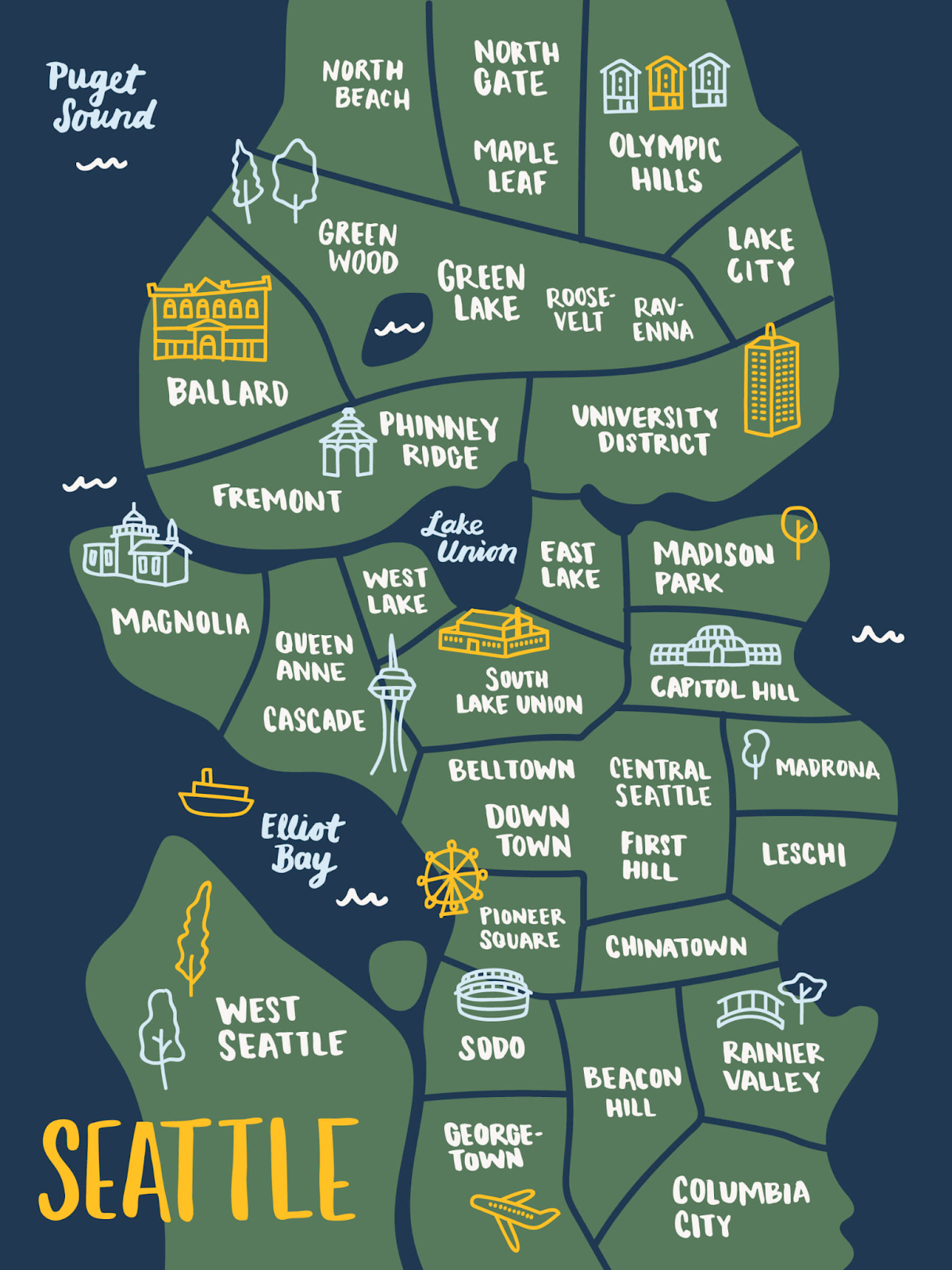 Emerald City Neighborhoods, Illustration: Kopa
Fremont is a Highly Desirable Neighborhood
Fremont Seattle is one of the Emerald City's most desired neighborhoods to live in. Outside of being close to everything, having quirky attractions and events, and many prime spots for dining, drinking, and hanging out in, the neighborhood has an extremely tight residential and renter's market.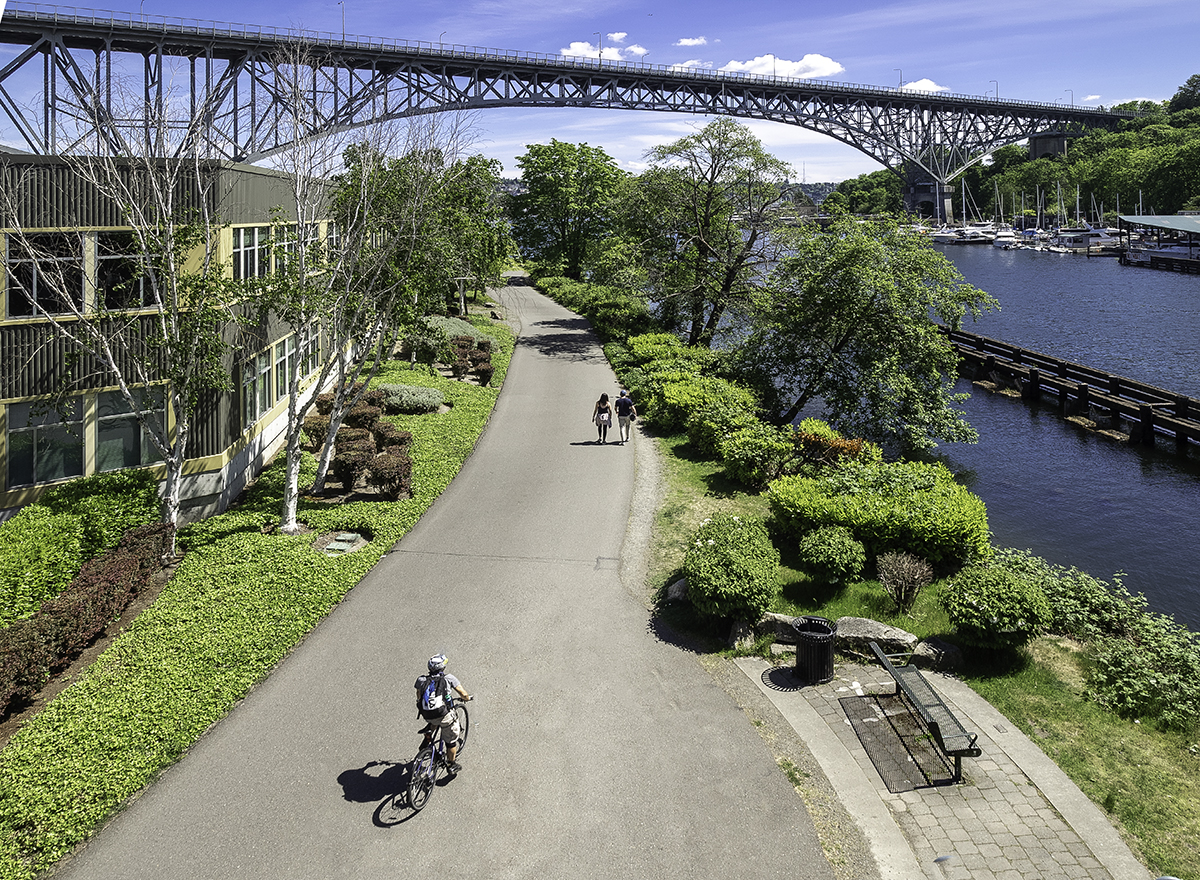 Looking East from the Drawbridge, Photo: John Felt, The Urbanist
Long-time locals of this neighborhood are generally opposed to allowing the construction of new high density apartments, as they desire to preserve the spirit of Fremont (who can blame them!). In fact, this protective desire is largely the reason that attractions like the Fremont Troll were commissioned–to use then-available land in a protective manner that prevents future residential development.
Due to this tight housing market, when a new home goes for sale or a new apartment complex is actually built… They are quickly taken off-market. New apartment complexes like Nook Studios feature eco-friendly designs and solar panels allocated to each tenant; they are also small and have limited vacancies, as they must be designed to blend into the existing neighborhood.
Living in Fremont Seattle is a great decision (if you can find a place!)... It's called the Center of the Universe for many reasons!