Moving to Koreatown LA
Los Angeles, one of the largest cities in the United States, is known for being a massive cultural hub. Every neighborhood in LA has a distinct vibe. Each one invites you to experience their culture through ample and bespoke restaurants and bars, public recreation areas, stores, nightlife, and various cultural, artistic, and literary institutions.
Koreatown, typically referred to as K Town, is located in the central heart of Downtown LA. In the present day, this area is no longer viewed as being just a neighborhood of LA. Instead, K Town IS Downtown LA. Loved by students and young professionals alike, this diverse neighborhood is located directly to the south of Hollywood. Miracle Mile, one of LA's most popular communities, is to the west.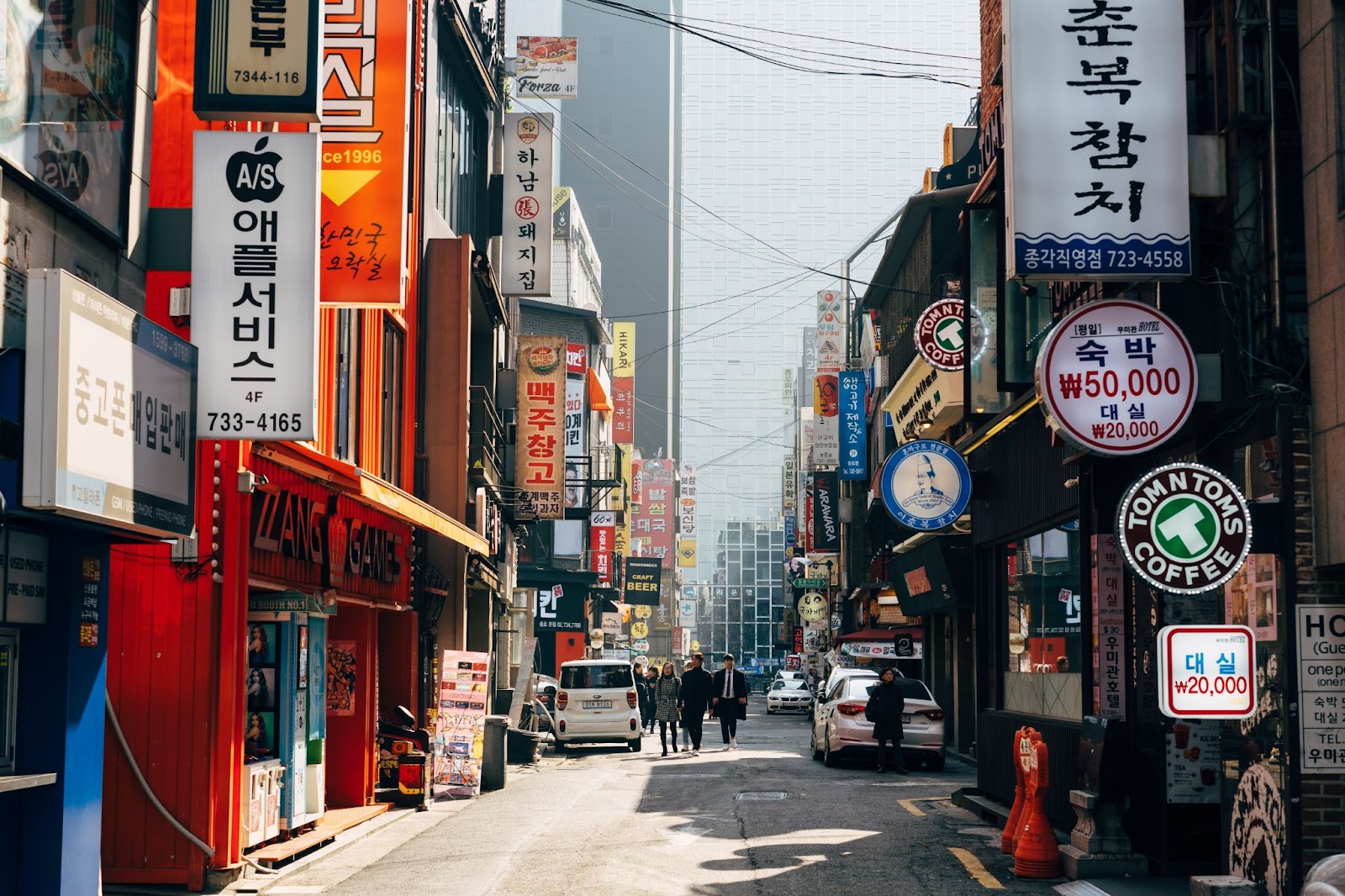 South Korea, by Markus Winkler
In addition to offering a diverse and always-active 24/7 commercial area, Koreatown Los Angeles is also home to many historic landmarks, activities and world-renowned museums. The neighborhood is popular with students of USC and UCLA thanks to an abundance of student housing. Future residents of Downtown Los Angeles also enjoy living in one of K Town's many luxury apartment complexes, which are thoughtfully designed and offer various amenities to make your life a breeze. A rapidly developing area, the neighborhood is now home to mixed-use high-rises that architecturally complement the skyscrapers of Downtown LA, all of which are located less than one mile away.
Although the Korean community comprises a somewhat small three square mile part of Downtown LA, the sheer amount of places to visit and things to do in this dense community can be intimidating. Whatever is drawing you to one of LA's most diverse neighborhoods, here are the top things you should know before moving to Koreatown Los Angeles.
One of LA's Best Neighborhoods
Ask any Los Angeles local and they will tell you: Koreatown is one of the best places to live in LA. K Town is home to many great people who are friendly and welcoming. Within a short walk are many recreation areas, restaurants, stores, and nightclubs. All of the top landmarks and attractions in LA are easily accessed by ample public transportation options. Additionally, this is one of the safest neighborhoods in Downtown LA–you can walk around and enjoy the best this neighborhood has to offer without any worries.
Koreatown Los Angeles is a Safe Place to Live
For the last few years, data from the LA Police Department and LA County Sheriff's Department has indicated that Koreatown is in the top 20% of LA's safest neighborhoods. On average, Koreatown Los Angeles has less crime (violent and property-related) than the national rate. 90% of residents report that they feel safe and overall unaffected by the crime that does occur. Most residents feel that the LAPD maintain a respectable presence and are responsive when they are needed. The Olympic Community Police Station is located within Koreatown and there are an additional three stations to the East, South, and West.
For residents and tourists who may use one of many public transit stations in K Town, you will be glad to know that the LA Metro Board has allocated $120 million to start the Transit Ambassadors program. Modeled after a Bay Area Rapid Transit (BART) public safety program, the Transit Ambassadors program will initially consist of over 300 transit guides. These guides serve a dual-purpose as an unarmed patrol team. They will be trained to keep their eyes and ears out for anything out of the ordinary and are equipped with radios, which enables them to call in social workers and support teams. The program is a step in the right direction to ensuring safety in public spaces, as the LAPD are only called when their presence is absolutely necessary.
Koreatown Los Angeles is Walkable and Accessible
In this compact and dense neighborhood, everything you need to live a productive, healthy, and social life is within walking distance. Truly, you can live, shop for groceries, drink coffee while studying, enjoy the sights at a park, taste diverse food, and party the night away all on the same block in this neighborhood. In fact, Koreatown Los Angeles boasts a walkability score of 91, which makes it the 5th most walkable neighborhood in all of LA!
If you feel the need to explore the rest of Downtown LA, there are abundant public transportation options, including bus and subway lines. These will take you as far as Long Beach and Orange County within an hour. Many apartments in K Town have large private garages that are secured. Parking is readily available in the form of on-street spaces and several private lots. This means that living here will not prohibit owning a vehicle for longer trips. Friends and family visiting from afar will always be able to park their cars.
Do You Need a Car in LA?
If you're new to Los Angeles, you might have heard the rumor that nobody rides public transportation in LA and you need a car to get anywhere. That is not true. In terms of annual ridership, LA has the third-largest public transportation system in the country. Riding the D Line to get to the city center is faster and cheaper than finding (and paying) for a spot. You can also use the light rail network to get to LAX Airport from any of Downtown LA's major rail stations. You can save considerable time, money, and energy by opting for LA Metro.
Facts about Public Transportation in LA
It's Popular – LA Metro (LACTMA) runs convenient heavy and light rail lines throughout Downtown LA. The combined rail system is the busiest in the United States with almost 170,000 average weekday boardings in the first quarter of 2022. By themselves, just the Metro B and D rail lines have a weekday ridership of 80,3000, which would make those two lines the ninth busiest rapid transit system in the United States. In terms of route network, Metro's light rail system, with 105 miles (or 169 kilometres) of track, is the second largest in the country.
It's Safe – In addition to being popular and well-connected, LA Metro is safe to use. More than half of Metro Rail's trains and stations are patrolled by the LA County Sheriff's Department. Stations and trains not patrolled by police are now monitored through the Transit Ambassadors program, which we mentioned above.
It's Connected – LA Metro has over 90 rail stations throughout Downtown LA, including K Town. Expansions to the light rail network are underway and soon LACTMA will operate the United State's largest network. Expansions are primarily focused on providing a direct connection from K Town and Union Station to Westwood and the UCLA campus; this means that any UCLA student should consider living in one of Koreatown Los Angeles''s apartments.
It (Might) Be Complimentary – A rumor worth paying attention to is that LACTMA may introduce free bus and rail service in the near future. Outside of this, LACTMA provides discounted pases for seniors, students, and young professionals.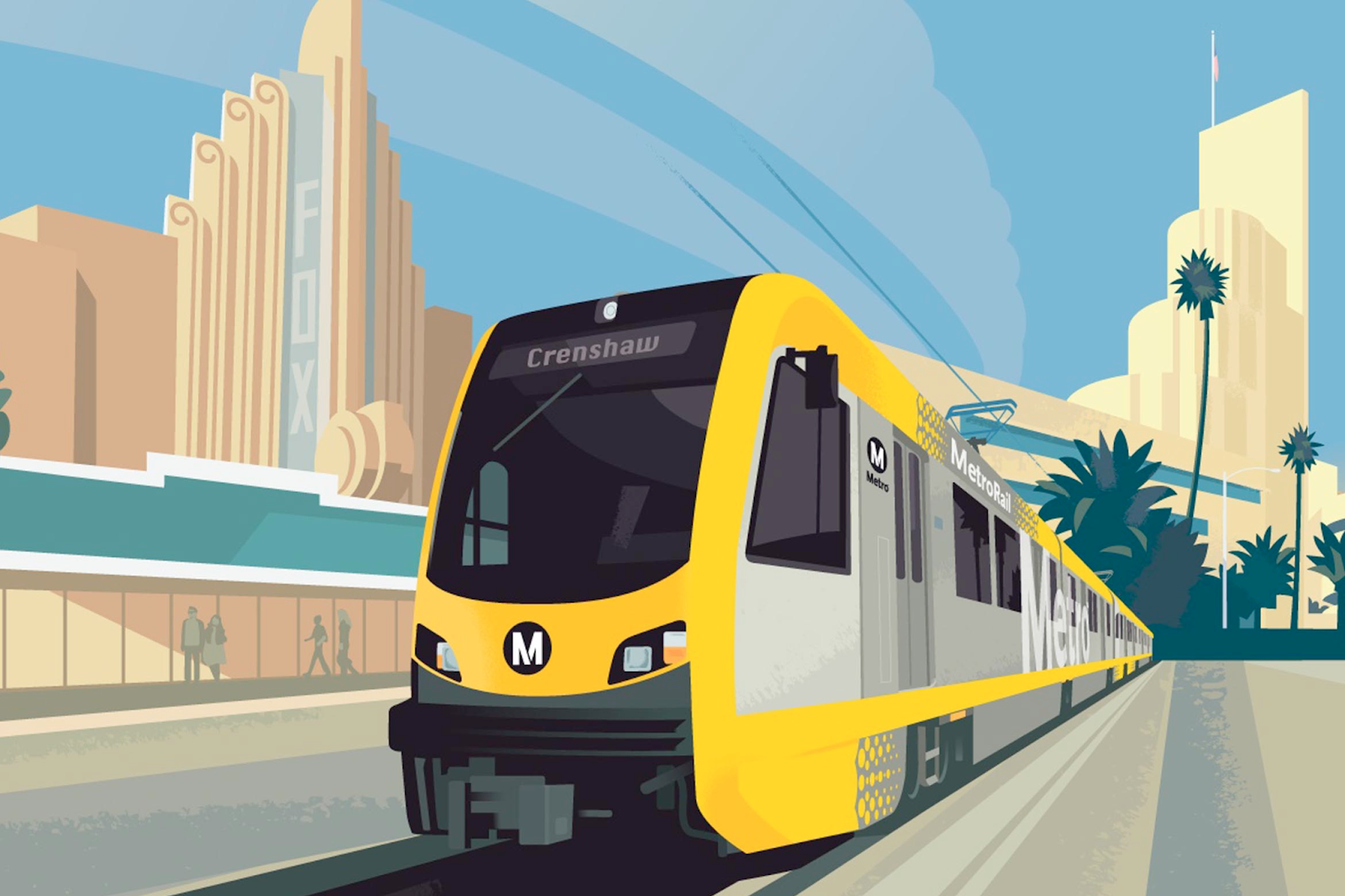 LACTMA MetroRail, by LA Coliseum
Public Transit in K Town
Purple Line, LA Metro Rail – Convenient Public Transportation
The Purple Line, or D Line, is one of six LA Metro Rail lines. It is one of LA's only subway lines, with LA Metro Rail's Red Line being the other one. The D Line begins at the historic Union Station in Downtown LA and terminates at Wilshire/Western.
The Purple Line provides service to districts that include the Civic Center, Pershing Square (near the Historic Core), the Financial District, Pico-Union, and Westlake. Riders of this subway can also access Grand Central Market, Angels Flight Railway, the Broad Museum, and the Egypt-inspired LA Central Library.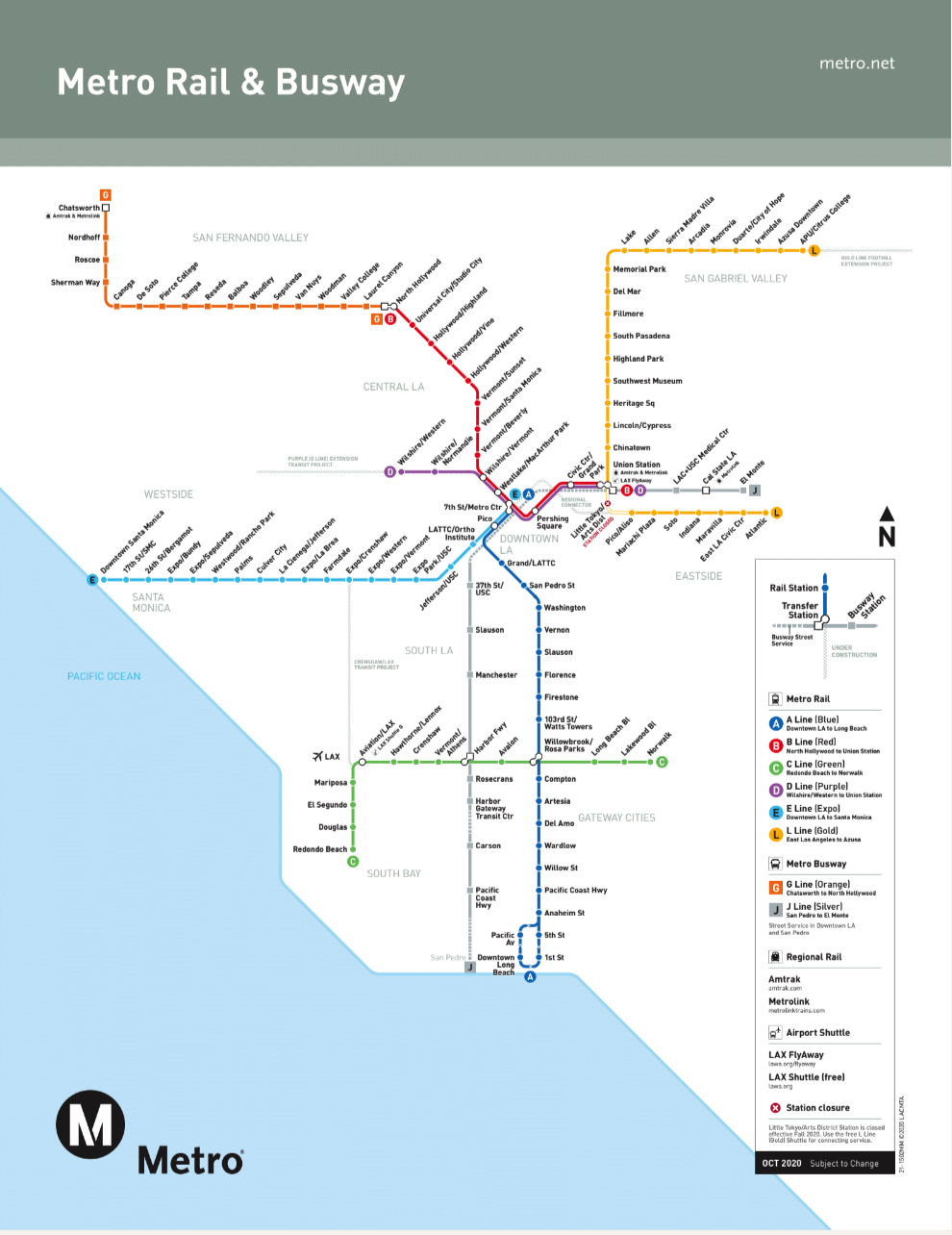 LA Metro Rail network, by LACTMA
Near the Wilshire/Normandie station are two of LA's top hotels, the 388-room The LINE LA and restored-Roaring 20's Hotel Normandie, which features vintage-inspired furnishings and fixtures. The LINE LA is home to a two Michelin star restaurant, the Openaire, which offers one of the best brunch menus in Downtown LA. The newly-built two-building Gemma Apartments are located on the same block as this station, so residents are able to enjoy quick access to the Purple Line.
Directly across from the Wilshire/Western station is The Wiltern, one of LA's oldest and top music venues. The Wiltern and adjacent Pellissier Building, both considered to be immaculate representations of Art Deco architecture, are Los Angeles Historic-Cultural Monuments. Heuk Hwa Dang, a famous South Korean coffee chain, is also across from the Wilshire/Western station. You can enjoy dalgona coffee after a day of shopping at H Mart, which is the anchor tenant of the plaza that Heuk Hwa Dang is located inside of. Some of the best restaurants in K Town are located nearby, including M Grill (an all-you-can-eat Brazilian steakhouse), BCD Tofu House, and endless Korean options.
Schedule: The Purple Line runs from 4:30AM to 1AM on weekdays and runs until 2:30AM on Fridays and Saturdays.

Trains typically arrive every 4 to 8 minutes, on-peak

The existing Purple Line takes about 15 minutes to ride from end to end; when the UCLA expansion is completed, it will take less than 30 minutes to get to UCLA and Westwood



Fares: $1.75 for a one-way ride

Payment: To board you need to have a TAP card, which can be obtained and pre-loaded at any of LA Metro Rail's stations
Purple Line – Expanded Service to UCLA and Westwood Village
A $1.9 billion expansion project is underway, which will add a total of 7 stops. The third phase of the project will provide this neighborhood's residents with direct access to Westwood and the UCLA campus. Because of this project, many UCLA students and young professionals are choosing to rent one of Koreatown Los Angeles's budget-friendly apartments.
Connect to other Metro Rail lines via Metro Center/7th Street
While LA Metro does run several bus lines, we recommend catching the Purple Line to Metro Center, where you can board connecting rail lines that can take you to Downtown Santa Monica (as far as the Santa Monica Pier), LAX Airport, and Downtown Long Beach (close to the Queen Mary). Metro Center is only three stops from K Town, making rail connections quick and easy.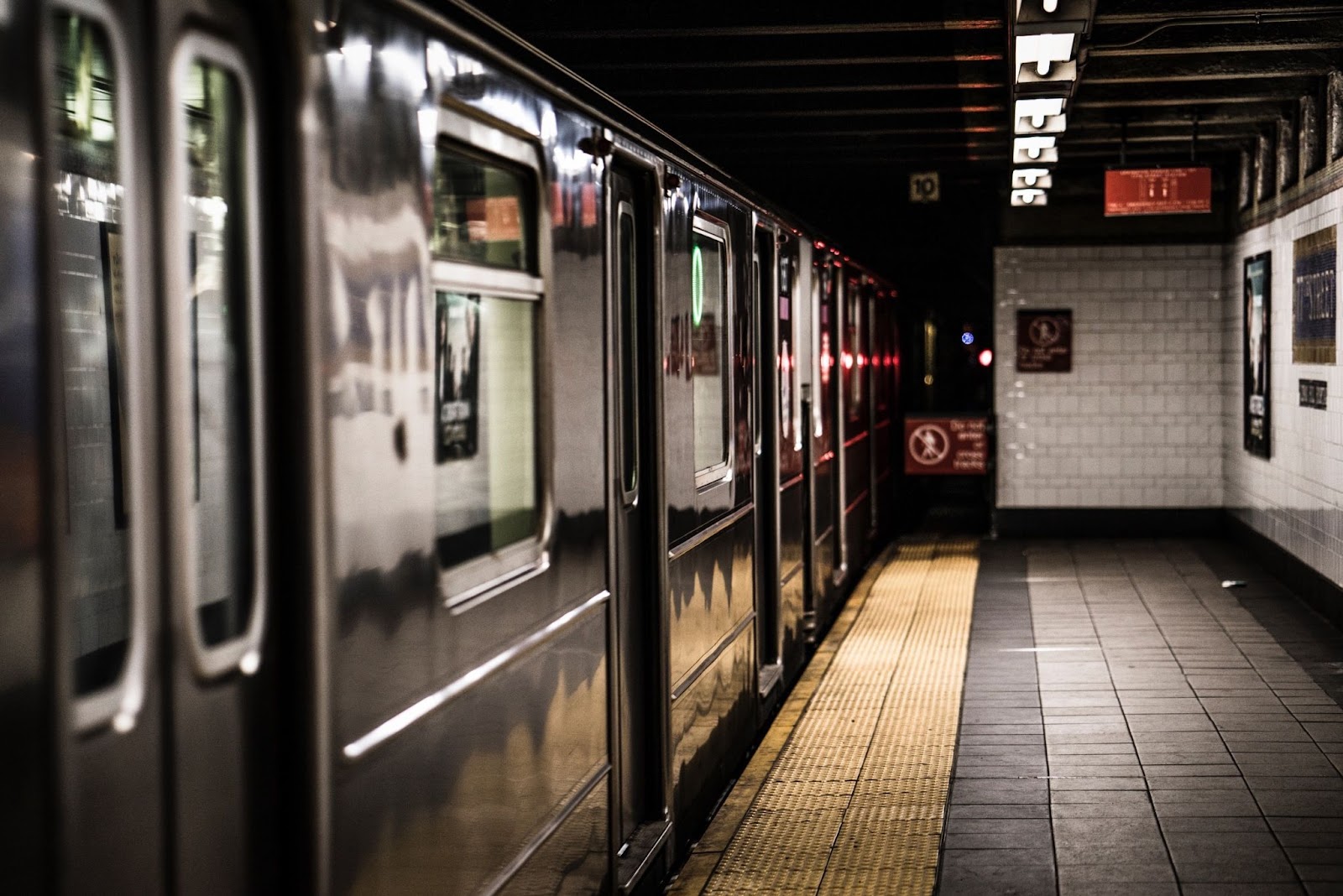 Subway, by Adi Goldstein
We'll give you a quick rundown of all connecting lines and the places they can take you to below. All LA Metro rail stations have connecting bus services. It's generally recommended to ride Metro Rail and then use one of the bus lines to get to your final destination.
From Metro Center, via Purple Line:


E Line (Expo): Takes you from Downtown LA to Santa Monica, with stations including Expo/La Brea, Culver City, Expo/Sepulveda, and Downtown Santa Monica.



B Line (Red): Takes you from Downtown LA to Hollywood with stations in North Hollywood and Universal City/Studio City. The Red Line shares a similar Eastern network to the Purple Line, so there is not much need to change lines if anything towards Union Station is your destination.



A Line (Blue): Transfer to the Blue Line for access to Downtown Long Beach, which is home to a large Cambodian enclave, and to connect to the Green Line.



C Line (Green): The Green Line connects LA Metro users to LAX Airport and also has a station in Redondo Beach. As mentioned above, from Koreatown Los Angeles you must connect to the Green Line by riding the Blue Line to the Rosa Parks/Willowbrooks station!

Even if you opt for a $3.50 day pass, taking the C Line to LAX Airport is a great way to avoid traffic and paying for gas, parking, or a taxi/ride-sharing company!
For up-to-date information on transit schedules and routings, Google Maps is great. This is a high-quality and downloadable version of LA Metro's rail and bus network map, which is a good starting reference for all the places you can travel to from Koreatown Los Angeles.
Parking in Koreatown Los Angeles
Thanks to LA Metro's convenient rail network (Purple Line) and connecting buses in lieu of K Town's high-level walkability, there is NO NEED to own a car if you are moving into this vibrant and popular community. With this in mind, many of this area's newer apartments have private and secure garages. Additionally, there are many shopping plazas with parking lots and ample street parking..
While there are free spaces available, they are not a reliable option. It's best to live in an apartment that has its own garage. We recommend telling visiting friends and family that they may need to pay for parking!
Here's what you need to know about parking::
Street parking: On-street spaces are generally free in and around this neighborhood. The area between West 7th Street and West 8th Street is the best place to find an on-street space. There are metered spaces and many have time limits, so make sure you check for signs to avoid a ticket. While there are many spaces, a vacant one can be hard to find in this bustling region.
Garages and lots: There are paid garages, each with hundreds of spaces, on nearly every block. Prices range from $5-$20 for every two hours. You can reserve space online at some of these lots to get a cheaper all day rate.
Shopping plaza lots: For the most part, lots in shopping plazas and malls are free with validation. This means that you must purchase goods or services from an on-property establishment. Don't leave your car without validation or paying, or you may receive a ticket!
H Mart Madang Plaza – Has a large lot, which is great if you just want to enjoy some dalgona coffee at Heuk Hwa Dang; your parking can be validated (free) but otherwise costs $2/hr (with a $36 daily max).


Koreatown Plaza – 3-story mall with Asian restaurants and retail options that offers free parking on Saturday and Sunday (you can park for free for three hours Monday thru Friday).
What You'll Enjoy in Koreatown Los Angeles
Outside of being a convenient place to live if you are a UCLA student seeking housing or desire somewhere close to everything LA has to offer, K Town itself is a great neighborhood to stay in (and never leave!). Thanks to primarily Korean influences that are mixed with other cultural aspects from the US, Latin America, and other Asian countries, this is one of LA's most diverse areas..
Thanks to the area''s cultural diversity, residents are able to access a wide range of options for grocery shopping, dining, nightlife, recreation, and retail. Students will enjoy a large amount of coffee shops, which have study spaces ranging from large to intimate and provide caffeinated beverages with a Korean-twist. What follows is just a taste of what you can expect in this neighborhood.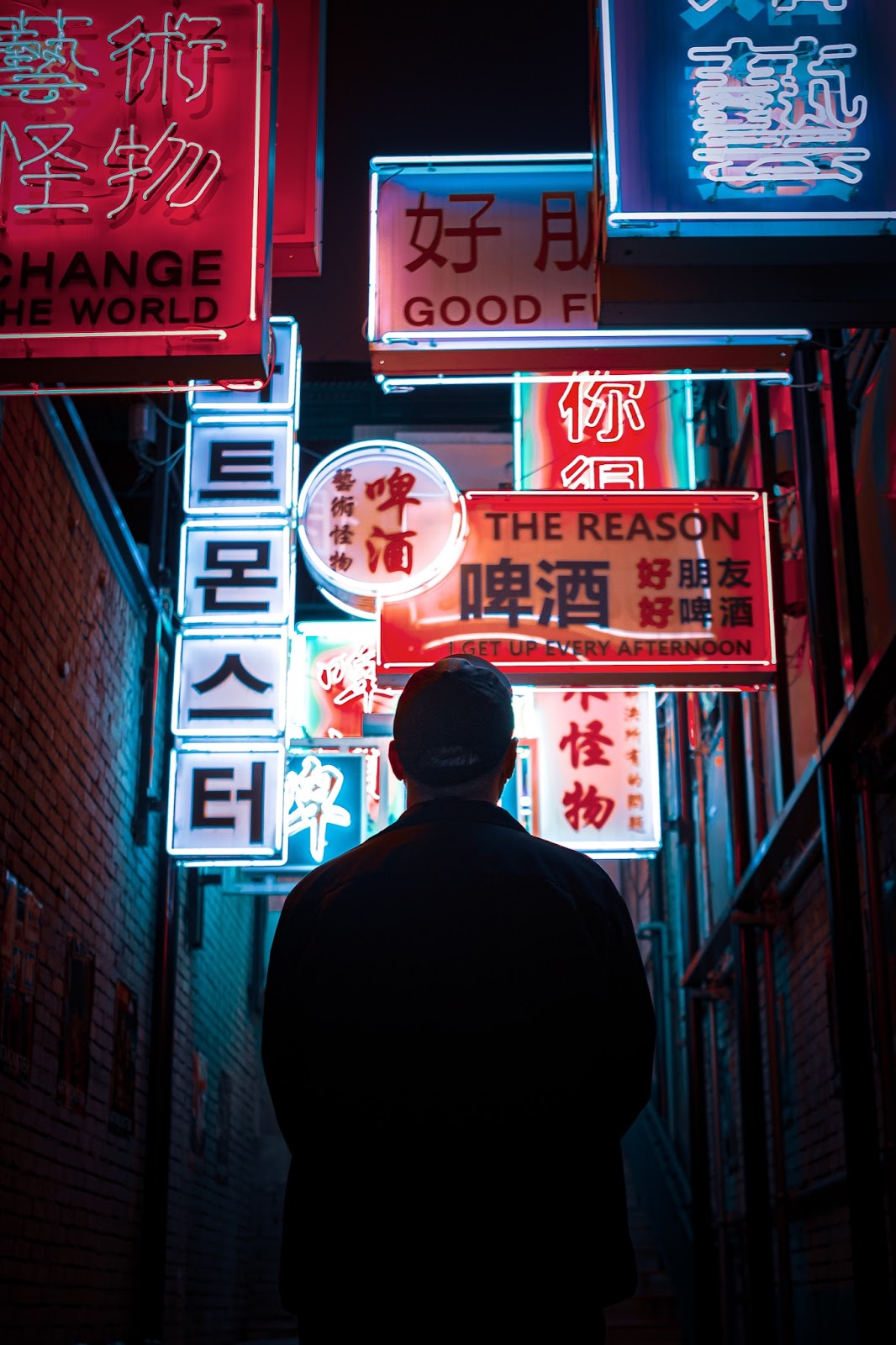 Korean signs, by Rémi Thorel
Asian Groceries and More!
Grocery stores are plentiful and offer a wide range of Korean-speciality products, including meats, seasoning, sauces, and vegetables. Many of these stores carry products from other Asian countries in addition to typical American goods.
H Mart - THREE Locations in K Town
H Mart is a chain of Korean-Asian supermarkets, with over 80 locations in the United States (three of which are in KTown LA). The "H" in "H Mart" stands for Han Ah Reum, a Korean phrase that means "one arm full of groceries." H Mart is famous for their food halls, which let customers select various hot and cold prepared food options. To be honest, thanks to H Mart's full line of Asian foods and broad selection of Western groceries, it'll be easy to leave with a cart full of groceries.
H Mart Madang Plaza, 621 S Western Ave – Right next to the Wilshire/Western Purple Line station, the Wiltern, and Liberty Park. Inside the plaza, you will find Heuk Hwa Dang (a famous Korean coffee chain that serves dalgona coffee). Nearby is M Grill (an all-you-can-eat Brazilian steakhouse) and an excellent spot for brunch and endless mimosas known as Caffe Concerto.



H Mart City Center, 3500 W 6th St – Located close to The LINE LA, which is home to Openaire (a Michelin-star restaurant that serves diners in an upscale greenhouse), and also Yangji Gamjatang. At Yangji Gamjatang, you can enjoy gamjatang which is a rich and red-hued Korean stew that consists of tender pork neck bone, perilla leaves, green onions, red pepper powder, and potato chunks.



H Mart Koreatown Plaza, 928 S Western Ave – This H Mart is at the Southwestern corner of the neighborhood. This is a good H Mart to visit if you also want to shop at one of many specialty retail options.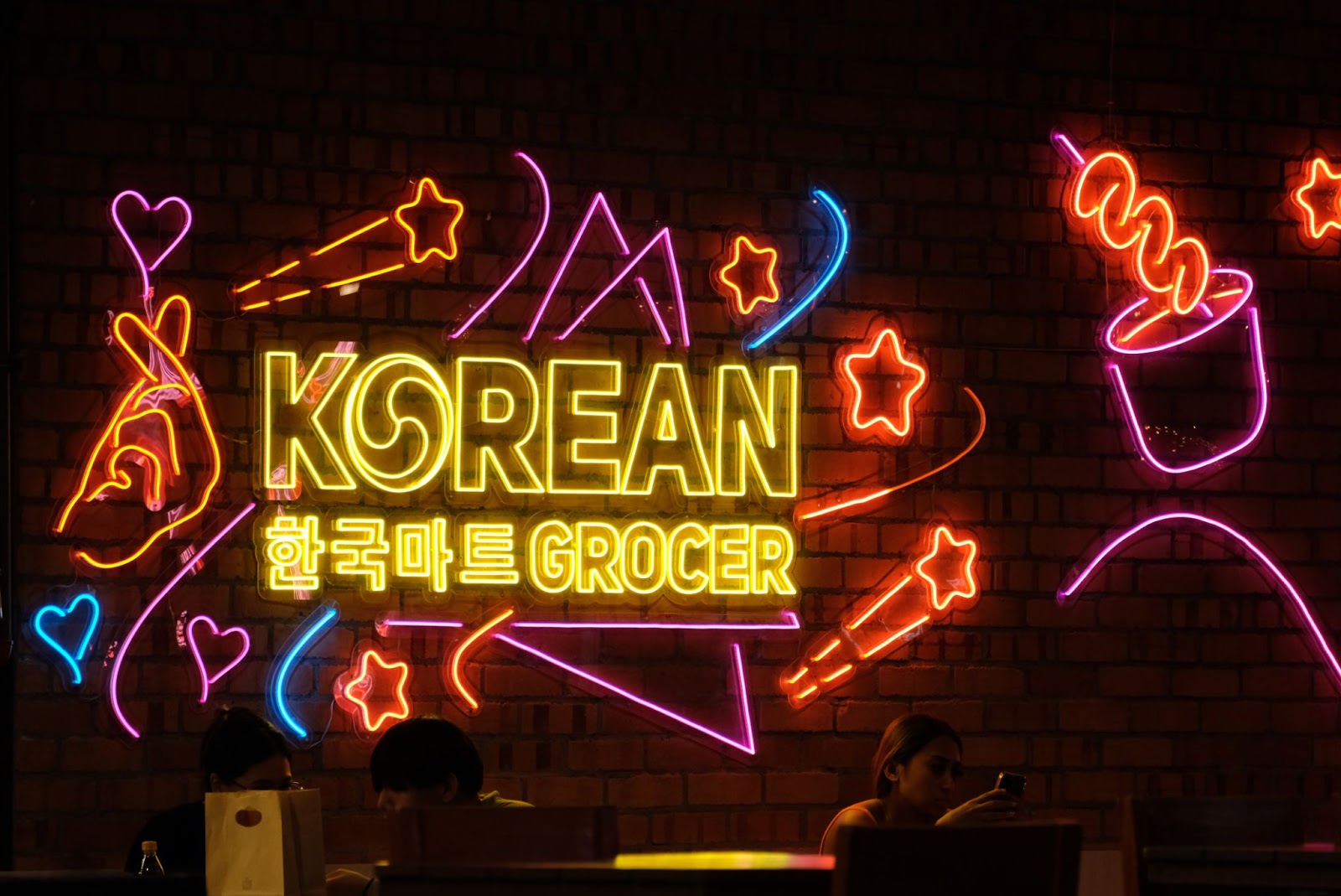 Korean Grocers, by Julia Lee
Hannam Supermarket, 2740 W Olympic Blvd
At Hannam there is a very strong focus on Korean meats, fish, vegetables, and ingredients. They also have a bakery, which sells delicious cream bread. Locals of LA remark that Hannam Supermarket has an extensive meat selection (great for your own KBBQ) and exceptional sushi-grade fish.
California Market, 450 S Western Ave
California Market offers a Whole Foods-y experience for anybody seeking Korean produce, meats, fish, and alcoholic beverages. There is a deli, two restaurants, a bakery, and a nice outdoor area. This place is great for anybody wanting to make Korean dishes.
Ralphs, 670 S Western Ave
Ralphs is located close to H Mart Madang Plaza, and is also right next to the WIlshire/Western Purple Line station. Ralphs is one of the only traditional American chain grocery options in K Town. This will be your go-to place for more typical American produce, meats, and vegetables. There is a bakery and pharmacy. This location is noted to be a little small and tight.
El Changarro Oaxaqueño Market Plaza del Valle, 3113 W 8th St
One of a few Mexican grocery options in the neighborhood, El Changarro is a smaller store that carries produce from the Oaxaca region of Southwest Mexico. You can find guacamole, fresh breads, organic chocolates, and Mexican cuts of meat. If you enjoy dining at one of K Town's many high-quality Latin restaurants, there's a good chance some of the ingredients were purchased here!
Where's Whole Foods?
There is no Whole Foods in K Town proper. The closest Whole Foods is at 788 S Grand Ave, close to LA Metro's 7th Street/Metro Center rail station. This makes it a 10-minute drive or 30-minute ride on the Purple Line. If Ralphs won't cut it for you, stop by the Whole Foods after a day of sightseeing in Downtown LA's central core; Angel's Flight Railway and Pershing Square are nearby.
Nightlife Spots
If you're a student looking to celebrate the end of finals or just want to go out with friends, there are countless places to enjoy the nightlife in this area. This community has a lot of late-night and 24/7 options available, from dining to dancing and clubbing to karaoke. These are some LA local favorites, which should serve as a good starting point for your time here.
Lounge at The Normandie Club
We recommend The Normandie Club to anybody looking for low key vibes in a relaxing speak-easy setting. Cocktails are strong and immaculately mixed, helping you to take in the dimly lit ambiance calmly and converse with mature patrons of this lounge. The speakeasy has dark wood paneled walls, sumptuous leather booths, and a brick-backed bar illuminated with cove lighting.
Located next to the historic Normandie Hotel, this classic spot is open 7 days a week until 2AM. This is one of this area's historical bars. Stopping by is a great way to appreciate the town's history.
Chill at Fountain LA
Combining the best of rustic touches with modern simplicity, Fountain LA is a hot new sports bar. Fountain LA has a two-story lounge that is perfect for enjoying hand-crafted cocktails and food options that put "pub fare" to shame. At night, the space has a calm and retro atmosphere thanks to LED-lit plants running along the center of the space.
Fountain Bar is at 2889 W Olympic Blvd, on the South side of the Korean district.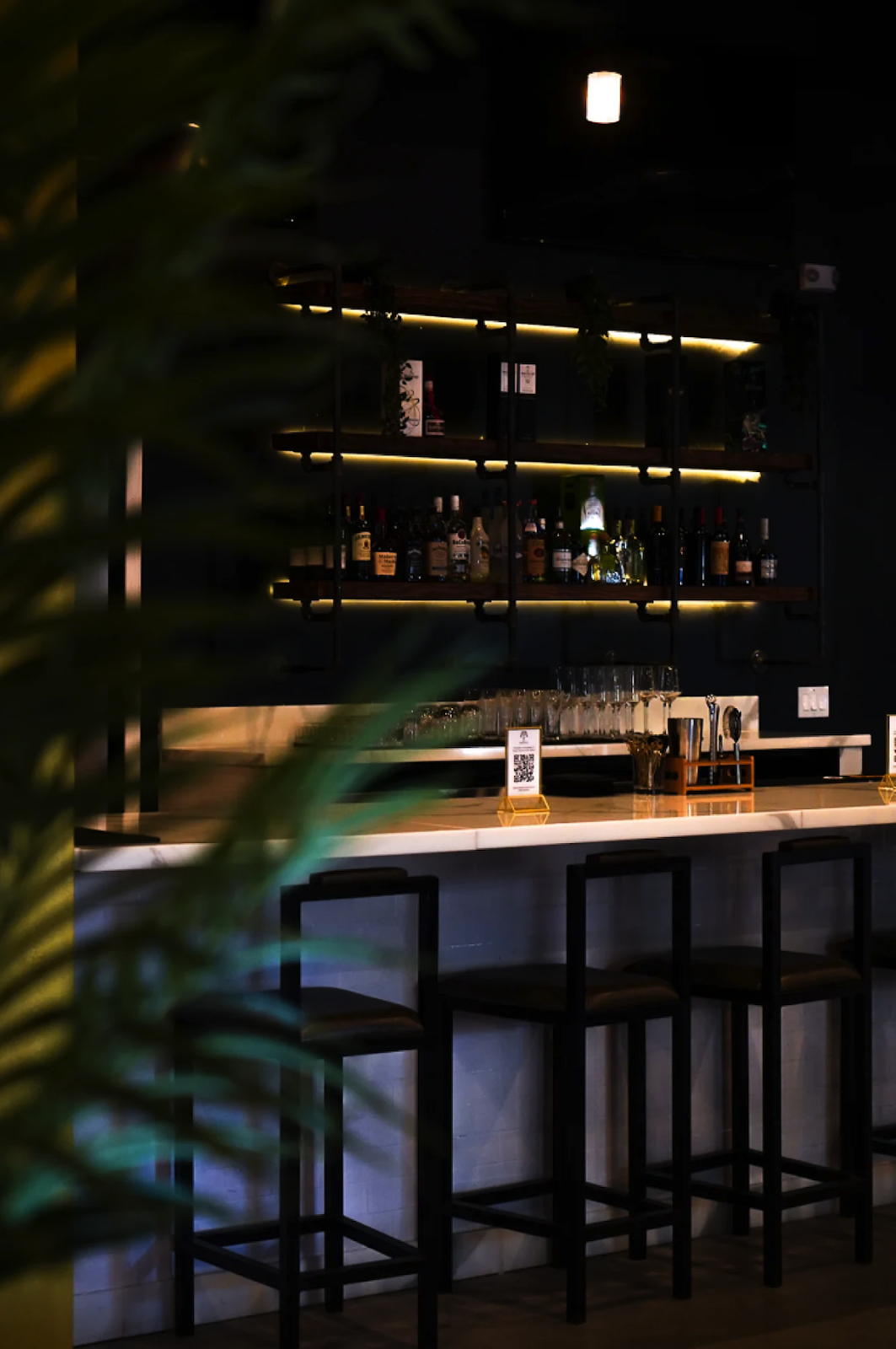 Fountain LA, by Fountain LA
Fill Up at Oo Kook Korean BBQ
Open until 12AM everyday, this is THE spot to enjoy Korean BBQ before a night out! At Oo Kook, you have meat delivered to your table. A chef will then use the table-top grill to cook your selection to perfection. The menu includes seafood, meats (of course), and various Korean-style vegetables. Diners love the attentive and prompt service.
While Oo Kook is extremely popular, you don't have to worry about waiting too long as this KBBQ is two-stories. Oo Kook is located at 3385 W 8th St, a short walk from R Bar. Oo Kook is in close proximity to many other bars, as well.
"Sneak In" to R Bar
To get into R Bar you need to know the password and you won't be getting that here. If you can make it in, you'll enjoy a speakeasy vibe with karaoke and rock played from a jukebox. There is an extensive beer menu and cocktail selection that includes bottomless mimosas and an iced coffee cocktail. Food is very filling in this eclectic, semi-Victorian, bar so be ready to lounge for a while (if you ever make it in).
R Bar is at 3331 W 8th St, near Oo Kook KBBQ and the newly-built Gemma Apartments that has high-rise units for rent!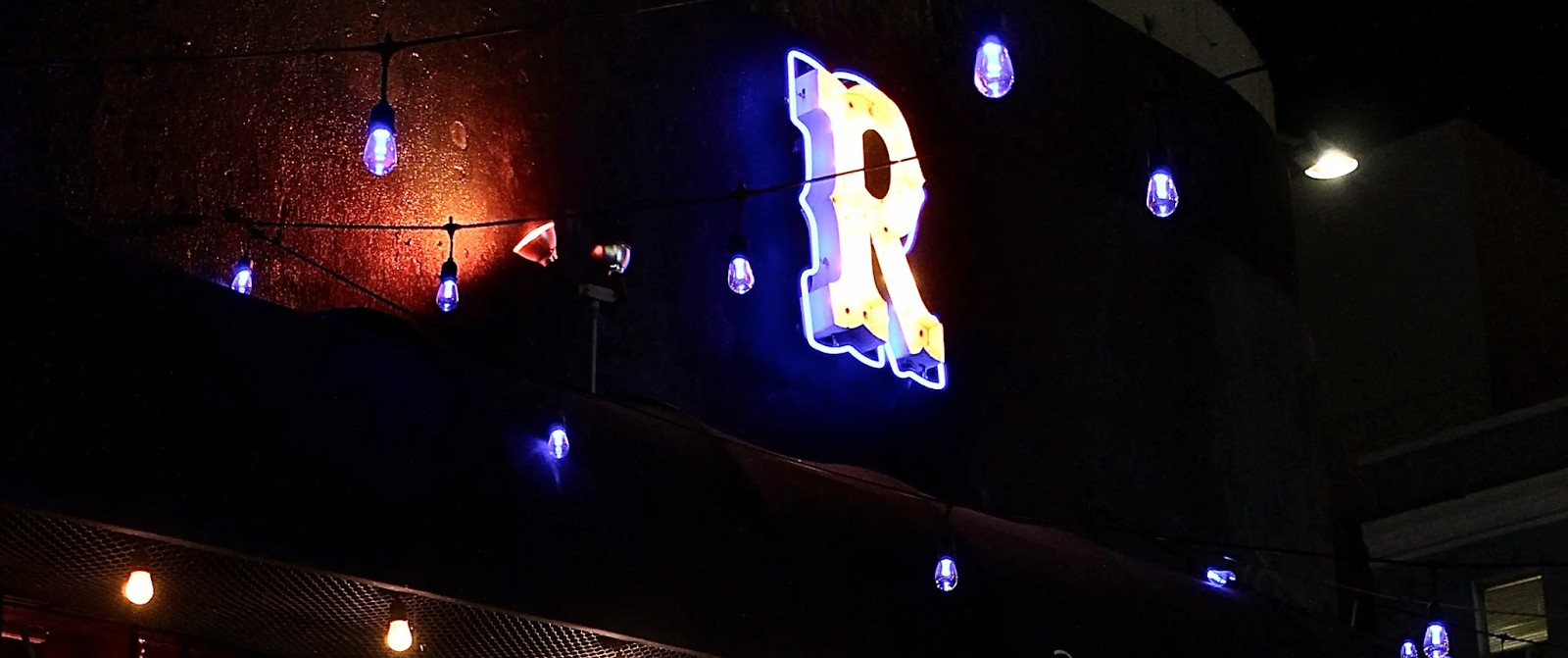 R Bar, by R Bar
Sip Boba while Smoking Hookah at Boba Bear
The perfect spot for enjoying a chill vibe, Boba Bear is open until 2AM on Friday and Saturday and 1AM on Sunday. This is a great space to wind down after a long day of studying, entertaining guests, drinking at the bars, or stuffing yourself at a KBBQ restaurant.
Boba Bear is located at 414 S Western Ave, close to Heuk Hwa Dang, Madang Plaza, and the Wilshire/Western rail station.
Karaoke, Cocktails, and a Trendy Vibe at Star Night
Star Night, at 3855 Wilshire Blvd, is a huge contemporary space, with tons of ambient lighting, a buzzy cocktail bar that hosts karaoke and DJs, sports bar, and a private patio. Come here to enjoy sophisticated drinks, good food, and an energetic vibe. Star Night is one of only a few free-standing bars in the area, so come ready to dance and mingle with others. (There is some lounge-style seating, but it's sparse)
Star Night, one of the Korean district's most popular nightclubs, is open until 1:30AM every day, except Sunday.
Enjoy 24/7 Living at…
Life happens and when you're in Koreatown Los Angeles, it can keep happening. You'll always have a place to eat or relax, thanks to a broad assortment of 24/7 options in the area. Here's a quick list of some spots that will always have their doors open.
24/7 Dining:
Sun Nong Dan, 710 S Western Ave – Close to The Wiltern and the Purple Line. Offers a large traditional Korean menu.



Hodori, 1001 Vermont Ave – A casual spot with traditional Korean meat, rice & noodle dishes. Offerings are simple and tasteful.



BCD Tofu House, 3575 Wilshire Blvd – A small and humble chain, the location on Wilshire is 24/7. A great and reliable spot to enjoy bulgogi, galbi, bibimbap, and a large selection of tofu dishes, which include several Soon Tofu options.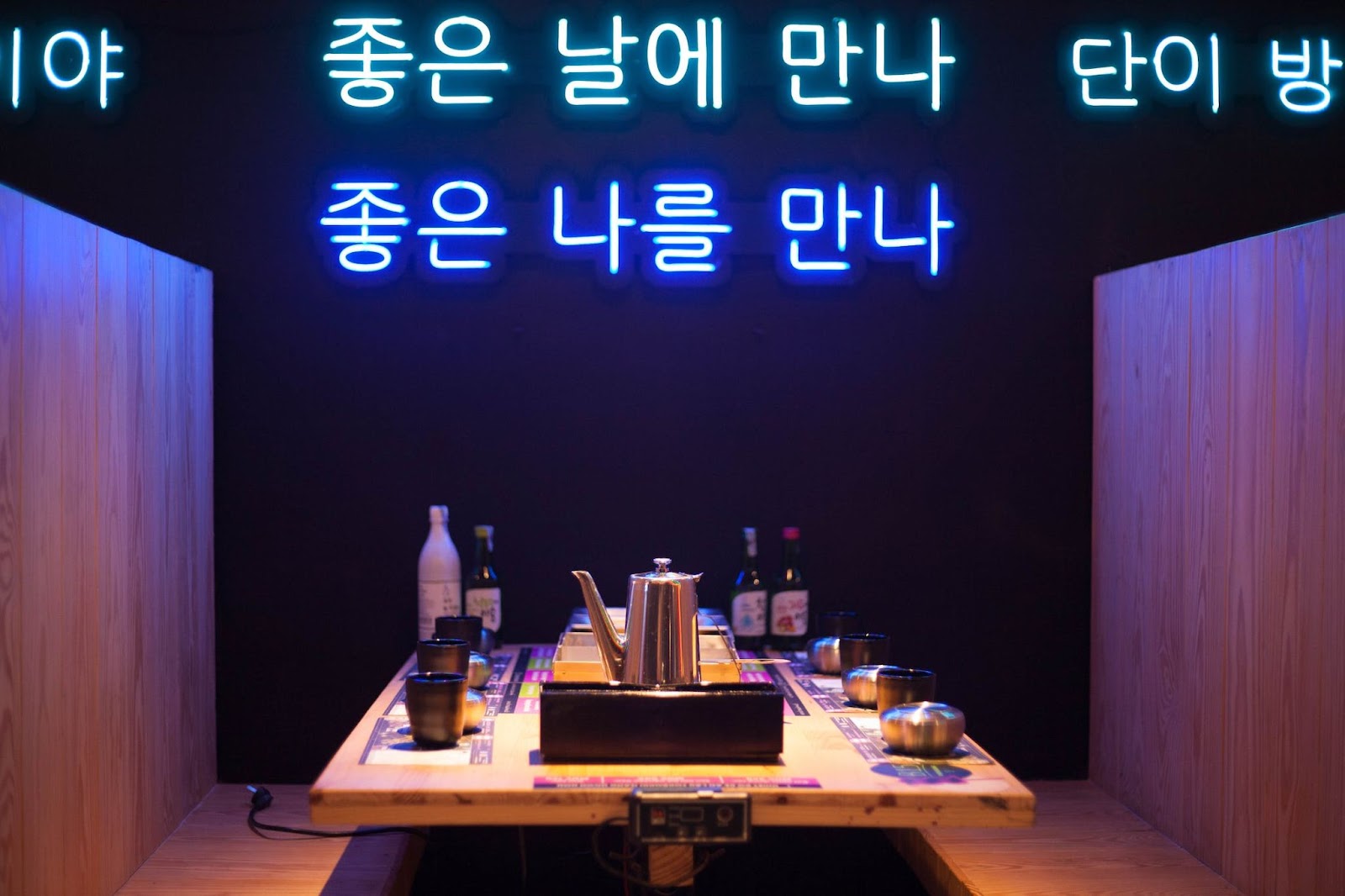 Korean tea at late-night, by Nguyen Man
24/7 Living:
Wi Spa, 2700 Wilshire Blvd – Whatever the time or day, you can rely on Wi Spa for some relaxation and restoration. The expansive spa features hot and cold baths along with progressive sauna rooms.
Diverse Cuisine at Quality Restaurants
Koreatown Los Angeles has a large variety of restaurants and cuisines. It won't be hard to find an excellent spot for KBBQ nor will it require much effort to find something traditional or not-Korean! There is a huge amount of Latin, American and European restaurants that offer quality ranging from quick-service to Michelin-star levels. Here are some of this area''s favorite restaurants.
Escala
From the exterior to the interior and menu, Escala seems like another one of Downtown LA's Latin-inspired restaurants… but it's not! Reflective of this community's mixed diversity, the menu at Escala was crafted by Korean-American chef Chris Oh and features unique Korean-Latin dishes. Alex Torres, born in Colombia, "remixed" the menu while Og Chino, born in Seoul and raised in Bogotá, Colombia, keeps the flavorful dishes coming from 11:30AM till 2AM. At Escala, the motto is "Good food, Good music, Good people."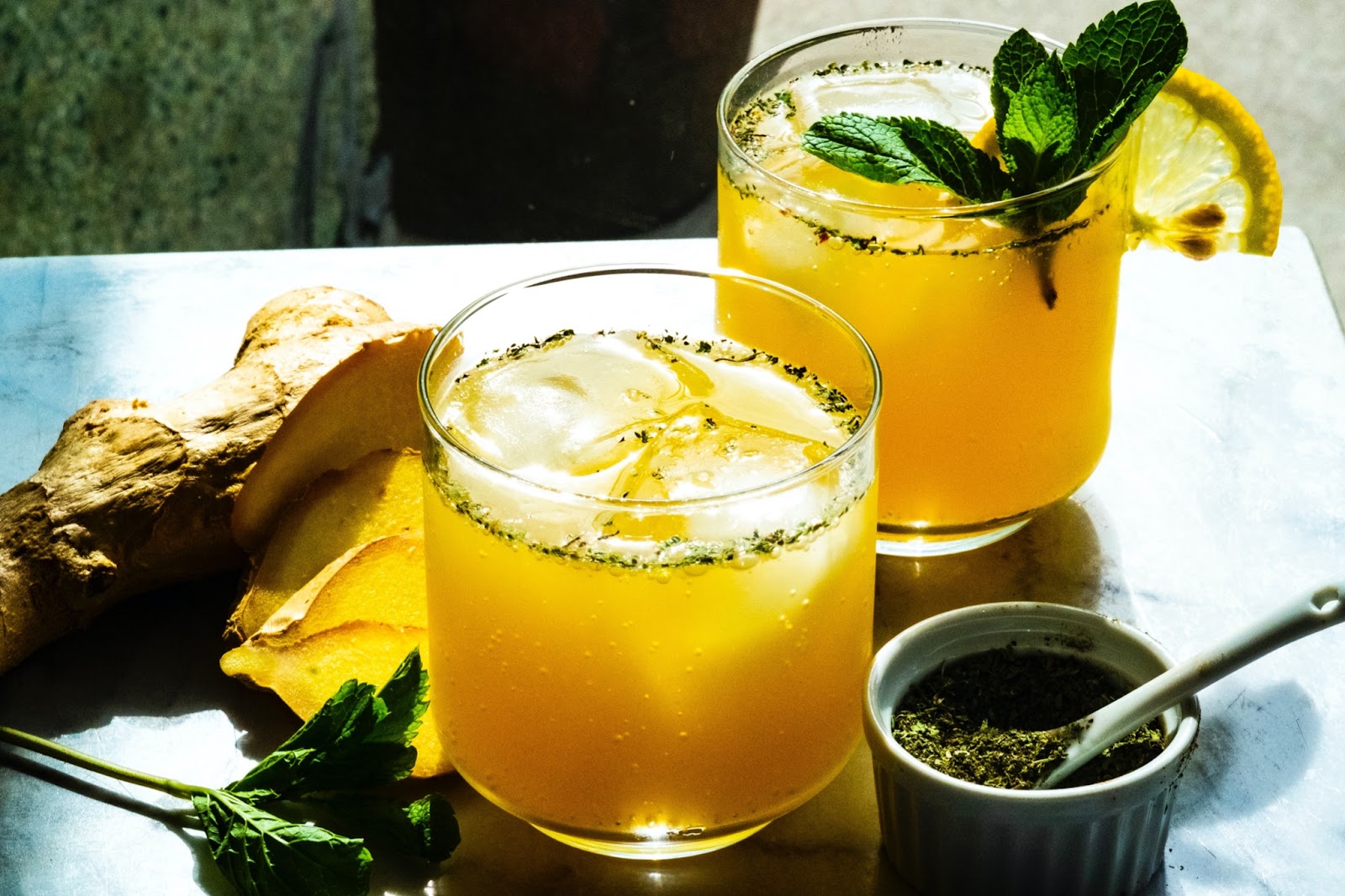 Basil and lemon mimosas, by Caglar Araz
You can enjoy mango chili or maracuya (passion fruit) bottomless mimosas and a variety of fruity and boozy drinks. If dining at Escala for Sunday brunch, you can feast on Korean-Latin fusion dishes like Ktown Rice con Pollo, Spicy Fried Chicken and Coconut Waffles, Kimchi Rice Empanadas, or the Pacific Seafood Stew with tilapia, shrimp, manila clams, and green mussels. If you're with a large group and desire a shareable brunch, try out the Picada party platter which includes galbi (korean BBQ short ribs), spiced chicken wings, Colombian chicharron and chorizo, sweet plantain, and papa criolla.
The rotating full menu includes tasty dishes like loaded arepas, smoked octopus, braised oxtail, and bistec al caballo. You can also enjoy a healthy selection of adult beverages, including soju, beer from Korea and Colombia, along with various Latin cocktails.
Escala is located in the Historic Chapman Plaza at 3451 West 6th St (between Yangju Gamjatang and Chunju Han-il Kwan). The restaurant is half a block away from The Gemma, a new high-rise residential building that offers views of the neighborhood and Hollywood from its units and art-lined outdoor patio.
Openaire, Two Michelin-stars and a Greenhouse
Aptly named, at Openaire you can dine on a menu curated by two Michelin-starred chef Josiah Citrin inside the twinkling greenhouse of the Line Hotel's patio. Openaire is a plant lover's paradise where seasonal menu items await you. Some choices pay homage to K Town through the inclusion of Korean ingredients. Inside the greenhouse, an immaculate marble bartop contrasts with abundant plants hanging from the all-glass greenhouse. The outdoor terrace offers alternate seating where you can soak up the sun.
Openaire is located inside The LINE LA, a boutique lifestyle hotel in the heart of this community. It is right across from The Gemma, a newly-built and boldly designed two-building luxury apartment complex that offers student housing and stunning views.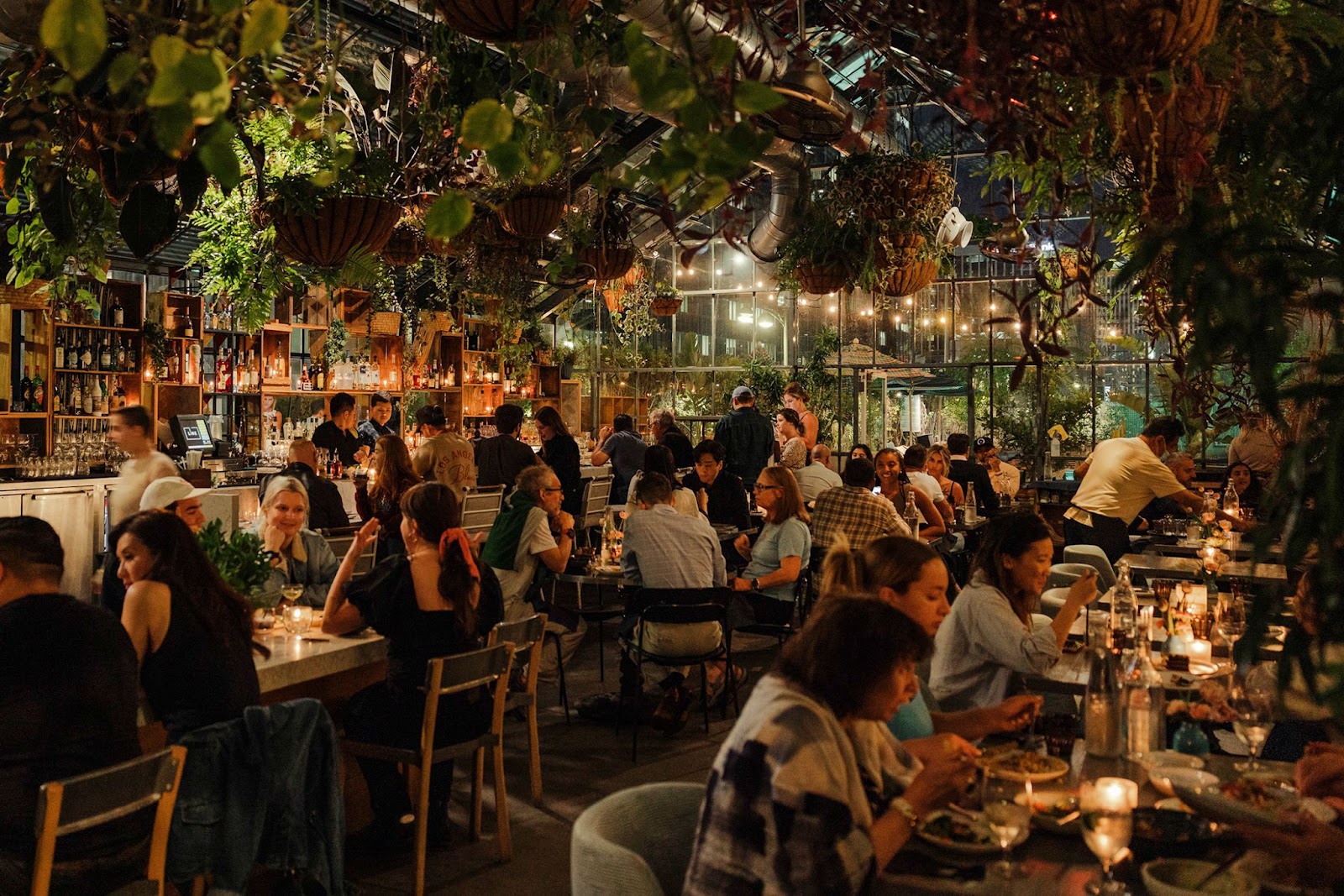 Openaire's greenhouse, by The LINE
Openaire offers a brunch menu and a multi-course prix fixe menu. Fresh starts include local-inspired dishes like avocado toast with radish and sprouts, ahi tuna tartare served with a yuzu vinaigrette, and smoked salmon plate. The standard menu and prix fixe options share certain options like eggs benedict (with choice of ham, smoked salmon, or crab), huevos rancheros, lobster chilaquiles, and hibachi grilled flat iron steak and eggs served with kimchi fried rice plus the option of adding a grilled Maine lobster tail..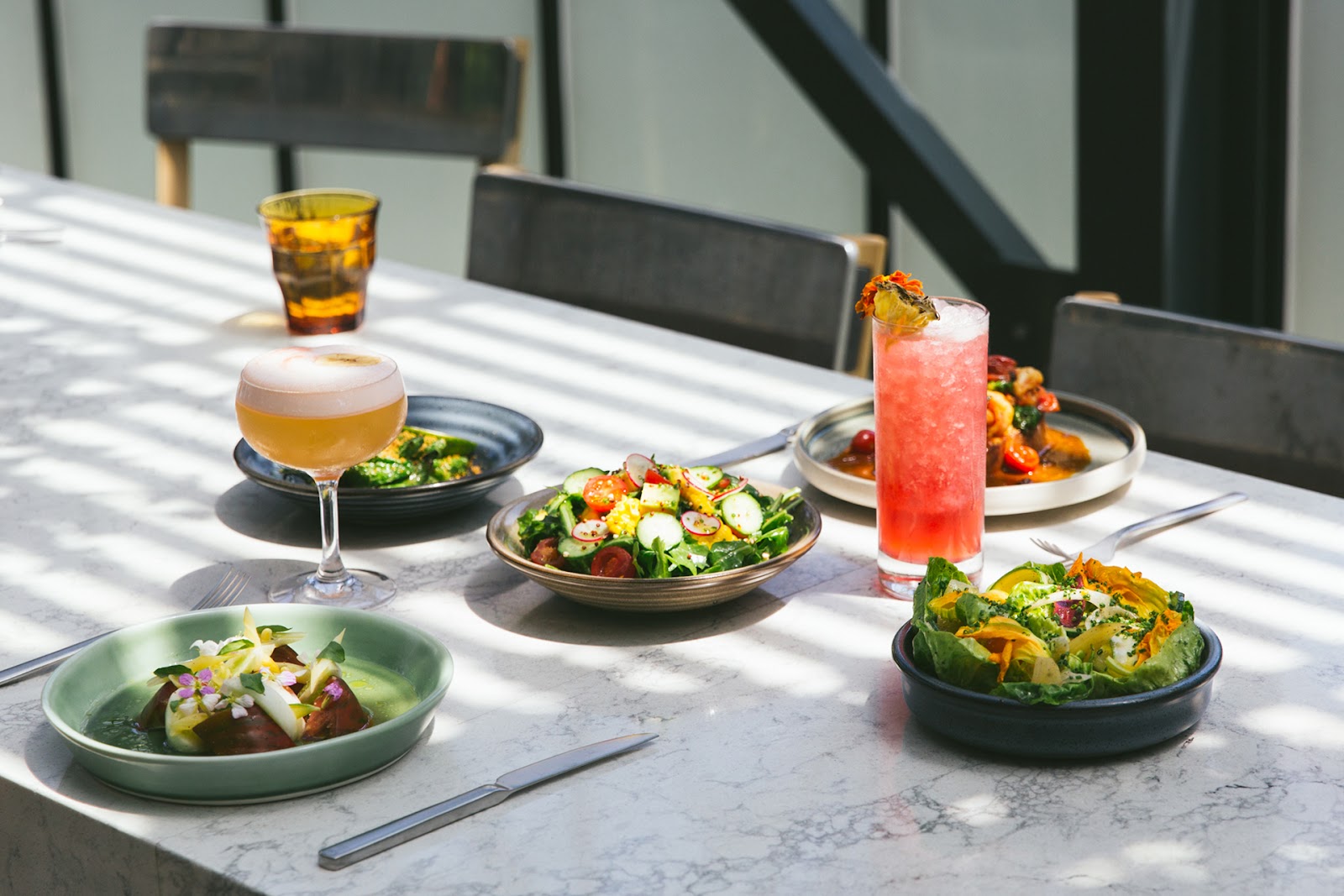 Openaire lunch, by The LINE
Caffe Concerto, Endless Mimosas and Korean-Italian Cuisine
Located at 610 S Serrano Ave across from Liberty Park, Concerto serves Korean-Italian fusion cuisine. Concerto's distinctive culinary style combined contemporary European and Korean dishes with rich flavors. You'll also find cocktails, gourmet coffee, and lavish desserts at this stylish eatery. Ample outdoor and open-air seating is available at all times.
Concerto's diverse menu includes grilled octopus, truffle fries, blistered shishito peppers, a wide range of salads and pizzas, seafood nasigoreng, bulgogi fried rice, and a gorgonzola crusted filet mignon. You can also enjoy lobster pasta, frutti di mare, vongole, kimchi carbonara, spaghetti, bolognese, and an oriental cold pasta.
The brunch menu is equally vast and includes bottomless pineapple, cranberry, and orange mimosas.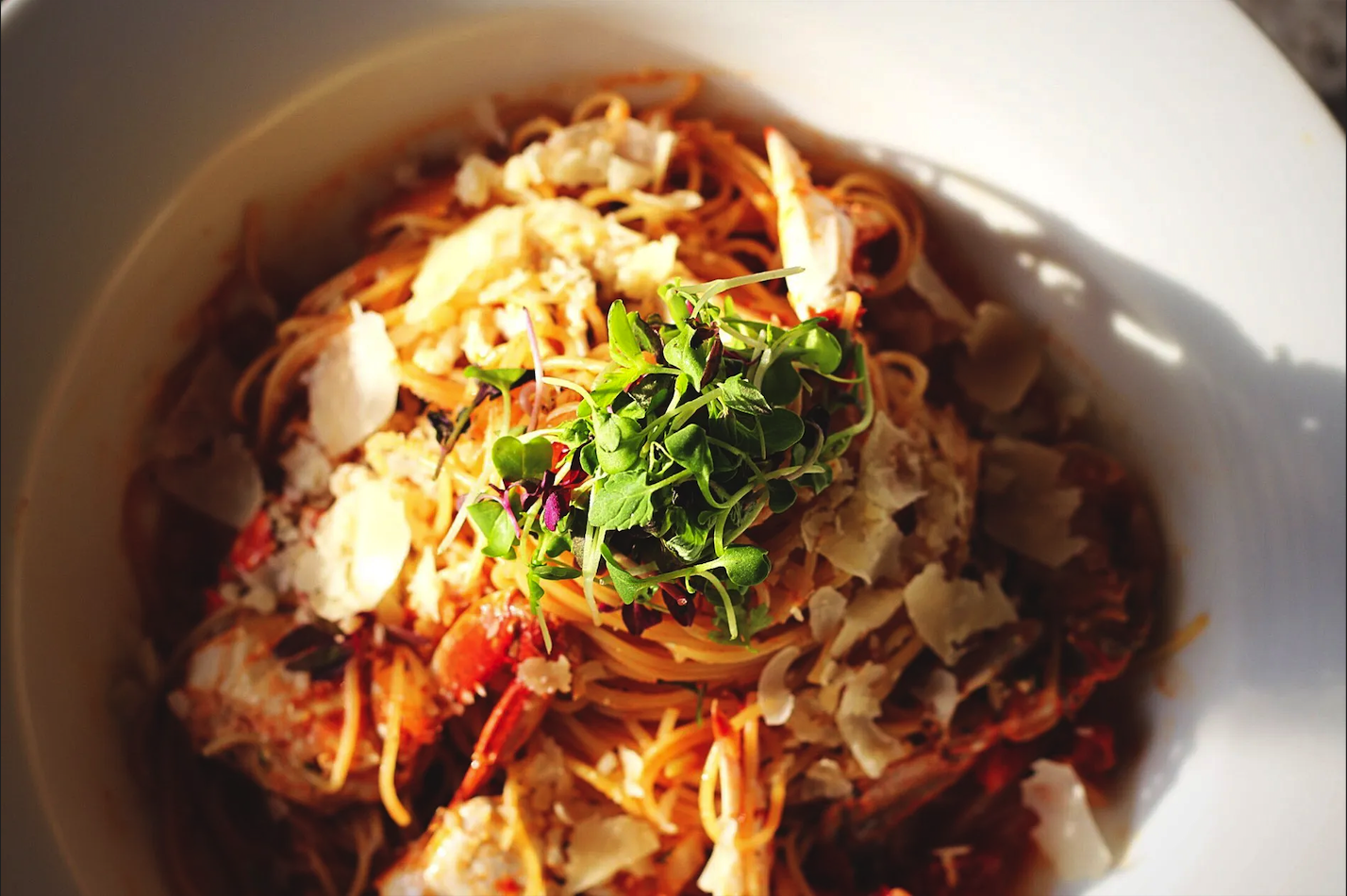 Pasta, by Concerto
Yangji Gamjatang
Yangji Gamjatang is one of the best options to enjoy a hearty and tasty meal. Open from 7AM to 3AM, this spot is a true representation of the district''s 24/7 culture! Yangji Gamjatang's specialty breakfast dish, called gamjatang, is the namesake of this well-liked brunch restaurant. Matthew Kang, Eater LA's Editor, considers gamjatang to be a near-perfect soup.
Yangji Gamantang is located at 3470 W 6th St across from the bustling H Mart City Center, close to Robert Kennedy Inspiration Park.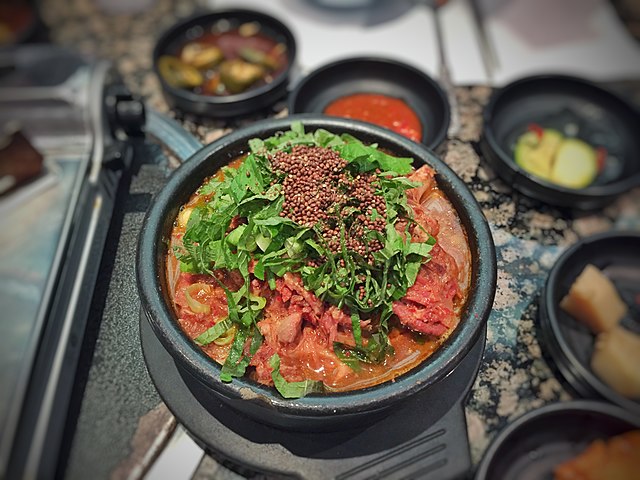 Gamjatang at Yanji Gamjatan, by T Tseng
Chunju Han-il Kwan
This restaurant has a popular military stew known as budae jjigae and serves kongnamul haejangguk, a bean sprout soup with rice. Haejangguk, which roughly translates to "hangover chasing soup," is a definitive Korean breakfast staple that is a spicy tonic of bean sprouts, napa capa cabbage, and green onion served alongside banchan and a steaming bowl of rice.
Chunju Han-il Kwan is at 3450 W 6th St, to the North of Robert Kennedy Inspiration Park, and opens at 8AM. After an evening out of enjoying the 24/7 nightlife, a quick Sunday brunch at Chunju's is the perfect way to recharge.
Spots for Coffee
Coffee shops can be found on every block. You will be able to enjoy a wide range of caffeinated beverages, from traditional espresso drinks to Korean-style coffee drinks. In addition to spaces you can study in, people watch from, or enjoy art they typically offer pastries, sandwiches, and other quick-service warm food options.
Heuk Hwa Dang, Dalgona Coffee
You can find Heuk Hwa Dang at 621 S Western Ave, next door to House of Axe, a famous spot for axe-throwing and Korean BBQ. Heuk Hwa Dang is a Korean-based premium tea house with dozens of locations throughout Korea, including Seoul, Busan, Incheon, and Jeju.
At this tea house, you'll find an unrivaled dessert menu, a huge variety of tea types (including brown sugar bubble milk tea, brown sugar latte, rose bubble milk tea, and fruit flower tea), and dalgona coffee. We've mentioned Heuk Hwa Dang a few times, simply because it is a staple of Korean culture and its LA location is close to the Purple Line station, which makes it close to everything.


Brown Sugar Bubble Beverages, by Heuk Hwa Dang
We strongly recommend trying anything with brown sugar bubbles here, especially the brown sugar bubble ice cream. Heuk Hwa Dang handmakes the nation's first brown sugar bubble right in front of customers! As mentioned above, you can park your car in the Madang Plaza lot, which this coffee shop is located in.
Document Coffee Bar, Minimalist Space w/ Art
Document, located at 3850 Wilshire Blvd, offers patrons an easygoing vibe, pastries, and an extensive selection of beverages. The menu includes tea, Korean tea, tea-lemonade, smoothies, shakes, and cold brew. This is a great place to recharge mid-day.
The wall of portraits is nice to appreciate while sipping on your cup of joe (or tea). Document displays Angeleno artists' work with a variety of themes, including the BLM movement. This spot hosts the occasional art night.
Alchemist Coffee Project, Ample Room for Studying
Alchemist is a New Orleans-style cafe on 698 S Vermont Ave, in between Robert Kennedy Inspiration Park and Lafayette Park. Inside Alchemist, there is a long dark wood table where you can meet up with friends or fellow study buddies. An eclectic selection of sconces and hanging light bulbs give this cafe a high-energy vibe.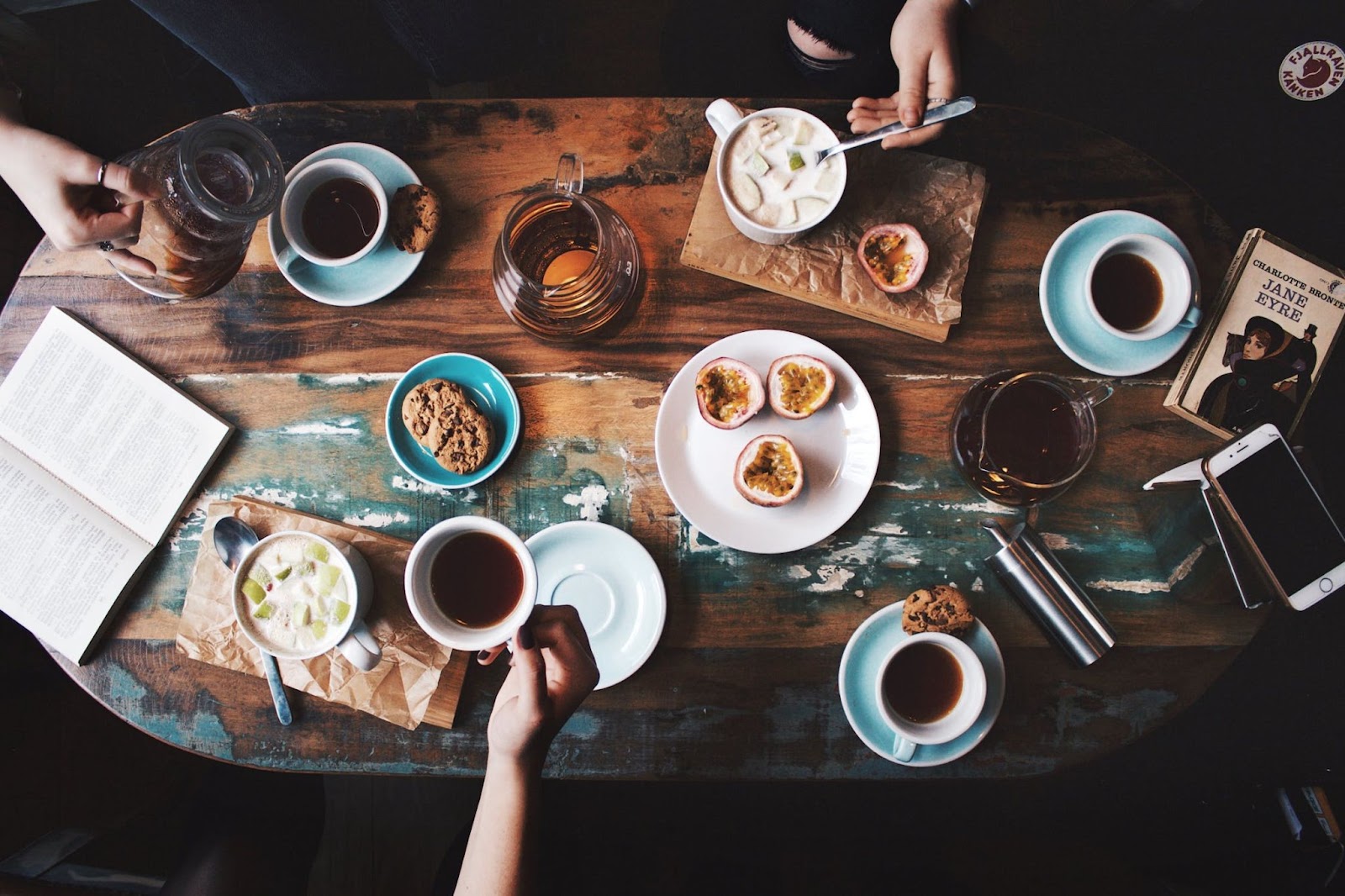 Coffee while studying, by Viktoria Alipatova
Drinks and pastries are flavorful but not too sweet. You can enjoy specialty drinks like the tiramisu latte, spanish latte, or alchemy shake alongside a selection of hot sandwiches and pastries. Some items on the menu are vegan-friendly.
Alchemist is close to The NEXEN, a newly-built refined mixed-use building that has contemporary luxury housing options available for rent. The NEXEN hosts several businesses at street-level and has two rooftop decks with outdoor grills and cabanas, co-working space, and a pool terrace with zero-edge pool.
Recreation and Outdoors
Koreatown Los Angeles is home to four large and well-maintained parks. They are located throughout the area, so no matter where you may live or find yourself you can relax, as greenspaces and recreation are a short walk away.
Robert F Kennedy Inspiration Park – Officially a memorial park, you can enjoy a large space with sculptural installations, walkways, and various quotes from the late Robert F Kennedy.



Lafayette Park – One of the larger parks in the area. Located on the Eastern end of the Korean district. Features tennis courts, a soccer field, and full-fledged recreation center. There is also a children's playground. The De Neve branch library is also here.



Liberty Park – This calm and relaxing park is right next to The Wiltern and Wilshire/Western rail station. You can walk along the circular path to enjoy the Romanesque-architecture Taipei Economic and Cultural Consulate.



Seoul International Park – A compact recreation area that has a playground, jogging track, baseball diamond, and indoor gym.



Mariposa-Nabi Community Garden – A small and humble space cared for by local residents.
Living in Koreatown Los Angeles
Thanks to pioneering entrepreneurship from Korean immigrants, this neighborhood was given a solid foundation to become a great and diverse cultural hub, much like the country of South Korea itself! Today, this is one of the hottest and fastest-developing regions in Downtown LA–it's easily one of LA's most diverse neighborhoods. Due to this explosive growth and huge interest, finding a place to rent can be tough.
Companies like Tripalink are a great resource for students and future residents looking for a place to live; they offer a wide selection of apartments and co-living spaces, which generally include amenities like maid services. Some apartments feature co-working spaces, rooftop grills, and resort-like pool/spa facilities.
It's no surprise that life-long residents of Downtown LA and incoming UCLA and USC students are choosing to move into a centrally-located apartment in Koreatown Los Angeles. If you're a future resident, student, young professional, Koreatown has something for you. A sure-fire way to experience all this neighborhood offers is to move into one of several budget-friendly or high-end luxury apartments for rent in Koreatown.