With current standing as the sixth most populous city in the US, and the most populous city in all of Pennsylvania, Philadelphia, PA, is beloved for being more than just the city of "Brotherly Love." Philadelphia is also home to historic landmarks like the Liberty Bell, traditions that span back centuries such as, The Mummers Parade, a solid food scene, and one of the US most diverse college campuses, Temple University.
And with a whopping 1.58 million residents that call Philadelphia home, it's clear that Philadelphia, aka Philly, has a certain Je ne sais quoi (or a specific draw) that makes the city so attractive to its residents. Whether you're a student at Temple looking for local places to eat, or a Philadelphia native that wants to venture out into the Temple University area and try a restaurant you've never tried before when time permits, this is the list for you.
Also, if you're a professional that needs a quick bite to eat while you're in Temple, the city of Philadelphia, and the entire Temple University area, have something delicious for you to sink your teeth into for sure.
The Culinary Scene in Temple University
The culinary scene in Philadelphia is a lot like its population--extremely diverse and "larger than life." So, the question should not be, "what does Philadelphia have that I can eat?" Instead, it should be, "what am I in the mood for, and where do I go to get it?"
If you've asked this question, you're in the right place. And the best part of it all is that many Philadelphia residents stand on the fact that eating delicious food in Philadelphia does not have to break the bank.
In other words, you can eat foods that exceed your expectations without exceeding your budget, which is a win for both the Temple University student low on funds and the young adult that wants to enjoy a night out on the town. And everything in between.
For the students at Temple University, it's important to note that some of the best food you'll eat while at Temple is not inside the university dining hall at all. Instead, much of Philadelphia's stand-out food lies outside of Temple University walls. So, save those Diamond Dollars at the university for a rainy day, ditch those chain restaurants, and take a stroll off-campus so you can indulge in some of the finest, affordable dining that Philadelphia has to offer.
And to make your quest to locate the best restaurants in Philadelphia just a little easier, here's a list of some of the best restaurants near Temple University.
*Each of the restaurants on this list is arranged by nearest to furthest proximity to Temple. Places closest to the university are listed first, and those that are furthest away from the university are listed last.
Top Restaurants Near Temple University
Maxi's Pizza, Subs & Bar
1926 Liacouras Walk 1926, Philadelphia, PA 19122
(215) 204-7002
Specialty Items: Unique Pizza Pies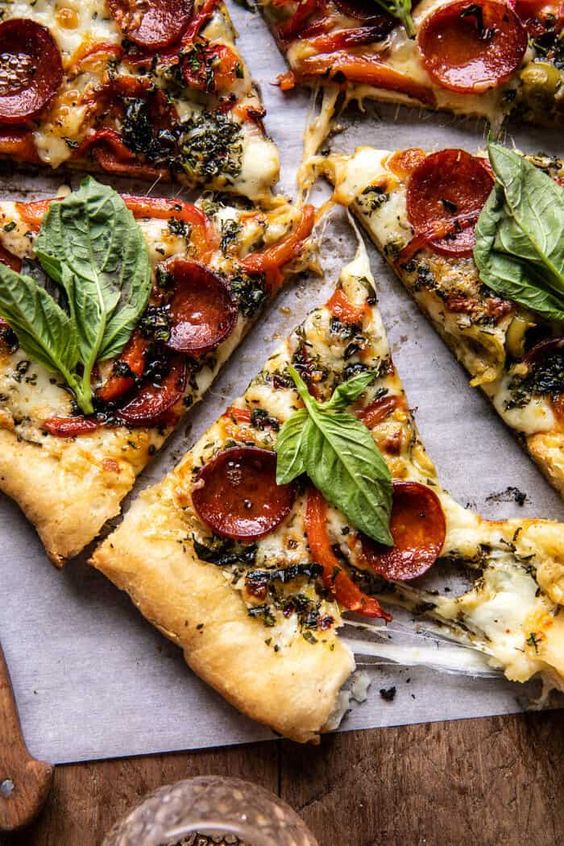 When thinking about convenience, versatility, and satisfaction regarding food near Temple, Pizza is usually a top choice. Especially in a town with a flourishing University and an engaged workforce. And for Temple residents, Maxi's Pizza, Subs, and Bar is no exception to this statement.
Since they specialize in delicious and unique pizzas such as Taco Pizza, topped with steak, tomatoes, and mozzarella, or even their veggie pizza, workers can customize everything from eggplant, zucchini to whatever other vegetables that are in season at the time of your visit. And I know you may be thinking, "what's so different about this pizza in comparison to the pizza served at the university?"
However, most times, the food served on campus appeals to several pallets that will pass through Temple, as all taste buds aren't the same. Usually, this results in a generic size fit-all pizza. But if you want a pizza explicitly made to your liking, then Maxi's is your best bet.
Champs Diner
1539 Cecil B Moore Ave, Philadelphia, PA 19121
(215) 769-0995
Facebook: Champ's Diner
Signature Dish: Red Velvet Pancakes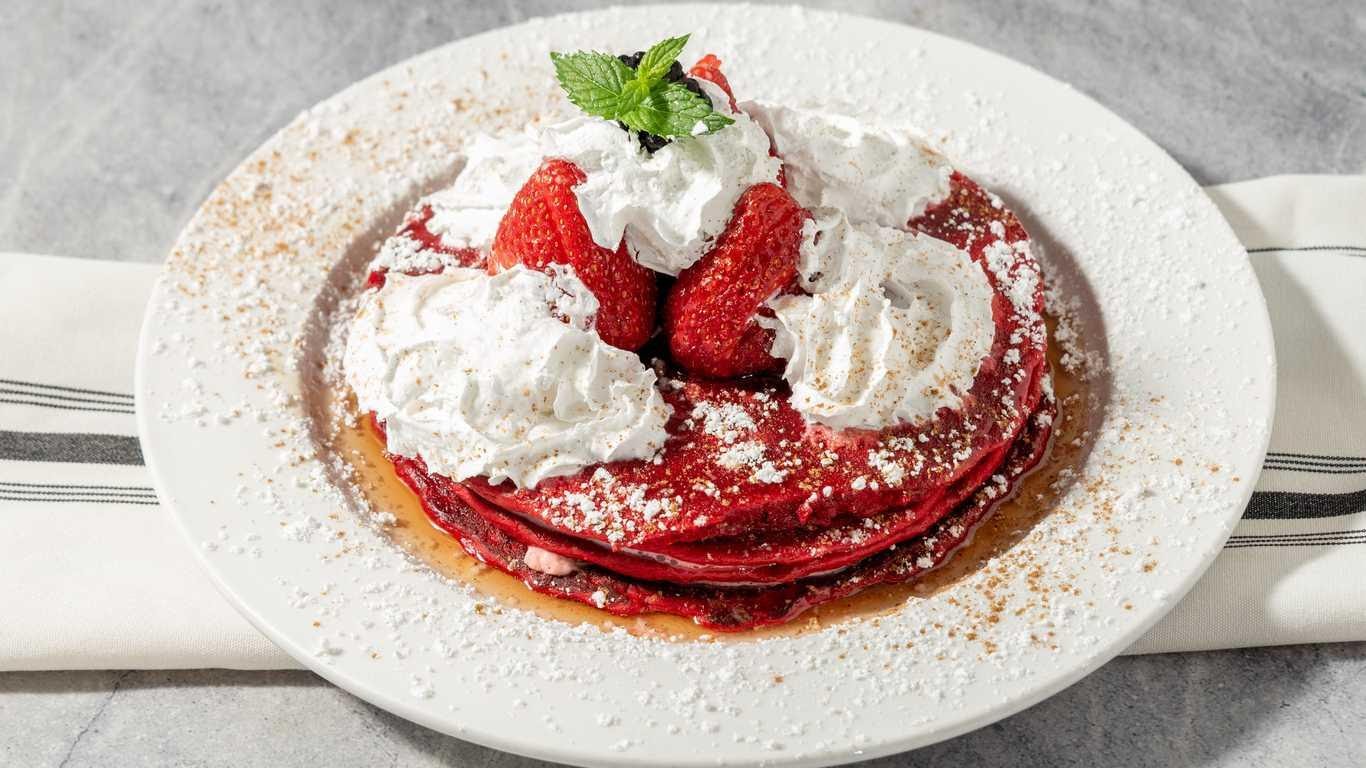 -Photo courtesy of Champs Diner website
You can ditch your vehicle and take the roughly two-minute walk over to Champs Diner at Temple University. Calling all early risers, Champs Diner opens at 6:45 am daily, serving its patron's various breakfast food items, such as Oreo Waffles, Chicken and Waffle Benedict, and Red Velvet Pancakes.
So, stroll on over to the diner before your morning class at Temple University or before that 8:00 am work meeting and satisfy that breakfast food craving.
But if breakfast isn't your fancy, no worries, they also serve various lunch items such as Crispy Chicken Wraps and fries for a semi-light lunch, Corn Beef Reuben's and fries, and Bacon Cheeseburgers with fries. And the most exciting part of it all is that nothing on the menu is over $13. That's what you call "a meal for a steal."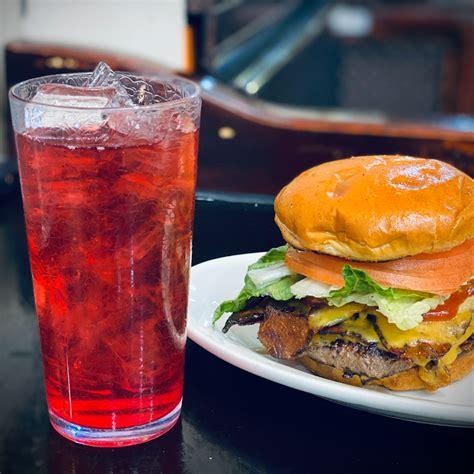 -Photo Courtesy of Champs Diner Website
Pretty Girls Cook
1016 N Marshall St, Philadelphia, PA 19123
(215) 278-2260
Instagram: @yespgc
Facebook: Pretty Girls Cook
Pictured Dish: Salmon & Shrimp Perfect Penne Pasta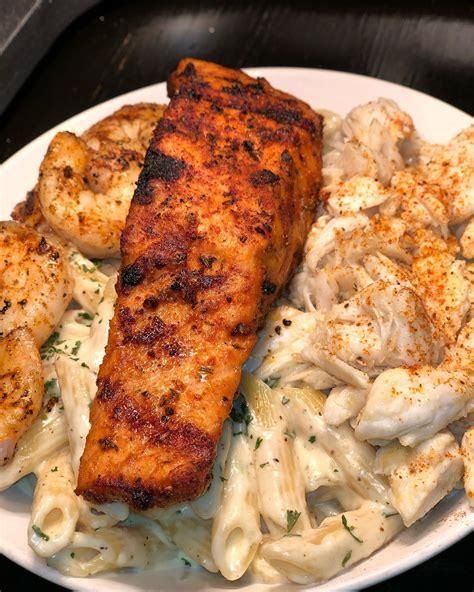 -Photo Courtesy of PGC Instagram
For short, pretty Girls Cook or PGC is known for its quaint but pleasant atmosphere, generous food portions, and excellent service from their friendly staff. Roughly a four-minute drive from Temple University, PGC is in the perfect location to allow students and other nearby residents a chance to experience that homecooked, gourmet food feels in a fast-food setting. Due to the pandemic, they are currently offering online ordering/carry out dining only.
But just because you can't dine in to eat doesn't mean their flavors don't stand out! You can still indulge in their larger-than-life meals such as their Chicken and Waffle Sandwiches or their loaded Penne Pasta with your choice of meats—and you can do so from the comfort of your university dorm room. But suppose you're not in the mood to eat anything that'll stick to your ribs.
They also have classic menu items like Burgers and Fries or any of their signature Whitney "Chicken" Wings, food that is sure to have Temple University students knocking on your door, curious to know what it is that you're eating.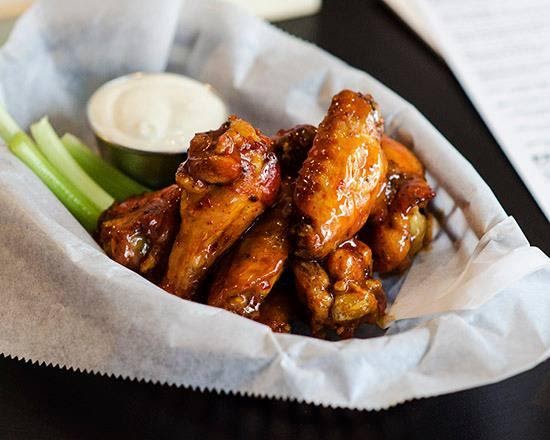 -Photo Courtesy of Uber Eats
Max's Steaks
3653 Germantown Ave, Philadelphia, PA 19140
(215) 229-9048
Signature Dish: Classic Cheesesteak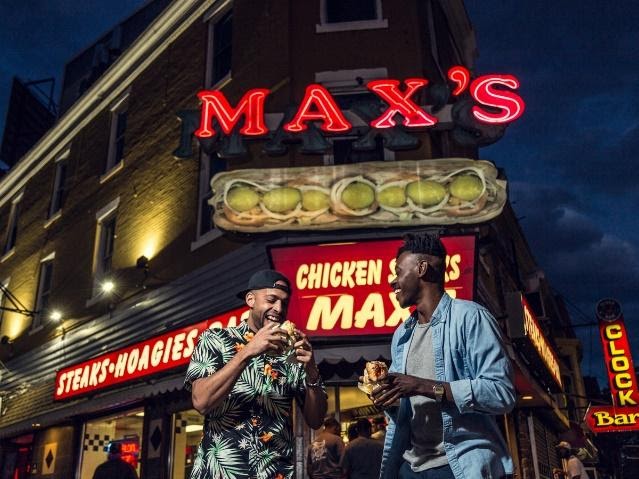 -Photo Courtesy of Visit Philadelphia
Being in Philly and not trying a Philly Cheesesteak is like not brushing your teeth every day. In other words, it's just not right. And while several cheesesteak places could've made this list, one of the most legendary cheesesteak Restaurants in Philadelphia is Max's Steak's on Germantown Avenue. Located only 2.3 miles from Temple University, a quick ten-minute drive will land you at this Philadelphia Monument.
Having gotten the stamp of approval by none other than one of Philly's Hometown Heroes, comedian Kevin Hart, is enormous. And making cameos in films such as Creed I & II and television shows such as This is Us, one can't help but think, "this is the cheesesteak I want to try!" Because after all, it must be something that brings people here, right? But please pack your patience when you decide to eat at this restaurant because service can be slow due to their notoriety.
But patrons say after one bite of their cheesesteak and a daiquiri or two (yes, I said a daiquiri—Max's has a full bar too), they forgot all about the long wait. Plus, if you're looking for a restaurant where you can grab a bite to eat after a late-night study session or a night on the town, Max's Steaks stays open until 3:00 am for your convenience.