If you're not a Westside resident, getting to Santa Monica, CA can be pretty daunting. You have to think about things like traffic and parking that can make or break your commute but we believe it's worth it especially if you're going to one of the top restaurants near Santa Monica College. From Italian food to sushi spots, you can expect to find a little bit of everything when you're coming to dine at Santa Monica restaurants. Read along to get our recommendations to get the scoop on some of the best restaurants Santa Monica has to offer.
1. Massilia in Downtown Santa Monica, CA
Have you ever had a specific craving for a blend of French, Spanish, Italian, and Moroccan flavors? Then Massilia in downtown Santa Monica, CA is the place to go. The restaurant is adorned with plants with an iron fence around the patio making it perfect for lunch, dinner, or a date. The outdoor space also serves as the perfect backdrop for brunch pictures on social media! By day you can get food items like pastries, egg sandwiches, coffee, croissants, sandwiches, steak-frites but at night the restaurant turns lively with tapas, homemade pasta, braised lamb, and Morrocan tajine. There's also a full bar with unique cocktails with spirits from the South of France and Italy, a dedicated Negroni menu, and a selection of French and Amari brandies.
We also can't forget to mention happy hour! Massilia does happy hour, Monday to Friday from 4:30 pm to 6 pm. Take a look at their full menu on the website and make your reservation at this popular Santa Monica restaurant.
2. Tar & Roses
If you love the smell of a wood-fired grill then you'll be in heaven when you walk into Tar & Roses in Santa Monica, CA, some people have even said you can smell the grill from a block away. Everything at this popular spot is cooked in the wood-burning oven or grill, this includes corn roasted in the wood oven in a pool of goat cheese, crispy potatoes with garlic and spicy tomato aioli, and even the fruit is grilled like the cantaloupe wrapped in prosciutto with creamy burrata on the side. We can't forget to mention the oxtail dumplings and the brown sugar popcorn, these are perfect appetizers to start the night with. The Santa Monica restaurant features a long, narrow dining room leading up to the open kitchen where you can see the flames from the grills cooking up the food.
While Tar & Roses can be a great date spot we recommend going with a group of friends so you can share one of their family-style platters like whole roasted goat, rib roast, or paella, you can also get all three so your party can enjoy some of everything.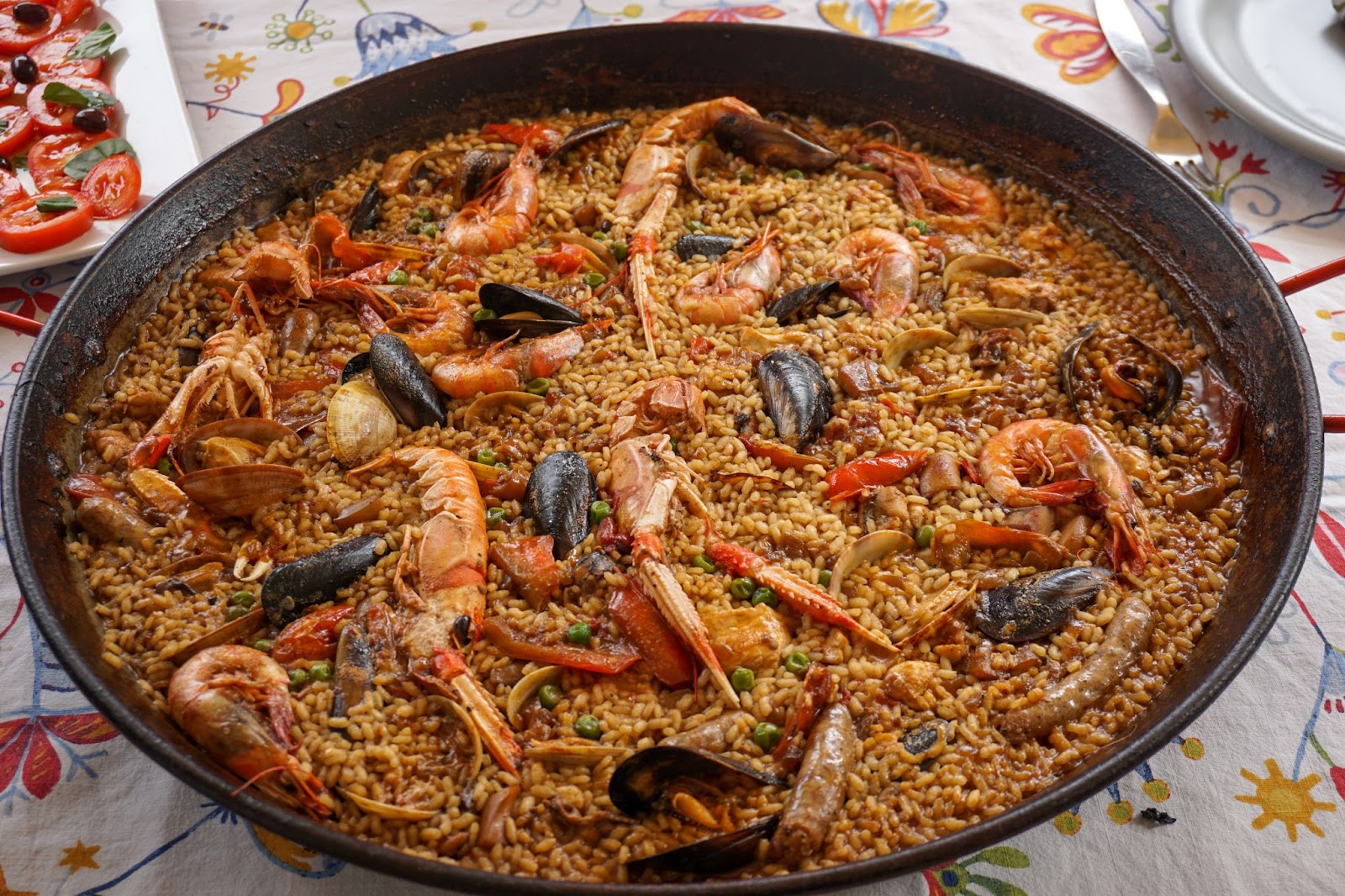 The wine menu features an extensive list of reds and whites from Italy and Spain, if you're not sure which wine to pair with your meal then feel free to ask your server for their opinion. Don't forget dessert! One of the most popular dishes is the strawberry tart, and yes it's also grilled and delicious. Book your reservation so you don't miss out on this experience.
3. Kings and Queens Cantina in Santa Monica, CA
Who doesn't love Mexican food? From chips and salsa to tacos, Kings and Queens Cantina in Santa Monica, CA, has something for everyone, including vegetarian-friendly options. This Santa Monica restaurant features Mexican dishes and drinks with a nice twist.
Appetizers You Should Try
An appetizer is always a good idea, whether it's for you or for a group to share. Here are a couple of appetizers you should try.
The chicken tinga taquitos, they're topped with pickled onions and pecorino cheese and served with a side of lime crema, serrano sauce, and chipotle aioli. If you're looking to start off with something a little different then we think you should try the Hot Cheetos roll, it has shrimp tempura, avocado, cucumber, crab meat, wrapped in seaweed, and rice topped with cream cheese, Flamin' Hot Cheetos, spicy mayo, Tapatio sauce, and eel sauce.
The Tacos
Here are a couple of standout tacos on the menu that we think you'll love, including some vegan options.
This restaurant near the Santa Monica Pier has a variety of birria options! You can get this delicious short rib on a taco, quesadilla, burrito, nachos, fries, and more. The Korean taco comes with roasted pork belly with chile soy sauce and serrano sauce, it's then topped with red cabbage slaw, chopped mango, and lime crema.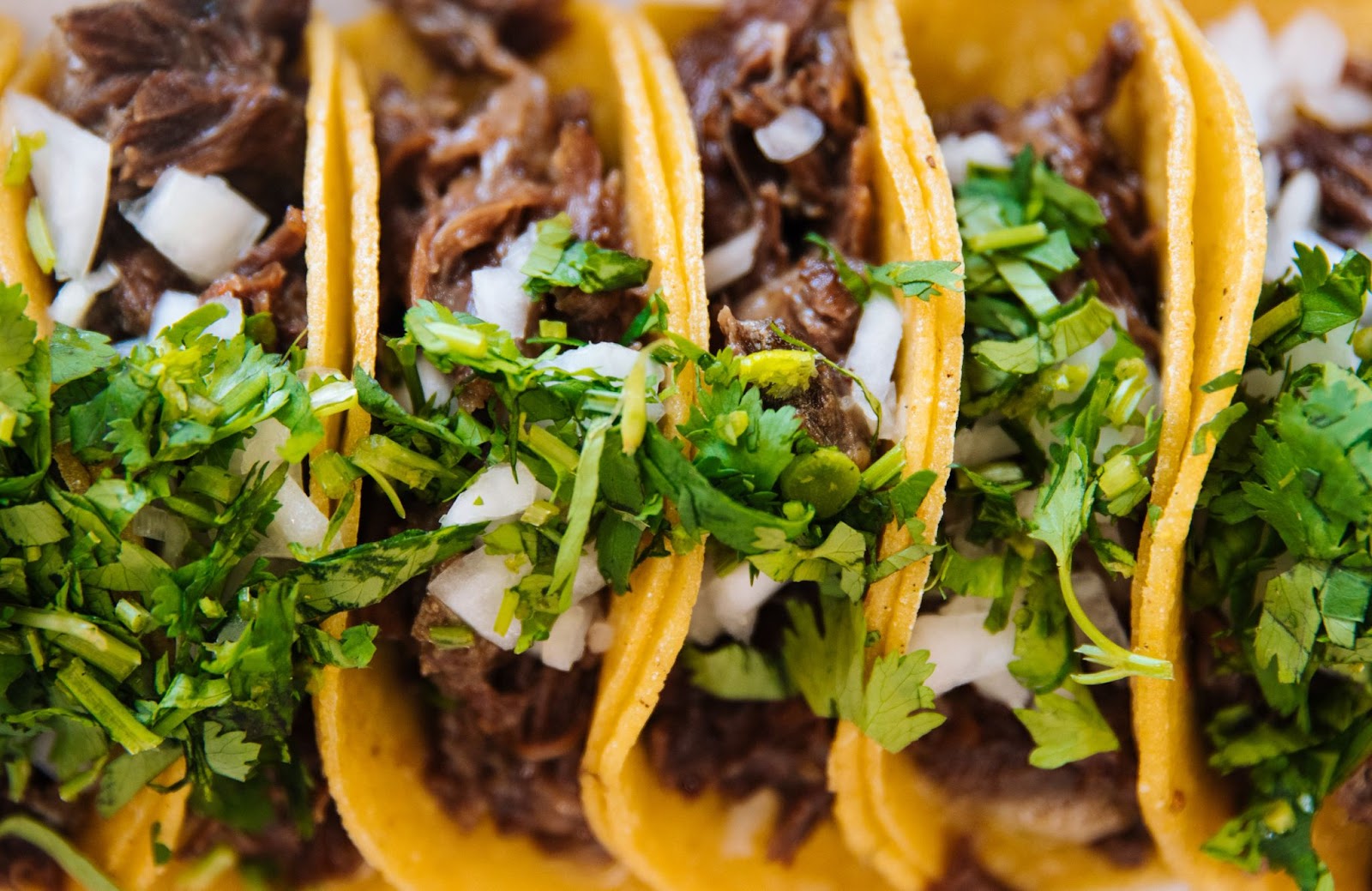 If you want the best both of worlds then go with the Surf n Turf taco. Served on a crispy cheese tortilla this taco has shrimp and steak with serrano sauce, chipotle sauce, lime crema, pico, cilantro, green cabbage, and red radish. Now if you want something really different then try the bone marrow tacos. This tasty taco has bone marrow with Asada, chimichurri sauce, grilled and pickled red onions, and avocado puree.
Vegan Options
The Crispy Avocado tacos are truly unique. The avocado slices beer battered and fried, with queso fresco, chipotle aioli, pickled carrots, cilantro and served on a sweet potato tortilla. The Tacos De La Sierra is filled with flavor. The grilled taco has beans, soy chorizo, and queso fresco. It's then topped with pickled onions, pecorino cheese, red radish, and cilantro. You'll also get a side of refried beans, lime crema, chipotle aioli, and serrano sauce.
The Bar
There are so many options at the bar but here are a few you might be interested in.
The menu has too many margarita options to count but if you can't decide then can the margarita flight, the flavors it comes with are cucumber, strawberry, tamarindo, Gardez, and mango. A signature drink at this Santa Monica restaurant is the Inferno. If you're into spicy things then you'll love this, this cocktail has habanero-infused vodka, fresh lime, pomegranate, pineapple, and simple syrup with a sugar rim around the glass.
Dessert
Don't forget to finish your meal with something sweet! The Lamborghini Ferrari Churro Cart is a true luxury, the churros come out in a small version of the sports car with sparklers and dipping sauces. If you want something simpler then give the butter cake or chocolate brownie a try, they both come with vanilla ice cream.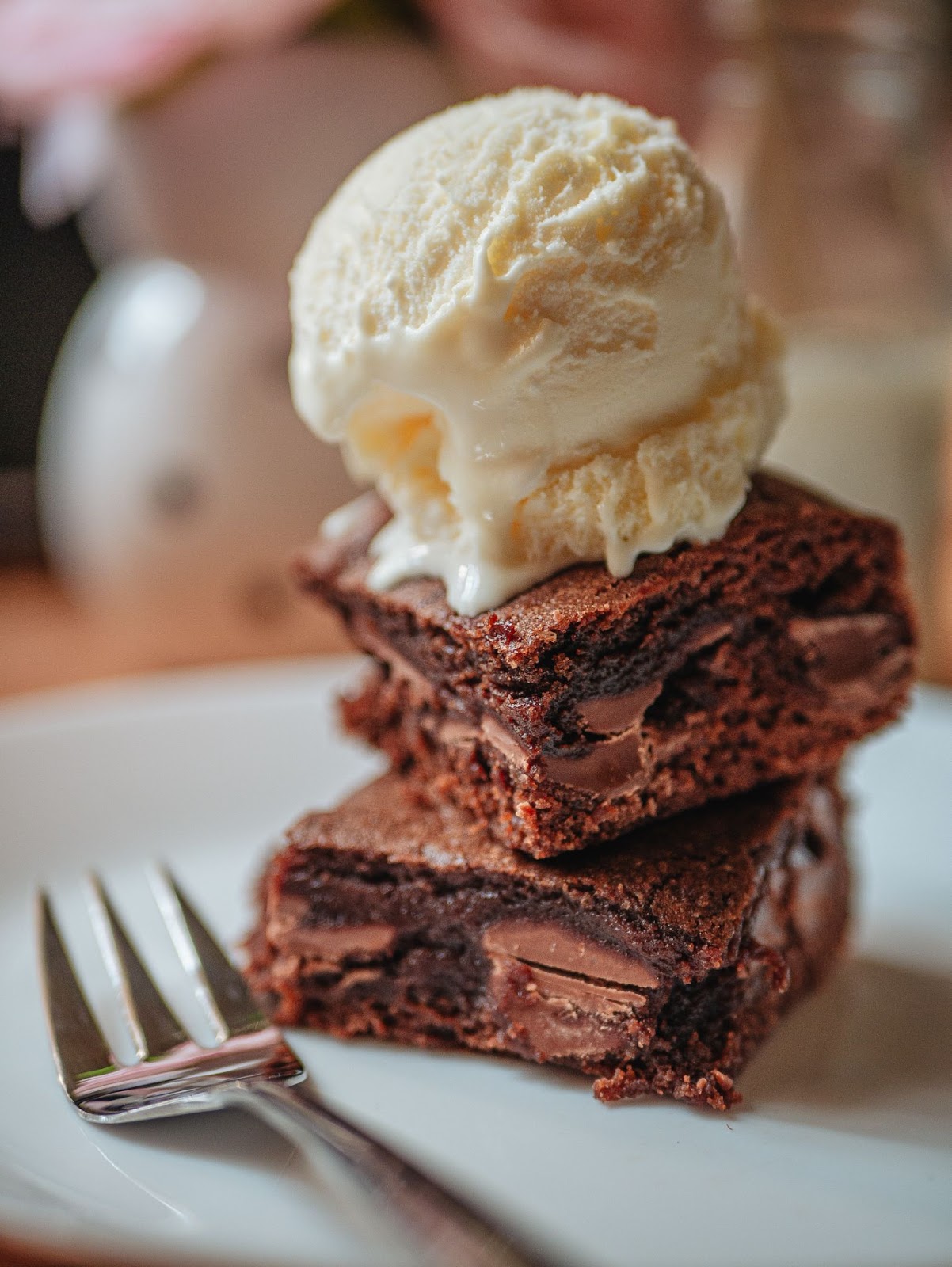 4. Kappo Miyabi
You'll be greeted by a cherry-blossomed lined entrance leading to a mini faux wooden bridge when you walk into Kappo Miyabi in Santa Monica, CA, we suggest getting a picture with your significant other or group by the entrance to make a memory. If you're a sushi lover then you'll enjoy the options Kappo Miyabi has to offer.
Appetizers
You can't start without appetizers! Give these options a go.
Miyazaki Wagyu Gyoza - Ground Waygu mixed with vegetables served with a dipping sauce.

Butakaku - Roasted pork belly in glazed soy sauce.

Miso Glazed Eggplant - This dish is 100 percent vegetarian.

Popcorn Rock Shrimp Tempura

Miso soup
Sushi and Sashimi
Kappo Miyabi offers premium cuts of sushi and sashimi. If you want to indulge then try some of these options. If you want to try some of everything then get one of many omakase options.
Sushi Omakase - Chef's choice of premium selected fish.

Sashimi Omakase - Chef's choice of premium selected sashimi.

Miyabi Premium Omakase - Chef's choice of premium seasonal fish of sushi and sashimi and kitchen signature plate.

Miyabi Premium Sushi Bar Omakase - This option requires a 48 hours reservation and is only served at the sushi bar.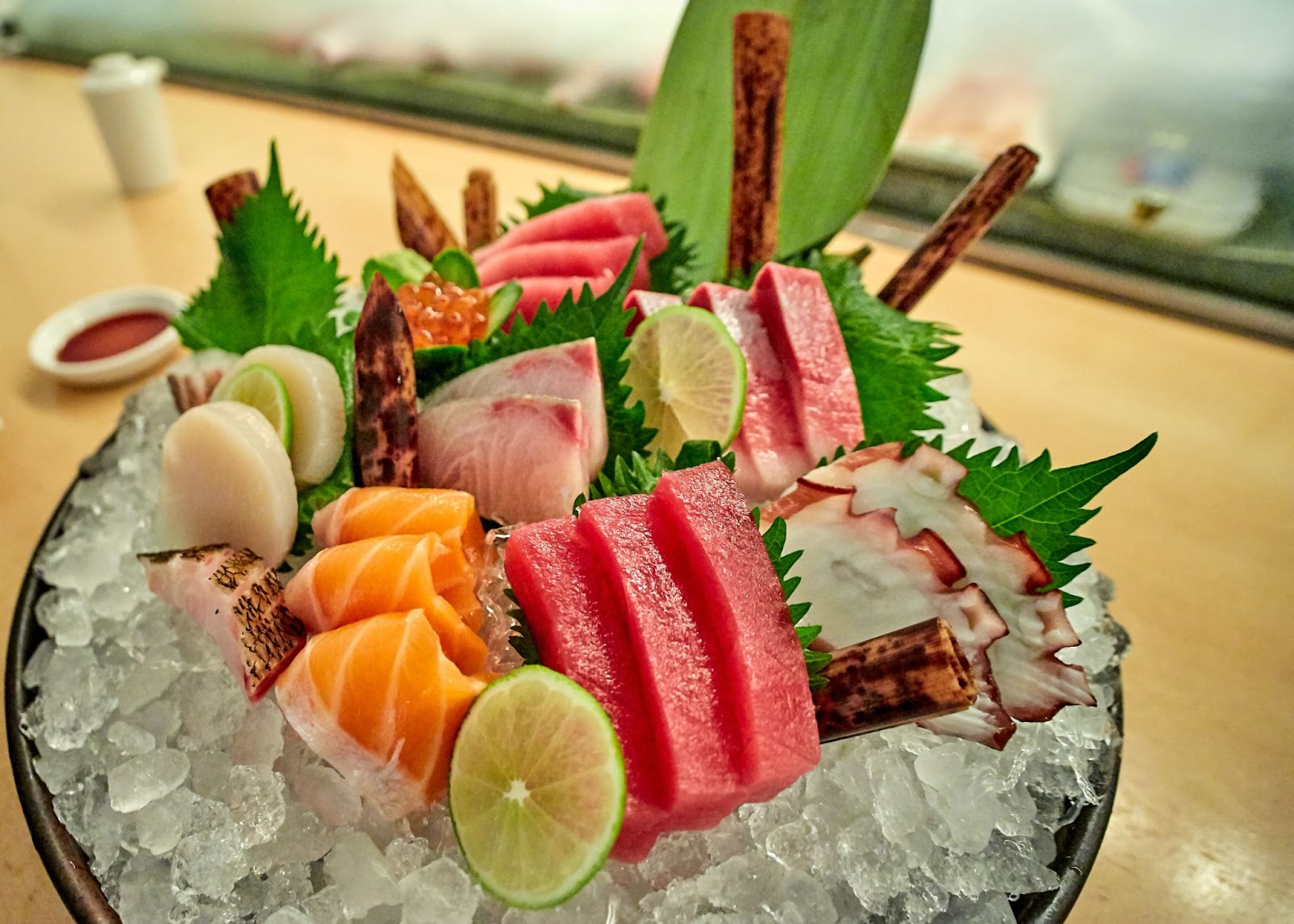 From the Kitchen
Don't worry if you're not a huge fan of sushi, this Santa Monica restaurant has a variety of hot options from the kitchen. Here are a couple of options to choose from but of course look at the menu to get the full scope.
Grilled duck breast with wine sauce.

Sesame miso nabe - Sesame and miso flavored soup with thinly sliced pork, Japanese mushrooms, tofu, and carrots.

Crab stone hot pot - Cooked blue crab, masago, and green onion with sweet sauce.

Orange chicken skewers - Choose from different cuts of chicken like the thighs or wings for this dish.
Kappo Miyabi in Santa Monica, CA, also has lunch specials during the week. If you have time then we suggest stopping by for good with a deal.
5. Forma
Forma is an Italian restaurant in Santa Monica, CA, with two locations on Montana Ave and Venice's Main Street. If you're a cheese lover then this restaurant is just for you, sorry to those that are lactose-intolerant. They have small refrigerators behind the bar that hold shelves of a variety of cheeses to make your pasta as creamy and decadent as possible. They even have a separate menu just for cheese so you can curate your own cheese board. Let's get a closer at the menu for this Santa Monica restaurant.
Best Pasta in Santa Monica
The pasta is prepared 'dalla forma' style where the finished pasta is tossed in large wheels of Italian cheeses.
Fettucini Bolognese - beef ragu tossed in butter and Parmigiano Reggiano cheese.

Tortellini - mushrooms, light cream, truffle oil and tossed with Bella Lodi cheese.

Chitarra Cacio Pepe - spaghetti, black pepper, extra virgin olive oil tossed with pecorino romano cheese.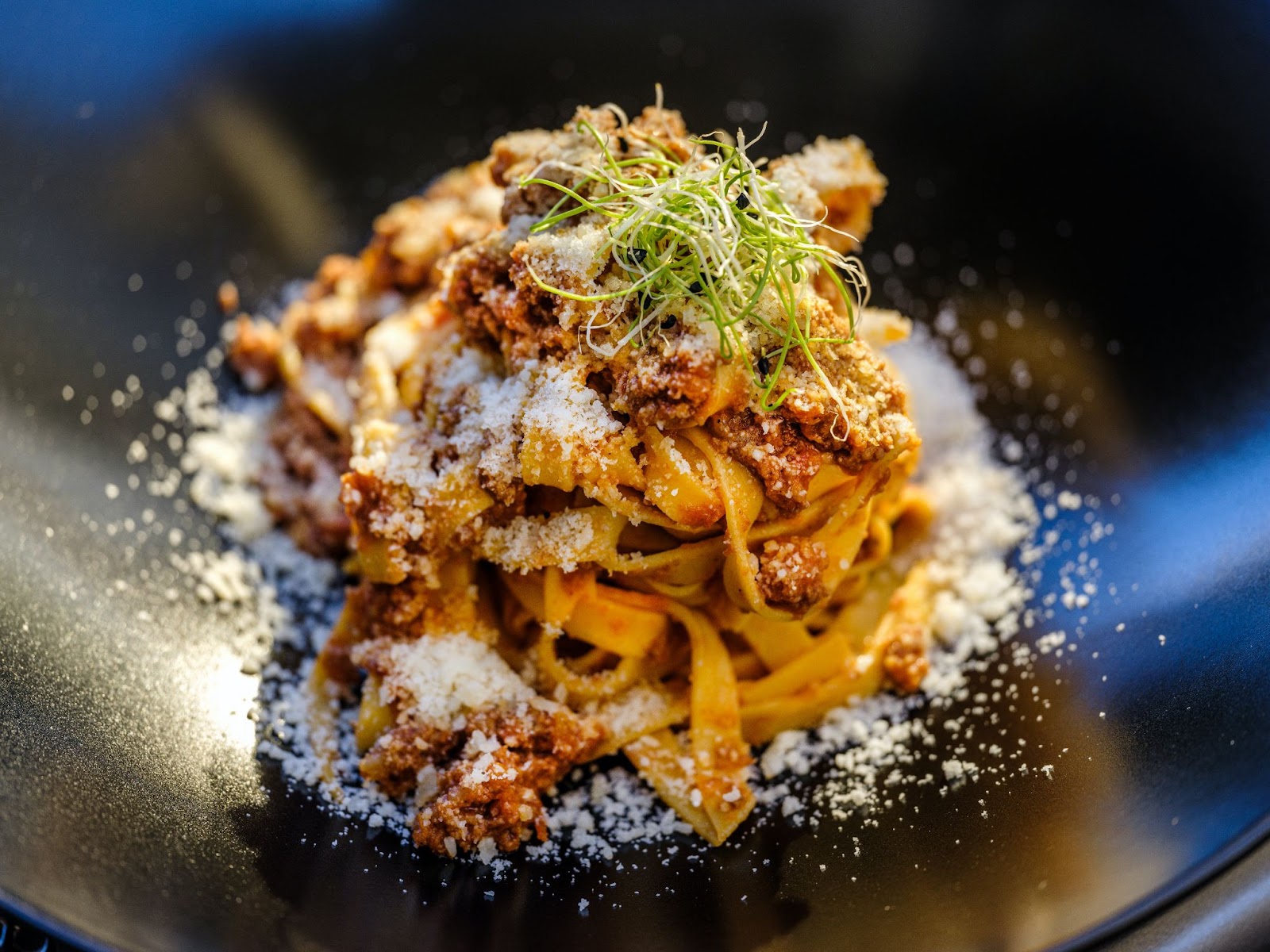 Forma Desserts
If you're in the mood for something sweet after you're done indulging with pasta then try these dessert options.
Nutella bread pudding

Tiramisu

Banana pecan tart

Gelato
If you're looking for happy hour in Santa Monica, then check out Forma's happy hour every day from 3 pm to 6 pm.
6. Bay Cities
Bay Cities is a great sandwich spot in Santa Monica and who doesn't love a great sandwich. This authentic Italian deli has cold cuts, cheeses, and gourmet specialties.
Best Sandwiches in Santa Monica
Legendary Godmother - This is a staple at Bay Cities. It's piled high with salami, mortadella, Prosciutto, capa, ham, Provolone cheese, and a choice between spicy or mild peppers served on housemade bread.
Eggplant Parmesan - Breaded eggplant, marinara sauce, mozzarella, and parmesan cheese.
Sopressata - This sandwich can be ordered hot or mild. It comes with chile de arbol, paprika, and cherry wine.
Place your order to experience this Santa Monica sandwich shop and don't forget to check out their daily specials.
7. Rooftop Vibes at Élephante
If you're looking for a cool spot to hang out with friends then Élephante in Santa Monica is where you need to be. The decor resembles a luxury vacation resort so it's the perfect chance to have a getaway in Santa Monica and the ocean views will make you feel as if you're coasting on the Meddittarean. The coastal Italian menu features Margherita pizza, whipped eggplant, fried calamari, spaghetti, branzino, and more.
You'll also have a hard time choosing from the dessert menu. The options include tiramisu, chocolate torta, pavlova (white chocolate mousse, passionfruit, and ice cream), mango & pineapple sorbet, and affogato (vanilla ice cream, espresso, and a caramel drizzle).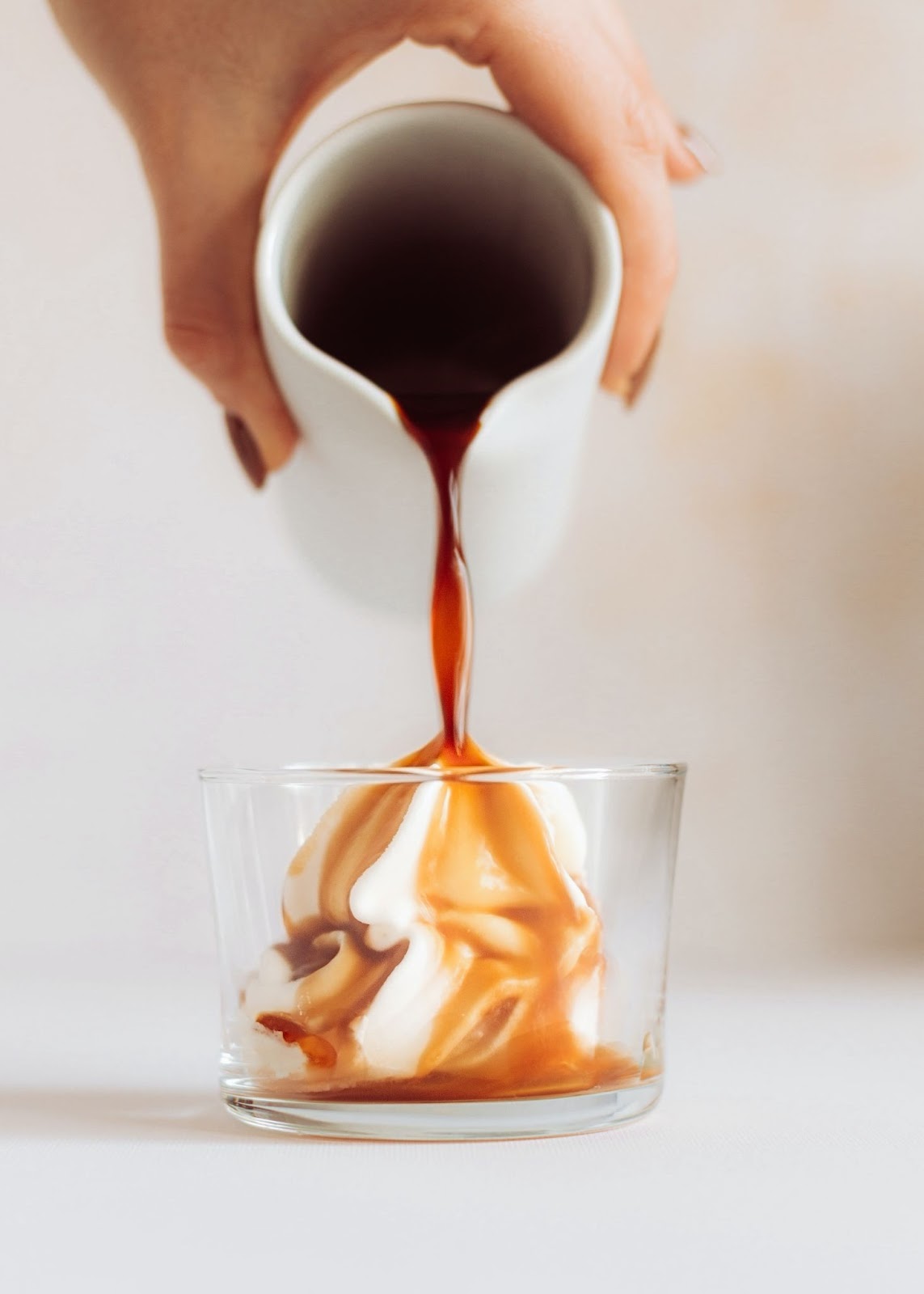 8. Crudo e Nudo
If you're a seafood lover then head to Crudo e Nudo. This Santa Monica restaurant uses seafood from sustainable and local sources. Fun fact, this restaurant started off as a pop-up during the height of the pandemic. You can expect all of the seafood delights at this restaurant in Santa Monica, including oysters, uni taco bites, caviar nachos, halibut, and prawns. There are also a few vegetarian options like the vegan caesar salad, chickpea toast, and chopped radicchio salad. If you really want to indulge then order the Neptune's flight, a five-course tasting menu selected by the chef.
That concludes our list of some of the best restaurants near Santa Monica College. There are so many options on this side of town that you'll have to carve out some time out of our schedule if you're not a Santa Monica, CA resident. Keep the restaurants in mind when you're looking for West LA Off-Campus Housing in the city, your stomach will thank you.