Located on the picturesque banks of Puget Sound, Tacoma is one of Washington state's third largest cities. While Tacoma is often compared to its neighbors to the North (Seattle and Bellevue), make no mistake that this is one of the finest Washington cities to move to. Over the years, Tacoma has defined itself as a city–one that provides newcomers with a different flavor of the Northwest lifestyle.
Similar to Seattle and Bellevue, Tacoma offers close proximity to the Pacific Northwest's great outdoors. In fact, many Tacomans are proud of being closer to Mt. Rainier National Park and Olympic National Forest than Seattle! Unlike Seattleites, people who live in Tacoma can access scenic places like Bremerton, Port Orchard, Bainbridge Island, Aberdeen, and Port Townsend without needing to purchase a ferry ticket.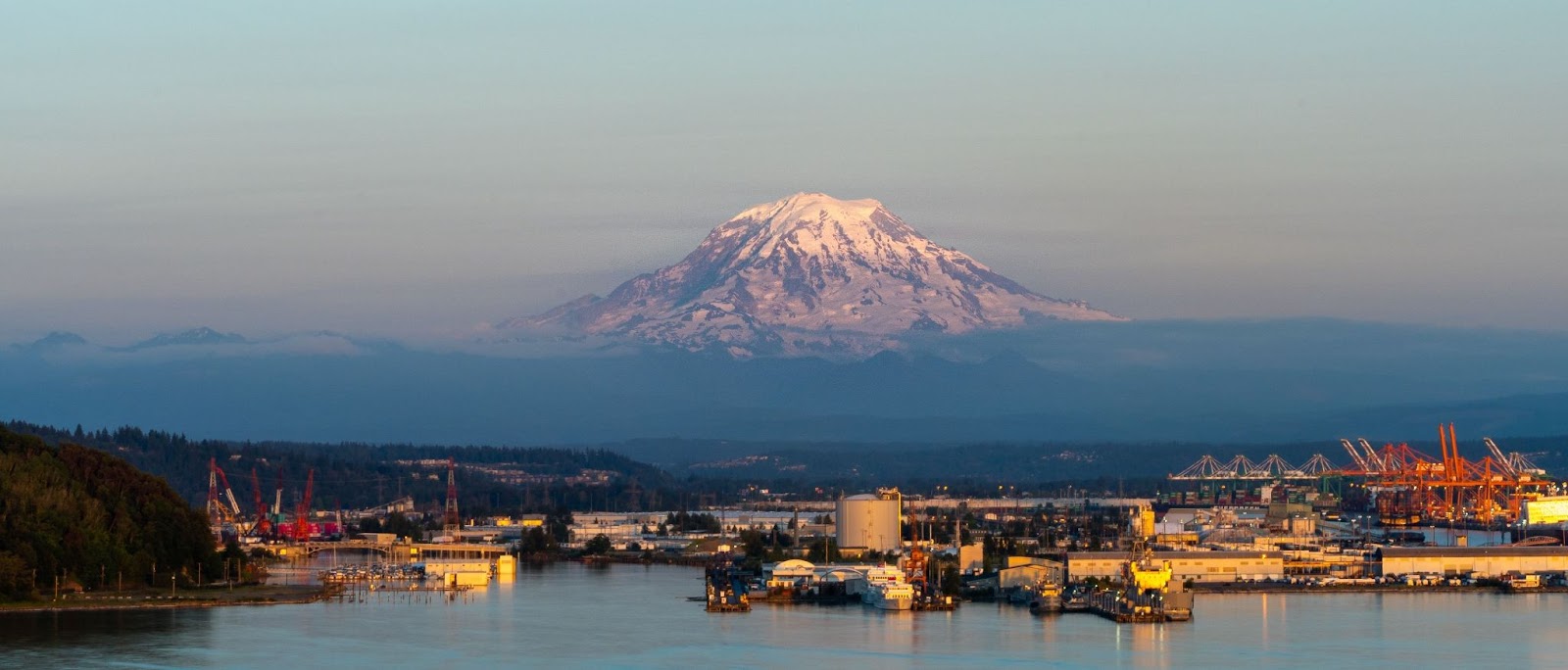 Mt. Rainier over Tacoma, Photo: Wei Zeng
Tacoma's large metropolitan area ensures easy access to an immense variety of cultural, social, and gastronomical experiences. Many of Washington state's best museums and entertainment venues are located in Tacoma. If the tried-and-true options get tiring, Tacoma will always have something new for you to enjoy.
Tacoma also has a solid economy, due to the city's long-standing status as an international shipping hub and ample city improvement programs. Unlike Seattle and Bellevue, the economy (and available jobs) sees minimal influence from tech-based corporations like Google, Microsoft, Amazon, and Expedia.
Overall, Tacoma is a great place to move to. It has a decidedly lower cost-of-living than Bellevue or Seattle, provides access to more outdoor activities, has a strong economy, and boasts a cosmopolitan city experience. Whatever reasons are drawing you to this Pacific Northwest city, here is what you need to know before moving to Tacoma WA.
Tacoma is a Great Place to Live
Tacoma is one of Washington state's best cities to live in. Although Tacoma is significantly smaller than Seattle and slightly smaller than Spokane, with a population around 220,000, it offers a fully-developed and ever-expanding metropolitan experience in the Pacific Northwest.
Unlike Washington's smaller "major" cities, such as Vancouver, Bellevue, and Renton, Tacoma has ample food and entertainment options, cultural centers and social venues ranging from small to large, along with a wide breadth of typical Pacific Northwest outdoor recreational spaces, from waterfront beaches to lakeside parks and winding hiking trails to scenic vistas.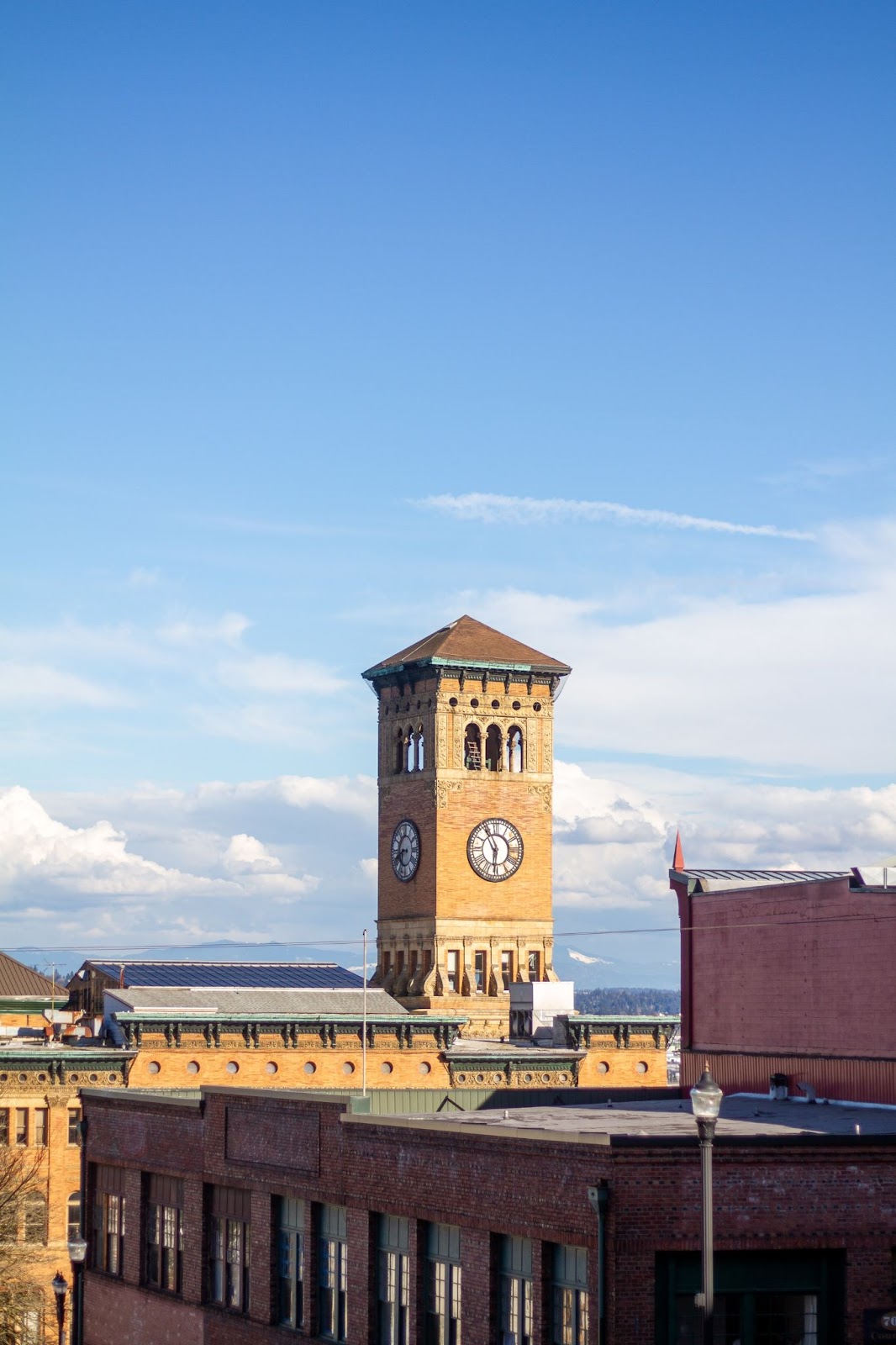 Tacoma Clock Tower, Photo: Sam Battaglieri
Best of all, Tacoma has a fully-fledged public transit system that includes a quick, easy-to-use, and free rail transit network. This makes accessing all of Tacoma about as easy as walking out your door! For a variety of reasons, Tacoma is one of Washington's fastest-growing cities and has many new apartment complexes that are welcoming the influx of new residents.
Access to Outdoor Activities
Nature lovers can rejoice, as the city of Tacoma was built for you! With over 46 miles off shoreline, being able to walk along and dine on the scenic waterfront is one of the main benefits of living in Tacoma. Thanks to ample hills and a prime location in Washington, views of Mt. Rainier can be enjoyed from many spots.
Waterfront Hiking Trails, Dining and More: Point Defiance Park
Point Defiance History
Point Defiance Park was originally established as a military reservation in the 1840s, by the WIlkes Expedition. Wilkes is thought to have said that by building a fort at the Northwestern point of Tacoma (along with one at Gig Harbor across the Narrows) one could "defy" the world.
Parts of Point Defiance Park are considered an "old-growth forest," which means that the forest has attained a great age without significant disturbance. To be considered an old-growth forest, trees must be at least 150 years old and have an average trunk diameter greater than 10 inches; by this metric, parts of Point Defiance Park could be considered an ancient growth forest. 450-year-old Douglas fir (aka Mountaineers Tree) are speckled amongst 250-foot vertical bluffs that tell the story of Washington's geological history.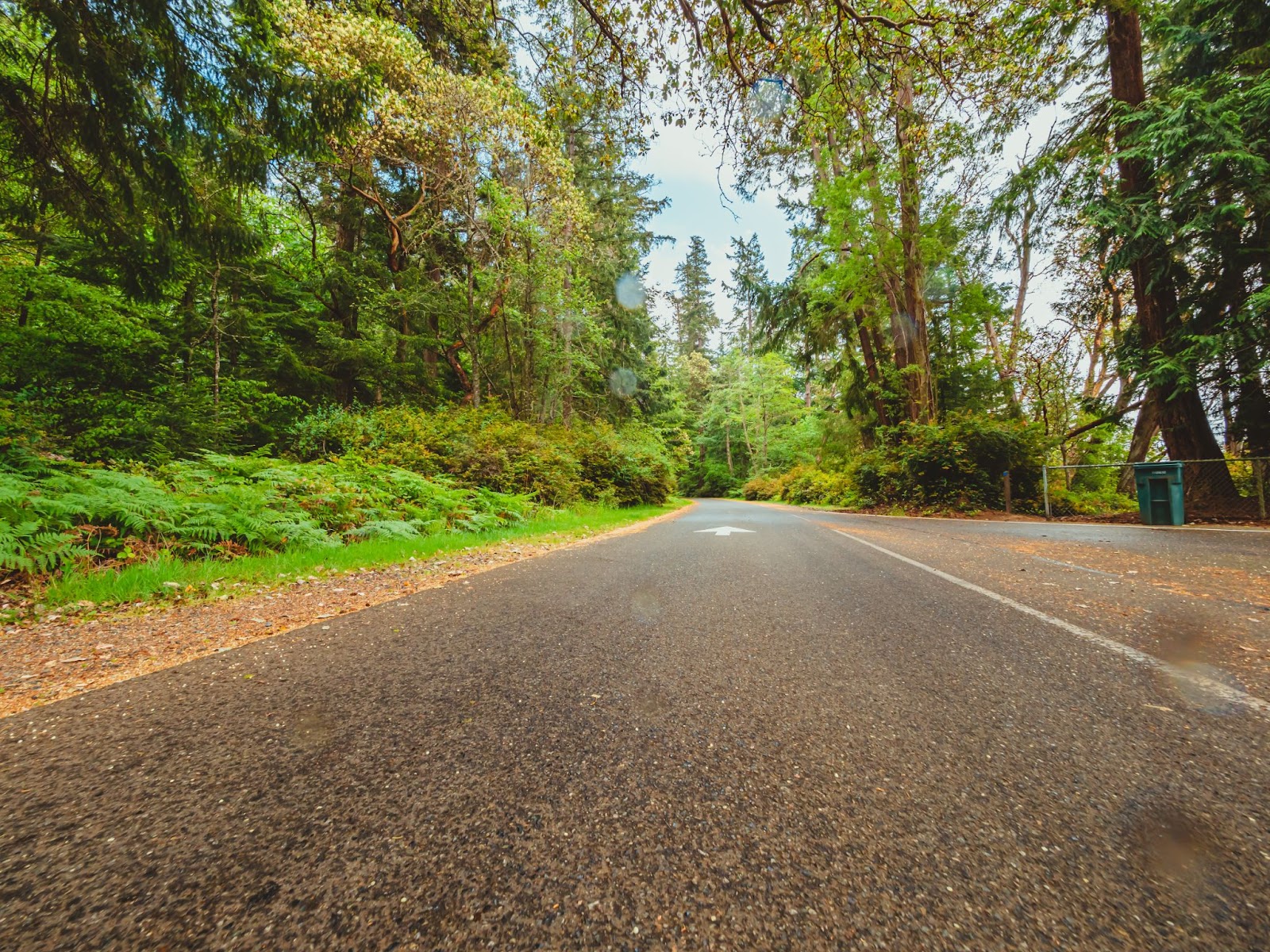 Point Defiance, Photo: Sofia Shulttz
Point Defiance Park Activities & Attractions
Today, Point Defiance Park is one of Washington's largest and most popular parks. Spanning 760 acres, the park includes Point Defiance Zoo & Aquarium, Fort Nisqually Living History Museum, a Japanese Garden, the Rose Garden, Rhododendron Garden, long swatches of beaches, hiking trails, and a boardwalk and boathouse.
The connected Owen Beach is popular for kayakers, fishers, beach bums, and sailboat watchers. Fishers also frequent The Marina and often catch Chinook salmon and squid. While at Point Defiance Park, one can expect to see bald eagles, mule deer, reed foxes, pileated woodpeckers, Douglas squirrels, raccoons, and migratory sea lions.
Point Defiance Park is a great option for pet owners, thanks to a large off-leash dog park. Additionally, Washington State Ferries operates a ferry dock which connects city residents and visitors to Vashon Island.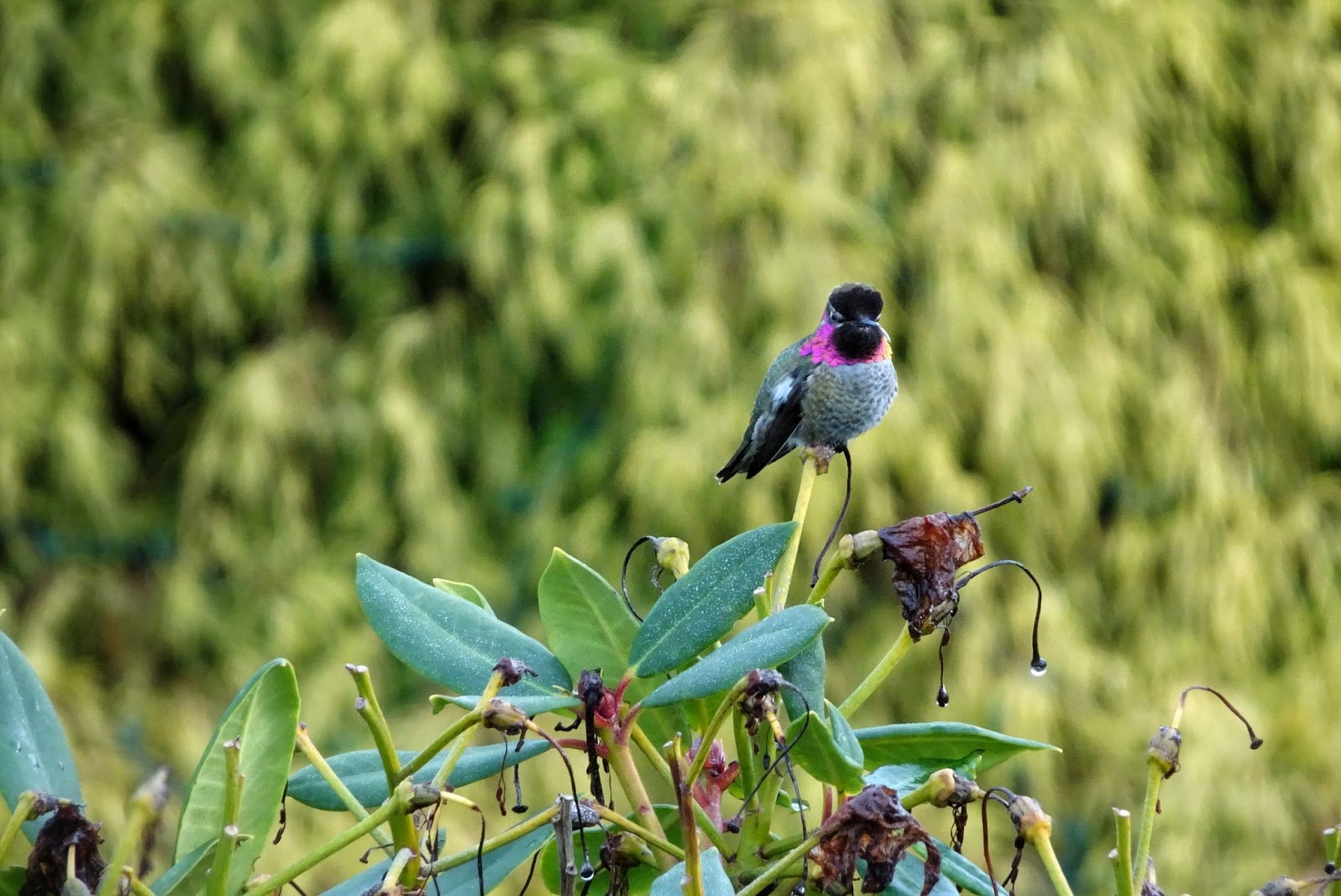 Point Defiance, Photo: Mario Mendez
Food At and Around Point Defiance Park
Finally, Point Defiance Park and adjacent Point Ruston offer several popular dining spots. We'll give you a fuller rundown of Tacoma's food options below, just know that Point Defiance Park is home to Anthony's at Point Defiance, a famous Pacific Northwest-based restaurant.
Point Ruston has dozens of restaurants, offering anything from coffee and tacos, to sushi, Thai, and traditional American cuisine.
Waterfront Activities and Running Trails: Dash Point
Located on the Northern extents of Tacoma, Dash Point State Park is a 398-acre state park that has over half a mile of shoreline, 140 campsites (with yurts available for reservation during warmer months), and 11 miles of trails for hiking and mountain biking. Other activities visitors of Dash Point can enjoy include beachcombing, fishing, swimming, birdwatching, windsurfing, skimboarding, and wildlife viewing.
Dash Point is particularly popular with runners and skimboarders. Skimboarders come during summer months, when low tide leaves behind ample (and wet) spaces for skimboarding. There are a total of six running trails at Dash Point Stark that are very popular; they all have an average 4.2-star rating on AllTrails. These trails vary in length, from 1.6 to 4.4 miles.
Noteworthy Mention: Browns Point Lighthouse Park
Browns Point Lighthouse Park dates back to December 1887, two years before Washnigton gained admission into the United States. A fixed lantern was placed on a post on Point Brown, approximately 12 feet above sea level and 50 yards from the shore. By 1901, the first wood-frame lighthouse was built. The lighthouse was accessible by foot during low tides, but required access by row boat during high tide.
The area became a public park in 1964, when the lighthouse was decommissioned. Today, the park provides Tacomans with waterfront views across Commencement Bay. The large 4-acre green space iis popular for picnics and ship-watching.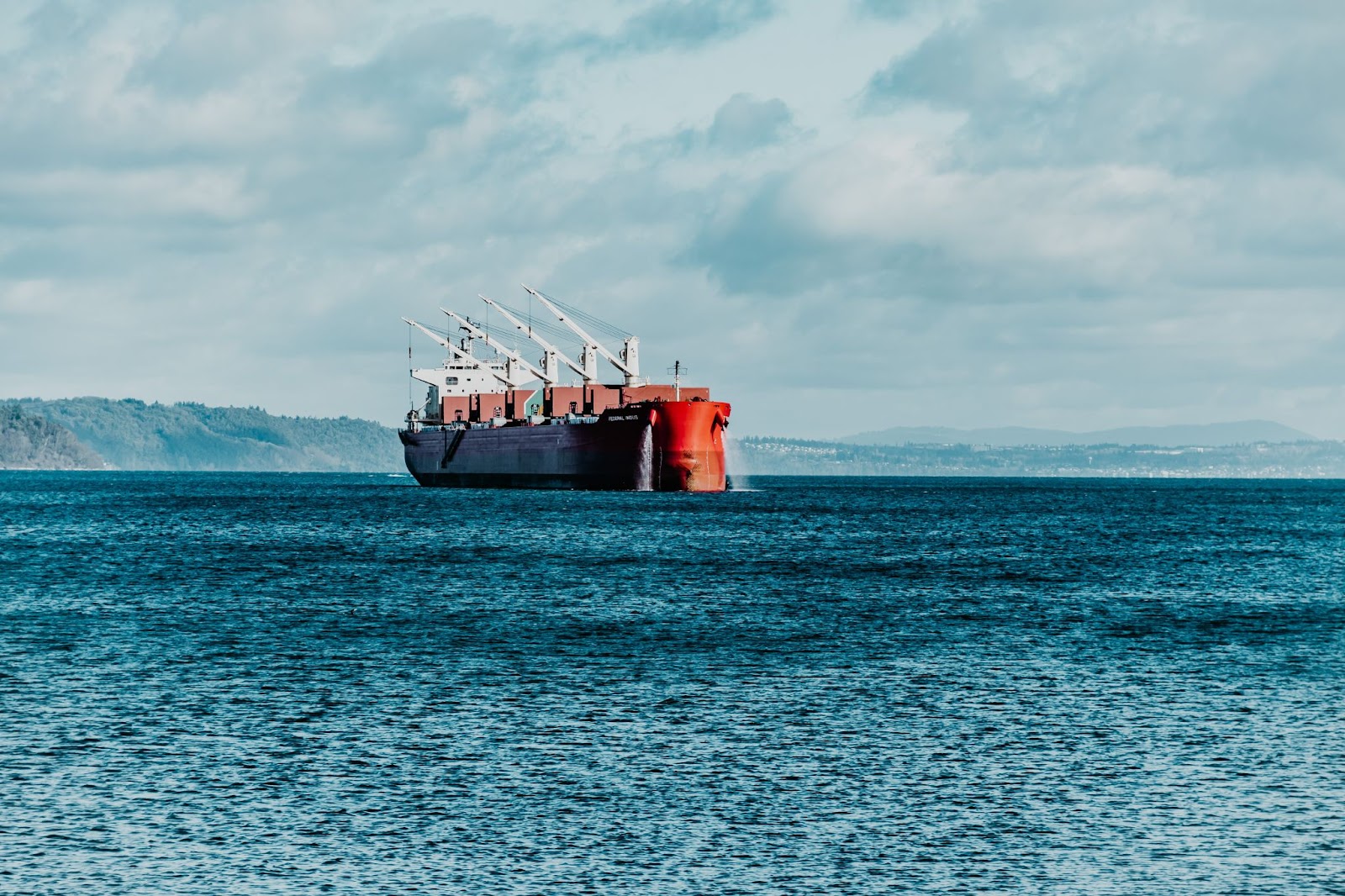 Commencement Bay, Photo: Manda Hansen
Waterfront Biodiversity: Titlow Beach Marine Preserve
Titlow Park is a 75-acre beachfront park, located south of the famous Tacoma Narrows Bridge. Outside of being able to enjoy views of the Cascade Mountains, Narrows, and bridge, this quiet spot offers wide beach frontage, running trails, and tennis and basketball courts.
The Puget Sound, which the Marine Preserve sits on, is rich in biodiversity like rock sole, seaperch, buffalo sculpin, sea anemones, and jellyfish. Tacomans whisper about a giant Pacific octopus that lives underneath the Narrows Bridge…
Titlow Beach is a great place to visit if you want to get away from the city, but still experience everything the Pacific Northwest has to offer.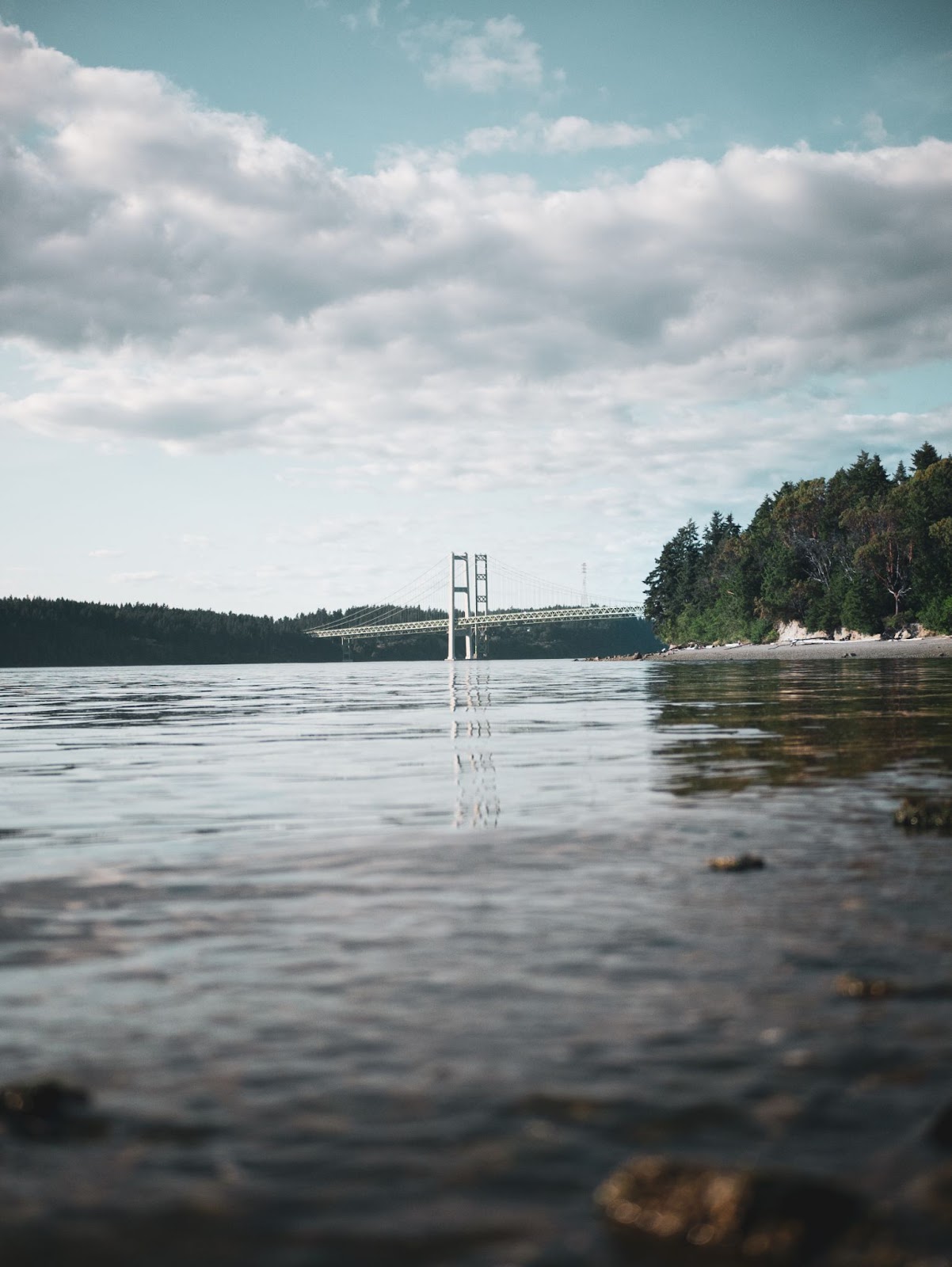 Tacoma Narrows Bridge (from Titlow Beach), Photo: George Stewart
Tacoma's Many Lakes
During the colder months, it may be slightly less desirable to visit the waterfront. We recommend exploring Tacoma's assortment of lakes and lakefront parks to get your fill of the outdoors. Tacoma's lakes are spread throughout the city, quite a few are within walking distance from the rail network and newly-built apartments in the city!
Some of Tacoma's best lakes and lakefront parks include:
Tacoma Nature Center, Shake Lake
Tacoma Nature Center is a 71-acre recreational space consisting of wetlands and forest around Shake Lake. The Visitor's Center hosts many family-friendly community events. The Nature Center is a tasteful modern, yet rustic, structure that is popular as a wedding venue.
Delong Park, Delong Lake
This park is 21.5-acres and offers a scenic out-and-back trail that is just under 1-mile long. Visitors can enjoy shrubs, trees, wetlands, and birdwatching.
China Lake Park
This 28-acre park is mostly undeveloped, outside of a half-mile-long path, and contains one of Tacoma's largest lakes and wetlands.
Wapato Park and nearby Ailing Park
Wapato Park features a lake surrounded by a woodland area. In addition to a large off-leash dog park, visitors can enjoy seasonal landscaping and a historic pergola.
If you're at Wapato Park, we recommend stopping by Ailing Park on sunny days. A view of Mt. Rainier framed by evergreens can be enjoyed from Ailing Park.
Food and Social Scene in Tacoma
The food and social scene in Tacoma is as diverse as the city itself. No matter what you're seeking, Tacoma has something for you to enjoy.
Point Ruston Options
Point Ruston, directly adjacent to Point Defiance, is home to American, Chinese, Gluten-free, Greek, Indian, Japanese, Mediterranean, and Vietnamese cuisines. On a clear day, diners at Point Ruston can see across Commencement Bay to Browns Point Lighthouse, Tahlequah, and Maury Island.
Downtown Tacoma Options
Easily accessible by Tacoma's free-to-use rail network, Downtown Tacoma offers a wide variety of waterfront or urban dining and bar options. Whether you want to down some quality food after visiting a museum, or wish to walk along the waterfront after drinks with friends, downtown has something for everyone.
As a note, on a clear day (when "the mountain is out," as Washington locals say) Mt. Rainier can be seen along the entire waterfront!
The downtown area is home to various arcades, local breweries and brewpubs, coffee shops, comedy clubs, the Tacoma Armory, and as we'll share below many of Washington State's finest museums.
Downtown Tacoma is home to most of Tacoma's hotels, which include typical chain offerings like Hyatt and boutique hotels such as Hotel Murano. Hotel Murano celebrates the Pacific Northwest's central role in the glass art movement with a large curated collection of international glass artwork. It is named after Murano, Italy–a small island near Venice that is home to generations of glassblowers.
Cultural Options Throughout
With an extremely diverse community, a large amount of restaurants that honor every local's heritage can be found in Tacoma. This means that for explorers who don't want to call one neighborhood of Tacoma home will always have something new to check-out.
There are endless restaurants serving traditional Asian, fusion Asian, Mexican, Mediterranean, Indian, Ethiopian, Italian, French, and Scottish, Irish, and British cuisines, drinks, and more.
Adult Entertainment
Tacoma is home to several entertainment venues geared towards adults. Paradise Lanes and Tower Lanes are both popular bowling alleys that feature arcade games, nightclubs, and serve adult beverages.
Tacoma is also home to a few casinos, including the lively Emerald Queen Casino and Hotel. EQC is a tastefully designed casino/hotel with glass installations, live entertainment, and a new hotel tower.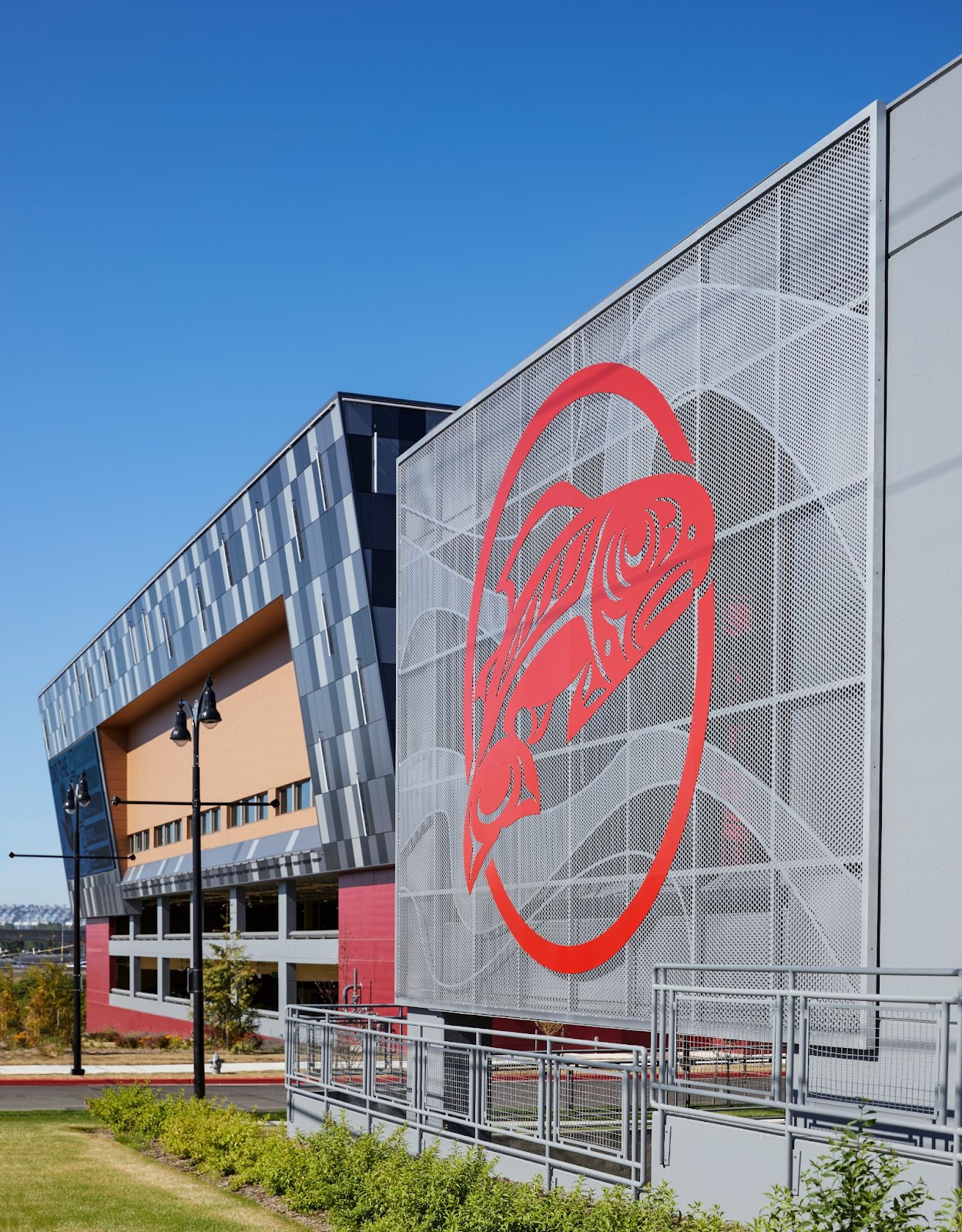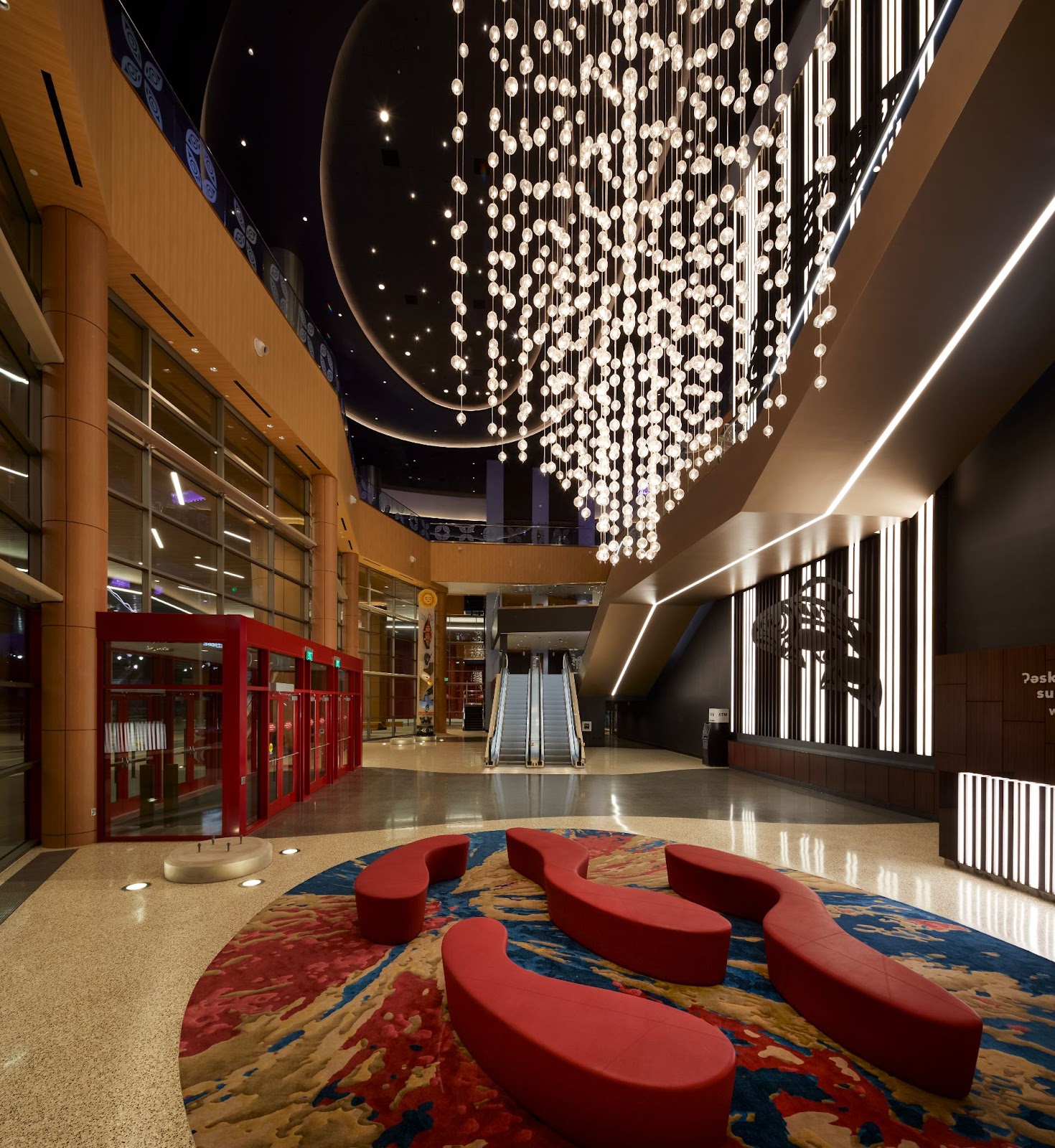 Emerald Queen Casinos, Photo: EQC
Key Cultural and Entertainment Centers
Tacoma is known for the Museum of Glass, which has works by renowned glass artist Dale Chihuly among its exhibits. These include installations on the Chihuly Bridge of Glass. The Tacoma Art Museum has a strong Northwest regional focus. The Washington State History Museum is commissioned by the Washington State Legislature and supports research and heritage organizations throughout the state.
In addition to a wide breadth of cultural centers, Tacoma maintains a popular destination for Washingtonians all over the state. Tacoma is home to some of Washington's favorite's entertainment venues, including the Tacoma Dome.
WA State History Museum
The Washington State History Museum was opened in 1996 and sits adjacent to historic Union Station, which is home to a rail network station and several new-built apartments in the heart of Tacoma's public improvement district. The WA State History Museum features hands-on exhibits that relate to Washington state, the Pacific Northwest, women's suffrage, industrialization, and Native American tribes.
Most notably, the WA State History Museum is also home to the state's largest permanent model train layout, which covers 1,700 sq ft and recreates scenes from the historic Union Station.
Tacoma Art Museum (TAM) and Dale Chihuly's Museum of Glass
The Tacoma Art Museum focuses on art and artists from the Pacific Northwest and western regions of the United States. The TAM is strongly rooted in the local community and acts as an anchor for the University and Museum districts of Downtown Tacoma.
The museum's permanent collection includes a collection of Tacoma-native Dale Chihuly's glass artwork. Dale Chihuly is world-renowned for his idea of moving blown glass "into the realm of large-scale sculpture." Outside of Washington, Chihuly's large glass installation can be found at the Bellagio Las Vegas, Oklahoma CIty Museum of Art, Morean Arts Center, and Seattle's Chihuly Garden and Glass.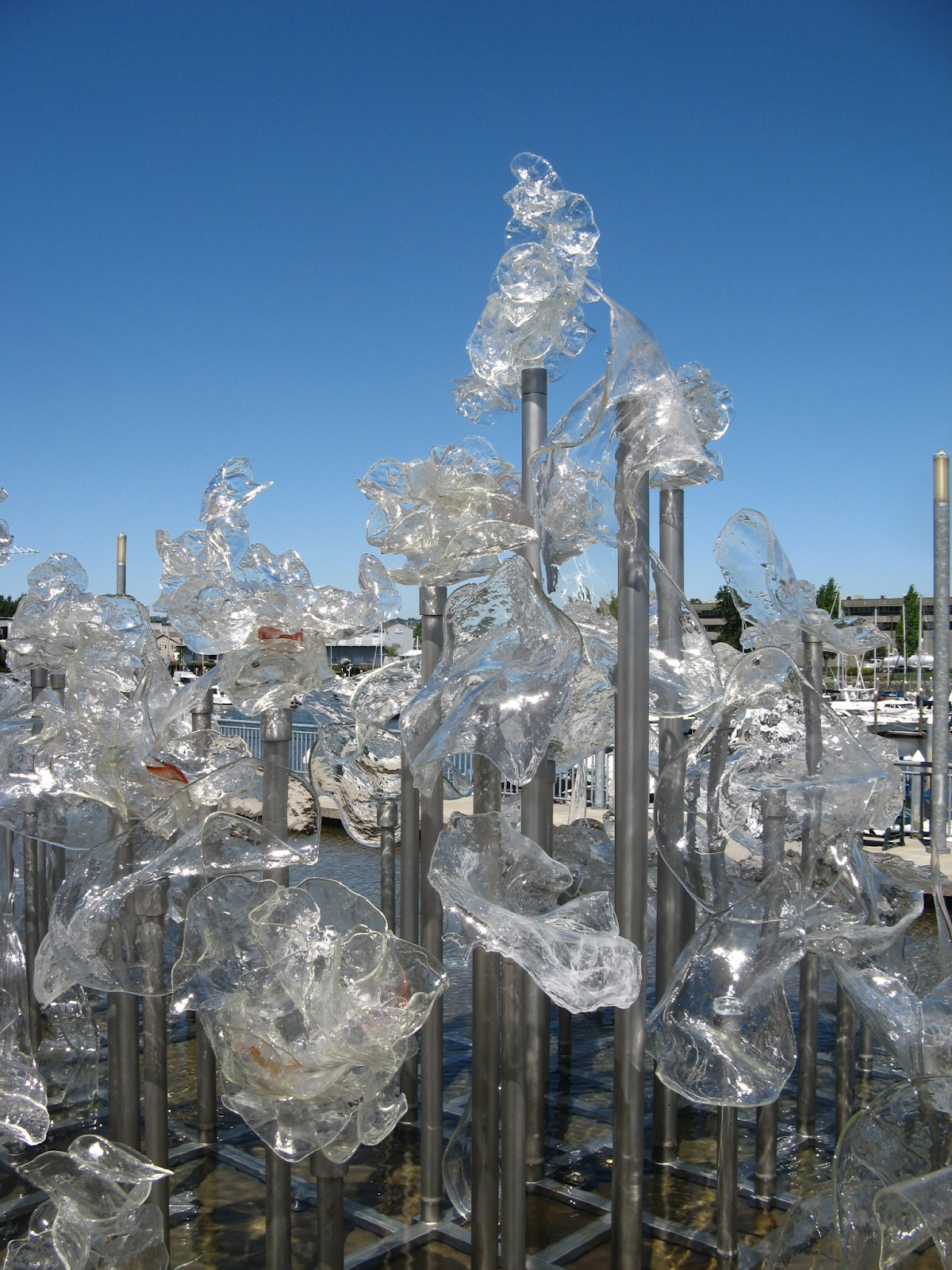 Glass Museum exterior, Photo: Hakkun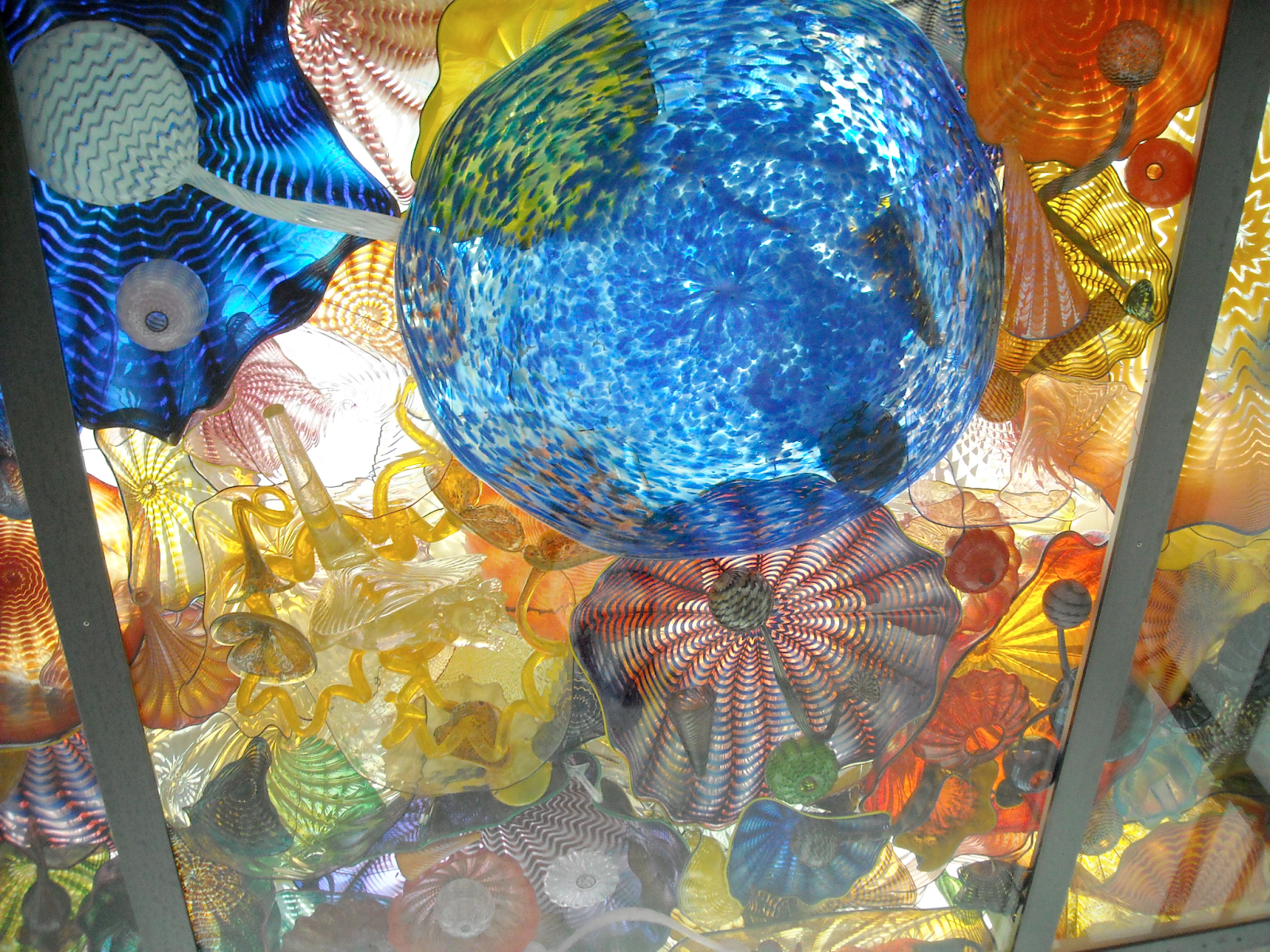 Glass Museum interior, Photo: Kara Picabo
Tacoma Dome
The Tacoma Dome is the largest arena with a wooden dome in the world, by volume. It stands at 530 feet in height and uses wood from trees that were downed in the 1980 eruption of Mount St. Helens.
The Tacoma Dome regularly hosts sporting events and world-famous musicians and artists. The Tacoma Dome was home to the Seattle SuperSonics between 1994 and 1995. At one point, the Tacoma Dome featured a semi-controversial exhibit of neon lights.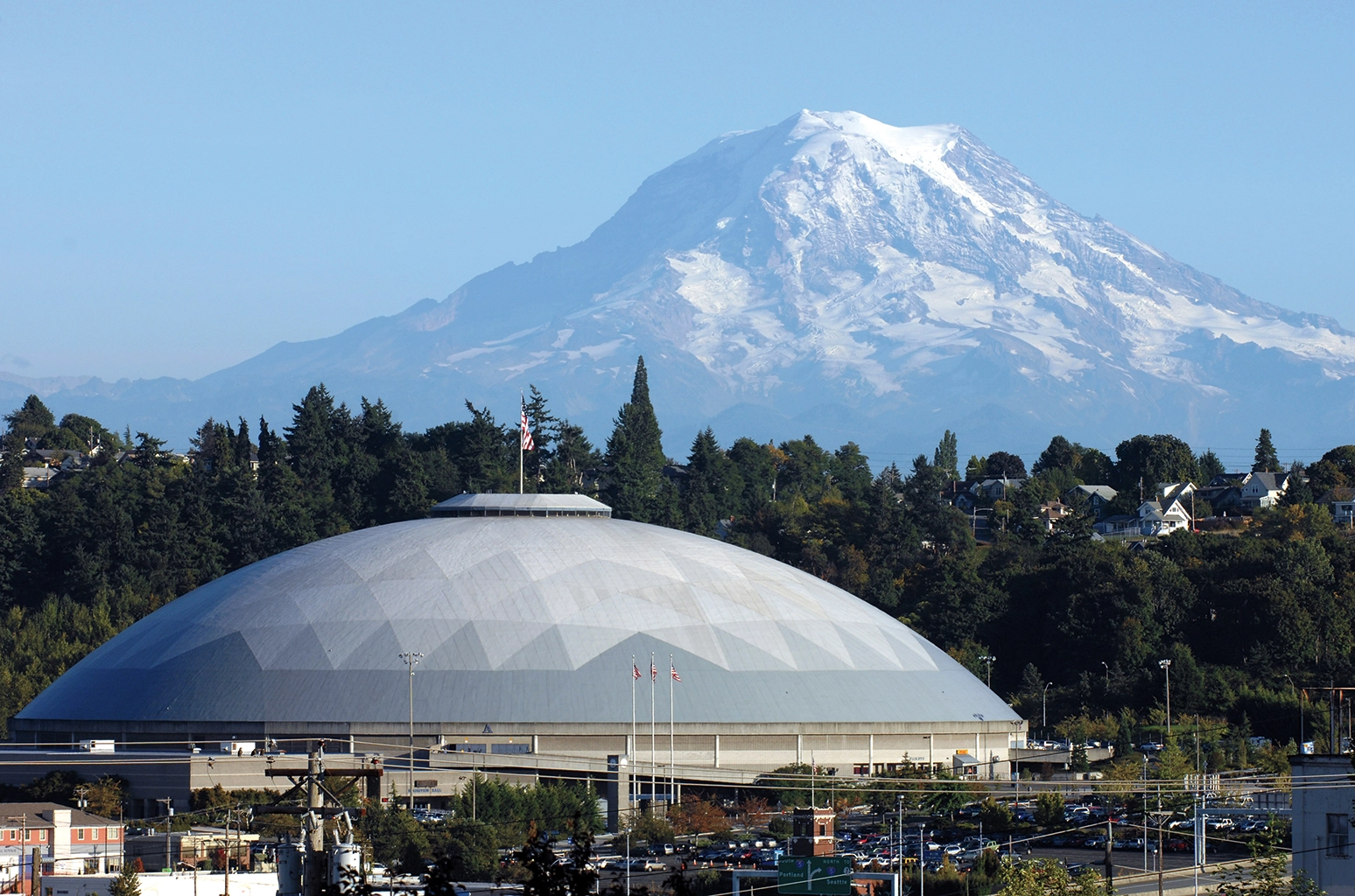 Tacoma Dome and Mt. Rainier, Photo: Billboard

Neon lights at Monster Jam 2008, Photo: Jenni
Tacoma is Close to Everything
One of the best parts about choosing to live in one of Tacoma's many new apartments is being close to everything. This makes living in Tacoma an ideal decision if you are moving to Washington for access to the outdoors or plan to commute to Seattle. Furthermore, Tacoma is a great city to live in without a vehicle as there is a city-wide free-to-ride rail transit network!
Free Light Rail in Tacoma, Eventual Direct Connection to Sea-Tac Airport
Despite being a smallish "big" city, Tacoma has a fully-fledged public transit system that includes the Tacoma Link Light Rail. Tacoma Link makes getting around downtown safe, easy, and free!
Tacoma Link's rail service provides complimentary service from one end of downtown to the other; raiders can travel from the Tacoma Dome to Union Station, the Convention Center, or the Theater District. Even better, parking is also free in Tacoma Link's six-story parking garage at the Tacoma Dome Station.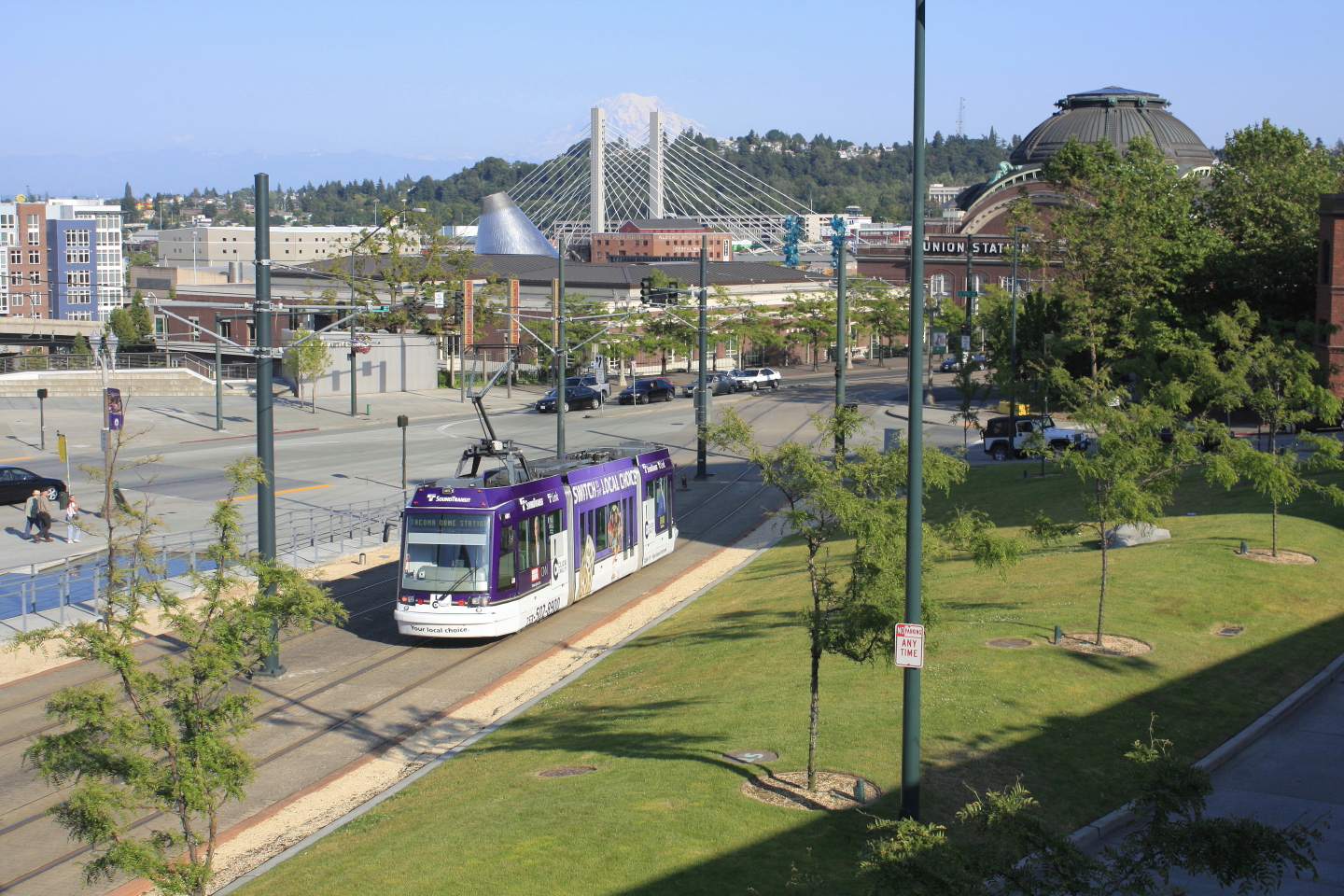 Photo: Robert Scheuerman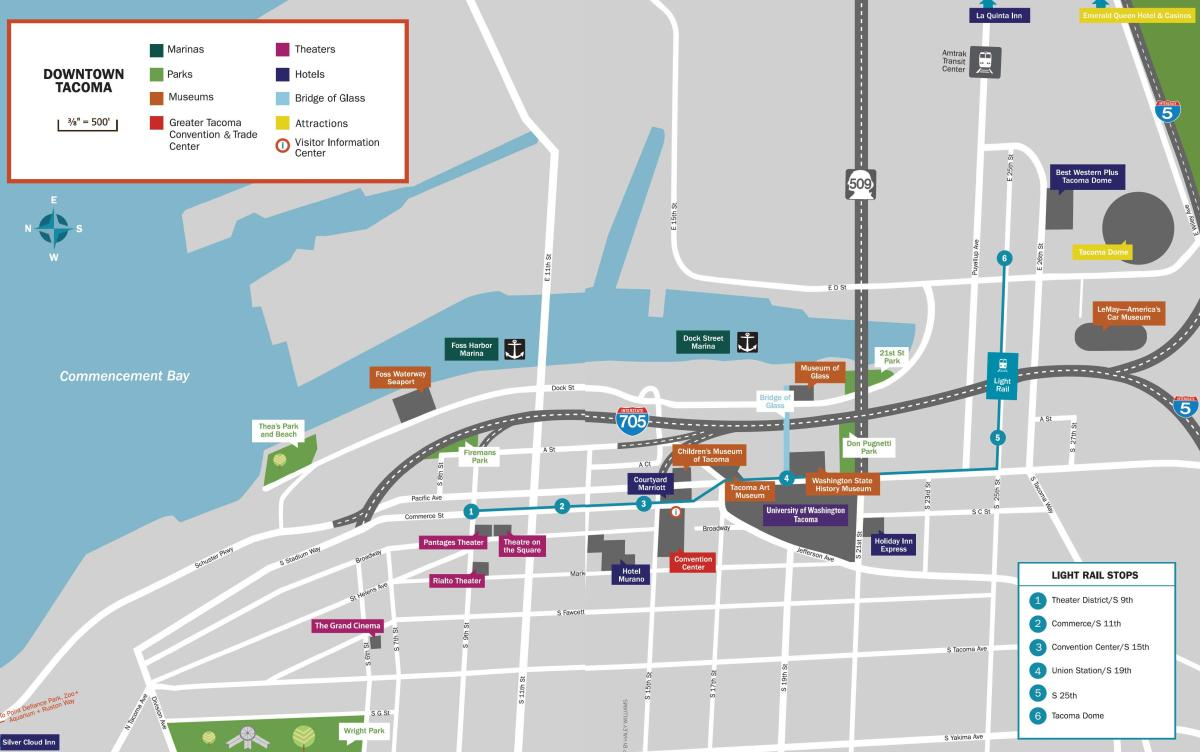 Photo: Travel Tacoma
Tacoma Link is currently adding 10 miles to their rail system, which will include four new stations in South Federal Way, FIfe, East Tacoma, and the Tacoma Dome area. SoundTransit plans on connecting Tacoma Link to Seattle's Link rail network, which means that Sea-Tac AIrport will only be 35 minutes away from Tacoma.
In preparation for long-term Tacoma Link expansion plans, many new apartments are popping up in Tacoma near Union Station. This part of town is close to the waterfront and many of Tacoma's key cultural attractions like the TAM, WA State History Museum, and Dale Chihuly Glass Museum are within walking distance. Near endless dining options and breweries are no more than a 10-minute walk away from new-built apartments in Tacoma near Union Station.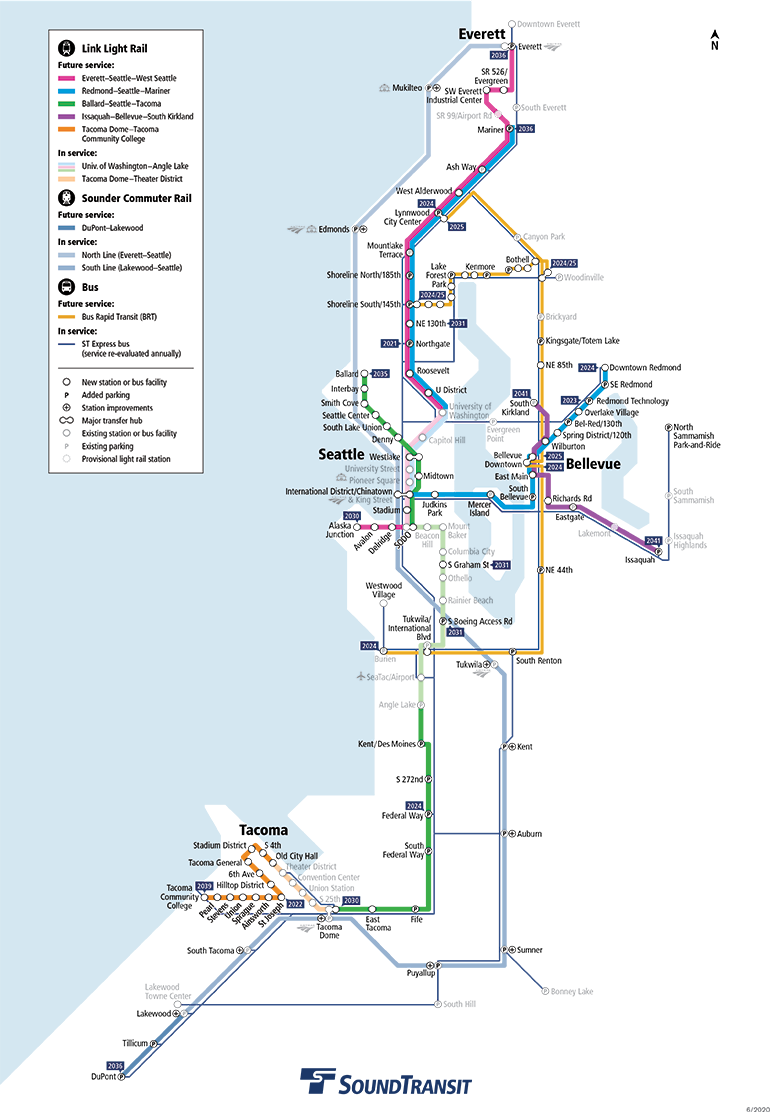 Photo: SoundTransit
Short Commutes to Seattle, Bellevue, and JBLM
Just about all of Tacoma is within 5 minutes driving distance of the 5 Freeway. Seattle and Bellevue are both a short 30-45 minute drive from Tacoma city limits, in mild to moderate traffic conditions. The commute to Seattle/Bellevue is much easier from Tacoma than Lynwood and especially Everett; as well, Tacoma is a large metropolitan city, whereas Everett is more suburban in nature.
For those who are service members, Joint Base Lewis McChord is only a 20 minute drive, even in severe traffic conditions.
Closer to Top Nature Destinations than Seattle
A huge boon for living in Tacoma over Seattle is having more time for weekend excursions. Tacoma is significantly closer to major natural attractions like Mt. Rainier. Driving from Tacoma, Mt. Rainier National Park is 1.5-2 hours, each way. Seattleites visiting this iconic park have to pass through Tacoma and will spend at least 3 hours driving, each way.
The capital city of Olympia, Washington is less than one hour away (in good traffic), giving you access to a beautiful town with plenty of sightseeing and nature to enjoy.
The Olympic National Park, which is surrounded by cities like Sequin, Port Angeles, Shelton, and Aberdeen is no more than a 1.5 hour drive away (it's a huge area, so your exact time will vary depending on destination). In contrast, Seattlietes will have to, once again, drive through Tacoma for a total of 3 hours, each way, or ride on a ferry to save 45 minutes. Similar to the case with Mt. Rainier National Park, living in Tacoma puts a visit to Olympic National Park solidly in the doable day trip category!
No Difference in Travel Time to Eastern WA
On top of it all, Eastern Washington is the exact same distance from Seattle, as it is Tacoma. This means the iconic Gorge Amphitheater is only 2.5 hours away, in normal traffic. If you're headed eastbound from Seattle, you will likely be stuck on the I-90 floating bridges on your way out, so Seattleites generally add an extra hour to their travel time.
Outside of enjoying music and festivals in George, WA you can drive along the Columbia River or visit the wineries in Yakima and Spokane.
Tacoma is an Affordable and Considered Safe
Due to the wide variety of places, activites, and culinary options to enjoy in Tacoma along with being well-connected, you may be wondering about how much it costs to live here and if it's safe. Rest assured, Tacoma is extremely affordable and boasts a relatively low cost-of-living, especially in comparison to Bellevue and Seattle. The city is also reasonably safe, when compared to other large cities in the country.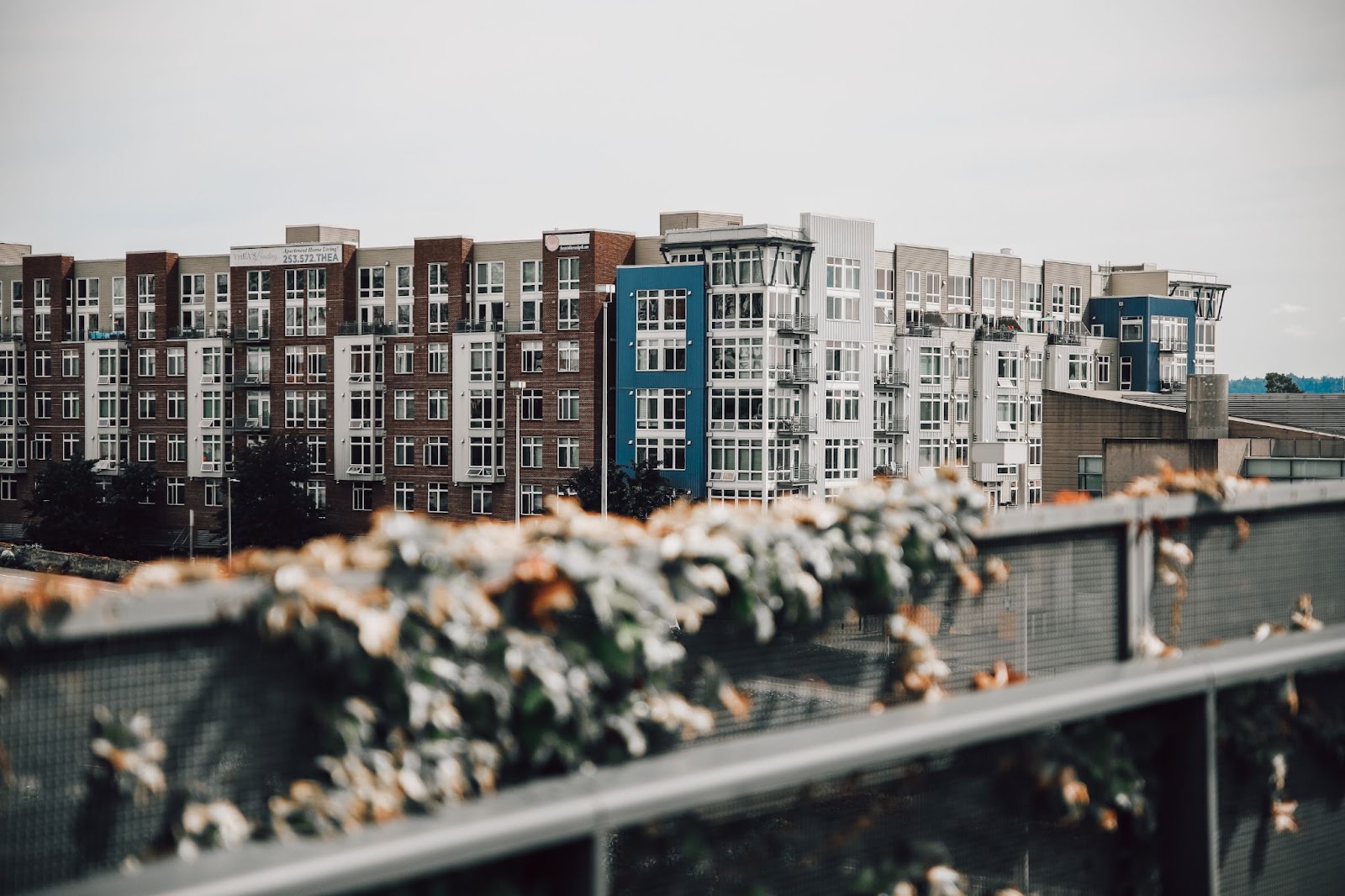 Tacoma new-build apartments, Photo: Taylor Beach
Tacoma is Affordable
Compared to other large cities in the Pacific Northwest (Seattle, Bellevue, and Portland), Tacoma is an excellent choice in terms of cost of living. On average, the cost of living in Tacoma is 29% lower than Seattle. In terms of renters and real estate value, housing in Tacoma is typically 48.1% lower than a comparable offering in Seattle.
Compared to national averages, Tacoma's cost of living is 7% higher than the national average. 9% higher housing and groceries costs are largely offset by 10% lower utility bills and minor savings in terms of gas prices and public transportation costs.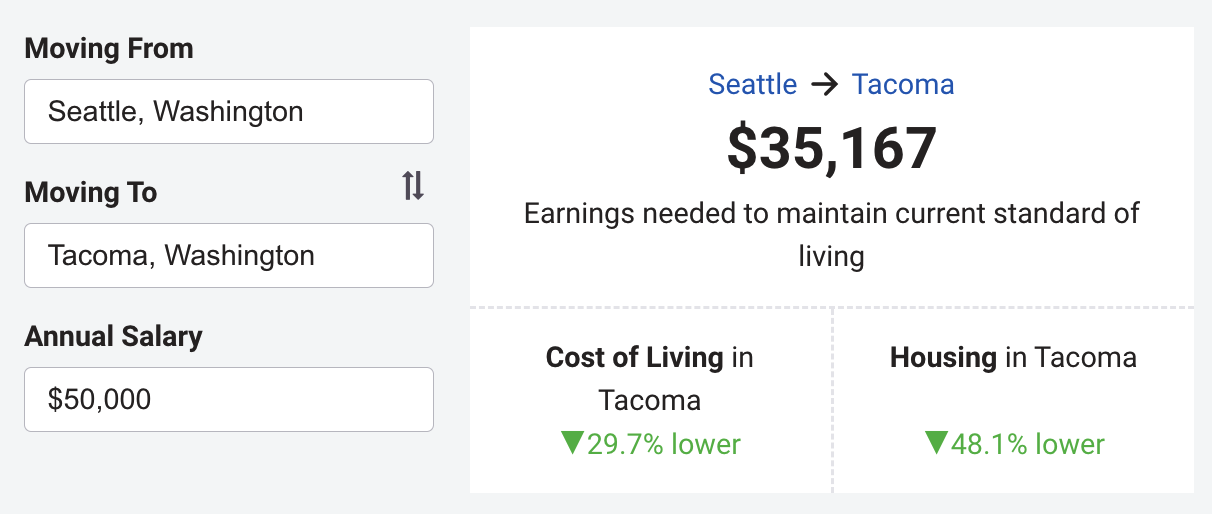 Photo: PayScale
Here is a breakdown of typical prices and rates, by category (all data is from PayScale):
Housing, Utilities, & Transportation
Median Home Price: $432,650
Median Rent: $1,320 / month
Energy Bill: $153 / month
Phone Bill: $168 / mo
Gas: $4.20 / gal
Food and Groceries
Loaf of Bread: $3.80
Gallon of Milk: $2.40
Egg Carton: $1.70
Bananas: $3.67 / bunch
Hamburger: $5.20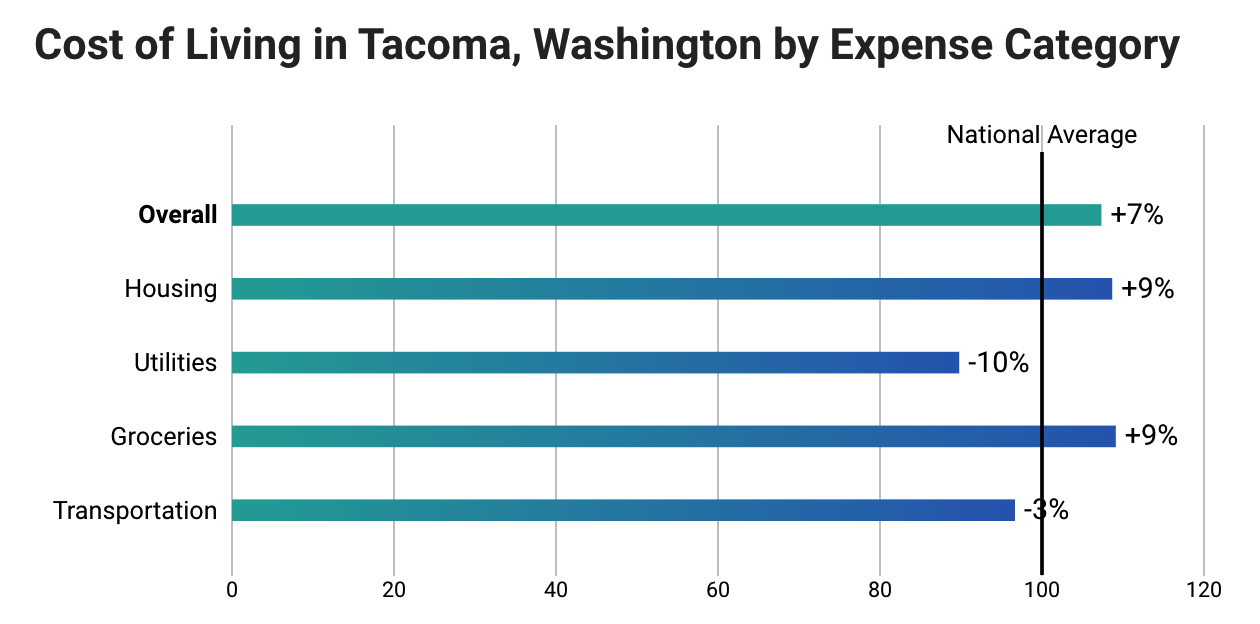 Photo: PayScale
For a good idea of what $1,300 per month will get you in Tacoma WA, check out this newly-built modern apartment complex that is next to Union Station and minutes away from the waterfront and other top Tacoma attractions.
Tacoma is Relatively Safe
With a comparatively low cost-of-living in mind, it is worth noting that Tacoma is generally ranked as "relatively safe." On a national basis, this city is ranked 1% safer than the average U.S. city (Neighborhood Scout).
In terms of overall crime statistics, Tacoma is roughly on par with larger cities like Los Angeles, San Francisco, and Chicago. The chance of violent crime happening to you in Tacoma or Seattle is nearly identical.
Tacoma is Growing Fast
With a solid foundation, trickle-down (and up) growth from Seattle, Bellevue, and Portland, and endless activities to do in and around the city, it's no surprise that Tacoma is one of the region's fastest growing cities. It The city is growing around 1% annually.
The City of Tacoma is currently undergoing a major urban revitalization project, which will include retail and mixed-use developments and the establishment of a true urban core. In addition to plans to connect the rail network to Seattle, and various other improvement projects, Tacoma is a city that will just keep getting better.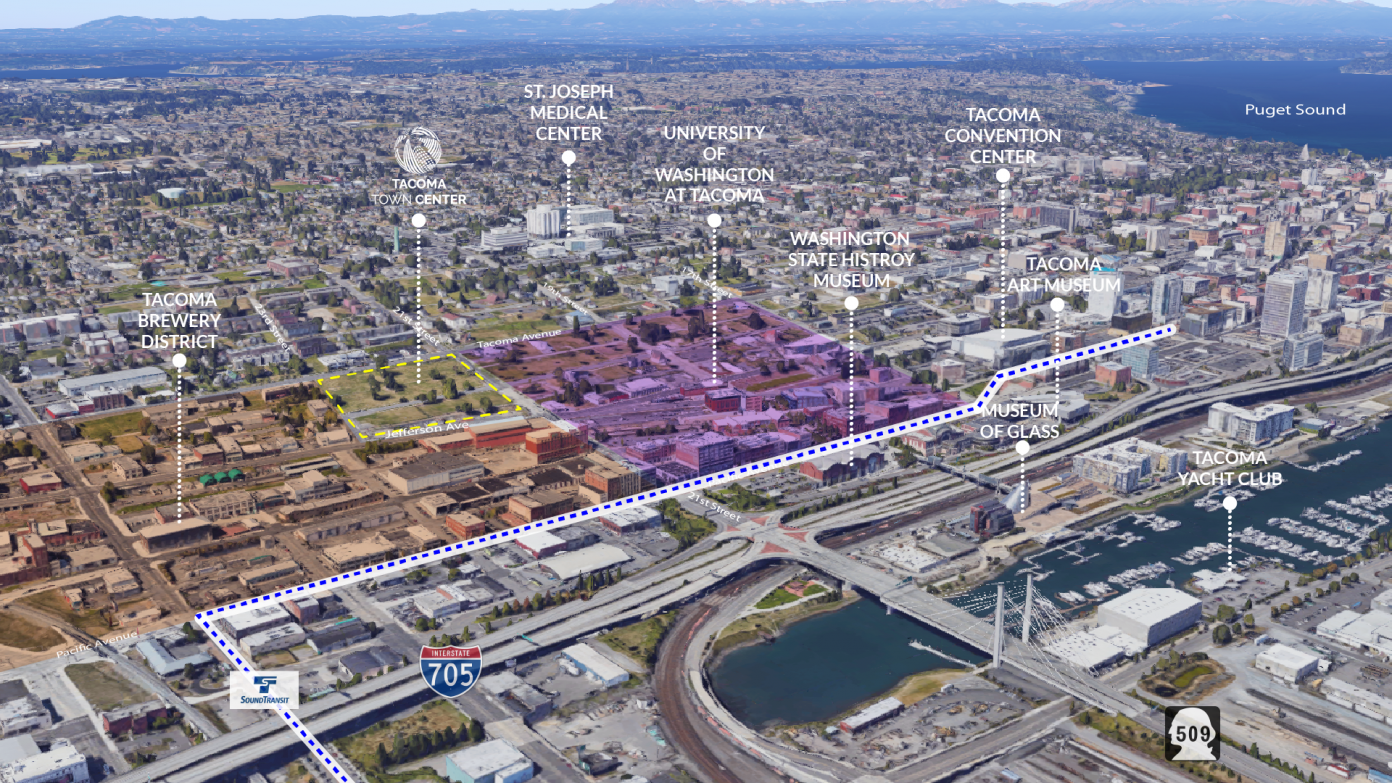 Photo: The Urbanist
Choosing to live in a new apartment complex in Tacoma means that you can balance affordability with true Pacific Northwest living.