The 5 Most Amazing Korean Barbeque Restaurants in Koreatown – Hands Down!

Welcome to Koreatown – a neighborhood in Los Angeles, California, snugly placed near Eighth Street – where the shops of Koreatown mark the boundaries of traditional and modern Korean restaurants that line the streets of LA - offering a world of rich cultural diversity, and a world worth exploring.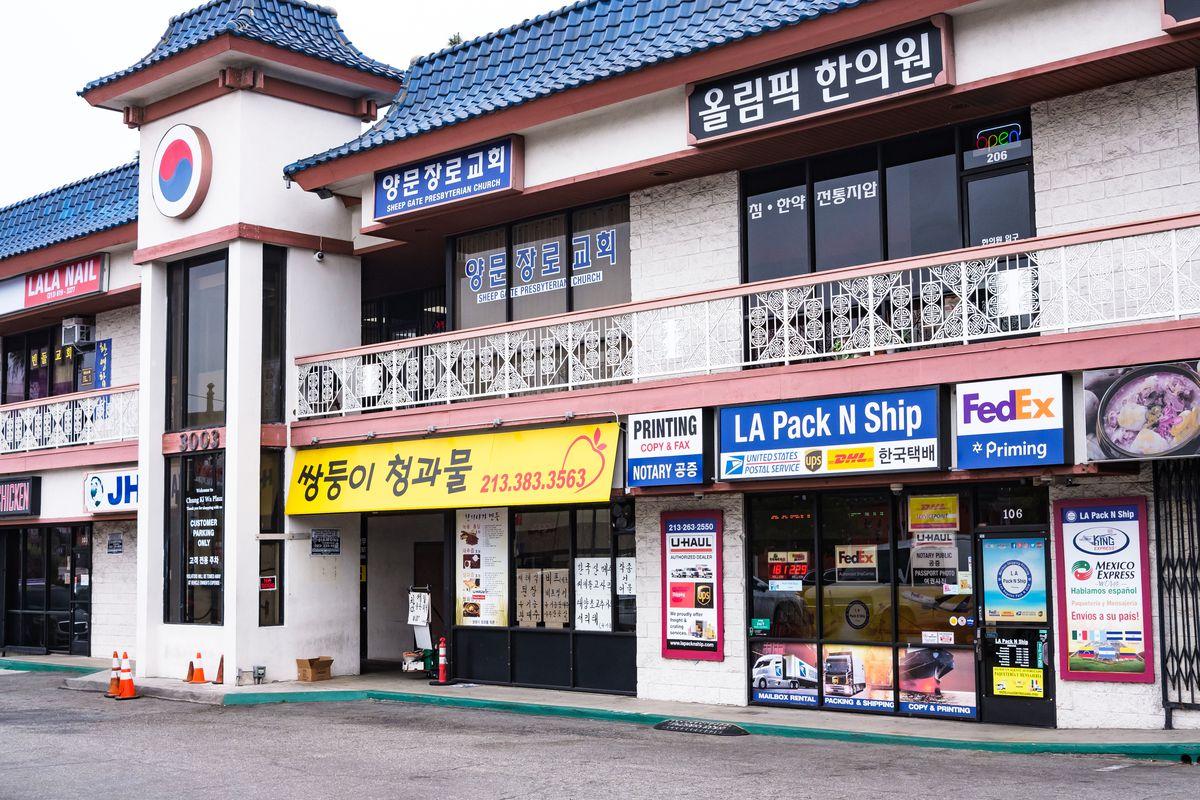 Koreatown is where you'll find the BEST Korean Barbecue (KBBQ) restaurants around – hands down! And, whether you're looking for an upscale feel or a fun place to settle in for the night, we have you covered. Our mouths are watering on this one. Check out this list of the 5 Most Amazing Korean BBQ restaurants in Koreatown.
PARK'S BBQ
Google Star Rating: 4.4 out of 5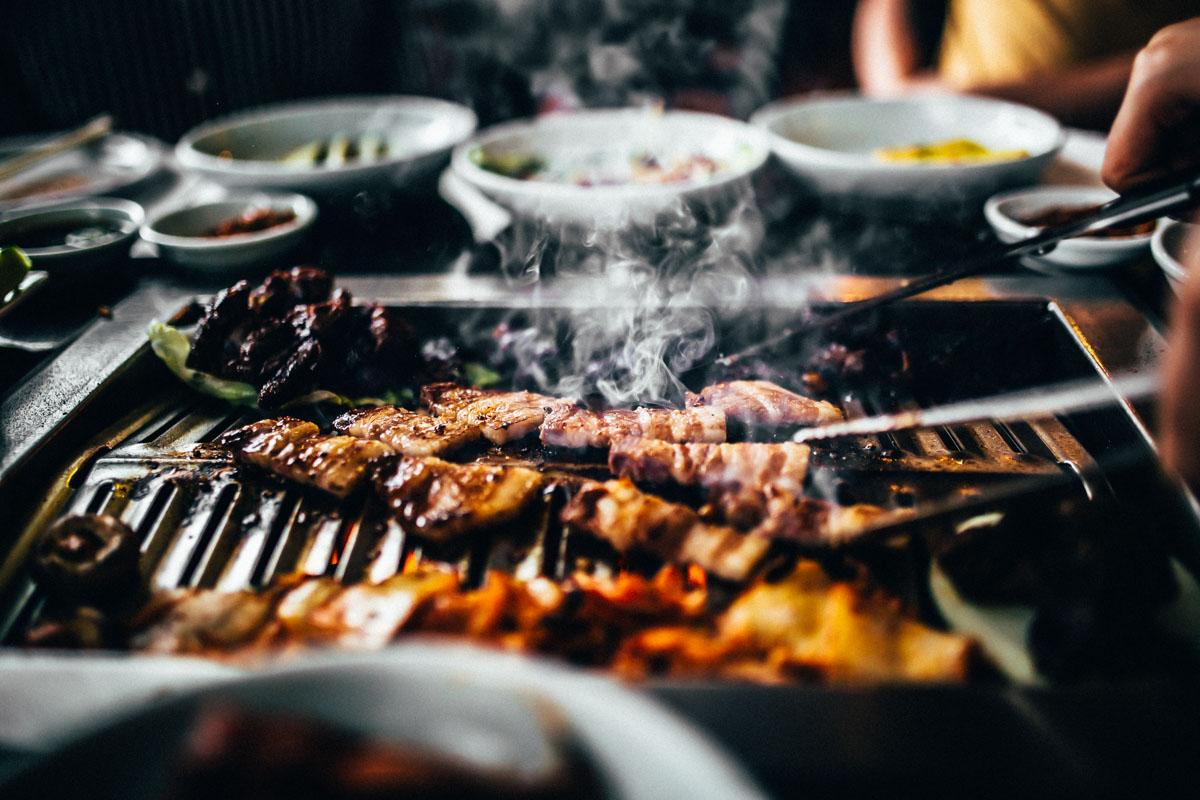 Address: 955 S Vermont Ave G, Los Angeles, CA 90006
Phone: (213) 380-1717
Menu: https://parksbbq.com/menu/
Service options: Dine-in · Takeout · Delivery
If you're looking for a step above typical Korean BBQ, Parks BBQ is the place to be! Located in the heart of Koreatown, Park's BBQ – a vivacious and upscale Korean BBQ restaurant with "grill-it-yourself Kobe-style beef and marinated short ribs" - is definitely the talk of town!
This high-end restaurant is considered the gold standard of Korean barbecue in LA, and perhaps, in the US. Legend has it, this is the best and greatest dining experience outside of Korea that you'll find, and we mean – anywhere in the nation. Seriously, that alone makes this spot worth visiting.
Even though their selection is on the pricier side of Korean barbecue, the exhilarating experience is well worth it – as they ensure high-grade and premium cuts of meat are cooked to perfection (with consistency) from start to finish. At Parks, the cooking takes place right at your table – which visitors say is a much more pleasurable experience.
Some menu highlights include the Parks Gal-Bi and the Boneless Beef Short Rib, the Spicy Cod, and soup. Parks also specializes in true Wagyu beef cuts, which may be tough to find anywhere in town. While the meat is the star, Park's selection of non-meat dishes tempts to satisfy any tastebud – with dishes such as the Banchan – which is absolutely delicious. We hear this is by far the best tasting dish you'll ever have.
To skip the wait, reservations are highly recommended, especially on weekends, as they are always busy. Be sure to go with friends because there's a lot of food to feed a crowd! With top-quality meats, ingredients, and service made to order, we say, Parks is totally worth!
And if that wasn't enough, the restaurant also has a butcher shop making dining at home a breeze! Oh, the wonders. Try Parks today.
AHGASSI GOPCHANG
Google Star Rating: 4.4 out of 5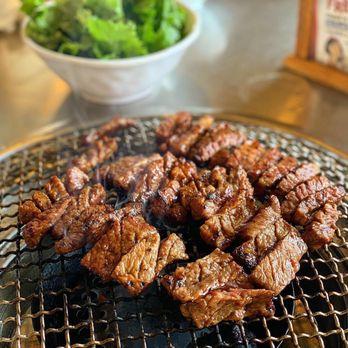 Address: 3744 W 6th St, Los Angeles, CA 90005
Phone: (323) 902-6328
Service options: Dine-in · Takeout · No delivery
A favorite among students, young professionals, and locals alike – this spot is said to be the best Korean BBQ restaurant in LA. Introducing Ahgassi Gopchang! Specializing in high-quality offal, which tastes absolutely delicious - this unique Korean BBQ restaurant is considered one of the best for their specialty in roasted beef intestines cooked to perfection.
The hosts of this restaurant pride themselves in making their very own tasty sauces to marinate and cook their meats, providing customers with a memorable, cultural experience – serving dishes until late hours. With a wide range of cuts provided, it is easy to satisfy any Korean BBQ craving.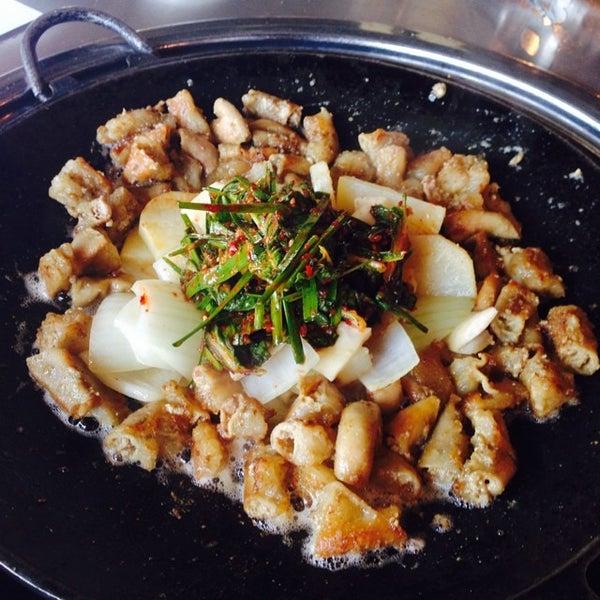 To maximize their visitor's dining experience, Ahgassi Gopchang also offers multi-meat combos with more recognizable cuts and dishes like, the Kimchi Stew – which is extremely delicious and flavorful, the Prime skirt steak and thin-sliced Beef Brisket. With some of the finest cuts of meat in the neighborhood, some recommendations include the skirt steak, their marinated short rib, and large intestine when waiting to order – as you'll be introduced to long lines at peak hours – which we say is well worth it.
Plus, they play BTS nonstop! What's not to like about Ahgassi Gopchang? They provide great service, generous portions of meat, and great tasting food for all to enjoy. We're recommending this one, for sure!
TK92 KOREAN BBQ
Google Star Rating: 4.5 out of 5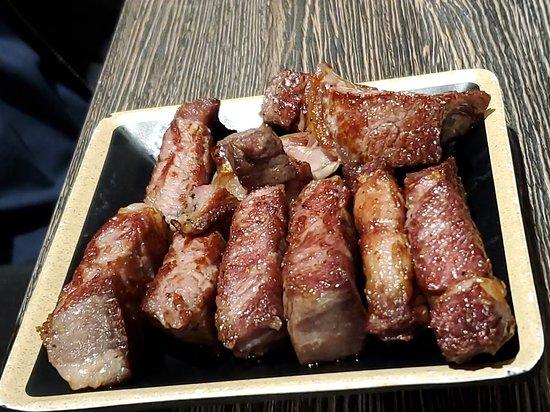 Address: 250 W Valley Blvd ste p, San Gabriel, CA 91776
Phone: (626) 782-7496
Service options: Dine-in · Takeout · No-contact delivery
If you're looking for a quality Korean BBQ restaurant with good vibes, amazing artwork, flavorful, high-quality meats, large portion sizes, and great service, TK92 Korean BBQ is the recommended spot for you! This Korean restaurant with built-in table grills for an array of BBQ items has the space to fit large groups - and then some – offering family meal combos to accommodate everyone.
TK92 is the new style of premium All-You-Can Eat Korean BBQ. They specialize in a small number of menu items - allowing each item to be prepared with exquisite attention – to achieve the utmost quality in each item served. Interesting enough, they believe restaurants with larger selections cannot achieve such a delicate level of excellence.
Enjoy their unique décor that is just plain cool – with food that is said to be absolutely amazing. This is a must try- as great quality and well-seasoned meats are all what guests rave about. Some favorite highlights include their Jiggy and Nian, or the Bulgogi and Steak – which is tender and oh so yummy!
If a group decides to take part in their large family combos, you can choose up to 3 types of meats (out of 6) and 3 choices of sides. From this family combo, enjoy all very tender and great quality items – with favorites such as the aged short-ribs, marinated and cooked to perfection.
For sides, the scallion salad is always a go-to, and one can order salad, fish cake, kimchi radish, pickled radish, and kimchi cucumber. We're just about ready to dig in.
Customer service is top-notched and there's plenty of free parking for all to enjoy. Oh yeah, try out their ice cream sandwich for dessert. We hear its surprisingly delicious.
MAGAL BBQ
Google Star Rating: 4.4 out of 5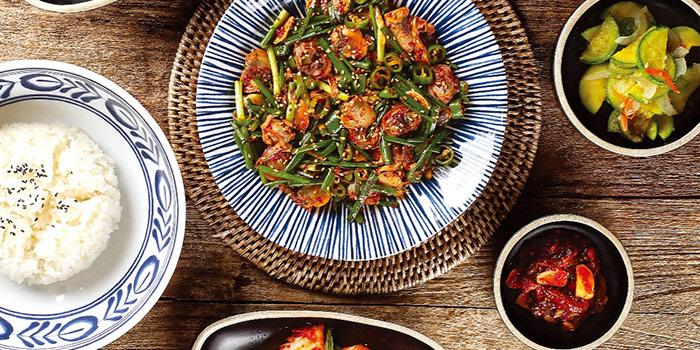 Address: 3460 W 8th St, Los Angeles, CA 90005
Phone: (213) 383-1909
Menu: https://zmenu.com/magal-bbq-los-angeles-online-menu/
Service options: Dine-in · Takeout · Delivery
You guys, we've hit the jackpot with this one. Meet Magal BBQ. This energetic and top choice among students and young professionals is a great spot for Korean BBQ - offering combo meals with traditional Korean BBQ meats and sides. Oh yeah, and with options well worth the price.
Start off with their nice variety of cold appetizers which many love! Transition right into their combo meals – which come highly recommended and include: the Beef Combo! This meal is comprised of 4 beef selections, marinated Galbi and beef brisket, and is the perfect meal for two.
Bring your friends! Large combo options can accommodate your crew – with the perfect amount of food, and who know – with food to spare. Their meals come with a lot of small sides and a soup. The soy bean paste soup is phenomenal and their side dishes are just as amazing.
Favorites include the Banchans – their complimentary sides; add the egg soup and cheese corn while your meat is cooking to add to a more delicious serving! The Kimchi and Pickled Cucumber are downright the best. Top it all off with a glass of cold, refreshing tea. You'll be in heaven for sure!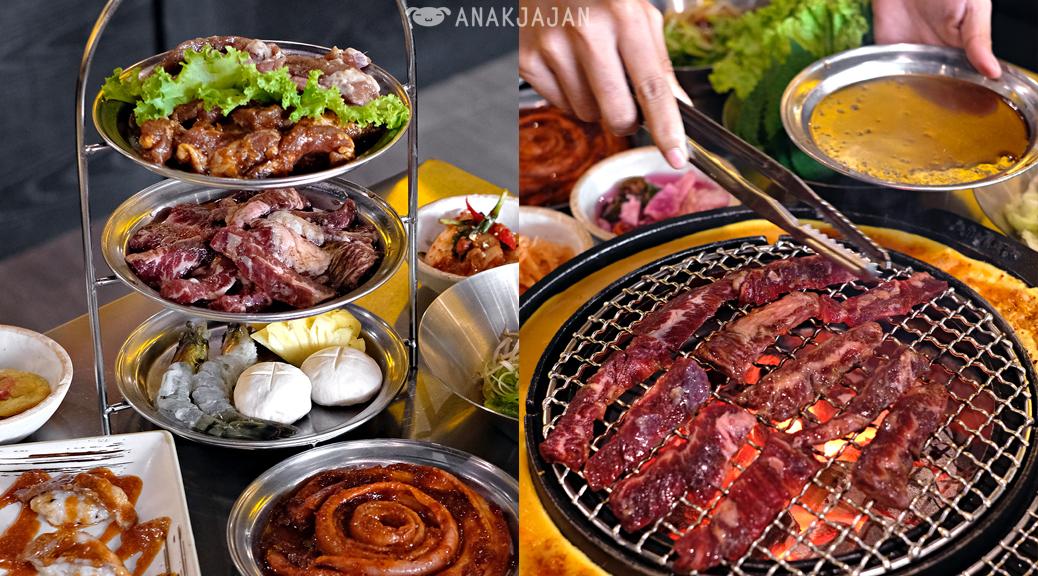 This place is a notch above. The service and beef quality are great - serving Prime USDA or more premium meats - where you can really taste it. The meat is very tender. We know.
You can't go wrong with Magal BBQ. The setting is super clean and spacious – with a cooling fan above each table as a nice touch. The staff is phenomenal as they help to cook your food for you. Honestly, this might be the best Korean BBQ you'll have in a long time.
Come here to sit back and enjoy the experience. With affordable valet parking, and a progression of different cuts of meats flowing through the grill, this is a place worth checking out for sure!
KANG HO DONG BAEKJEONG
Google Star Rating: 4.5 out of 5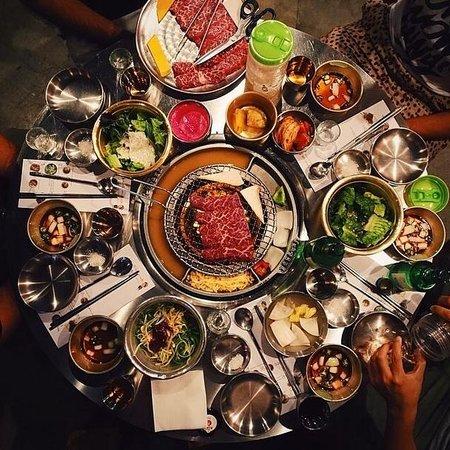 Address: 3465 W 6th St #20, Los Angeles, CA 90020
Phone: (213) 384-9678
Menu: kanghodong-baekjeong.square.site
Service options: Dine-in · Takeout · Delivery
This KBBQ spot is worth a try if you're willing to wait! Originating from the Korean word for "butcher", Kang Ho Dong Baekjeong serves high-quality meats with an exquisite dining experience - with qualities of Korean barbeque all can enjoy. The wait can be crazy long, especially on the weekends, but, if you can endure it, it'll be well worth it.
Kang Ho Dong Baekjeong offers BBQ, noodles and other eats from lunch till late at night. The flavors and authenticity of their dishes are spot on and the food quality here is really good. Some favorites include: the Spicy Pork Belly, Glass Noodles, and the Pork Jowl. With super delicious and very tender meats, this is a must try, indeed!
Bonus Dining Options
If you're a fan of Korean barbecue and you find yourself in Los Angeles, Koreatown is the place to be. With so many restaurants to choose from, it can be tough to decide where to go. In addition to the previously mentioned top five Korean barbecue restaurants in Koreatown, here are four more great options to consider.
Quarters Korean BBQ: This restaurant is known for its unique presentation of meats in individual cast iron grills. The menu offers a wide variety of meats, including wagyu beef, galbi short ribs, and spicy pork belly. The modern and sleek design of the restaurant makes it a great place for a date night or special occasion.
Hae Jang Chon Korean BBQ Restaurant: Hae Jang Chon is a popular all-you-can-eat Korean barbecue restaurant that offers a wide variety of meats and side dishes. The restaurant has a spacious dining area, making it a great spot for large groups or families. They also offer private rooms for more intimate gatherings.
Genwa Korean BBQ: Genwa is another all-you-can-eat Korean barbecue restaurant that offers high-quality meats and an extensive menu of side dishes. The restaurant has a chic and modern design and also offers private rooms for groups. Their lunch specials are a great value.
Road to Seoul Korean BBQ: Road to Seoul offers a wide variety of meats, including beef brisket, pork belly, and marinated short ribs. The restaurant has a casual and relaxed atmosphere, making it a great spot for a casual dinner with friends.
So, if you're looking for delicious Korean barbecue in Koreatown, LA, you now have nine great options to choose from. Be sure to try out as many as you can to find your favorite!
Improving Your Dining Experience
In conclusion, Koreatown in Los Angeles is home to some of the best Korean barbecue restaurants in the city. Whether you're a local or a tourist, there's something for everyone to enjoy.
From traditional all-you-can-eat options to modern, upscale dining experiences, each restaurant on this list offers a unique and delicious dining experience that will leave your taste buds satisfied. So grab your friends and family and head out to Koreatown to indulge in some mouthwatering Korean barbecue.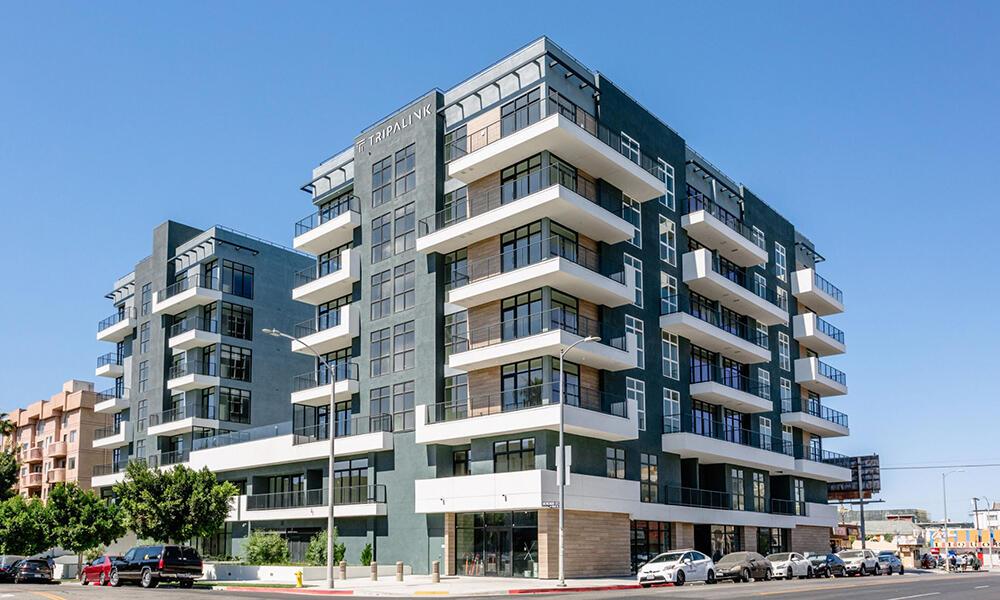 No matter the craving or go-to option to satisfy your tastebuds, TRIPALINK can help students and young professionals enjoy the best dining experience and find apartments in Koreatown – offering living accommodations in Los Angeles.
Living with like-minded young professionals will help create a memorable experience – with no exceptions to trying delicious options within walking distance of the universities around. Explore the wonders in Los Angeles! Choose Tripalink today!