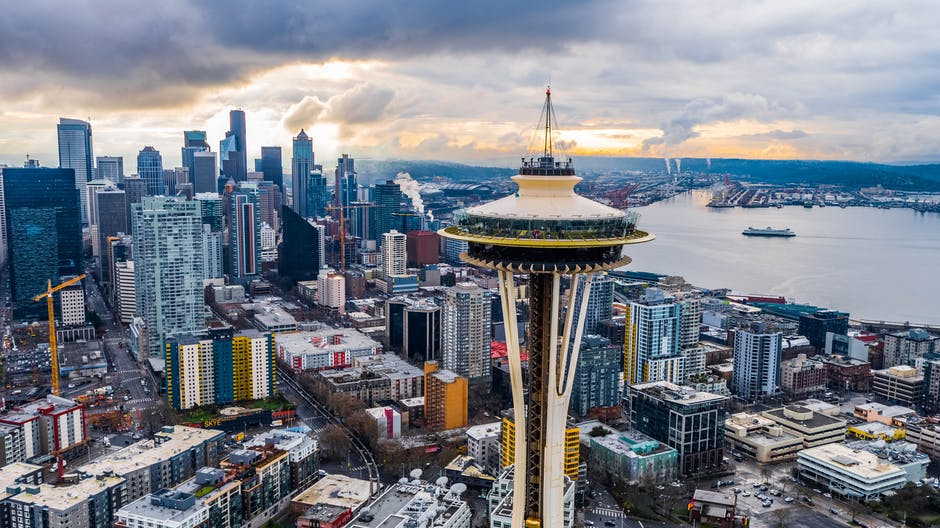 Find the best coffee in Seattle, Wa
It seems that the world of coffee as we know it today started in Seattle, WA. Maybe it is the rainy weather, the cold temperatures, or the location on the water that makes Seattlites reach for a warm mug of caffeine. One thing is for sure: coffee is everywhere in the Emerald City. You can often find multiple places on the same block, and some brands have stores so close together that you wonder if you're in a glitch of the matrix.
As of 2016, there were a whopping 843 coffee shops in Seattle per capita. However, that number still made Seattle the 2nd in line to San Francisco for the most per capita. When it comes to finding a cup of joe nearby, Downtown Seattle, Pike Place Market, and parts of Capitol Hill held the top spots.
History of Where Fancy Coffee Began
While it may be true that Starbucks wasn't the first coffee shop in Seattle, WA no one can doubt that this coffee giant put Seattle coffee on the map.
The first Starbucks location opened up in 1971 near Pike Place Market. While the world was sipping cheaper coffee at the time, the founders envisioned an elevated coffee experience. Fresh roasted coffee beans coupled with a unique coffee atmosphere catapulted Starbucks to what we know today as one of the most well known coffee shops in Seattle.
However, the stardom of Starbucks quickly encouraged other coffee roasters and companies to bloom out of the Emerald City. In fact, there are substantially more coffee businesses owned by individuals in Seattle than chain-owned ones.
Starbucks has continued to race around the world in both stores and holdings of other companies. In 2003, Starbucks purchased Seattle's Best Coffee to expand its overall reach. Seattle's Best Coffee is a common grocery store brand that features a smooth taste.
As with any diehard obsession, there is some division when it comes to the best coffee in Seattle, WA. While some brand-loyal enthusiasts will always choose Starbucks, there are plenty of other options as well. Check out where to find the best coffee in Seattle and visit one of these shops soon for your next pick me up.
Where to Find the Best Coffee in Seattle
Whether you like the comfort and convenience of chain coffee or want to try out some original local indie coffee shops, there is plenty of java to go around. Most of these shops feature what is known as Seattle-style coffee, a rich and dark roasted bean featuring nutty notes of caramel.
Downtown Seattle WA
You'll find plenty of hustle and bustle in Downtown Seattle. This district located off of Elliot Bay includes Pike Place Market, Smith Tower, and plenty of piers.
Anchorhead Coffee
1600 7th Avenue #105
Check out the quaffle, a waffle and croissant pastry, on 7th Avenue. Anchorhead Coffee features amazing espresso drinks with a great shop atmosphere, perfect for chatting with friends or lounging with your laptop.
Caffe Ladro
801 Pine Street
Unique drinks and house-made pastries are the heart of Caffe Ladro. With many locations throughout the city, this shop near Pike Place Market is a favorite. Check out their lighter option, a single-origin roast that is always on tap at this interesting location.
Monorail Espresso
510 Pike Street
If you're willing to wait in line, check out Monorail Espresso that only features espresso-crafted drinks. This tiny espresso bar started in the 1980s and is a local favorite of pups as well.
Moore Coffee Shop
1930 2nd Avenue
If you're looking for fancy latte art, look no further than the Moore Coffee Shop. This fun shop was featured in a Food Network Magazine as the #2 shop in Seattle, making it a definite shop when trying to find coffee in Seattle. Add a sandwich or waffle to your order for a tasty meal.
Grab a coffee at the oldest Starbucks in Seattle, WA
Starbucks #1
1912 Pike Place
While the first location is no longer there, the oldest operating Starbucks store sits just a block away from the original site. It is one of those places to check off your caffeine bucket list but doesn't have much room to sit and hang out. Still, with so many stores on the planet, it is neat to be at the oldest one still around and view the vintage signs and logos.
Pioneer Square
Located just south of the heart of the city, Pioneer Square is a history-rich community that is easy to get to and the perfect place to spend some downtime.
Cafe D'arte
99 Yesler Way
Opening in 1985 in Pioneer Square, Cafe D'arte is a staple for many Seattle, WA residents. It features Italian-style coffee thanks to its founder, Mauro Cipolla. Wood-roasted cold brew is a must-have item at Cafe D'arte.
Ballard
Located on the Northwest side of Seattle, Ballard is a trendy district that features plenty of style and boutiques.
Makeda and Mingus
153 North 78th Street
Bring man's best friend to this dog-friendly shop that features Mingus the dog himself. Enjoy coffee from Seven Roasters Coffee and check out the many milk alternatives available in this unique spot. Order a beautiful golden milk latte that features unique flavors and is topped with the best foam art around at Makeda and Mingus.
Seattle Coffee Works
2060 NW Market Street
As a native standard, Seattle Coffee Works offers slow bar brewing methods and single-origin coffee beans for a classic drip coffee. Check out their Seattle Space blend as well as the current single-origin bean choice for a fresh taste.
Capitol Hill
You'll find many residences in Capitol Hill, located on the East side of the city, with a vibrant community and hot local nightlife.
Espresso Vivace
532 Broadway East
This Capital Hill classic is a favorite of many Seattle residents and visitors alike. Espresso Vivace features a strong hand in espresso and crafting the perfect drink. Check out this shop for a deep dive into espresso.
Victrola Coffee Roasters
310 E Pike Street
Looking for a unique blend of beans with a twist? Victrola Coffee Roasters in Capitol Hill is a great spot to find the latest roast. They specialize in experimenting with all kinds of flavors and beans to create one-of-a-kind masterpieces in a cup.
South Lake Union
Wedged between Uptown and Capitol Hill, the South Lake Union district offers a tech scene with plenty of unique restaurants.
Elm Coffee Roasters
230 9th Avenue North
Opening in 2018, Elm Coffee Roasters in South Lake Union is a spin-off from the original location. This location features simple decor where you can watch the roasting happen on-site. Order an drink and take some beans to go to enjoy at home.
University District
While there are many colleges and universities in the Emerald City, the University District is well known as the home of the University of Washington. Go Huskies!
Cafe Allegro
4214 University Way NE
Touted as the city's oldest coffee establishment, Cafe Allegro opened its doors in the University District back in 1975. You'll find a classic coffee culture here with art hanging off the walls, the smell of fresh-roasted beans filling the air, and plenty of history to serve up alongside its signature drinks.
Mr. West Cafe Bar
2685 NE Village Lane
This contemporary spot features an upscale look and a new fresh take on beans. Mr. West Cafe Bar serves Campos Coffee, a Sydney-based bean, offers unique taste and variety to your go-to cup. Check out this place for a great coffee experience.
Uptown
Once known as Lower Queen Anne, the Uptown district includes the Seattle, WA central district and the Space Needle.
La Marzocco
472 1st Avenue North
Learn more about the history of coffee at La Marzocco Cafe, an extension of the La Marzocco Italian espresso machine manufacturer. You'll know that your bean is perfectly roasted and extracted at this unique coffee location.
Uptown Espresso
2504 4th Avenue
This laid-back coffee spot started in 1984 in Uptown and has quietly grown to seven locations around Seattle, WA. Uptown Espresso in the Belltown area is known as the "home of the velvet foam" featured on lattes. Each store is spacious and invites customers to sip and stay awhile.
West Seattle
Located on the Southwestern edge of the city, West Seattle is a laid-back and comfortable place to live just minutes from city life.
Sound and Fog
4735 40th Avenue SW
Get a coffee subscription at Sound and Fog located in West Seattle. This chic spot offers a minimalist feel and features roasts from all over the PNW. You'll find fun seasonal drinks like nitro and cold brew, as well as espresso soda.
There are plenty of places to find a cup of coffee in Seattle, WA at any time of day. Your location in the city has no bearing on the quality and excellence that Seattle coffee throws down. No matter where you choose to live in Seattle, WA, it is bound to have a coffee location just around the corner. While indie shops outweigh the chain shops in town, there are many styles and vibes to choose from when looking for your next cup of coffee.