The University of Washington, lovingly known as UW or "the W" by locals, is home to the Huskies. The University of Washington is the flagship institution of Washington state's six public universities. With an endowment close to $5 billion, the Washington campus is home to a wide assortment of Seattle and Washington state's finest cultural and social landmarks and activities.

The UW campus is located in Seattle Washington's bustling University District. To the East is University Village, a Seattle hub for shopping and fine dining. The grounds are centrally located within the city of Seattle. Residents and students who live on, or near, this Washington campus enjoy easy access to many of the region's top attractions and neighborhoods. Living in an apartment complex or a coliving community close to the University of Washington is a great decision for students and young professionals relocating to the area.
Whether you are looking to move into this neat neighborhood or will be a future Husky, this guide will inform you about the best tourist attractions near University of Washington. We will also share some of the area's best apartments and coliving communities.
Enjoy UW's Art and Social Scene
Like most of Seattle, the area surrounding the University of Washington offers plentiful opportunities and venues to enjoy the work of local cultures and global artists. Throughout the year, students and young professionals can enjoy many different public events, such as the annual Street Fair. We'll give you tips about the art and social scene at, and around, the University of Washington.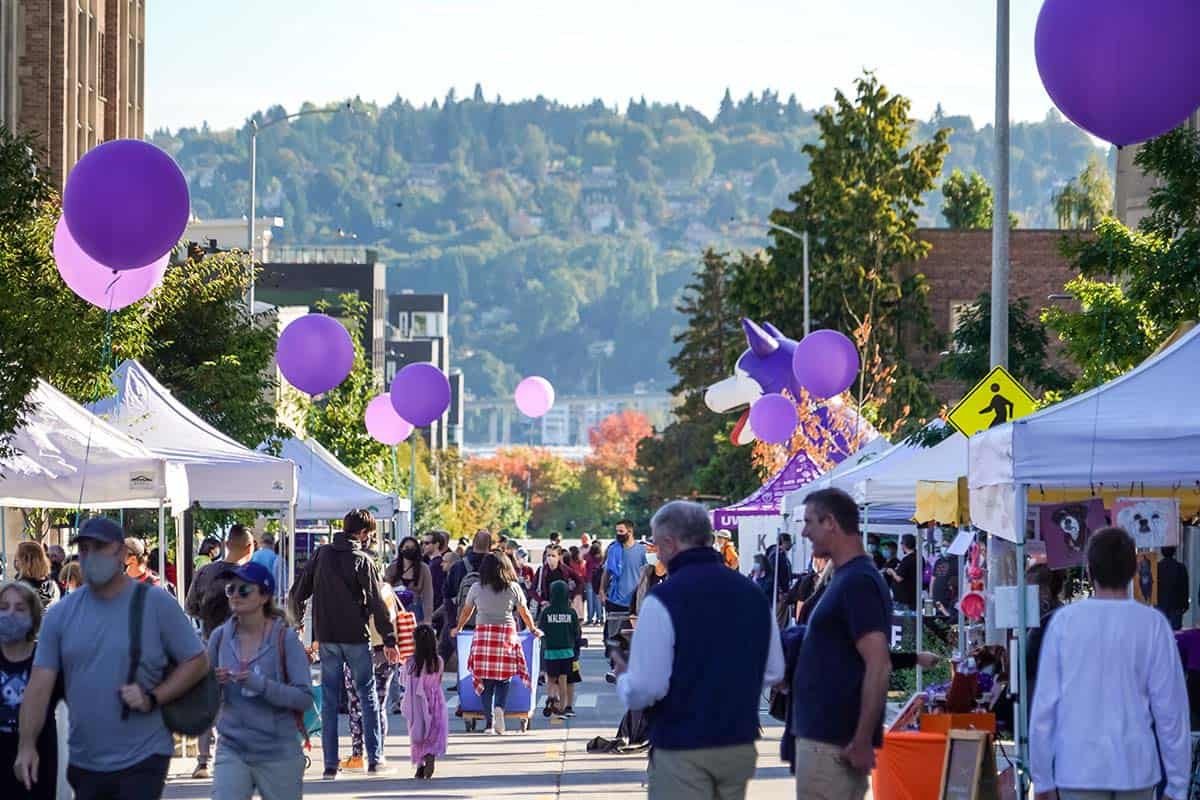 University of Washington Street Fair, Photo: UDistrict Seattle
Henry Art Gallery - Contemporary Art
The Henry Art Gallery is Washington state's oldest public art museum and is located on the Southwestern end of the University of Washington's campus. The building's facade includes geometric skylights that pay a slight homage to the I.M. Pei-designed pyramid at the Louvre Museum. Similar to the Seattle Art Museum (SAM), admission to this museum is free on the first Thursday of every month.
The Henry is part of the University of Washington; it maintains long-standing partnerships with community organizations and many University departments and units. The Henry is Seattle's primary cultural center and training ground in the visual arts for K-12 students, artists, and the general public.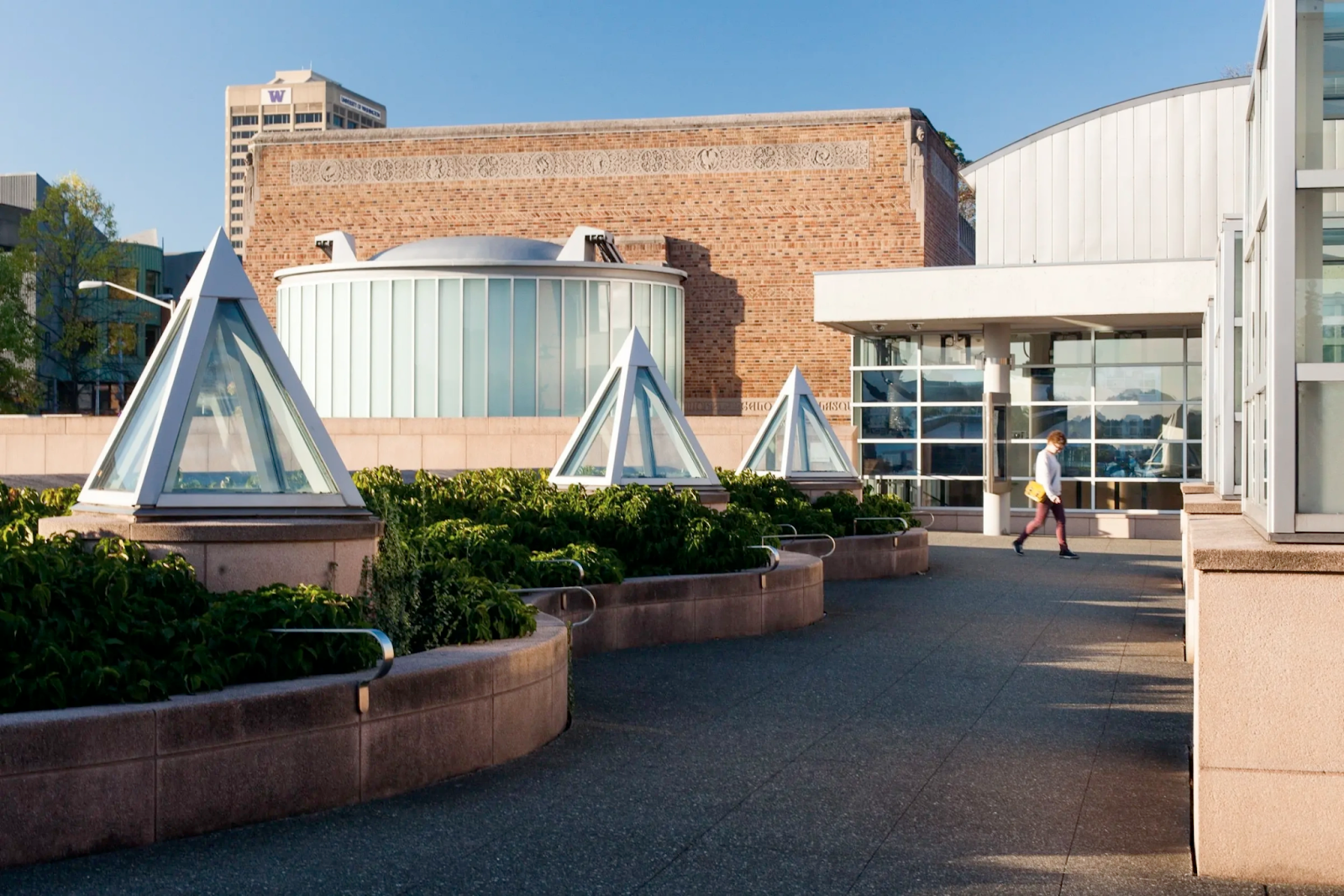 Henry Art Gallery Entrance, Photo: ArtThrive
Henry Art Gallery is home to several permanent installations and a collection of 28,000 contemporary art pieces and images. Current exhibits include Donna Huance: MAGMA SLIT, "everything was beautiful, and nothing hurt," and Nina Chanel Abney: Fishing Was His Life. The contemporary collection includes works from William-Adolphe Bouguereau, Lucas Cranach the Elder, and Rosa Bonhur.
Light Reign, a Skyspace by James Turrel, is one of Henry Art Gallery's permanent installations. Light Reign plays with light and our perception of it; it features a retractable roof that allows visitors to sit back and appreciate changes in the Seattle sky as the seasons go by. Light Reign regularly hosts meditation sessions, silent meetings, and performance art pieces.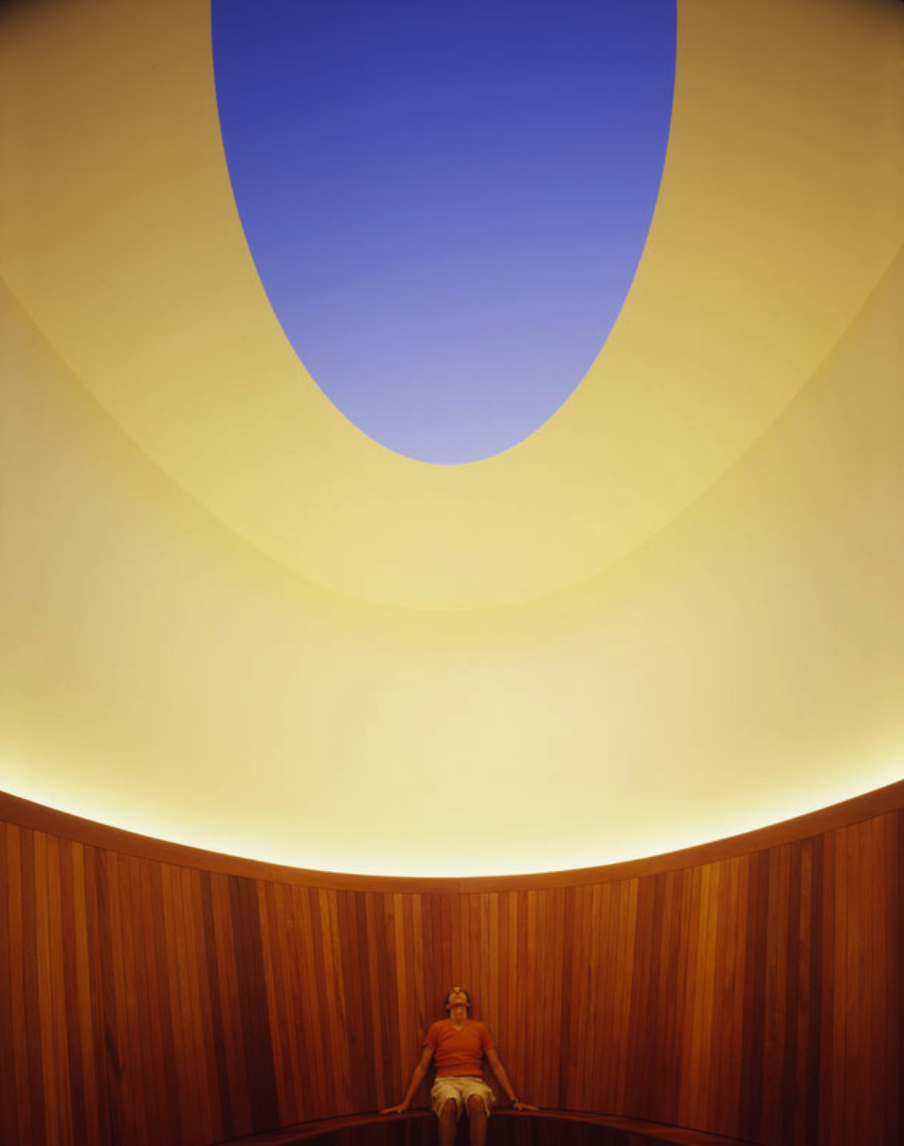 Light Reign Oculus, Photo: Lara Swimmer

Light Reign, Photo; James Turrel
Burke Museum - History and Culture
The Burke Museum of Natural History and Culture is Washington state's oldest museum; it started as a high school naturalist club in 1879. The Burke is located directly at the University of Washington, on its Northern end, and is the state's official museum. Visitors of the Burke Museum can enjoy a massive collection of over 16 million artifacts, which include the world's most extensive collection of bird wings and the 10th-largest collection of mammals in North America.
In addition to housing a diverse range of artifacts and specimens of anthropology, biology, and geology, the Burke Museum is home to over 10,000 pieces of Native American art and objects. Most of these specimens are ethnographically Northwest Coast in origin and include early Swan, Eels, Emmons, and Waters collections, several silkscreen print collections, and a contemporary sculpture collection. Other exhibits feature images of Northwest Coast art, silver jewelry, and totem poles.
The Burke's Main Building, Photo: Burke
Suzzallo Library – Hogwarts in Washington
Another key attraction at the University of Washington is the Suzzallo Library. It is the central library of the University of Washington and is the most recognizable building on campus. The library's architects, Charles H. Bebb and Carl F. Gould, designed the structure in a Collegiate Gothic style.
Due to its ornate style and spectacular scale, the library is popular with fans of J.K. Rowling's Harry Potter series–the resemblance to the Great Hall is uncanny! Actually, the Suzzallo Library is the Greater Hall, as it is taller, wider, and two times longer than the Great Hall (as depicted in the films)! If you need your fix of Twilight vibes, just step out into the brisk air and enjoy Seattle's typically gray skies.
The front facade of the Suzzallo Library features sculptures of influential philosophers, scientists, and artists including Moses, Louis Pasteur, Shakespeare, Plato, Leonardo da Vinci, Adam Smith, Ludwig van Beethoven, and Charles Darwin. Around 1.6 million volumes are housed within the library. Similar to the library at Hogwarts, there is a Rare Book Collection, which consists of books printed before 1801 (unlike Hogwarts, the books won't bite back).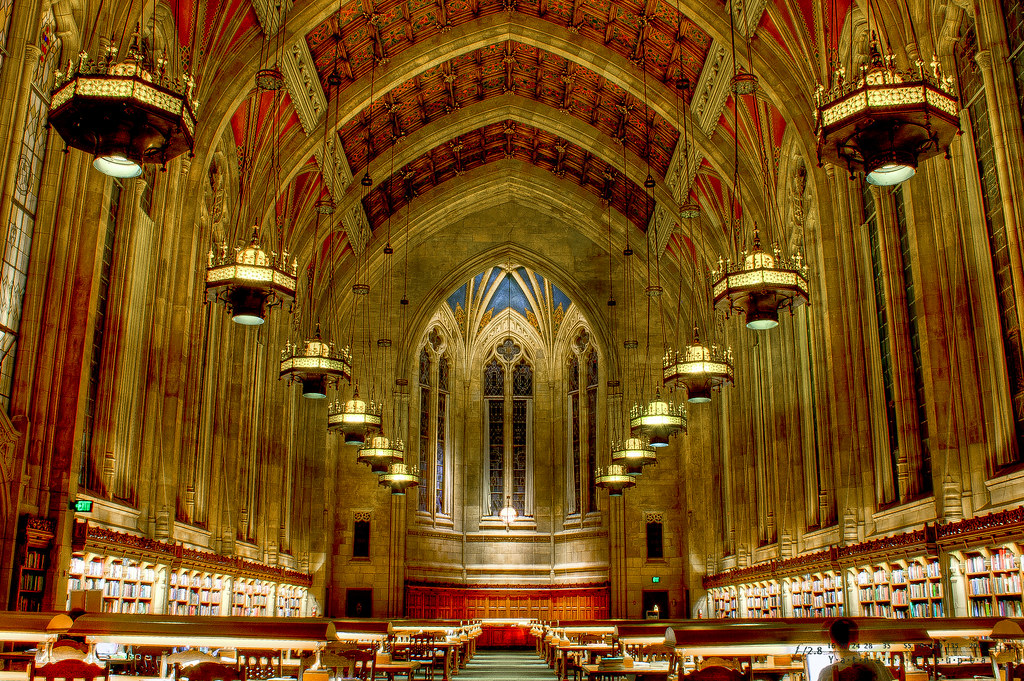 Suzzallo Reading Room, Photo: Yatharth Gupta
Neptune Theatre - A Landmark Theatre in Washington
The Neptune Theatre is a performing arts venue located in the center of the University District neighborhood, it is a 10-minute walk from the University of Washington. STG, the Seattle Theatre Group, operates The Neptune along with the Paramount and Moore Theatres. Officially designated a Seattle landmark, the Neptune is of Seattle's prime attractions
The three-story building that houses the theatre originally opened in 1921. It was designed in a light Renaissance Revival style by Henderson Ryan, who also designed Seattle's Moore Theatre. The theatre itself has a capacity for 1,000 people and hosts a variety of events, such as dance and music performances, film screenings, and art education.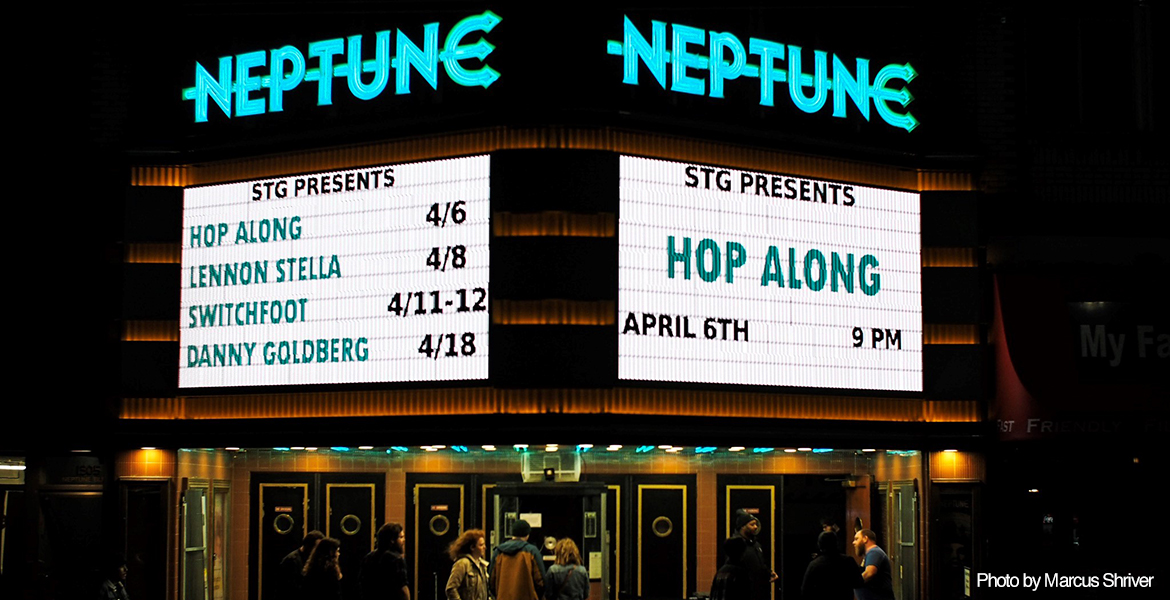 Neptune Theatre, Photo (bottom): Do206
The Stax apartments are located two blocks North of the Neptune, which means that residents who live in this new building can enjoy music, good views from the rooftop deck, and prime urban living in the heart of U District.
Fun Social Centers and Art Studios
Many of Seattle's coolest cultural centers are located in the nearby University District. If you choose to live in one of the area's new apartment complexes or a coliving community, you will be able to walk to all of these Seattle attractions.
Hidden Wizard Gallery
For the uninitiated, Henry is a renowned local artist who is famous for his vibrant and imaginative murals, which can be found all over Seattle and Washington state. His over 500 murals bring color and energy to the rainy days, which are typical in Washington state for much of the year. Henry has also provided work to Cirque du Soleil, Pepsi Co, Microsoft, and Anheuser-Busch.
It's highly recommended to visit Henry's Hidden Wizard Gallery, which is located close to the University of Washington. You can book a one-hour gallery tour with Henry himself! He will show and talk about a collection of original paintings–this is a great way to experience a vibrant cornerstone of Seattle and Washington's art scene.
Sidenote: There is no known direct affiliation between Henry and Henry Art Gallery, it's just a coincidence.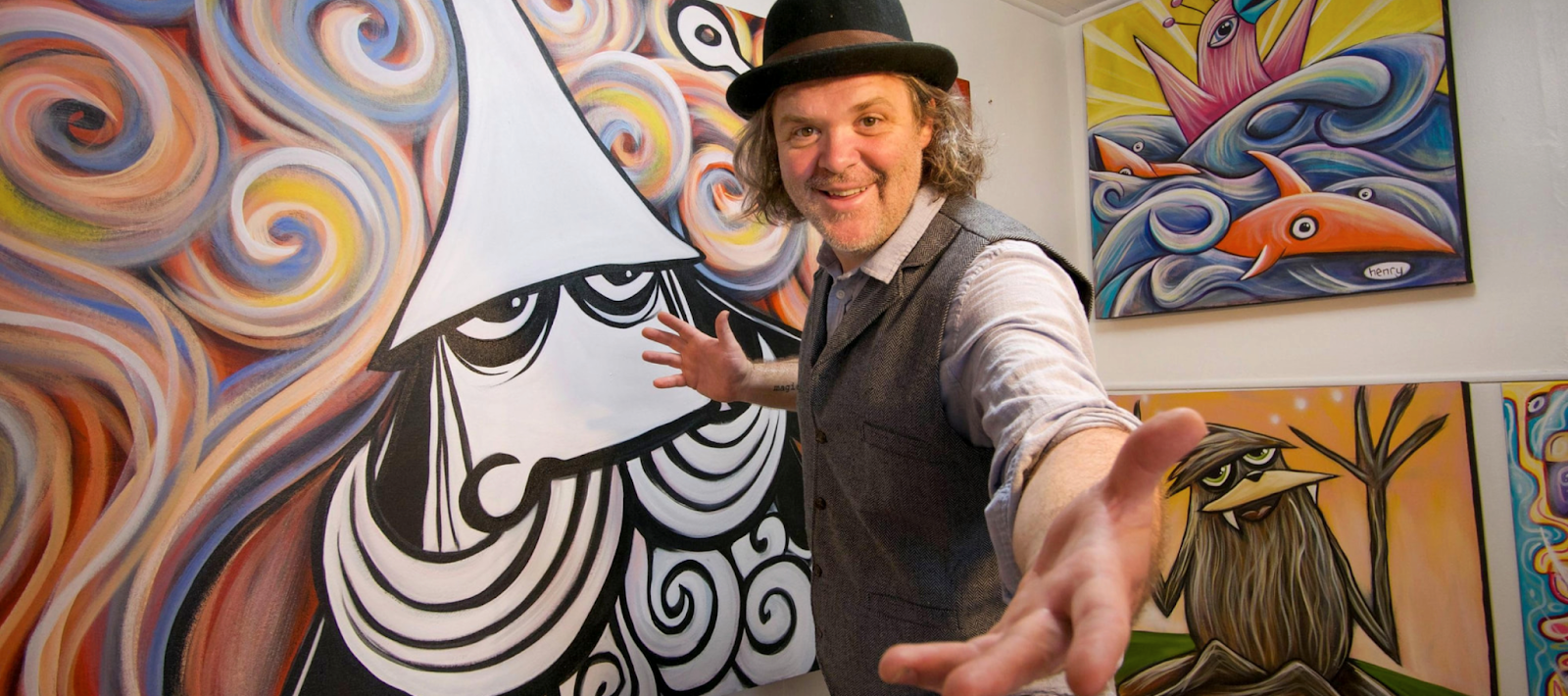 Hidden Wizard Gallery, Photo: Henry Art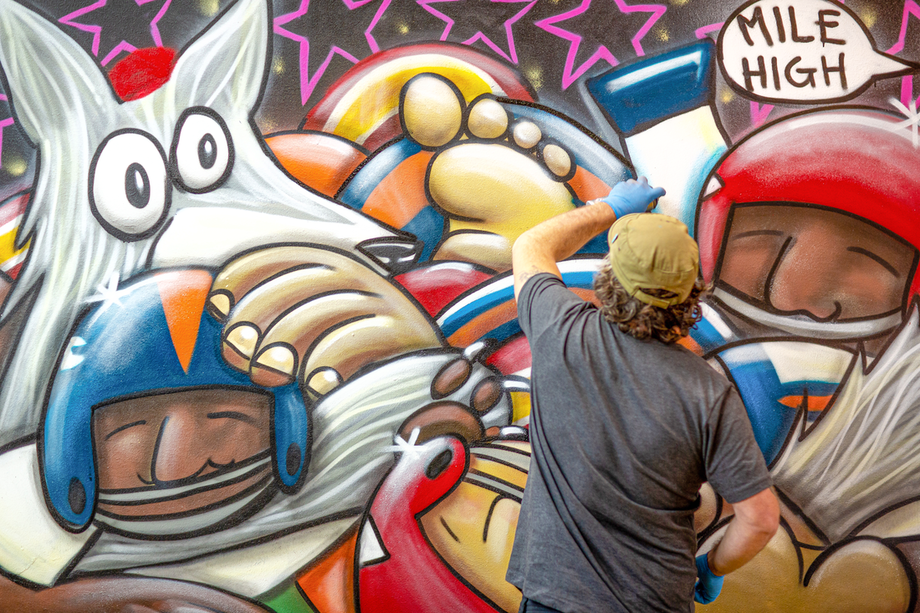 Mile High Mural, Photo: Henry Art
StudioLife
StudioLife is located South of Cowen/Ravenna Park. StudioLife offers space for artists and learners to create new pieces of art together. Throughout the year, they host several live "creating" events. Most events are recorded and available for purchase online.
Danaca Design
Danaca Design is a local metalworking and jewelry fabrication studio located close to StudioLife. Danaca Design sells artisan jewelry, tools for jewelers, and offers classes in metalwork and jewelry design.
Danaca Design's gallery features a collection of handcrafted jewelry created by both renowned and emerging artists. The collection is a combination of contemporary and traditional styles; items on display are updated 3-4 times per year.
Recording Studios
Seattle is well-known for its musical scene, which has grown a lot from the Kurt Cobain days! It should come as no surprise that there is a handful of recording studios in the neighborhood.
Here are some places you can drop by to make, or enjoy, some new sounds:


Jack Straw Cultural Center – 4261 Roosevelt Way NE, Seattle, WA 98105



Third Wheel Podcast Studio – 4719 University Way NE #203, Seattle, WA 98105
Dance Studios
There are several dance studios and shops that sell dance apparel and supplies in this neighborhood, as well.
Here are some of the top places to learn how to dance:
Explore the Best of Seattle's Natural Beauty
By living close to the University of Washington in a student-friendly apartment complex or coliving community, you can explore the best of Seattle's natural beauty. Some key natural spaces and parks are within walking distance or a short bike, bus, or car ride away!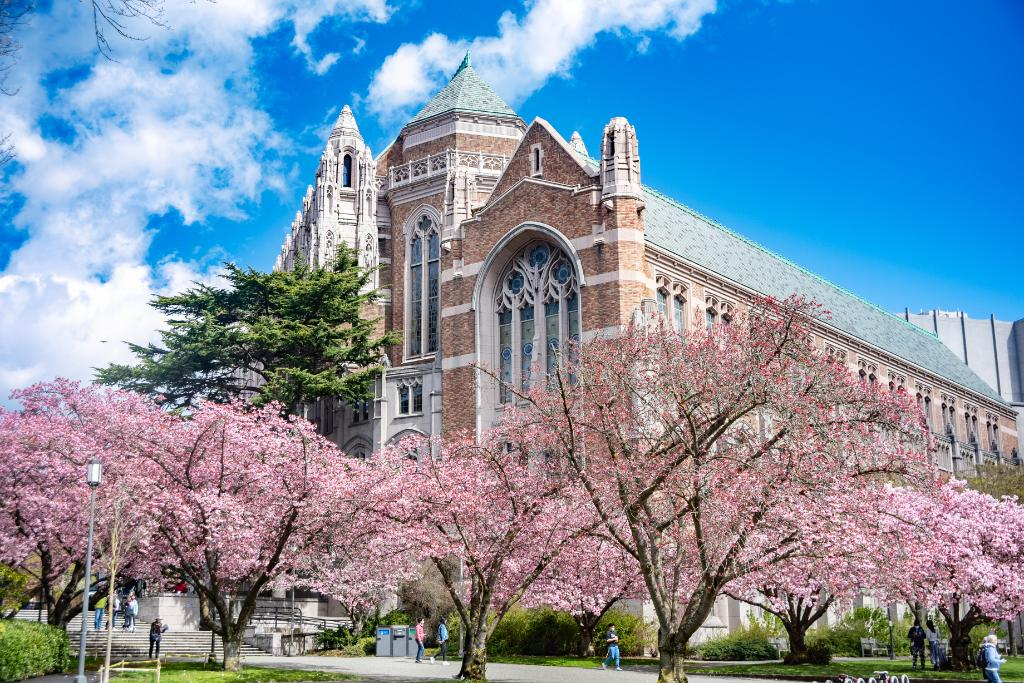 University of Washington cherry blossoms and Suzzalo Hall, Photo: uwcherryblossom (Twitter)
Cherry Blossoms at the University of Washington - One of the top things to enjoy during the spring directly at the University of Washington is seeing the cherry blossoms. Depending on when the bloom starts, the University of Washington invites visitors and residents of Seattle to explore a vast amount of mature cherry trees. Yoshino trees can be enjoyed in The Quad, which is to the NE of the awe-inspiring Suzzallo Library. After enjoying the blossoms, we recommend heading South towards Rainier Vista where you can, as the name suggests, enjoy views of Mt. Rainier from a relaxing park green! Even if the blossoms aren't out, the UW campus is a fine sight to behold.
University of Washington Wetlands and Union Bay Natural Area – Located to the East of the University of Washington and South of University Village, the University of Washington Wetlands and Union Bay Natural Area are surrounded by UW's main sporting fields and venues, including Alaska Airlines Arena and Husky Stadium. The area includes the Center for Urban Horticulture, which features a botanic garden, landscaped grounds, a public library, and relaxing spots for bird-watching. Two large trails that wrap around Carp and Central Ponds are ideal for walking, running, or enjoying natural plant and animal life.
Washington Park Arboretum – This 230-area park is a fine place to enjoy a slice of undeveloped and natural beauty that can only be found in Washington state. This large arboretum is one mile away from the University of Washington, or a 15-minute bus ride. From North to South, the entire park is just under one mile long and includes the Seattle Japanese Garden, Foster Island with several trails, a Rhododendron glen, Japanese maples, and a relaxing lookout gazebo.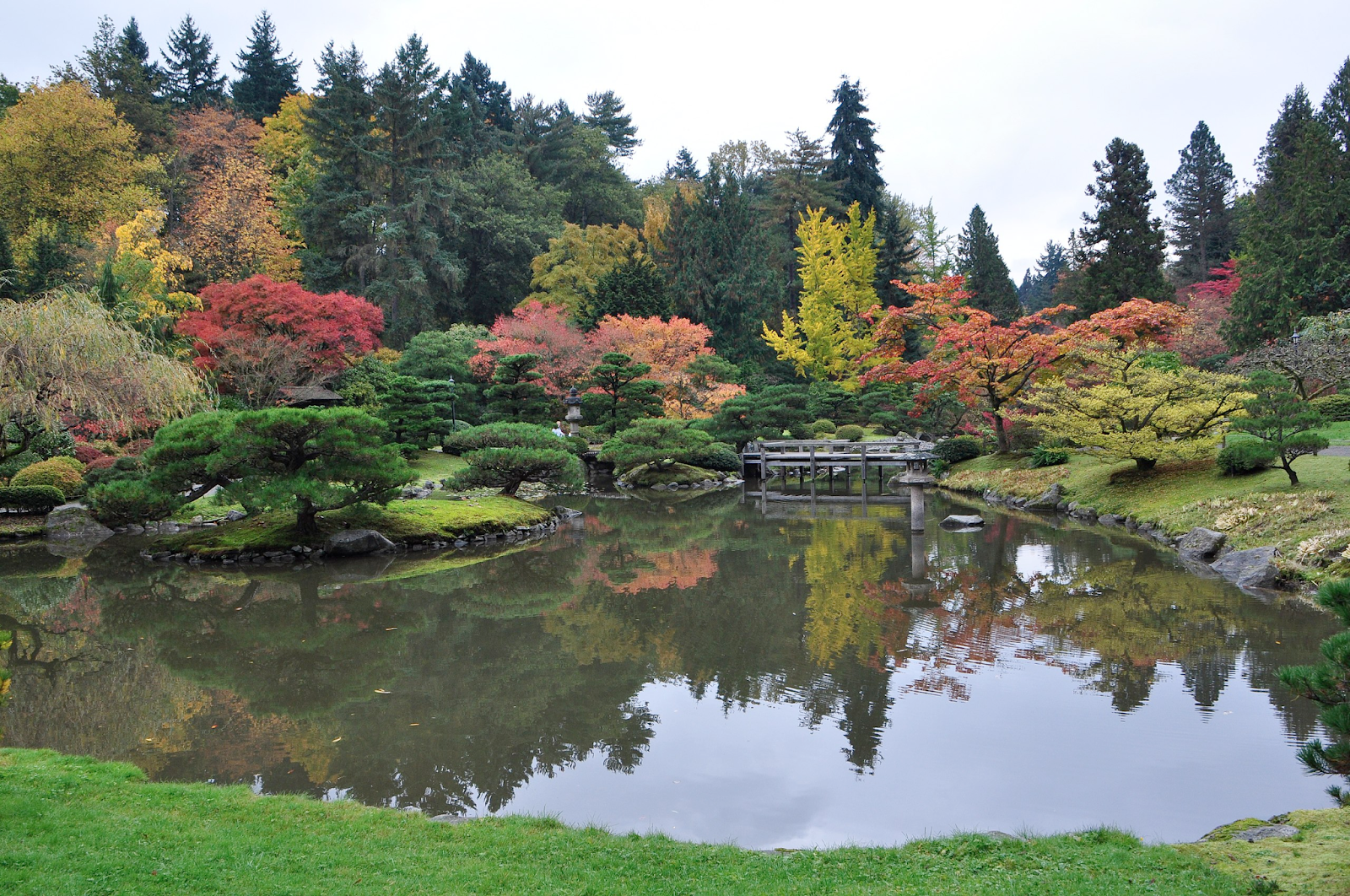 Seattle Japanese Garden at Washington Park Arboretum, Photo: Frted (Wikimedia Commons)
Ravenna Park and Ravine – A smaller, but long, park located to the North of the University of Washington and University Village. Here, the large ravine helps visitors and runners escape from city life. This park is heavily wooded and has a small stream running through it. Ravenna Park is generally one of Seattle's quieter large parks.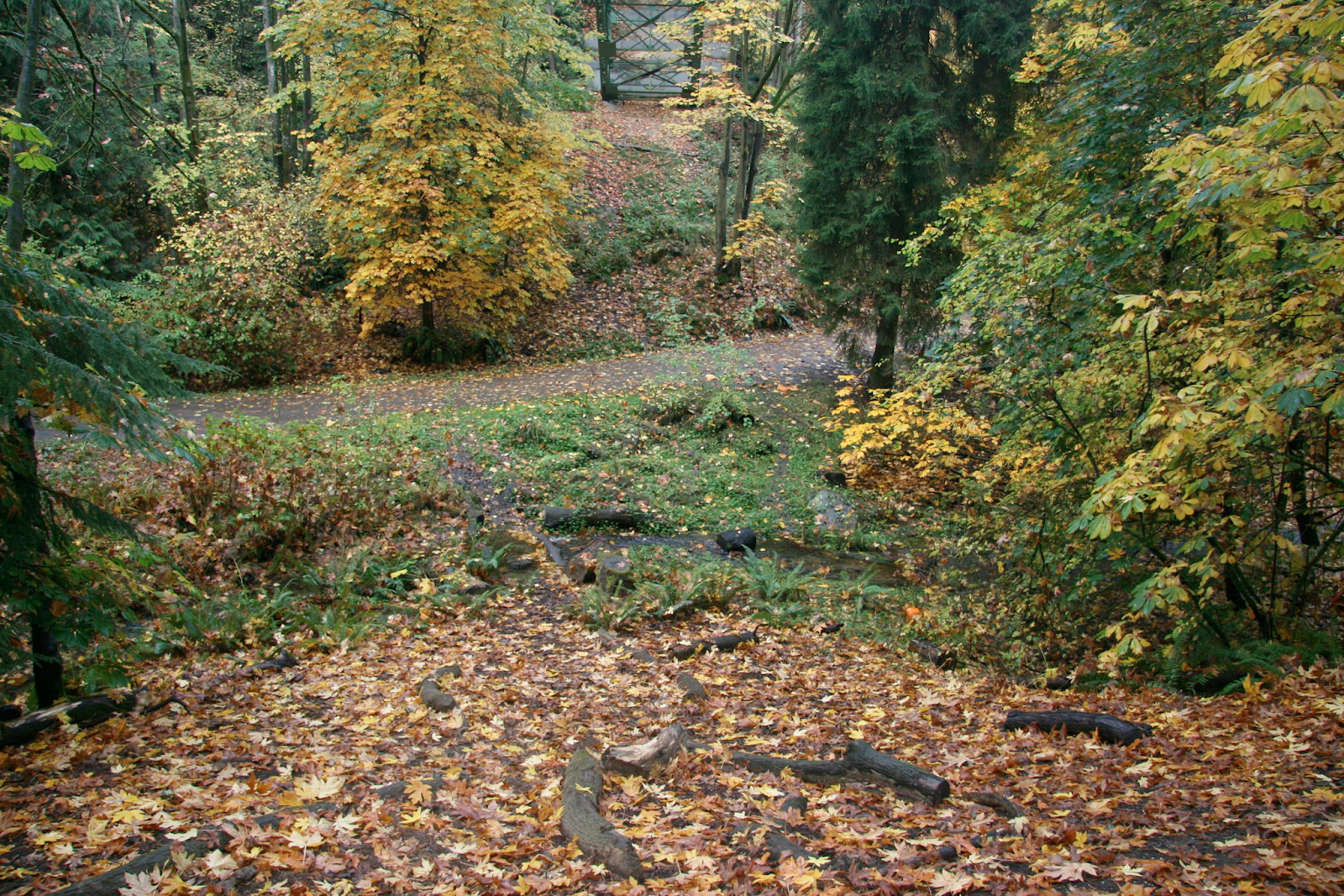 Ravenna Park Ravine and Creek during Fall, Photo: JSquish (Wikimedia Commons)
Woodland Park and Green Lake – This neighborhood and its namesake lake is a popular place for residents and students of Seattle to enjoy food, sports, or take in natural beauty. Located 15-20 minutes West of the University of Washington, Green Lake is Seattle's largest lake. The area includes wraparound trails perfect for walking, biking, or running along. Ample recreational facilities, docks, picnic tables, and benches mean you can enjoy Woodland Park in a variety of ways!
Shopping, Fine Dining, and More at University Village
University Village is a neighborhood that is adjacent to the University of Washington, to the East. University Village is a one-stop shop for students and young professionals moving to the area. U Village is well-known for its premium shopping options, fine dining establishments, bars, and entertainment venues. Due to growth trends in Seattle, University Village has several new apartment complexes that are great options for UW off-campus housing.
University Village has 71 stores, with five major tenants, which include Apple, Sephora, J Crew, The North Face, Banana Republic, Tommy Bahama, and Victoria's Secret. All of University Village is well-landscaped, making strolls and window-shopping a leisurely experience.
Here are some reasons to visit University Village, outside of shopping:
Safeway and QFC – Located here, right next to each other. Perhaps it's a little weird to have two full-sized grocery stores in the same area… but really, it's just another convenience Huskies and Seattle residents can enjoy!



Molly Moon's Homemade Ice Cream – A well-loved local chain that sources 90% of its ingredients from the Pacific Northwest and donates 10% of all profits to food banks, equity, and women empowerment initiatives. You would not experience the best flavors of Seattle or Washington without stopping by this dessert place. The menu can be intimidating, so we recommend starting (at least) with the classic Salted Caramel served with a waffle cone.



Ba Bar Restaurant – Ba Bar has several locations throughout Seattle that serve high-quality Vietnamese cuisine alongside a fine selection of expertly-crafted cocktails. The University Village location has cheerful colors and bamboo-wicker chairs in a garage-style interior that is spacious and airy.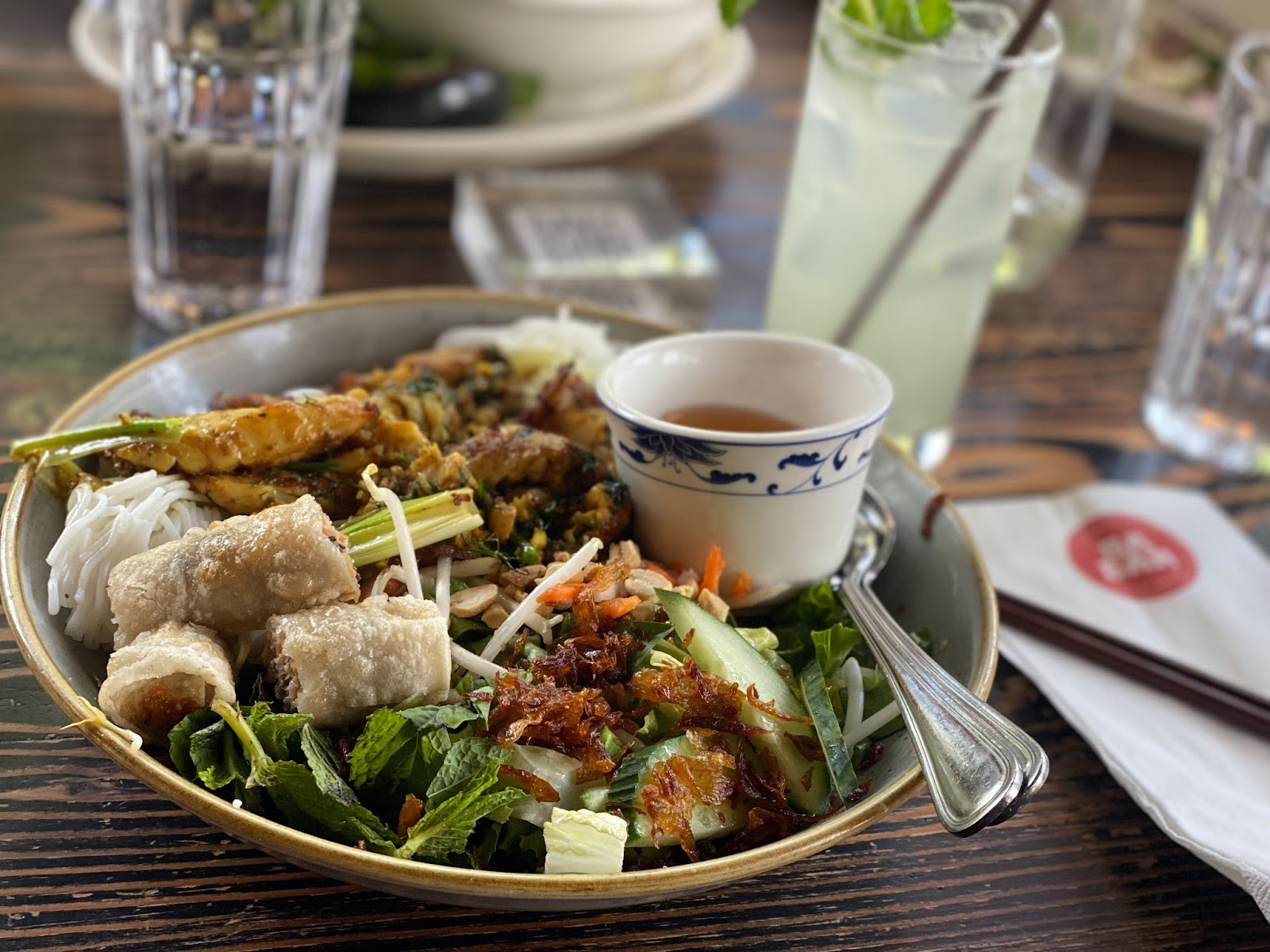 Vermicelli Bowl at Ba Bar (Capitol Hill), by Halomon


Din Tai Fung – Din Tai Fung is a world-famous Taiwanese restaurant, acclaimed for its Shanghai-style dumplings and noodles. Din Tai Fung has locations throughout Washington state. This is a great place to enjoy some quality handcrafted food with family or build your professional network at. While waiting in the long line, you can enjoy a view of the cooks preparing fresh dumplings (all food is made on-site, from scratch).



JOEY University Village – JOEY is the spot to enjoy a calm and dimly lit classic American vibe. The broad menu features a wide range of international and local dishes. The food here is tasty and portioned generously. The University Village location is a prime spot to enjoy quality American fare amidst classic surroundings.
Coffee & Cafe Options – You know you're in Seattle when there are more coffee shops & cafes than rainy clouds! At University Village, there are three Starbucks, Zoka Coffee Roaster & Tea Co, Blazing Bagels, and Mr. West Cafe Bar. There are also bubble tea spots, like Happy Lemon University Village, and boutique confectioners, such as Fran's Chocolates, which is a Seattle favorite with handmade caramels, truffles, and bars.
No matter your preferred type of pick-me-up, or chill space, you will discover ample spots to energize, relax, network, socialize, or study in University Village. Students and young professionals who wish to live close to the University of Washington are heavily encouraged to consider apartment complexes in this area!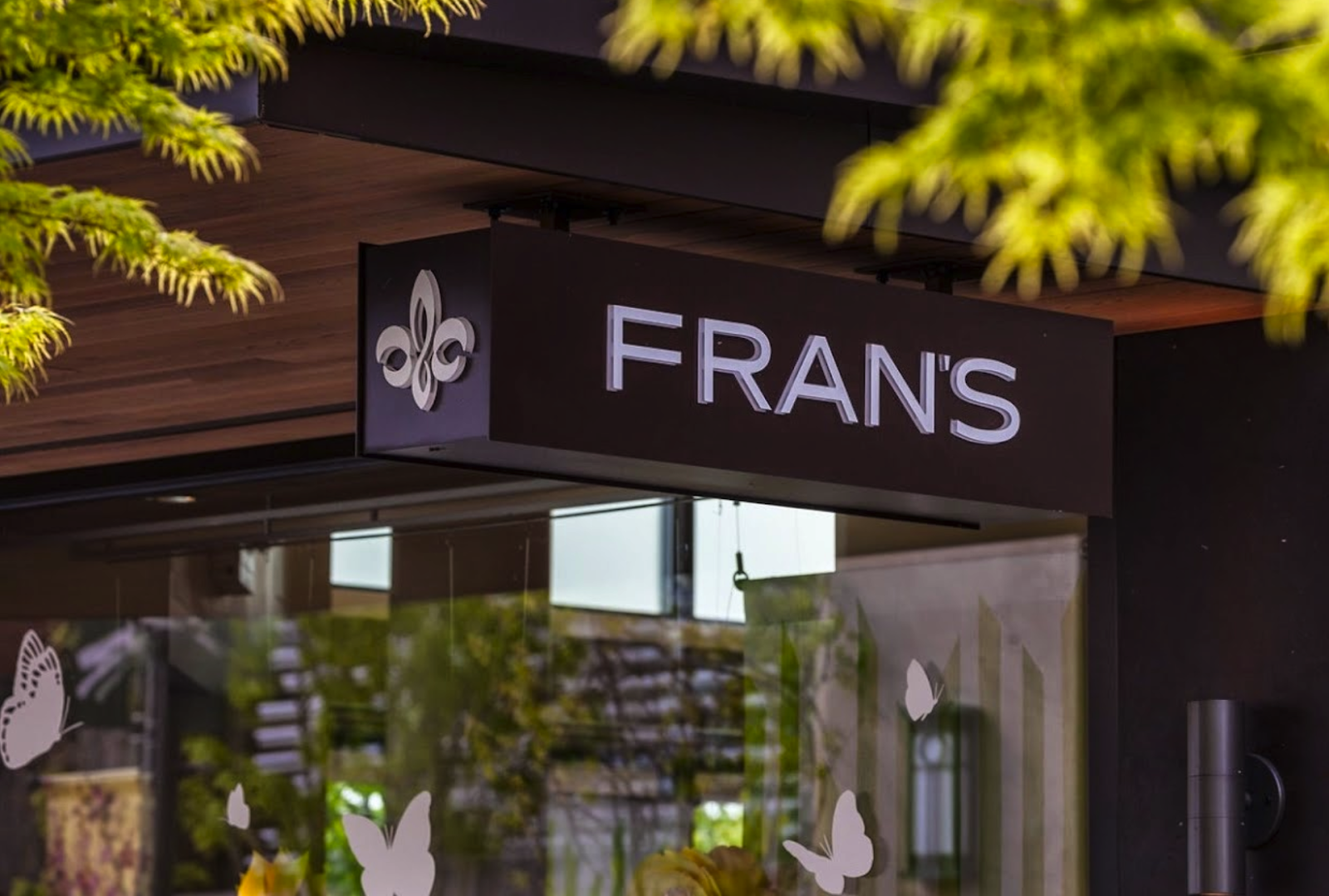 Fran's at University Village, Photo: Fran's Chocolates - University Village
Mr. West Cafe Bar, Photo: Yu Wu
Neighborhoods near the U District
The University of Washington is located in the Eastern center of Seattle, which means that many key neighborhoods are within walking distance or a short drive or bus ride away. Here's a little information about some neighborhoods you can access by living here:
Wallingford – Home to many fine-dining and fast-casual restaurants, including Dick's Burgers (a Seattle staple, which locals often call their version of In-N-Out).
Green Lake – The neighborhood of Green Lake wraps around Green Lake, the namesake of this borough. There is a large public park with various sports fields, a zoo, a rose garden, trails, and lake-side dining options. Seattle residents and Huskies enjoy visiting the park year-round.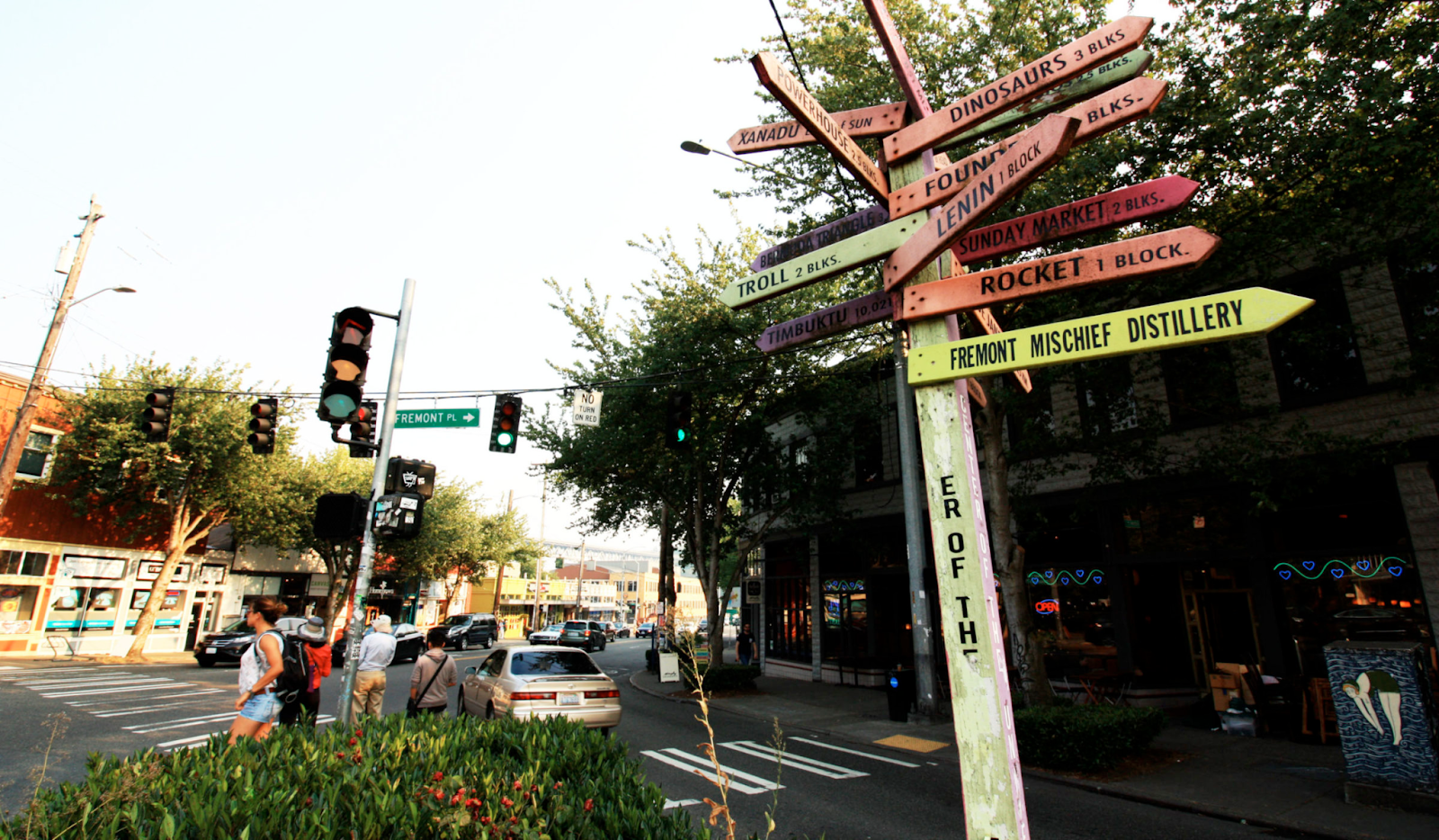 Center of the Universe Guidepost, Photo: Chamber of Commerce
Capitol Hill – Once you enter Capitol Hill, you start experiencing the "bigger" and denser side of Seattle. There is a huge amount of high-rises, bars, restaurants, and things to do in Seattle's gayborhood. Regardless of how you identify, there will be plenty for you to enjoy on Capitol Hill.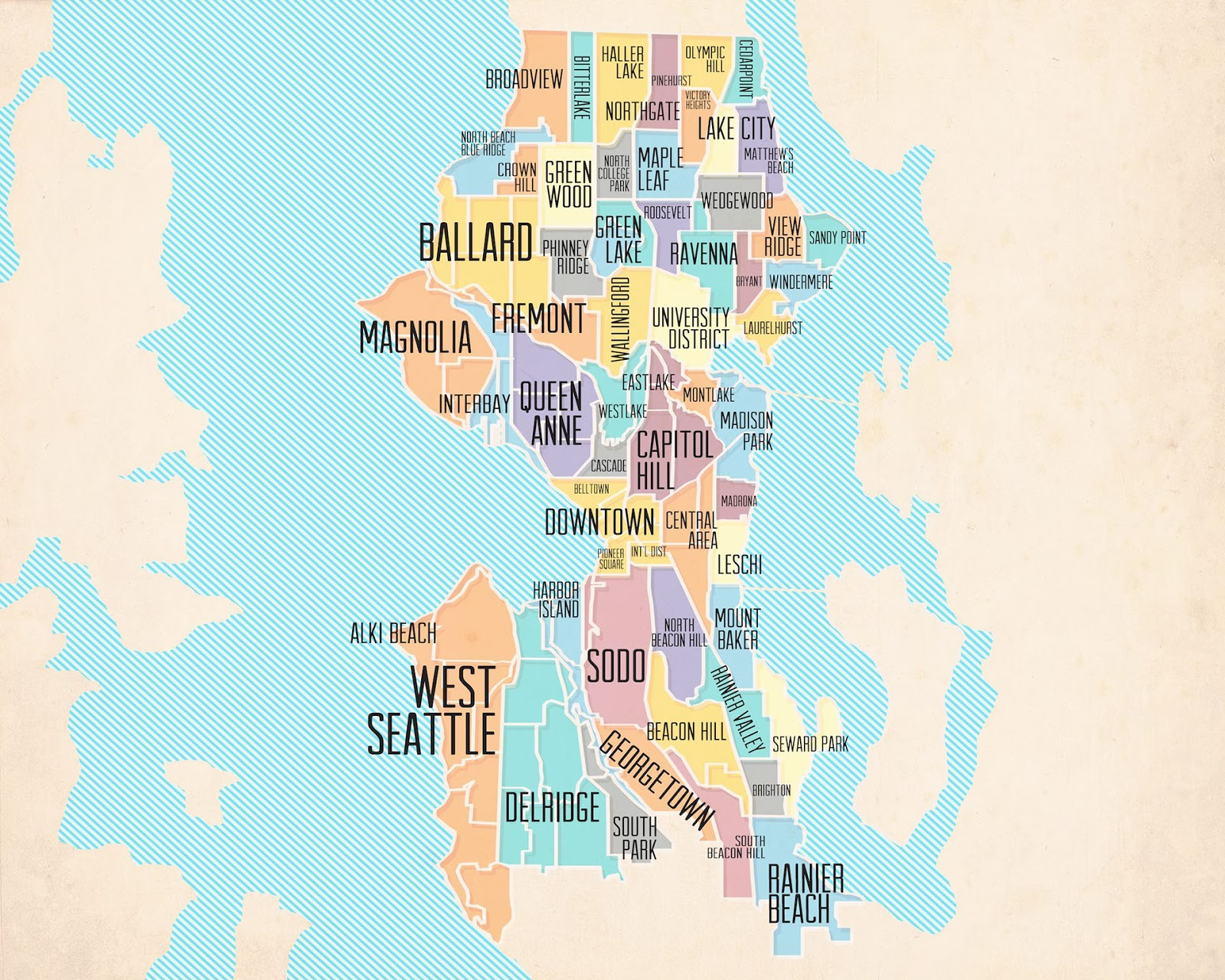 Neighborhoods of Seattle, Photo: Vivid Maps
Plentiful Places to Live
Choosing to live in other parts of Seattle can be difficult due to a generally tight housing market. In contrast, finding an apartment or coliving community close to the University of Washington is much easier. To enable access to higher education, the city promotes the construction of newly-built apartment complexes near the UW campus. This helps attract students, young professionals, and established folks.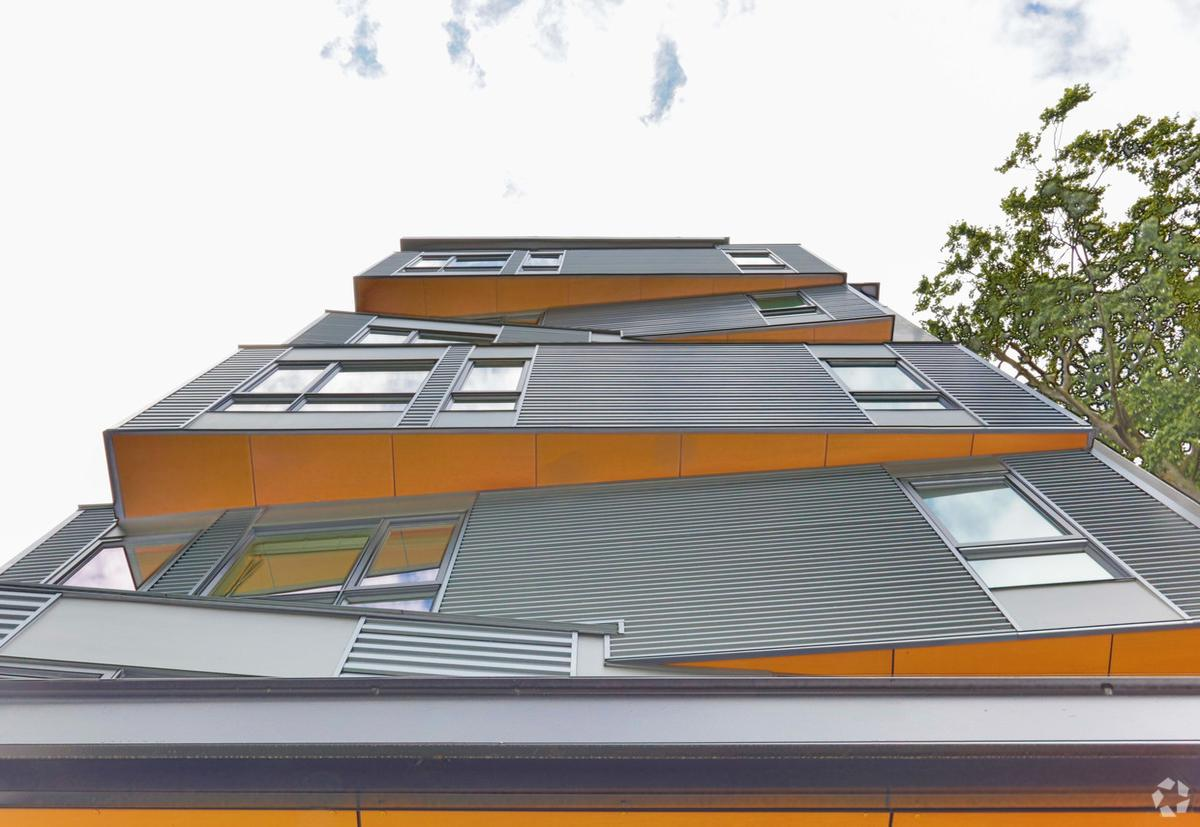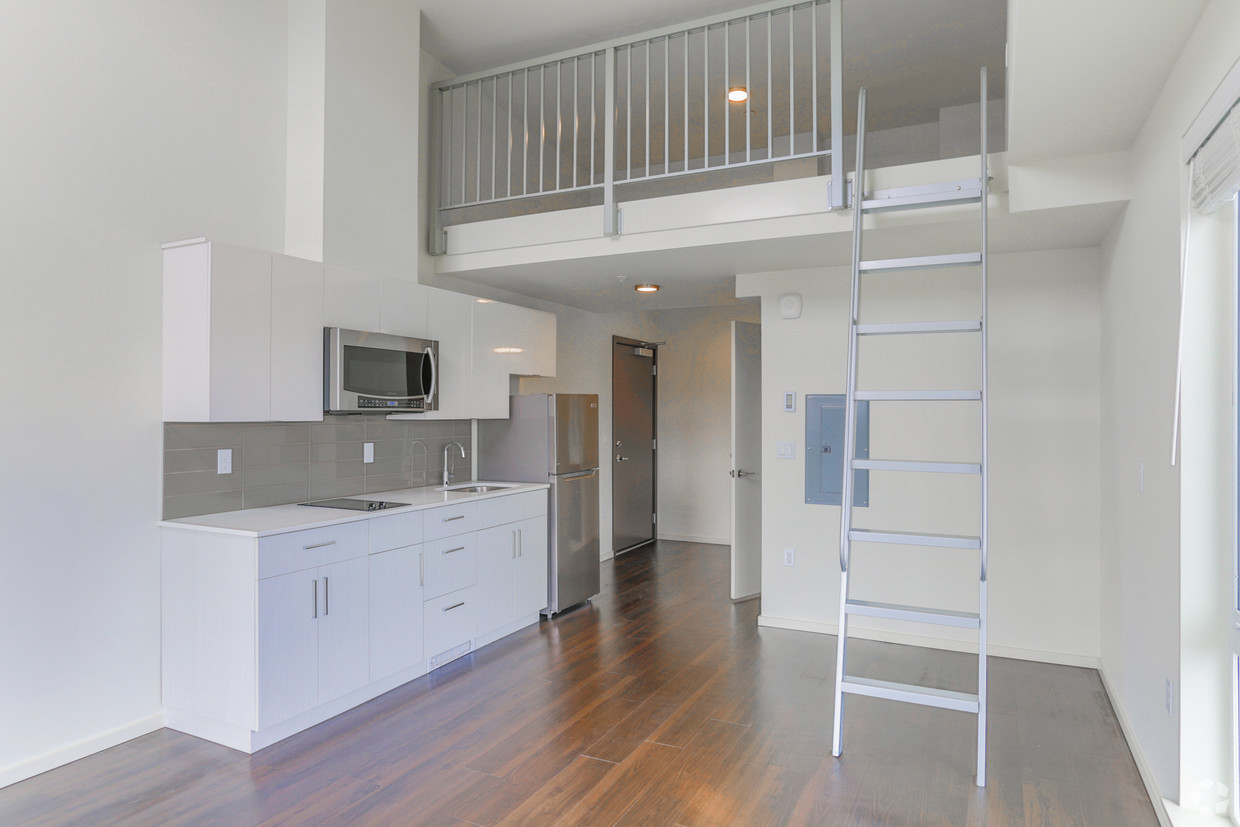 The Stax, Photos: Tripalink
There is a wide range of living spaces close to the University of Washington's campus, ranging from high-rise apartments with luxury amenities and finishes to budget-friendly housing options. An apartment complex like The Stax offers views of the Cascades and Mt. Rainier, high-ceiling floorplans with lofts, luxury finishes and appliances, and a rooftop community deck. On the other hand, Coda Apartments has furnished units and in-unit laundry. Thanks to light rail and bus connections, all of Seattle is one ride away from any of these apartments.
No matter your budget, living in UW off-campus housing means that you can experience the best Seattle has to offer, rain or shine! If you're a future Husky or simply planning to relocate to this neighborhood, relax because there are plenty of options close to the University of Washington and University Village!